You will look long and hard - and ultimately fruitlessly, in my experience - to find anyone with a bad word to say about Sir Chris Hoy.
It seems that everyone at the Manchester Velodrome, from the cleaners and receptionists to the mechanics and coaches, liked Hoy, and will miss him now that he has announced his retirement.
The closest I have heard to a criticism was an observation by his old friend and teammate, Craig MacLean. "He sits on the fence sometimes," said MacLean.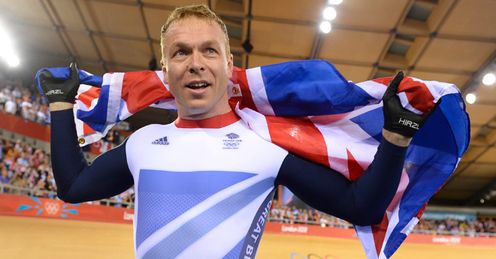 Being damned by faint praise is a familiar concept. This was praise by faint damning.
Looking at Hoy's career as a whole, it is almost impossible not to be struck by his gift for timing. I mean this in the broadest sense: he was someone who got his timing right, from about the age of seven.
It was the Scottish national coach, Graeme Herd, who explained it to me. You are better suited at different ages to develop particular skills or abilities, said Herd. When you're very young, say 7-12, it's a good time to hone skills and speed. In your teens, you can begin to build endurance. Later on, when your body has stopped growing, you can work on power and strength.
Beijing thrust an extraordinary and, for a cyclist, unprecedented level of fame and stardom upon Hoy. Life changed. Everybody knew him, or thought they did.
Richard Moore
Quotes of the week
When Hoy was 7-12 he raced BMX - fantastic for bike-handling skills and speed. In his teens, he took up mountain biking and then road racing - great for endurance. In his late teens, he became a track cyclist - where, as well as skill, speed and endurance, you need power and strength.
If this was all some kind of masterplan by his parents, David and Carol, you would have to hail their genius and say, "Move over Earl Woods and Richard Williams." But it wasn't. Hoy's parents have always been supportive in the true sense of the word. The closest they ever got to pushy was when they made him save up his pocket money for his first bike.
It says much for their support, and that of his wife, Sarra, that Hoy enjoyed such a long international career, spanning 17 years. His first major championship was the under-23 Europeans in Moscow 1996; he went to the worlds in Perth the following year, sharing a room with his hero, Graeme Obree; in 1998 he competed in his first multi-sports event, the Commonwealth Games in Kuala Lumpur.
Right on time
This seems like a lifetime ago. In athletic terms, it is closer to three lifetimes. But this is also where Hoy, by pure chance, got his timing right: he was emerging on the international stage just as lottery funding was starting.
He was one of the first cyclists to be signed up to the generously-funded 'World Class Performance Plan.' Another was Bradley Wiggins. He hasn't done too badly, either.
Still Hoy's progress was gradual. He made incremental improvements: a team sprint silver medal at the 1999 worlds; same at the Sydney Olympics; a first individual world title in 2002, when he was 26; Olympic gold when he was 28.
He was unlucky when his event, the kilo, was dropped from the Olympic programme after Athens. But lucky, too, that this forced him to try the other sprint events. And in Beijing he did the sprint slam: gold in all three disciplines.
Beijing thrust an extraordinary and, for a cyclist, unprecedented level of fame and stardom upon Hoy. Life changed. Everybody knew him, or thought they did.
In 2009 I was with Hoy when he entered a Starbucks in Manchester. The barista giggled, then disappeared into the back of the cafe, re-emerging with a box of bran flakes (with Hoy's mug on the front) and a pen. He signed graciously, as he always did. It was funny, but disconcerting. And it happened every day (not always, but surprisingly often, with boxes of bran flakes).
The point is that at the age of 32 Hoy was able to deal with all this madness far better than if he had been in his early 20s. Good timing again.If any young athlete learns anything from Hoy - and they should study him, as they should study Roger Federer, for lessons in humility and how to handle defeat - it is the value of persistence.
Those incremental improvements didn't just happen. Now his career might look blessed, even gilded, but that ignores the countless hours in empty velodromes and gyms, each session intended to be more painful than the last in the quest for continual improvement, an approach that carries the constant risk of injury.
As Hoy put it in his autobiography: "We are always performing a balancing act, working as hard as we can without pushing our luck too far; you are forever on the brink of injury."
All the way until Beijing, Hoy improved year-on-year - then it was more a case of maintaining it to London. It was in Beijing that Jason Kenny, who won silver behind him in the sprint, said that training with Hoy everyday meant that he knew his "strengths and weaknesses."
His weaknesses? "Well, maybe not weaknesses," said Kenny, "just weaker strengths."
It had taken Hoy well over a decade - and at a very conservative estimate, around 15,000 hours' training - to reach that point. As Hoy himself says: "You become good at it because of what you do day after day, year after year."
The effort to keep going, in contravention of a body that is screaming "Enough!" is why we will not, sadly, see Hoy in eighteen months' time at the Commonwealth Games in Glasgow.
But it does mean that the last memory most will have of Chris Hoy in competitive action is the keirin final at the London Olympics.
Hoy took the race on early, leading from the front, as he liked to do, but he was challenged late by Germany's Max Levy. Levy was coming up fast as the bell rang. Hoy seemed to be hanging on. Levy went over the top and on the back straight went almost a length ahead. He was gaining momentum as rapidly as Hoy was losing it.
The race was Levy's.
Then Hoy, as he later put it, "turned on the afterburners". Impossible though it seemed, he began to peg Levy back. And as they entered the final bend, he drew level. Then Levy cracked. More accurately, he was broken: by Hoy, who emerged from the bend marginally ahead, then thundered down the home straight to win his sixth, and most hard-fought, Olympic gold medal.
That seems a fitting final memory.
Richard Moore is the author of Heroes, Villains & Velodromes: Chris Hoy and Britain's Track Cycling Revolution (HarperSport), £8.99