There is no question about who is the favourite for the Tour de France, and that is reflected in the short odds now available for Chris Froome.
His win in last week's Critérium du Dauphiné was a double whammy, since it cemented his status as favourite and confirmed that his expected main rival, Alberto Contador, currently appears a shadow of the rider who won the Tour in 2007 and 2009 - and 2010, before being stripped of the title after testing positive.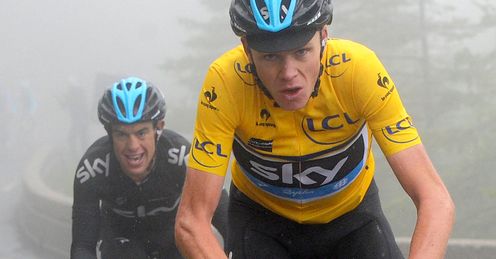 At the moment, Richie Porte, Froome's Sky team-mate, who finished second overall at the Dauphiné, is in better form.
A couple of weeks ago - and here is a sentence I never thought I would write - I looked ahead to this year's Tour with Bernard Hinault, the five-time Tour winner and last French winner, at the Chelsea Flower Show.
At the moment, Richie Porte, Chris Froome's Sky team-mate, who finished second overall at the Dauphine, is in better form [than Alberto Contador].
Richard Moore
Quotes of the week
The 'Badger' was in this unlikely location as a guest of the organisers of the 2014 Grand Départ, which will be held in Yorkshire.
They had a Tour-themed garden - Le Jardin de Yorkshire, bien sûr - beside which Hinault and Christian Prudhomme, the Tour director, posed for photographs.
The Badger then drifted off to the side to linger on a grass verge, as though standing guard. I imagined what he might do if an intruder appeared and clambered over the garden's stone wall - presumably wrestle them to the ground, as he does when the Tour podium, over which he has responsibility, is invaded, which it has been on several occasions in recent years.
At 58, Hinault still possesses the qualities - assertiveness, courage, a willingness to fight back if he feels under attack, whether on the road or the Tour podium - that were the hallmark of his career.
Although he won the Tour five times, Hinault is perhaps as well known for one that he lost, in 1986, when he finished second to his La Vie Claire team-mate Greg LeMond. To say he and LeMond were uneasy bedfellows is an understatement - they made Froome and Bradley Wiggins look as close as Ant and Dec.
We met when it seemed that Wiggins and Froome would be lining up together, and so the question was irresistible: did Hinault see any parallels with 1986?
"No, I don't think so," said Hinault. "Because the difference between Greg and me was that we were alone" - by which he meant that there was nobody else capable of challenging them, whereas now he still believes Contador will be a tough opponent.
"You mustn't ride to win with just one rider [as leader], but with four," insisted Hinault. "If you can have four riders riding against Contador, then the best [man] will win."
Prudhomme interjected, laughing: "He's trying to say that Richie Porte will win."
"Why not?" said Hinault. "Or [Rigoberto] Uran - he's a great climber."
Dominate
In 1986, La Vie Claire wasn't just about Hinault and LeMond. The director, Paul Köchli, was a proponent of a kind of 'total cycling,' which saw different riders on the attack every day. They ended up winning six stages, five of the six competitions, finishing first and second overall, and placing five riders in the top twelve.
Porte, said Hinault, could be the 'joker,' just as the fourth-placed Andy Hampsten was in 1986. "For me, you shouldn't just say that Froome is going to win. It's by no means certain. But if you can play with three or four riders, whenever a break goes, you always put a Sky rider in it. And who is forced to chase? Contador. And then [he's] stretched."
It's unlikely that we'll see such tactics from Sky, whose modus operandi is now well established. They ride en masse at the front to protect a designated leader, at an intensity that discourages attacks from others. Hinault, it seems, isn't such a fan of this approach.Prudhomme is more pragmatic. "When you're the manager of a team, you want to win, of course," he said. "Last year, the absence of Contador and Andy Schleck meant that we saw how powerful Sky were.
"I understand completely why Sky ride like they do, even though, as a race organiser, I'd prefer to have seen more of a fight, more attacks... It's more spectacular, of course.
"This is not a criticism of Sky - they want to win, obviously," added Prudhomme. "But if there are attacks, it's better than people just following."
Post to your View!
Be the first to post a comment on this story