I can see the Brisbane River from my hotel room and it's difficult to envisage how things were here just a few weeks ago.
We were due to be staying in another hotel 100 yards down the road, but that's still in darkness after the floods. From here I can see the river is still very muddy and the water level is still quite high, but the region is definitely getting back on its feet.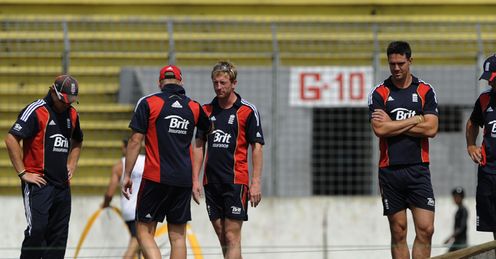 On Thursday night I went out for a drink in the Pig and Whistle; the pub by the river that was used by the Barmy Army during the Ashes. It was open for the first time since the floods and they've done very well to get it back into full working order.
Things are getting back to normal very quickly in the city, but there are obviously still problems in outlying areas. I know the Australian players have been up to visit Ipswich, where Shane Watson comes from. His house was on higher ground and escaped damage, but a lot of people were badly hit.
Pietersen is your X-Factor player, but he simply isn't scoring enough runs at the moment. In the last two years he has averaged less than 20. It's not often you'd have a question mark next to his name, but there is one now.
Bumble
Quotes of the week
LIVE ON SKY SPORTS
Australia v England
Fifth ODI
3am, Sun, Sky Sports HD1
Watch online with
Sky Player
How to
remote record
After all that's happened, Sunday's game will mean a lot to the people of Brisbane and it should be an emotional occasion at The Gabba.
Gearing up
Both teams want to win this series, but they're definitely more concerned about gearing up for the World Cup.
I wouldn't be surprised if Australia decide to give Brett Lee a rest here. Even though he's been their best bowler (in the first three matches at least) he needs a break at some point.
England will continue to chop and change to keep everybody fresh and in shape, but I think they're settled in what they want to do for the World Cup.
Matt Prior seems to have come good. Two ducks wasn't exactly the ideal start, but I feel it was the right decision to bring him in ahead of Steven Davies. The selectors have spoken of his energy behind the stumps and in my mind he is a more accomplished player.
The jury is out on whether he should open the batting, especially when Jonathan Trott is in such fantastic form. I don't understand why people are clamouring for Ian Bell to open when Trott averages 50 for his county.
This lad has batted 36 times as an opener for Warwickshire, scoring three centuries and twelve fifties. In contrast, Bell has only opened for them twice. But it seems they've made up their mind and they're going to go with Prior.
Make-up
England know the make-up of their World Cup team and I reckon there are 12 names pencilled in, but they need to lose one batsman.
Those names are: Andrew Strauss, Matt Prior, Jonathan Trott, Kevin Pietersen, Ian Bell, Eoin Morgan, Paul Collingwood, Tim Bresnan, Graeme Swann, Michael Yardy, Stuart Broad and James Anderson.
If you're going on form, you need to drop either Pietersen, Bell or Collingwood. Trott keeps getting runs and that has put them all under pressure.
Pietersen is your X-Factor player, but he simply isn't scoring enough runs at the moment. In the last two years he has averaged less than 20. It's not often you'd have a question mark next to his name, but there is one now.
Bell looked like England's best player in the Test matches, but we haven't been able to say that in the one-day game, so he is perhaps the most likely to miss out if he doesn't score any runs in the final three matches.
The selectors have given us massive signals that they want Collingwood in the team because he provides an extra bowler, but he's not getting runs and the fact that Trott bowled seven overs and took two wickets in Adelaide has put more heat on him.
I've seen interviews with him this week and he has stated that he needs more runs, but he feels he's going to click. Unfortunately there's not a lot of clicking to be done at number seven.
If they decide that Trott is up to the task of being the sixth bowler, then it's a straight shoot-out between Pietersen, Bell and Collingwood. I can't call it yet; we need to see how they get on in the next three matches.
The management team will make a decisive move somewhere along the line. We saw that with the wicket-keeping position and they'll do the same here.
Missing man
One name I would have liked to have seen in the World Cup XV is that of my good friend Samit Patel.
He's a lovely lad, but he's missed out on a massive opportunity because his fitness wasn't up to scratch. I don't know how England have handled him, but I'd suggest the fitness team might have been able to do more with this vulnerable player.
Rather than leaving it to him, it would have been better to have him at the academy at Loughborough as long ago as September, monitoring him regularly. Maybe they did that, I don't know.
They're saying he doesn't have the mentality they're looking for in an England player, but perhaps you need to manage people like that. He'd be worth it because he's such a good player.
I don't see England winning the World Cup though. I'm backing India or Sri Lanka with Pakistan as the outsiders.
I've seen signs that Australia could challenge, especially if Michael Hussey is fit and Ricky Ponting comes back into the side. Those two make a massive difference.
World Cup woes
The World Cup is a sore point for me at the moment because ESPN, the company who are broadcasting the tournament, haven't sorted out our visas.
I know a number of commentators, not just the English ones, who still haven't been sorted out. This competition only comes around every four years!
I can't get a visa in Australia and it's going to be difficult to sort it out in the limited time that I'm back in England before the tournament. I'm staggered the host broadcaster have let this happen.
So I'm hoping you'll hear me commentating on the World Cup, but at the moment I can't make any guarantees.
Sort it out chaps.
Comments (10)
Linda Holland says...
As KP has been really out of form during the one day series, I think he should be the one to be left out of the World Cup team as Ian Bell and Paul Collingwood have both played better than him. Collingwood is an excellent field player even if he doesn't get many runs. Jonathon Trott ,rather than Matt Prior, should open the play with Andrew Strauss as he is batting well and keeps his cool in any situation. I hope Bumble manages to sort out his visa in time as I thoroughly enjoy his banter.
Posted 14:48 4th February 2011
Frankie Conway says...
Hi Bumble. Gutted to hear you and the sky boys are not guaranteed a commentary position for the World Cup. I think Sky's coverage of cricket is absolutely brilliant. The quality of analysis is great and the banter is hilarious. I've got to say, I'm a massive Ian Bell fan. I think he's England's best batsmen and I would have him as the linchpin of our batting in all forms of the game. For me, he has to play at the World cup. He's a quality player of spin and will hence be well suited to sub-continental pitches, where I can see him manouvering the slower bowlers well as well as picking them off over extra cover. He's a class act and is an improving cricketer, who has matured so much over the past 18 months. Ok, he's had a couple of indifferent knocks, but he scored a hundred in the PM's XI match and looked good in the t20's so his form is still decent. For me, you drop Colly. England can find other bowlers to fill in 10 overs and he's hardly scored a run all winter. England have got to stop carrying him.
Posted 17:24 3rd February 2011
Gordon Mccullough says...
Bumble. What about Prior? 1 score in 6 Innings is just not good enough.(Plus his failures as overseas player for Victoria in the recent 20/20 comp) Batting is about learning from mistakes. He is out far too often hitting across a straight ball to the leg side.As you would say "Hit it in the Vee lad,especially early on in your Innings!" GMc
Posted 23:47 2nd February 2011
Colin Felton says...
Bumble You must be jesting! Collingwood isnt sure which end of the bat to hold! Matt Prir MUST bat at 6,Bell to open as he never will be EITHER an opener nor a pinch hitter and there is too much presssure on him whilst opening affecting his keeping(a simple catch dropped ,off KP this morning and an easy run out scorned.. See you on the sub-continent
Posted 18:26 2nd February 2011
Gareth Hodgkinson says...
Having again snatched defeat from the jaws of victory, how can any current player expect to be picked. however i do not forsee a problem with leaving both peterson and collingwood out, as i do not have sufficient confidence in any team to bring home the ODI world cup!
Posted 15:06 2nd February 2011
Bruce Duffett says...
Well Done Bumble accurate as ever. England do have a chance (is that the heart or the head) we can win it and now is the time for Mr Collingwood to hang up his Pads all together. He was a fantastic player in the field and with the bat and ok with the ball. Now is the time to say goodbye. He may prove us wrong in the world cup but it may also be a sad exit for a great player. Also the South African should not be there (which one?) as proven he is not up to it . Good luck Surrey he may be playing alot for you this Summer.
Posted 12:33 2nd February 2011
Samuel Mayer says...
My team for the world cup is as follows,1)Strauss,2)Cook,3)Trott,4)Peitersen,5)Bell,6)Collingwood,7)Prior,8)Broad,9)Bresnan,10)Swann,11)Anderson.If they line up like this,they bat right down to number ten,and ideally,should have wickets in hand towards the end of the innings.They also have,Collingwood,Trott and Peitersen to chip in with a few overs, as and when required.
Posted 20:21 31st January 2011
Kaustubh Verma says...
Bumble...you can't not come to the world cup...u are the olive in the martini mate!
Posted 14:21 29th January 2011
Martin Hicks says...
Bumble - I hope you get your Visa because your sense of fun would be sorely missed. I can't agree with you about Patel as he seems to have been told many times to do something about his weight and fitness. I don't know what help he received but the current team has several people who had to work hard to get back in the squad eg Prior, Bell and Tremlett. They seem to have been determined to get back and whether or not they received help they were prepared to work. When Flower also has Bopara and Onions saying they are working hard to get back and a crop of youngsters like Hildreth determined to prove themselves I think Patel has fallen to the bottom of a very long list. This is more so when you believe our best world cup team has to decide which of KP, Bell and Collingwood will miss out. All 3 are athletic fielders and can bowl so I am afraid that Patel has a long way to go to match the current squad members.Do you think England missed a trick in the last match by not taking their Power Play after 15 overs at 90 - 1 ? I think Australia would have hated it as it would have disrupted their bowling plans.
Posted 13:06 29th January 2011
Rsemary Jordan says...
Yours is the first mention I have read about the security of Kevin Pietersen in the squad. A year or more ago one felt a good innings would be the norm but now.... I think the improvement of Jonathan Trott in the team is outstanding.
Posted 17:58 28th January 2011