England may have won the Test series against Australia convincingly but they are finding it hard work during the one-day part of the tour.
They are 4-1 down after five games and the batting is in turmoil. They keep stumbling along trying different opening batsman, and seem to have this deep-seated belief that their wicketkeeper must open the batting, a logic I don't agree with.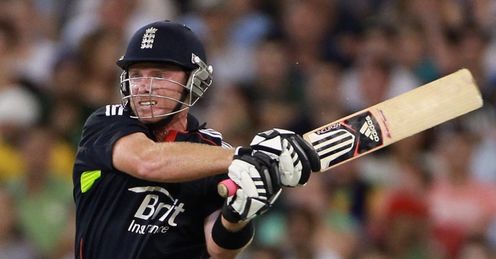 Since Marcus Trescothick left the international arena, the opening partnership has become a problem that won't go away. The issue is exacerbated by the fact that, as captain, Andrew Strauss has to be accommodated into the team.
Kevin Pietersen hasn't fired more than once or twice in 18 months now and his form must be alarming the England hierarchy. A lot of the batsmen have lost confidence and there needs to be a long, hard think about which order to put them in.
After the mental rigours of the Ashes victory, coupled with the fact they haven't got their best side on the field at the moment, England look all washed out.
Bob Willis
Quotes of the week
LIVE ON SKY SPORTS
Australia v England
Sixth ODI
3am, Wed, Sky Sports HD1
Watch online with
Sky Player
How to
remote record
I was disappointed that after Ian Bell's century against the Prime Minister's XI he wasn't given an opportunity at the top of the innings.
That would have been my selection and solution and have Matt Prior down the order as a more destructive player. You have to score runs in the opening powerplay but the form Bell was in, he was well capable of doing that.
And with Prior coming lower down, he could be a belligerent presence in the later overs - something else this team has been lacking.
Eoin Morgan, while not hitting his best in this series, is England's most destructive batsman, but Prior is also capable of being an aggressor. He is naturally gifted and he should be more effective down the order.
Character
In the fifth ODI at Brisbane, England went in with a very batsman-heavy side and I think that's what they will do in the sub-continent over the next couple of months. They don't have faith in their batsmen to score enough runs.
England also seem to be lacking a real presence at the moment, with big characters like Tim Bresnan, Stuart Broad and, most of all, Graeme Swann injured. With Pietersen not scoring runs, he hasn't got his customary cockerel strut going on either.
It's clear that you've got a lot of guys running on empty and the ODIs have, for some reason, been very spread out. I remember in the 1983 World Cup we played every alternate day.
I don't understand why you play one match on a Sunday and then you don't play again until Friday, meaning there's plenty of sitting about or endless sessions in the nets. After the mental rigours of the Ashes victory, coupled with the fact they haven't got their best side on the field at the moment, England look all washed out.
One bright spark from Sunday's series-losing defeat was the performance of Chris Woakes, who took 6-45, the best ODI figures by an England bowler on foreign soil. He has had a great start to his international career.
He won a game with the bat at Adelaide and he would have won the game with the ball at Brisbane, if it weren't for his batsmen. The World Cup would probably have been a tournament too early for him, but he looks to have a big future.
Injury
Ajmal Shahzad's hamstring injury should not rule him of England's World Cup plans, but even if it did, I'm not sure he would be a big loss. The selectors obviously think very highly of him but I think that confidence is slightly misplaced, as there are plenty of more experienced guys who can reverse swing the ball better than him.
And the sub-continent isn't necessarily conducive to his type of bowling anyway, where pace off the ball should be key. Australia have picked three quick men in Mitchell Johnson, Brett Lee and Shaun Tait but often in Asia, the faster the ball is bowled, the faster it disappears to the boundary.
A lot of England's bowlers will be heading to the World Cup with fitness doubts. You would hope that wouldn't come into play, though, as over the first few weeks England's games are nicely spread out and so is the opposition; they'll play a minnow, then a strong side, a minnow, then a strong side, so they should have the opportunity to rest people if needed.
The World Cup is still a few weeks away and England need to ensure they have the minds on the sixth ODI in Sydney as they try to avoid further embarrassment in this series.
However, having been there myself at the end of a long tour, the body is often willing but the mind is in a different place. And with the side leaving for the sub-continent in seven or eight days' time, I wouldn't be surprised if they don't put in great performances in their final two games down under.
Comments (7)
Adrian R says...
My big issue with the England squad is, as Bob says, the batting order. The most apt batting order is: 1. Strauss 2. Bell 3. Trott 4. Pietersen 5. Morgan 6. Prior 7.Yardy 8. Bresnan 9. Broad 10. Swann 11. Anderson I know that some of these are injured but this would be the best side...FORGET Collingwood!!!!
Posted 05:57 6th February 2011
Psycho Anna says...
well its just that england are not a top draw team... yeah u beat aussies no 5 in ICC ranking ( people say ranking is a stupid thing) but it proved true. in onedayers australia are no 1 team in ranking and u have the results... 5-1... cant we just swallow that the team for the one dayers is wrong tried and tested mens maybe we will ruin that after the world cup whe we return home early india is not the place to play cricket if u r a angland player...
Posted 13:45 5th February 2011
George Harrison says...
I agree with Bob Willis that the tour of Australia has gone on for far too long. Since the euphoria of winning the test series,the one day matches should have been done and dusted within 2 weeks,giving players time to recharge their batteries for the World Cup. The team is also a big issue.KP continues to be an enigma,and other than his double century,what has he actually done.Well the answer is not a lot! In the one day games he always gets himself out(as in the test series)just as he has got himself in.Before the test series began i voiced the same concerns on here,and as Ian Chappell rightly said,if you take away that 227,what is he left with? Ian Bell should be promoted up the order(given the way he has played) and the wicket keeper should bat down the order at 6 or 7.If the team fields first in the one dayers to come,the keeper would then have to immediately take the field again,to open the batting.In very hot conditions(as they undoubtably will be)this would surely be too much to take on. The component of the team must be right,and players cannot keep being selected on past reputations.I also believe that there is a place for a "plodder" in the team,in case a total has to be rebuilt in the event of a collapse.When batting first it's a sin not to use all .of the overs.
Posted 11:50 2nd February 2011
Maher J says...
Dont understand why WC schedule has become issue for Eng players at the moment. it may be long but its in place since couple of years now. problem for eng is current series, why the hell are they playing 7 games is beyond me. BUT its the ex players who started making them favourite even for WC when ashes was ON, in reality Eng was and is a mediocre ODI team really. I mean KP has got one fifty in last 2 years and he is blaming WC schedule before even getting there. People also forget that India is a vast country and every part of country wants to host WC game so it not easy to schedule game every other day because they are not close to each other.
Posted 19:35 1st February 2011
James Masters says...
Dream on....beat any side in the world? The best that England have to offer could hardly beat WI , Bangladesh or Zim at the current rate. They are pathetic and will not even make the WC semis. Prima donnas like KP are no good for a side that is struggling and Strauss.....well what is his role? Get some young, fit new guys in who have what it takes.
Posted 18:30 1st February 2011
Mike Jones says...
I don't understand. with the 20/20 world cup we decided to pick a team for the job in hand, didnt matter what experience they had, or what age they were, we picked our best 20/20 players. Therefore we had lumb, keisvetter, sidebottom yardy etc. Now we've got the 50-over world cup, and weve gone back to whats already failed in the past, prior has played about 50 ODI's, averages 20odd, he was dropped for a reason, Davies should be back in the team, or Kieswetter, at least. Collingwood needs to be dropped, when he's in this horrible horrible form with the bat he's a liability, Luke wright simply isnt good enough for 50over cricket, and this woakes kid looks fantastic, we should have swann, yard,y woakes, broad and anderson as the five bowlers with strauss, davies, trott, KP, bell and morgan as the 6 batters. This line up bats down to number 10 with woakes and is good enough to beat anyone in the world on their day.
Posted 17:18 1st February 2011
Dave B says...
Why is it too early for Woakes? The side could do with an injection of youthful enthusiasm, and a fresh clear mind.
Posted 17:17 1st February 2011