It's last man standing out there. The players are falling like nine-pins.
Seven matches in the searing Australian heat is simply too much and both teams are grinding to a halt. I feel sorry for them, I really do.
England were down to the bare bones in Sydney when Paul Collingwood went off with a bad back and things became even more farcical as Steven Smith came on with a runner.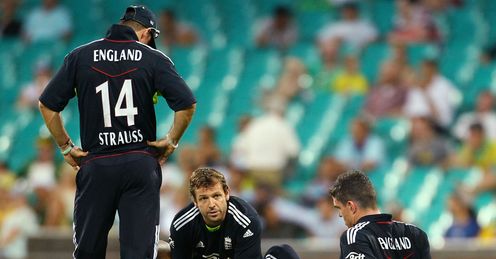 People will say some of these players have only been involved in the one-day series, which is true, but these matches come thick and fast. The players are being asked to play in day-night games and then fly across time zones to play again a couple of days later.
For example, the game in Sydney finished at 10.30pm and I was back at my hotel by 11.20pm when the players would have still been at the ground warming down and such like. And yet when I got on the 8.10am flight from Sydney to Perth the next morning, there were a number of Australian players on it.
I am absolutely certain that major players from around the world will retire from one-day cricket after the World Cup. In fact, I know they will. They will still be available for Test matches, but they'll cash in by playing in the IPL instead of slogging their guts out in all of these one-day games.
Bumble
Quotes of the week
LIVE ON SKY SPORTS
Australia v England
Seventh ODI
3am, Sun, Sky Sports HD1
Watch online with
Sky Player
How to
remote record
So within a few hours of the match finishing, they were on a five-hour flight taking in a three-hour time difference - and this was supposed to be their rest day! The other days between matches are spent practising, so they're just flogging these players.
Forgettable
Forget the scoreline, this series had been instantly forgettable until Wednesday's game which was a really great match and the players deserve great credit for that. But let's be honest, we've had some very poor games in this series.
To use a racing analogy, it's like asking a racehorse to run every day. It is capable of doing it, but it won't win very often. Similarly, cricketers need to be primed, rested and prepared.
Instead, they're out on their feet. Of course, every player out there is trying his heart out, but I can see in their eyes that they're not ready to perform at the top of their game.
I'll be home for a week before going out to India, but the players will get just three days back in England before they have to go and practice in Indian conditions ahead of the World Cup. They'll barely have time to do their washing!
As a result of all of this, I am absolutely certain that major players from around the world will retire from one-day cricket after the World Cup. In fact, I know they will. They will still be available for Test matches, but they'll cash in by playing in the IPL instead of slogging their guts out in all of these one-day games. It's too much for them.
Mark my words, I can see it coming a mile off.
Idea
Seven matches is a cash cow, in my opinion. It's absolute madness to play so many games.
These matches should be an event and spectators should get high-quality performances, but instead they're just turning up, playing and then moving to the next venue.
That's not of interest to the public. On Wednesday, we only had 10,000 people at the start of play in a 46,000 capacity stadium and it rose to 19,000 when Australia started winning. It was less than half full and that needs to be addressed.
I love coming up with little ideas to improve things and my theory is that we should bring in a soccer-style league for international one-day and Twenty20 cricket.
Forget the word "series", let's have two separate leagues for 50-over and Twenty20 games. It can be arranged that all the big countries play the same number of games over a two-year period and you'd get two points for a win. At the end of two years, the team with the most points would be crowned the winners.
That format would get rid of the dead rubbers like we're going to see on Sunday because teams would still be trying to accumulate points. Michael Clarke and Shane Watson are being rested for this game, but maybe under my format that wouldn't happen.
After two years we could see who the top team is and that could sit alongside the World Cup, which is a knock-out competition. That's the bare bones of a plan and it obviously needs fine tuning, but I think we need to forget about the word "series" in one-day cricket.
Perhaps a league system could also be applied to Test cricket as well in place of the Test match rankings. I'm sure you can pick holes in the idea, but I think it's got legs.
Let me know what you think.
Comments (13)
Brian charles Lara says...
Yes, David aka Bumble is absoulutely right here. The schedule of ODI games, in such a short period of time, with the WORLD CUP 2011 coming up in a matter of a couple of weeks, and they are jetsetting everywhere, playing day / night matches all over the shop (pun intended). In summary, complete and utter madness from the respective parties, its no wonder so many of the players are burned out at a young age, and suffer so many injuries as well. If I didn't read and see it, my big bright eyes wouldn't believe it!!!
Posted 21:40 9th February 2011
Maher J says...
English & Aussie media keeps thrashing India for too much cricket but surprisingly its England - Australia is the only one who plays 7 game ODI series. Indians and SA were busy few days ago but now they will have rst for more than month when WC starts.
Posted 17:53 6th February 2011
Gordon Mccullough says...
Bumble is right BUT the administrators do not care one iota. All they are interested in is to generate as much income as possible. If we are to play 7 ODI's after the test matches in such hot conditions (NB I've just been sitting at the WACA!!!) we need to send a seperate teamof players. The selectors are nowhere nearer knowing who the best SIXTEEN (never mind ELEVEN) players are for the world cup than they were before the Aussie tour. Apart from Trott and Anderson it is time to go back to the drawing board . GMc
Posted 10:22 6th February 2011
Dave Hemsley says...
I am watching the current game against Australia and as a very keen cricket fan and England supporter, I just want to comment on what a extremely disappointing performance the national side is giving. It would seem as quoted by others that we seem to be really struggling with such a long and tiring tour of both Tests & ODIs with all players looking shot to bits! I think we should have reduced the number of ODIs, especially with the World Cup around the corner? Does anyone know or can find out have we suffered so many injures to players like we are on this Tour before?
Posted 09:32 6th February 2011
Stephen Olliffe says...
Andrew strauss is an incompetent captain lacking both killer instinct and tactical nous.His obession with run rates rather than wickets is just 1 example,when ironically nothing slows the run rate more than WICKETS!
Posted 06:11 6th February 2011
James Harsims says...
Bumble, you raise some interesting points, some which I agree with. BUT,,,, 1. There are way too many ODI's and it is killing the game - I agree. 2. The ODI format should be at most a 3 match series before or after a Test series. Coupled with 2 T20 games, that should be more than enough. 3. The ODI focus should be on the WC every 4 years and all the ODI's in between are preparations for that. 4. Players (and teams) for limited overs cricket (ODI & T20) should be chosen from a specialist pool which considers the Test demands firstly.
Posted 19:23 4th February 2011
Jon H says...
A fair point with regards to the league format, but wouldn't you have the same issues again when towards the end of the two years a number of teams may already realise that they cannot win (or come close to winning) the league and would only put out weakened teams because there is little left to play for. That then would cause controversy if a team winning the league played against a couple of weakened teams in their remaining two games. Personally I think the series format is fine, but make it a best of three. Seven ODI's after a gruelling test series is madness!! Especially when one team wins the series convincingly meaning that the remaining games are pretty pointless. It's all about the test cricket for me anyway, still by far and away the best format of the game!
Posted 14:00 4th February 2011
Luke Wright says...
I dont think bumble would be even writing this article if england were winning this series.. Fair enough 7 odis are a bit too much especially with the world cup just around, however this fixtures were out a long time ago and surely back than both aust and eng should have sat down and considered the circumstances and come up with a more revised fixture list, that would see that fatigue does not come into play. and players have enough rest before going to india to play the WC. I quite like the idea of having a football like league, that very much makes a lot of sense.. i think one of the major loop holes would be that you may not get a true reflection of the winning team. For example england play india this year both teams are in good to reasonable form. Than next year one or both the teams go through a bad spell of form they will most probably be beaten in most matches by other teams. The league system can work, but i think all the teams need to play each other in a single calender year. difficult and almost impossible but no other way for a true reflection of who is the true champion. Another example (Look at chelsea last year with virtually the same players this season, and see what happen to them this season). Form keeps on changing so two years cannot be ideal
Posted 13:15 4th February 2011
Jammy Mcelroy says...
OK, so I'm not a cricket fan, but if Man U were to Play Barca every day for 3 weeks in a best of 15 league and then play 5 more 1 day "knockout" matches, how long before everyone would be bored sensless? With Cricket there's far too much info, games, news and hype about two sports teams! Who won anyway?
Posted 13:09 4th February 2011
Brat Bhaskar says...
I agree needless ODI games should removed from the international calender so that players could be fresh & well rested for important games while increasing the importance & sancitity of ODI tournaments like the World Cup which come once in 4 years as anyway the Cricket Boards now have the T20 cash cow to fill their coffers while flogging the players.
Posted 11:09 4th February 2011
Dale Williams says...
I think the idea for having a league system could work because, as you say, it means that each team will avoid rotating/resting players. One thing that interests me though, is that both England and Australia don't have a domestic 50-over format. England have a 40 over a side game whereas Australia have a split-innings format and they also use two new balls at the start of play (one from each end). I think that last part is a really good idea since it means that each ball will retain it's shape/colour for the duration of the innings. This is good for batsmen and bowlers; it also means that you get rid of that ridiculous 34 over ball change which is just too arbitrary for me. At the moment though, the one-day game is too predictable generally speaking. It goes a bit like this: first ten overs - bowling powerplay - large period of inactivity with lots of nudges and nurdles - batting powerplay with 10 and 11 at the crease. The whole point of one-day cricket is that it's meant to be exciting and predictability is the bane of excitement. One idea I've had is that it's a bit unfair bowlers only being allowed 10 overs each so you have to use at least five. Maybe you could add one additional over to a bowler for every wicket he takes, that way the bowlers have an extra incentive to take wickets and the fans get to see higher quality bowling for a longer period of time. Back to your thoughts, I definitely think that a league system would work better than the current one-day ranking system which has just become farcical. First off, teams change positions after every game and secondly, if you've had a look at the world cup groups, you end up with heavily lopsided groupings. Bangladesh have just thrashed New Zealand 4-0 in a recent one-day series and they're in the same group as England, South Africa and India. I reckon if you have a league then you could have bonus points for inflicting heavy defeats accounting for weaker teams
Posted 16:09 3rd February 2011
Linda Holland says...
I totally agree that there have been far too many games played in Australia. Both English and Australian players must be exhausted as there does not seem to be much of a gap between games. Also, I am getting extremely tired getting up at 4am nearly every other day !!!!
Posted 15:11 3rd February 2011
Dave Jones says...
I've tried to watch all of the one dayers but they are very hard work. I would have thought that given the length of this tour and the proximity of the world cup then this should have been limited to a three day series, in a couple of locations not used in the Ashes, followed by a period of r&r. All that has happened is that England are now more confused than ever on who will open. KP has again been let off the hook by playing one large innings per tour, and poor old Colly doesn't seem to know whether he's a batter or bowler. I really can't see us doing anything in the sub continent and wouldn't back against one of the home sides.
Posted 14:44 3rd February 2011