Martin Tyler's stats and facts column is here!
Every week he will be here to offer you statistical gems to make your day, impress your mates and, on occasion, to settle the odd bet.
Sky Sports' voice of football and his back-up team of experts are here to answer your questions and queries on all things statistical and historical from the beautiful game.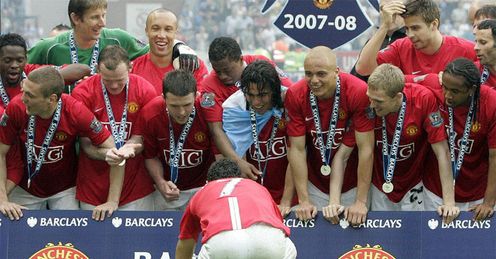 If you have spotted something from a game or have been stumped by a pub quiz question, simply email here and he will do his best to help.
Tyler's Starting Stat - An Anfield wrap
I was at Anfield to see Chelsea take a giant stride towards winning the title with a 2-0 win over Liverpool, which means this season they have now won all six games against their so-called 'big four' rivals, Manchester United, Arsenal and of course, the other Reds. And the omens are even better because the last time they won the Premier League under Jose Mourinho they also did the double over Liverpool! But you might be surprised to know that was only Chelsea's ninth win at Anfield in 67 league visits; it had been a bad ground for them because having enjoyed success there in earlier on, they did not win a league game there between December 1935 and August 2003 - but have at least won four of the last seven. In terms of the two goalscorers, Frank Lampard has now started all 32 games against Liverpool since moving to Stamford Bridge and Sunday's goal was his first in open play at Anfield, the other three coming from penalties - which will crop up later. As for Didier Drogba, that was his 10th goal in 24 games against the Reds, but only his second Premier League goal against them and his first Premier League goal on their ground. He had scored there in the Champions League and had also scored against Liverpool at Stamford Bridge, the Millennium Stadium and Old Trafford, the last two coming in the FA Cup.
DOWN TO THE WIRE
Hello Martin. I want your help to answer a question I've been asking myself. How many times has the Premier League title still been undecided going into the final round of games? Cheers, Phil
MARTIN SAYS: This is the fourth year the title race has gone to the final day, Phil, and unsurprisingly Manchester United have been involved in all of them. In 1994/5 they could only draw at West Ham and surrendered the league to Blackburn, who were beaten 2-1 at Liverpool. A year later a 3-0 victory at Middlesbrough saw United pip rivals Newcastle, who drew 1-1 at home to Tottenham. In 1998/99 both United and Arsenal won their final games - at home to Tottenham and Aston Villa respectively - and so Alex Ferguson's side held onto their one-point advantage. And most recently, in the 2007/08 goals from Cristiano Ronaldo and Ryan Giggs secured a 2-0 win at Wigan and the title as Chelsea were being held to a 1-1 draw by visitors Bolton.
SPOT ON
Hi Martin, I know Frank Lampard is a great penalty taker, but who are/have been the best Premier League penalty takers based on percentage AND number of penalties scored. (I am not interested in the ones who have scored 1 out of 1, but would be good to know those who have consistently converted from the spot over several years). Matt Le Tissier would be an obvious candidate as the best, scoring 48 out of 49, but not sure how many of those were in other comps. Thanks, John (Evertonian)

MARTIN SAYS: Frank Lampard's penalty exploits seem to have attracted a bit of attention this week and yours is not the only email along these lines John. It is a question I have to turn to the boffins at Opta to answer but must tell you that their penalty records only stretch back over the last five Premier League seasons. But in that respect, Lampard still comes out on top, having converted 22 of 24 taken at a success rate of 91.7 per cent. The only other Premier League player to come close to him is Danny Murphy of Fulham and indeed Liverpool, who has the same conversion rate from 12 yards but has taken and missed exactly half the amount. Sometimes the stats speak best for themselves John, so here are the top 10 Premier League penalty takes in terms of quantity and indeed, quality.
| | | | |
| --- | --- | --- | --- |
| Player | Taken | Scored | Success rate |
| | | | |
| Frank Lampard | 24 | 22 | 91.7% |
| Danny Murphy | 12 | 11 | 91.7% |
| Cristiano Ronaldo | 13 | 11 | 84.6% |
| Benni McCarthy | 16 | 13 | 81.3% |
| Darren Bent | 15 | 12 | 80.0% |
| Steven Gerrard | 15 | 12 | 80.0% |
| Robbie Keane | 15 | 12 | 80.0% |
| Gareth Barry | 18 | 14 | 77.8% |
| Yakubu Aiyegbeni | 11 | 8 | 72.7% |
| Jermain Defoe | 13 | 8 | 61.5% |
UNFLAPPABLE FRIEDEL
Hi Martin, I'm a big fan of your column, always learn something new every week. Im a goal keeper and always wondered were there stats compiled on goal keeper catches? If so who are the best and worst keepers in the league under the high ball? Thanks very much. Interested keeper, Stephen G Kirby
MARTIN SAYS: Thanks for the kind words Stephen, I always learn something new as well if truth be told! It's also nice to get a question regarding goalkeepers because as I am sure you are aware, people do tend to focus on those who try and put the ball in the net, not keep it out! Again I have had to turn to the good folk at Opta for some guidance but you don't need to be a mathematical genius to work out that this season, Brad Friedel has been exceptional when it comes to dealing with crosses. The Aston Villa keeper has played every one of their 37 Premier League games to date and, according to the stats, is yet to drop one! As you can see he has divided his response evenly between catching and punching but even so, is faultless as it were. Of the other 19 recognised first-choice keepers Burnley's Brian Jensen is next in the lost, dropping the ball only once despite having to deal with a whopping 82 crosses into his box - a success rate of 98.78 per cent. Joe Hart's season on loan at Birmingham City has been impressive enough but looks even better when you consider he has had 105 crosses come his way and, according to the stats, has spilled just two! As for the worst, it's a bit harsh to use that term because there is no way you would say that Shay Given, Pepe Reina and Paul Robinson are the three worst keepers in the league, but they find themselves bottom of the pile. That said, they all have a sucess rate of around 90 per cent when it comes to coping under the high ball.
SAME AGAIN...AND AGAIN AND AGAIN AND AGAIN
Hi Martin. With Manchester United having retained the league cup and Chelsea well placed to retain the FA Cup, I wondered if this has ever been achieved before. Where both cup competitions are retained the following season? To extend the question further, as I write this there is a chance that United could retain their league title and Barcelona could retain the Champions league. I'm certain that all four have never all been retained in one season, but what is the closest its ever come to happening in the past? John Ashton, Manchester United fan
MARTIN SAYS: This question clearly came to me in the short space of time after my last column went online and the second leg between Barcelona and Inter. Of course, now we know the Catalans cannot retain the Champions League which means that no-one, since it has taken on it's latest guise, has. So in a word John, the answer to your question is no! In terms of coming the closest to seeing all four trophies won by the same clubs two seasons in a row, I can point to two seasons where both English cup competitions have been retained - as well they might this year. In 1981 Liverpool won the League Cup and Tottenham the FA Cup and the following year, they did the same. You might, if you are of a certain age, be forgiven for assuming the English League title was retained by Liverpool that season but although they did win it in 1981, the following year saw Aston Villa crowned champions - interrupting six straight titles for the Anfield side!
CORNERING THE MARKET
Dear Martin, I noticed Sky Sports News made something of Arsenal's dreadful defending of corners against Blackburn but surely they are not the first to suffer at the hands of Big Sam's boys. How do Blackburn fare when it comes to scoring from corners? There can't be many in the Premier League who are better - and bigger - than the mighty Rovers! Owen Edgarson

MARTIN SAYS: I am sure Lukasz Fabianski might agree with you after the game you are talking about, Owen - the stats certainly do! Blackburn have the highest percentage of goals scored this season from corners, with an impressive 40 per cent; that means 12 of the 40 goals they have got to date, with Chris Samba's on Monday the 12th. Only Manchester City have bettered them in terms of numbers with 15, but with their total goals much higher at 72, they only have a percentage of 20.8. Second place behind Blackburn are Stoke City with 24.2 per cent of their Premier League goals coming from corners. At the other end of proceedings poor old Burnley come out bottom of the pile having failed to score a single goal from a corner and interestingly enough Manchester United and Chelsea are next worst, with 4.9 per cent and 7.4 per cent respectively - although it must be said, as the league's top two scoring sides, they have certainly found plenty of other ways to put the ball in the net!
COMPLETE HOME COMFORT
Hi Martin, I was hoping you could answer this question: Has anybody in Premier League history (or top-flight history) had a perfect record at home. That is to say, won every game, lost none and drew none? Thanks and can't wait to hear you in the States for the World Cup! John Genco
MARTIN SAYS: No team has ever recorded a perfect home record in the Premier League. Chelsea came closest to taking maximum points at home in 05/06 when they won 18 and drew one. In the previous 16 seasons the team with the best home record in the league has gone on to win the title 12 times. The exceptions are Arsenal who finished second in 98/99 and 00/01, and Newcastle who also finished second despite having the best home record in 95/96 and 96/97. In terms of the entire top flight John, I can tell you that no-one, even way back in the 19th or 20th century has managed that elusive 100 per cent home record in the top flight. The closest we have come is that Chelsea record four years ago, which equalled that of Newcastle United way back in 1906/07. Here is a list of teams with the best home record in each Premier League season and where they finished in the league:
Season
Team
Wins
Draws
Losses
Position
08/09
Man Utd
16
2
1
1st
07/08
Man Utd
17
1
1
1st
06/07
Man Utd
15
2
2
1st
05/06
Chelsea
18
1
0
1st
04/05
Chelsea
14
5
0
1st
03/04
Arsenal
15
4
0
1st
02/03
Man Utd
16
2
1
1st
01/02
Arsenal
12
4
3
1st
00/01
Arsenal
15
3
1
2nd
99/00
Man Utd
15
4
0
1st
98/99
Arsenal
14
5
0
2nd
97/98
Arsenal
15
2
2
1st
96/97
Newcastle Utd
13
3
3
2nd
95/96
Newcastle Utd
17
1
1
2nd
94/95
Blackburn Rovers
17
2
2
1st
93/94
Man Utd
14
6
1
1st
Tyler's Teaser
Hit the video for this week's tricky teaser. Send in your answers to Martin's question using the feedback form below - and don't forget to keep your own questions coming in...
Comments (29)
Corky James (Crystal Palace fan) says...
seedorf, AC and real no?
Posted 15:21 7th May 2010
Neil Humphreys (Liverpool fan) says...
I know one of them would be Samuel Eto'o if you count this season - Playing for Barcelona last season, and with Inter Milan this year..but I'm not sure about the other one, but it surely can't be anyone from England!
Posted 11:44 7th May 2010
Avinash Govindaraj (Manchester United fan) says...
1. Gerard Pique ( Manchester United and Barcelona)
Posted 01:46 7th May 2010
Sankit Gada (Arsenal fan) says...
Pique- ex man utd, and current barca star!
Posted 23:46 6th May 2010
Ryan Karlsson (Arsenal fan) says...
Paulo Sousa Marcel Desailly
Posted 17:36 6th May 2010
Daniel Higgins (West Ham United fan) says...
The Two players to have won were Marcel Desailly with Marseille and Ac Milan, and Swansea Manager Paolo Sousa
Posted 16:43 6th May 2010
Daniel Higgins (West Ham United fan) says...
The two players to have played consecutive champions league and have won are Marcel Desailly and Alessandro Costacurta
Posted 16:40 6th May 2010
John Miller (Chesterfield fan) says...
The two players to have won the Champoins League back to back are Marcel Desailly (Marsaille 93 and AC Milan 94) and Paulo Sousa (Juventus 96 and Borussia Dortmund 97)
Posted 12:41 6th May 2010
Stephen lowis + josh gateshill ..... (Roma fan) says...
Paulo Sousa - Juventus 1996/Borussia Dortmund 1997 Marcel Desailly - Marseille 1993/A.C Milan 1994
Posted 12:27 6th May 2010
Ashish Patel (Manchester United fan) says...
The answer to the teaser is Marcel Desailly who won it with Marseille in 1993 and Milan in 1994 and Paulo Sousa who won it with Juventus in 1996 and Borussia Dortmund in 1997. Gerard Pique was not in the 18 man squad of Manchester United in the 2008 final otherwise he would also have been a candidate as he won it with Barcelona in 2009.
Posted 12:24 6th May 2010
Micky Stan (Manchester City fan) says...
Desailly - Marseille and Milan Paulo Sousa - Juve and Dortmund :-)
Posted 12:16 6th May 2010
Ben Chia (Arsenal fan) says...
Players who have won back-to-back Champions Leagues are Paulo Sousa (1996 Juventus and 1997 Dortmund), and Marcel Desailly (Marseille 1993 and AC Milan 1994). Quite a lot harder than it seems actually!
Posted 11:52 6th May 2010
Cesar pelluci (Manchester United fan) says...
Marcel Desailly, Marseille 1993 & Milan 1994 and Paulo Sousa, Juventus 1996 & Borussia Dortmund 1997
Posted 10:30 6th May 2010
Jason Donovan (Liverpool fan) says...
Hi Martin, The two players who have played and won consecutive champion's league finals are: Marcel Desailly with Marseille (1992/93) and Milan (1993/94) Paulo Sousa with Juventus (1995/96) and Borussia Dortmund (1996/97). Thanks Jason
Posted 09:32 6th May 2010
Ahmad Bashter (Aston Villa fan) says...
Teaser's answer: Marcel Desailly is the first one to achieve this (93 for Marseille and 94 for AC Milan), the other one is Paulo Sousa (96 for Juventus and 97 for Borussia Dortmund). One thing to mention, Gerard Piqué was in Manchest United in 2008 when they won the champions league, he didn't play the final, yet I'm not sure if he recieved a medal or not, of course he played with Barcelona when they won 2009 trophy.
Posted 23:57 5th May 2010
Yuval Fish (Chelsea fan) says...
Hi Martin, I'm a big fan of your column, read it every week and find it very insightful. With Spurs clinched the final Champions League spot, and should they qualify for the group stage, that will grant London three representatives in the Champions League. I wondering has that ever happened before? as far I can remember I don't recall that many teams from the same city in the Champions League.
Posted 22:17 5th May 2010
Daniel Nott (Arsenal fan) says...
Answers for Tyler's Teaser: Marcel Desailly, Paulo Sousa & Gerard Pique
Posted 20:30 5th May 2010
Jon Laughlin (Manchester United fan) says...
The answer to the teaser: Marcel Desailly 1993 Marseille, 1994 Milan Paulo Sousa 1996 Juventus, 1997 Borussia Dortmund
Posted 20:00 5th May 2010
Conor Mc gowan (Liverpool fan) says...
Paolo Sousa and Marcel Desailly
Posted 19:48 5th May 2010
Sean Naughton (Manchester United fan) says...
I will name them for you Martin,Marcel Desailly with Marseille in 93 and Ac Milan in 94,Paulo Sousa with Juventus in 96 and Borussia Dortmund in 97!
Posted 18:46 5th May 2010