They are the 16 England players charged with winning the Ashes for the first time in Australia since 1986/87.
But have the selectors made the right choice?
Can England hope to retain the urn with a batting line-up featuring Alastair Cook, Kevin Pietersen and Paul Collingwood - who averaged 23.85, 23.33 and 19.83 respectively in this summer's Tests against Pakistan?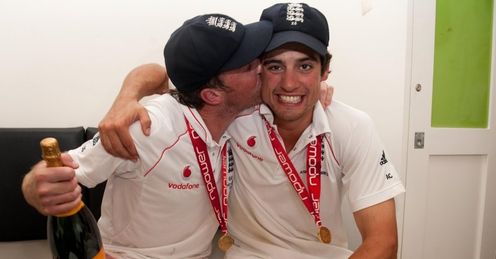 Does a tally of 48 Championship wickets at 20.18 make Chris Tremlett's inclusion a necessity? And how unlucky can Adil Rashid and James Tredwell consider themselves to miss out on the second spinner spot to Monty Panesar?
To answer these questions and get their thoughts on the squad as a whole, skysports.com convened a special sitting of the Ashes panel...
Nasser Hussain
This squad has got as good a chance of winning the Ashes in Australia as any England have put together in two decades. Graeme Swann is the trump card. On previous tours spin has only had a containing role when the Kookaburra ball has gone soft but with Swann on song England will believe they can get 20 Australian wickets.
The attack is well-balanced although it would have been nice to see Ajmal Shahzad in there because he reminds me a little of Simon Jones - raw, fast and able to reverse it both ways. But the selectors feel he isn't quite ready and went for Bresnan, which is a good sign because it suggests they might play the extra bowler at some stage.
Kevin Pietersen needs to be at his best to win the Ashes simply because you need to score 450-500 in the first innings to win in Australia and the sort of players who are going to get you up to those big scores are the Pietersen's of this world. He was the one batsman who stood out from the rest in 2006/07. Yes, he's had a dip in form but I think he's also had a bit of a kick up the backside. He admitted that he had taken his eye off the ball after the World Twenty20; I think Andy Flower has made sure he's focused by leaving him out of the NatWest Series.
Ravi Bopara's exclusion from both squads is an odd one. Andy Flower is a very clever guy and maybe he sees something in Bopara either mentally or technically that he thinks he can solve playing first-class cricket in South Africa. I would be very surprised if Bopara's international career is over.
Sir Ian Botham
There's no real surprises. Tremlett coming back in makes sense because he's bowled well for Surrey. He's tall, he's got good pace and he gets bounce - those are the kind of bowlers you need, particularly with the Kookaburra cricket ball.
It makes sense to take Panesar. England aren't going to play two spinners, I can't see them doing that in the series, but there could be a situation where Graeme Swann does a hamstring or something in the warm-ups - so we've got someone with a lot of experience who can step in. I think that's their thinking.
It was a tough selection between Shahzad and Bresnan, but it's nice that England are in this situation where they can pick and choose. It's not as if these guys won't be there anyway, they'll be out there on the performance tour, so they have a chance to shine as well. If injuries occur they'll be there and acclimatised, so it makes a lot of sense.
It will be tough because it's the Australians in their back yard. The environment will be hostile on and off the field, but that's the Australian way. With the way these guys have conducted themselves over the last couple of months - and the captain in particular, who has shown great dignity in very difficult times - I think they're ready for it. Australia have lost a lot of big, big players and are not the side we've seen over the last 15-20 years, far from it. They're rebuilding and I believe England are strong enough and good enough to win it - and to win it by a couple of Tests.
Bob Willis
I like the balance of this squad - it looks pretty good to me and I don't think England could have put one together that was much better. A lot will hinge on how Andrew Strauss and Alastair Cook perform at the top of the order. Cook had a disappointing time in Aussie last time out but the selectors clearly feel he can do the job and good luck to him.
There were never going to be too many surprise selections and so it's proved. This will be a great opportunity for Chris Tremlett to get stuck in if he gets the opportunity. He's enjoyed a good season at Surrey - the change of scene seems to have done him some good - although it is important to remember that his wickets are second division wickets. It is going to be a hard graft for anybody who bowls in Australia - be it seam up or spin - and Tremlett and Steven Finn for that matter need to make sure they deliver when it counts.
Monty Panesar is clearly the second best spinner in the country for my money; if England need to play two spinners at either Adelaide or Sydney then he is clearly the right man for the job. Don't forget that his batting did help to save the first Test at Cardiff in 2009 - but of the whole squad you'd have to say he is the only player who is likely not to contribute with the bat.
Michael Atherton
The Ashes is always a mouth-watering prospect and the way the England team have played recently with those six consecutive series victories makes everyone think they are in a pretty good place right now. They are well-led by Andrew Strauss and they have several match-winners in their ranks, which means they have a great chance of retaining the urn. In fact they probably haven't had a better chance to do so since 1987.
There was never going to be much controversy over the selection - most people would have come up with the same 13 or 14 names straight away, which shows how good a place England are in.
Australia are a good Test side but they are only OK by their own standards; they've got three 35-year-olds in their top six, their bowling doesn't look more potent than England's and England hold the Ashes which is like having an away goal in football terms.
That said, Australian sides do have a remarkable innate competitiveness. The old adage is that England teams have to be 20 percent better in Australia to win in Australia.
Why is that? Conditions are foreign and you've got pitches that tend to be a bit harder and bouncier than those in England - plus they use the Kookaburra rather than the Dukes ball, which goes softer quicker and the seam goes flatter too so there's not as much movement for the bowlers.
Conditions can be pretty harsh too. The temperature can get to 40 degrees in Perth and Adelaide plus it is a pretty hostile environment in the grounds, so you have to be tough to do well over there.
David Gower
There have to be concerns about Pietersen going into the Ashes because he's had a very poor summer. For all his talent, he needs confidence to make it work. Some people call it ego but the nice word is confidence.
Every player, no matter how good he is, needs to believe in what he is doing to make him a very, very good player or even an extra special player. That confidence has always been there with Kevin Pietersen, pretty much until this summer.
Ever since South Africa where he was down in confidence because of his injury Pietersen has struggled and this summer he admitted that his confidence is shot. He has to get that back if he is going to be as good as he has been before.
England will want him firing, the Australians will hope that he is still lacking runs when he's down there but he's still a shoe-in for me. He's got games in South Africa now (with the Natal Dolphins) and those first few warm-up games in Australia when they first get there; if he strikes form in that period it bodes well for England in the Ashes.
If for any reason he is still struggling then, I'm pretty sure they will take the risk and hope that it clicks into place in the first Test match.
David Lloyd
It's a good squad; is it good enough? We'll see. I like Tremlett's inclusion - I think that's cracking. He's what you need in Australia - a tall bowler who hits the pitch hard and England have plenty of those now.
Monty's a lovely lad and a proven Test match bowler. I just hope he's a lot stronger than he was last time. He'll go as second spinner and I just wonder if England have something up their sleeve at Adelaide and Sydney. I would have had Rashid in there instead but I don't think Monty's a bad selection.
Apart from maybe Shahzad for Bresnan there's no-one out there who will be demanding to know why they haven't been included. There's a young kid called James Hildreth, who has scored seven centuries down at Somerset and is a very good player, who had a chance but England's batting line-up is very, very settled - that's very important for Geoff Miller and the excellent Andy Flower.
It's a great idea that they've got three or four warm-up matches before the first Test. They should have plenty of time to acclimatise. They've got to use them to get Kevin Pietersen and Paul Collingwood into some sort of nick. Both of those players will be in England's first Test line-up and they will want them to have played cricket and have scored runs.
You cross your fingers and hope Pietersen's hard work pays off. Beefy wrote a book a while ago and its message still rings true today - form sometimes clicks. Pietersen against Australia is absolute box office and he will be raring to go.
Don't forget that you can see the Ashes live on Sky Sports from November 25 when the first Test starts in Brisbane.
Comments (23)
Bryn Farrant says...
in defence of our overseas players..and the remarks of mr maclean. if the aussies put out a real austrilian team they would have a lot of aborigenes in there dont you think....aussie cricket as we knew it has past...they will never be the team they once were...face it they are finished.
Posted 14:02 22nd October 2010
Sam Freedman says...
in regards to will edens comments,last summer when the aussie dropped hughes im sure thwe replaced him with shane watson and he scored alot of runs agianst us and we struggled slightly and now he still opens for the aussies,and in regards to morgan at first i wasnt sure but now i think hes a great player who will only improve and to me he seems one of the hungrest players in the squad.
Posted 11:32 12th October 2010
Nick Breeze says...
Athers, as a fellow enthusiast of the written word, you might be interested to know that an adage is by definition an archaic abstraction: the "old" prefix is unneccessary.
Posted 21:47 11th October 2010
Matthew Elwell says...
In relation to England having overseas players it happens in every sport nowadays Its like Deco in football its allowed so get on with it. And australia arent pure the name Dirk Nannes springs to mind!!
Posted 15:41 7th October 2010
Sanya from England cricket blog (jimmymycrushie.me) says...
I completely agree with Atherton. Though I don''t like Strauss'' captaincy, especially how he gives too many overs to Bresnan and Broad.
Posted 01:00 5th October 2010
William Maclean says...
Remember how over confident you all felt here - Athers and the other Experts! Squad settled? Pick themselves! I read it as England do not have depth, the selectors have stuck with old players allowed no flair or youth. Panesar? Come on! Aus will slaughter Eng down under. Just a correction Bruce Duffet.......The Eng coach is NOT SA, he is Zimbabwean. AND.....if it were not for "our SA friends" then ENgland would be in terrible shape, oh and with their star Irish batsman too. So where is the ENGLISH talent then?
Posted 00:37 3rd October 2010
John Stevens says...
I feel the squad is very well selected but surprised Rashid wasn''t selected as the 2nd spinner. He has done almost everything he could with the bat an ball and clearly deserved his chance for this series. I still believe this is the best chance for England to beat the Aussies on their home turf!
Posted 16:51 1st October 2010
Matt W says...
Steve H - Australia was slaughtered by Pakistan? Were you watching the same match - they fell in by 3 wickets and were lucky not to lose. I think you grossly underestimate the fighting spirit of Australian sporting teams. The crucial test loss to England last time was in Adelaide where only Australia would have had the self belief to win.
Posted 09:27 26th September 2010
Tom Oates says...
I don''t buy into what Athers is syaing about the Australian bowling attack being toothless. If we face Shaun Tait, Mitchell Johnson, and Peter Siddle all bowling up at 90+mph we will have a very hard time out in Australia. I would have liked to have seen either James Hildreth or Ravi Bopara taken as batting back up as our misfiring top 6 will lead to problems for us
Posted 23:21 25th September 2010
Subramani Aiyar says...
I have great expectations of Swann. He is certainly the finest off spinner in the world today and considering how the Australians have always been suspect against quality spin bowling, Graeme could well be the man of the series. Maybe Rashid could have been picked as well. He is a confident leg spinner and a handy bat as well.Bresnan being preferred to Shahjad seems odd. Maybe Bresnan''s image as an honest trier worked in his favour. But it is the batting that has to work if England has to win. At present it does appear as if Pietersen, Cook and even Collingwood are low on confidence. Hopefully the Australian wickets and the knowledge of earlier success down under could bring them back. In conclusion, I would back Strauss''s luck in Captaincy to enable England a rare Ashes victory in Australia.
Posted 14:55 25th September 2010
John Mohammed says...
I have to say I agree witht he legend that is bumble, i am baffled that Rashid is not even in the performance squad
Posted 04:32 25th September 2010
Tim Buckle says...
Why no Rashid? Whats the lad got to do? I''m only asking because everyone I''ve asked has no idea either.
Posted 19:54 24th September 2010
Fayaz Shah says...
i''m sure england will win the ashes because somehow they have edge in the bowling side with likes of swann , anderson and monty not see any chance for fast bowlers because in down under the flat tracks are favourable for spins .... happy with the squad but want to see hildreth , lyth , taylor. shazad , woakes and rashid in the side , because i think they somehow had made an impact in county circuit look at hildreth he had made seven [7] centuries in domestic cricket , lyth he is a leading run scorer in the first divison i think english board now should take look on james taylor i think he is a marvilous cricket unhappy with his selection , dont forget shahzad is a known for his reverse swing with both ways , didnt made any place in test nor nor odi''s but with great control in his line and length atleast they should have bring shazad replaces with bresnan .... woakes he also mad e special achievement to won the cb 40 title he is a great all-rounder and last but not least rashid should atleast made in epp had taken 54 wickets in the summer season and also made 755 runs with the average of 45 i think they could have made right decison and also he has developed his cricket specially bowling in the summer with his variety of googly and floper leg brake but i''m 80% conformed abt england would retain the ashes...
Posted 19:48 24th September 2010
George Staples says...
Most of the squad picked themselves BUT once again an over reliance on the favoured few. Where are the reserve batsmen? Does it mean yet again, that whoever fails at the top of the order will once more be an automatic selection and not left out? Poor old Rashid! What a pathetic and feeble excuse offered by Mr. Miller that Rashid had been around for two years and would be resting!! How pathetic. Other players have been around, never been humiliated and never been left out. He''s young, fit,. taking wickets, scoring runs and a good fielder. He has played in the top[ of the Championship matches all season, not in the lower divisions where wicket taking is much easier. Tell the truth Mr. Miller and have a look at the Yorks. reps in the performance squad, they should be joined by Pieterson who has done nothing to merit a place. Past performances count for nothing, especially in Australia. I''m afraid the closed shop selection policy is an outrage. My son in Sydney is already smiling! George Staples
Posted 10:45 24th September 2010
Bruce Duffett says...
David Gower you are quite right Ego is another word for confidence. Nothing wrong with confidence but having a big head also is far above confidence. Agree with Bumble Hildreth should be their instead of either of our South African friends then thats my opinion and everyone forgets the likes of Carberry (what did he ever do wrong). Panesar blew me away with his selection but thinking about it Beefy is right he will bowl line and length (nothing else) and that is 90% of what you want plus he will not play unless the Aussies are weaker than expected or Swann is injured. Tremlett is a great choice, he will take wickets along side Broad the only reason he was dropped is may be his face did not fit plus he is a walking timebomb with injuries. Morgan is by far our best Bat just a shame that he is not English or Welsh. Still, come on England, we have the winning mentality with a South African coach lets bash the Aussies and again when we play at home with a proper Dukes Ball.
Posted 09:33 24th September 2010
Steve H says...
Heart says England, head says Australia. True the Aussies slaughteread and were then themselves slaughtered by Pakistan, but this is on home turf, with an inferior ball they are more used to, fantastic crowds behind them, and chances to Pommey Bash, their favourite pastime! KP needs to fire on all six, but form says he''ll struggle to ignite more than three... so Trott and Bell will have to bale him out again.
Posted 23:54 23rd September 2010
David Mckeown says...
We can all quibble and say we''d have him for him and don''t rate this guy or that, but the bulk of the squad picked itself and the arguments were around the fringes... Let''s all now get behind these lads and hope like hell they can go over there and ram it to those arrogant, self -loving Aussies and all those fans who don''t give us a prayer. Come on they''re not the force they were- it''s ours and it''s staying ours!
Posted 20:48 23rd September 2010
Stewart Mursell says...
lets get right stuck into them Aussies - My man KP will do it I have a feeling
Posted 20:41 23rd September 2010
Will Eden says...
historically on a tour of australia you should always take a reserve opening batsmen. im not suprised there isnt one because its not the fashion anymore but i think its a mistake! cook is vulnerable and if he fails or there is an injury who will open the batting? australia made the same mistake last summer when hughes got dropped and they had to make do with a makeshift opener. if the performance squad isnt there till after the 3rd test, then for me this rings alarm bells! also i think morgan is lucky to get the reserve batting spot. apart from one century he didnt look that convincing to me and i think hildreth should have got the nod as a consistent first class average indicates.
Posted 18:41 23rd September 2010
Steven Jones says...
Its a shame to see Ajmal Shahzad not picked for the ashes squad, he always performed well whenever he was chosen to play for England and never even got a chance to play against pakistan. Instead he was sat on the bench, not able to show his potential. He was the lucky mascott for England, ever since he has been around since the t20 world cup England seem to have been succesfull. Its a shame to not see him in the squad, but all the best to England.
Posted 17:34 23rd September 2010