The NFL Draft starts on Thursday night, and it's going to be shown by Sky Sports!
Amid the on-going shenanigans about trades up, trades down, and one big trade from the Buccaneers to the Jets in exchange for one Darrelle Revis, Alex Ferguson has had his fingers on the pulse.
Read below for his take on the top 10 offensive and defensive players on offer...
OFFENSIVE PLAYERS
1. Luke Joeckel (Offensive Tackle, Texas A&M)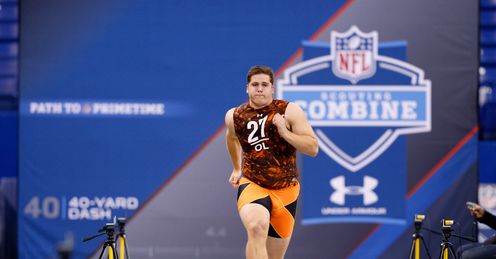 One of the big reasons why Johnny Manziel got a Heisman (college football's award for the outstanding player of the year), is that he had Joeckel lining up as his left tackle. Quick, bright and durable, he's an offensive co-ordinator's dream.
2. Geno Smith (QB, West Virginia)
Smith might well be the first QB taken in the draft, and in our view, he's the best QB out there. He threw for 4,205 yards and 42 yards in West Virginia's first season in the Big XII, and was once a Heisman candidate. He's accurate, quick, and he's bright.
3. Eric Fisher (Offensive Tackle, Central Michigan)
One of the most talked about offensive tackles in the draft, Fisher's got smarts and is durable - he started 13 games straight last year as a senior. Oh, and he's quick, too.
4. Lane Johnson (Offensive tackle, Oklahoma)
A lot of people love Johnson - mainly because he's smart, he's got a great attitude, and is exceptionally quick - which is going to be needed against speedy NFL defenders. Any questions about his durability early on were answered all the way through the season.
5. Jonathan Cooper (Offensive Guard, North Carolina)
Viewed as being one of the best run blockers and pass protectors in college football. A lot of people are talking about him going to Detroit in the first.
6. Chance Warmack (Offensive Guard, Alabama)
In a team as packed with talent as Alabama's, it takes something special to start 40 straight games for the Crimson Tide - which Warmack did. He's an exceptional run blocker, is quoted by pundits as having "good football intelligence", and is tough.
7. D.J. Fluker (Offensive Tackle, Alabama)
Like Warmack, he's an excellent run blocker - so should do well in a run-centric offence. However, we worry about Fluker in pass-centric offence - he's not great against the pass rush.
8. Cordarelle Patterson (Wide Receiver, Tennessee)
This guy's a YouTube sensation, both returning punts and catching balls. In fact, he was about the only reason to go and see the University of Tennessee last year. Despite some people talking up his teammate, Justin Hunter, there's no comparison for me - Patterson is far better.
9. Eddie Lacy (Running Back, Alabama)
When you're running behind the No.6 and No.7 guys in the Top 10 list, you're probably going to put up some yards. And Eddie Lacy did just that, putting up 1,322 yards and 17 touchdowns in an ultra-competitive SEC. Very powerful, and vastly improved his fumbling through the years. This is going to be needed in The Show.
10. Tyler Eifert (Tight End, Notre Dame)
Notre Dame had an incredible regular season which culminated in going to the National Championship, and one of the reasons was the brilliant catching ability of Eifert, who had 50 catches for 685 yards last year - that's excellent for a tight end. Could this be the next Tony Gonzalez? Teams like the Packers (who are tipped to get him), will certainly hope so.
WILD CARD
Ryan Nassib (QB, Syracuse)
A lot of people have been talking up Nassib lately - particularly as possibly going early to the Buffalo Bills. He's definitely bright and he's definitely durable, but he's average in the pocket, average in accuracy, and average in arm strength. And although he threw for over 3,700 yards last year for Syracuse, do Bills fans really need another 'average' QB?
DEFENSIVE PLAYERS
1. Dion Jordan (Linebacker, Oregon)
First of all, he gets points for his awesome nickname - the 'Praying Mantis'. But having seen a video of Jordan, some things shine out: he's quick, he's good against the rush, he's agile, and he can wrap up the quarterback or running back - the latter which seems to be a skill lacking in college football. The only question would be his durability - he had shoulder surgery after the combine, and is going to be out for a quarter of the year.
2. Sharriff Floyd (Defensive Tackle, Florida)
Floyd was a big part of one of the best defensive units in the country last year, contributing three sacks to the cause as well as 46 tackles. He's exceptional speed and toughness are great, but he's also brilliant against the run. What could teams want more?
3. Dee Milliner (Cornerback, Alabama)
ESPN's 'Sports Science', which measures the NFL-readiness of players, measured Milliner's numbers, and he was absolutely outstanding. He can change direction, has a great vertical, and is a fantastic tackler. If he can overcome GMs' worries about his small hands and durability, he could well be the next Patrick Peterson.
4. Ezekiel Ansah (Defensive End, BYU)
60 tackles, 4 ½ sacks AND an interception isn't bad work for a defensive end, is it? Well, he's 6ft 5in, built like a train, and goes like a steam-train if all the advance reports are to be believed. The draft guys love him because of his excellence against both pass and run... that'll do me fine.
5. Jarvis Jones (Linebacker, Georgia)
I saw Jones play all season long, and he was a 'Disruptor Magnifique' when it came to passing situations or the open field. He could make plays like no-one else. He led the Georgia defence, and was incredible against the run. The two worries against him are his Spinal Stenosis condition (where the neck canal narrows), and his play against the rush (see Alabama SEC Championship Game for details). But he'll be one of the best push rushers in the league in no-time. Trust me that.
6. Barkevious Mingo (Linebacker, LSU)
A lot of people talked up the 6ft 4in KeKe Mingo (as if they needed to!) before the season started, and you're right - he was one heck of a pass-rusher. After a tremendous 2011 season where he put up 46 tackles, had 15 tackles for loss and sacked quarterbacks eight times, he didn't have a great 2012, seeing his production drop to 38 tackles and 4 ½ sacks. Could it be that he knew he was going to the NFL and made a little less effort? Although NFL analysts do agree there are some "holes to his game", it's his pass-rush skills that'll get him noticed. I just think Jones is more mature.
7. Star Lotulelei (Defensive tackle, Utah)
Lotulelei is a fantastic run stopper. The way that he destroyed Pac-12 defences was mind-blowing last year - especially with a man with a 6ft 2in, 311lb frame. He can catch up to plays, and sometimes had a brain that seemed to work faster than anyone else's. And for ages, NFL scouts agreed because he was No.1 on the Mock Draft list (or thereabouts), but he's since moved down because of heart issues, that no-one would wish on the Devil. Still, if he gets an NFL spot, he's going to be great stacking up the defensive line.
8. Matt Elam (Safety, Florida)
A lot of people are talking up Kenny Vaccaro from Texas, but Vaccaro's propensity to miss tackles in open field rather than make great ones would make me want Elam instead. Elam was a human highlight reel at Florida, putting up 76 tackles, 4 INTs, and even gauging two sacks. He's got fabulous instincts and great balls skills. Sure, there are worries about his height (5ft 9in), but he's a natural playmaker.
9. Kenny Vaccaro (Safety, Texas)
It's not that Vaccaro's not a good safety (hence he's in our Top 10, and made 91 tackles and two interceptions. His numbers were slightly enhanced by the fact that Texas really didn't have a great defence this year and Vaccaro had to come up to shore up the line with a quick hit, but his speed is excellent. My issue is that in a throwing league (ie the Big XII, where he played), he should have done better than just two interceptions and just 16 tackles for loss in his career.
10. Manti Te'o (Linebacker, Notre Dame)
The player that no journalist seems to want to succeed after 'Non-existent dead girlfriend-Gate, is a tremendous tackler with great instincts. He's already used to being a leader and led the Irish to a National Championship Game. He made a stunning 111 tackles, 7 INTS and 1 ½ sacks in the 2012 season - which is an incredible effort. The only worry about him is that he's a little slow and small for the position, but we think he's as good as Sean Lee who came out of Penn State to play for Dallas - and that's quite the compliment.