Manchester United manager David Moyes wasn't the only high-profile managerial casualty in sports this week. The New York Knicks - one of the biggest names in the NBA - fired coach Mike Woodson after they missed the play-offs on Monday.
This prompts the question: What are the highest-pressure jobs in US sports?
New York Yankees (Baseball)
New York's always a place that expects wins and World Series Championships, and anything else is considered a brutal failure. After all, the team has won 28 of them. After long-time manager Joe Torre retired in 2007 after 12 seasons and four World Titles, the Yanks started the Joe Girardi era by winning another one in 2009.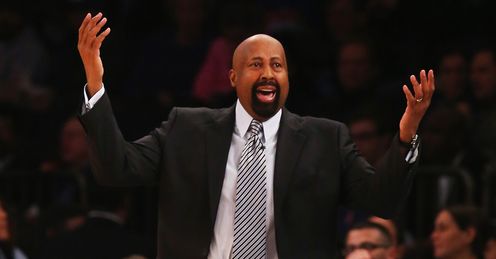 Since then, there's been a bare cupboard for their expectant fans, with upper management's efforts to buy experience for untold millions in the place of a good youth system turning fairly disastrous. This was capped by a 2013 in which they missed the play-offs...something that rarely happens to Yankees fans. The fans and media are expectant - expect the Yankees to fire Girardi if 2013 is repeated.
Los Angeles Lakers (NBA)
Rather like the Yankees, the Lakers are used to winning. They've won 16 NBA titles, including five between 2000 and 2010. But despite seeing greats from stage and screen every night at the Staples Centre watching games, the Lakers were booted out of the first round in 2013 and didn't even make it to the postseason in 2014, ending up with just 27 wins.
And their superstar and future Hall of Famer Kobe Bryant is injured. Again. The fans and the media want blood, and their coach Mike D'Antoni may not have been fired (yet), but the speculation is that he's going to be out this summer. The Lakers front office hasn't given him any words of committal, either.
Dallas Cowboys (NFL)
The reason why the Cowboys are on this list is simple. Whether you like it or not, they are the biggest name in the NFL, helped by a history of success (five Super Bowls), glorious names of the past (Troy Aikman, Michael Irvin, Emmitt Smith), which brings with it expectancy of a glorious past meaning a glorious future.
The Cowboys haven't won since 1995, and haven't been to the play-offs since the 2009-10 season, and Jerry Jones, the NFL's most high-profile owner, isn't known for his patience (he's been through seven coaches since 1996).
Boston Red Sox (Baseball)
When Boston won their first title since 1918 in 2005 (and then repeated in 2007), coach Terry Francona must have thought the pressure was off. Well, it wasn't. He was booted in 2011 after a late-season collapse (sorry, the team declined to pick up his option!).
In 2012 the Red Sox were one of the worst teams in baseball. They fired Bobby Valentine, hired John Farrell, and won it all in 2013. In 2014, they are 9-11 and bottom of the American League. Don't count out the Red Sox ownership firing Farrell if it remains that way.
Montreal Canadiens (NHL)
The atmosphere when Montreal's playing in the play-offs is incredible, but there's expectancy. That's because the Canadiens have won Stanley Cups, but they haven't won a thing since 1993, and it's really grating on the fan base's minds. That impatience and pressure has led Montreal's ownerships to constantly change coaches.
Kentucky Wildcats (College Basketball)
Kentucky's team was expected (somewhat fancifully) to go unbeaten this season. They didn't, scraping into the March Madness thanks to a good conference tournament. They were favourites for the final, which they lost to Connecticut. The fans were furious at the loss.
What does this tell us about Big Blue? UK has a history of success, having won eight titles, gone to 25 Final Fours, won 52 conference titles, and sent 82 players to the NBA. They are expected to win every year. If that doesn't happen, it's considered a failure. Even if the team goes off to the NBA.
Notre Dame Fighting Irish (College Football)
With Notre Dame, the pressure comes from everywhere. It comes from the media, it comes from a fan base spoiled by a tradition of winning (they have the highest winning percentage of top-tier college football teams over the last 100 years) and sending great players to the NFL.
Notre Dame's the biggest name in college football by a mile off-the-pitch (it has its own TV deal with NBC), but aside from a superb season in 2012 (which ended in an embarrassing loss to Alabama in the National Championship Game) not on the pitch since 1988. That doesn't exactly make the fan base happy.
New York Knicks (NBA)
The problem with the Knicks is that they've gone down the Lakers and Yankees route of 'win now, screw the future'. They've spent a lot on superstars who have either been injured or have the chemistry of oil and water, and the raucous fan base that came to Madison Square Garden to cheer in 2012-13 came to boo in 2013-4 when they missed the play-offs. Knicks fans expect to be competitive every year, and when it doesn't happen, all hell breaks loose.
Alabama Crimson Tide (College Football)
After Nick Saban took charge at the University of Alabama in 2007, there was an expectancy to win immediately. Saban took two seasons to win title No.1, and he won back-to-back titles in the 2011-12 and 2012-13 seasons. Every year, Alabama's expected to go 13-0 and win the title now. And at the very least, beat hated rival Auburn every season.
And when they don't do it, the fan base is furious (see 2013 for details). All the recent success - as well as the history of accomplishments by legendary coach Bear Bryant, who won 323 games and six National Championships in Tuscaloosa, and whose voice recording still echoes in Bryant-Denny Stadium before games - means there's pressure.
Chicago Cubs (Baseball)
Not having won a World Series since 1908 will make one of the most faithful franchises in baseball believe a little more that this will be their year. And when this year becomes another sucky one, those results pour pressure on ownership and management. Hence why their managers seem to last two or three seasons.