It is an important and intelligent step for Steve McNamara to have a match before the Four Nations kicks off.
The Four Nations is basically a three-match tournament to get into a final so there is almost no room to make any mistakes. England need to have some team cohesion before they take on New Zealand next Saturday so this game against New Zealand Maori give them the chance to smooth out any wrinkles.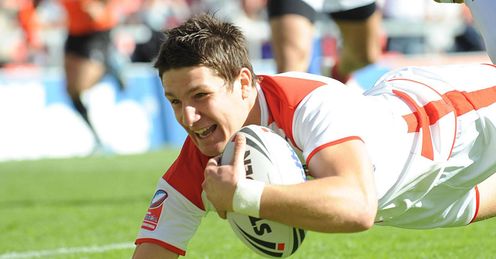 It is always a dilemma whether to play an extra international game or not. You need to balance the need to rest your players after the Grand Final play-offs against the need for them to play a match together. However, in this instance I think they have got it exactly right.
New Zealand Maori will be the perfect sparring partner for what lies ahead - they are almost as good as the heavyweight champions England will have to face in the opening game. After all, New Zealand are the World Cup holders and will be a very tough battle for McNamara's lads.
New Zealand Maori will be the perfect sparring partner for what lies ahead - they are almost as good as the heavyweight champions England will have to face in the opening game.
Phil Clarke
Quotes of the week
LIVE ON SKY SPORTS

New Zealand Maori v England
5.30am, Sat, Sky Sports HD1& Sky Sports 1
Online with Sky Player
Click
here
to remote record
Several of the Maori are world-class players themselves so this is the perfect preparation for England.
I think McNamara has picked very close to what will be his Test team for next week. What I think will be most interesting is how the outside backs go. The perception over the last five years is that while the England's forwards have been a huge success against New Zealand and Australia, our backs have not been as clinical in their finishing.
In particular you look at the fullback, stand-off and scrum-half to see whether they can be as creative as the Aussies and the Kiwis have been over the last few years.
McNamara has gone for Gareth Widdop at fullback, Kevin Brown at stand-off and Sam Tomkins at scrum-half. It is a bit of a surprise to see Tomkins not at fullback and just goes to show the dilemma McNamara faces. He needs someone of Tomkins' creativity at scrum-half but would that same creativity be better used at fullback?
There is no perfect solution and we may yet see Tomkins at fullback next week. Widdop has played the majority of the season at centre or at standoff for Melbourne second team. That is not ideal preparation to play fullback in a Four Nations game.
The other big question for me is how the England hooker goes. For me the hooker is the most important player on the field - he touches the ball more than anyone else so James Roby's involvement is going to be very important.
Much of the season he has come on as an impact player rotating with Keiron Cunningham so it will be interesting to see how he goes starting the game and to see how much of the game he plays.
Belief and confidence are the invisible but highly important ingredients for success; a win would undoubtedly help England get the momentum for their first game next Saturday.
I would also like to take this opportunity to send my best wishes to Jordan Curtis who suffered a serious neck injury playing junior rugby league last weekend. Everyone in the rugby league community hopes he makes a full recovery.
Comments (4)
Tony O''sullivan says...
Hello Phil Clarke, Do you not think it would be a very good ploy for Celtic Crusaers to sign Gavin Henson. It would I suspect create many new interested spectators. You thoughts please, Tony
Posted 08:19 16th October 2010
Justin Woodcock says...
Watch out for head hunters!! I totally agree with the idea of a stern challenge before the ''''real'''' games begin. Make no mistake, though; those Maori boys will be fully fuelled with passion and not a few instructions as to how they can derail the England campaign. Tell our half backs and Widdop to wear Kevlar...from the waist up !! Good luck England. Go and do it in their back yard!
Posted 21:39 15th October 2010
Justin Woodcock says...
You are a gent Phil. To add that last bit about the lad who got injured playing our sport made me very...you know ?appreciative of the good man you are. Ta mate!
Posted 21:31 15th October 2010
Paul T says...
I will be very surprised if England win the tournament although I think the team is better now than in recent years. I agree that the backs are just not up to speed with the Aussies but I think Tomkins and Brown can do a job. I would love to see Luke Robinson in action too, I think he could do all kinds of damage if he holds his nerve and relaxes. English forwards are second to none but the team as a whole just lacks that bit of dynamism and enterprise, but with a bit of luck we could just do it! Steve McNamara has surpised me with his enthusiasm, maturity and man management skills for such a young coach and deserves to do well. I think he is the future of England coaching! Good Luck boys!!!
Posted 19:21 15th October 2010