If you read the Kiwi papers and speak to their fans they are all saying that England have not got a hope in hell of beating New Zealand on Saturday.
They are basing that on the fact that Jamie Peacock is not touring and the fact that Adrian Morley got injured last week. Well that just made our chances even slimmer.
Over here in New Zealand the consensus is that England will lack leadership. However, I think James Graham will do a fantastic job. It was a smart move by Steve McNamara to make him captain and I think it will channel his energies.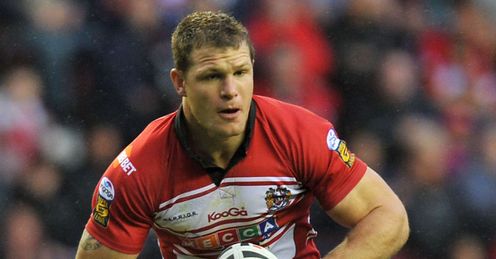 Over the last few weeks - especially in the Grand Final, Graham seemed to lose his composure a few times and spent more time arguing with the officials than playing!
Having the responsibility of being captain of England for the first time may mean more weight on his shoulders but he can handle that and he will run his blood to water for England. He will lead by example and he is a very special player.
Getting stuck in
England have to get into this Kiwi side, they have got to move up very quickly and they cannot afford to miss tackles. England's defence has to be ruthless and take no prisoners. I never condone foul play but when it comes to international rugby you have got to play tough and you have to get as close to that line as possible.
I never condone foul play but when it comes to international rugby you have got to play tough and you have to get as close to that line as possible. Against New Zealand it is going to be dog-eat-dog out there and England had better have a bit of bark and bite to their game.
Stevo
Quotes of the week
Watch the 2010 Four Nations live on Sky Sports from October 30. Click here for listingsSKY SPORTS ON SKY
From football to fishing and everything in between, including cricket, rugby, golf and tennis - there's some amazing coverage coming up on the five Sky Sports channels. Plus, with the launch of
Sky Sports News HD
this summer, all five channels are now available in stunning high definition, only with Sky. Click
here
for more
Against New Zealand it is going to be dog-eat-dog out there and England had better have a bit of bite to their game.
The Kiwis have made it quite clear that they will try and shut down Sam Tomkins, they know he is our key man. McNamara has made the decision to play him at halfback where he will be closer to the action.
Wigan protected him when he played at fullback so it is going to be interesting to see how he handles the Kiwis coming at him. England really need him to control the game and his combination with Kevin Brown is going to be crucial. We have the forward power so it is up to Tomkins and Brown to create something for our backs.
Marshall his men
New Zealand are a class outfit though and England have to target Benji Marshall. He is the key factor for New Zealand and they build their game around him.
Since he has been made captain he really has blossomed - he has always been a brilliant player but these days he has matured to such a point where he is not only a very good player but also a very good captain and team player.
His combination with Nathan Fien has been brilliant. England's biggest problem is can they shut down Marshall and Fien?
We all know Thomas Leuluai finished the season on a massive high. His man of the match display in the Grand Final was sublime and he was a major reason why Wigan won at Old Trafford.
Ever since he has switched from halfback to hooker has been an absolute revelation. It was one of the reasons why NZ won the World Cup two years ago and his performances have got stronger and stronger. He is going to be one to stop too.
Fullback Lance Hohaia has been very instrumental in their attack, his timing into the backline is outstanding and he was very impressive last weekend.
It is going to be battle out there and England will give as good as the get - hopefully better!
Star man
The one man who I think who will stand out will be Stuart Fielden. Since 2006 he has carried around the weight of being slapped down by Willy Mason. This is the time for him to get resurrected on the international stage and show the world-class player he is.
Stevo says
We've got no chance? What a load of rubbish. Mark my words we have the players and the skill to beat the Kiwis. The big question is do we have the belief? I have been staying in the same hotel as England and what I have seen from them is very impressive indeed. They are positive and working hard as a team to get the job done. Don't write them off!
Comments (5)
Aaron Johnson says...
England were jst really never in it. The inexperienced halves, the predictable sideways movement were a facto in the loss. England need 2 change their style 4 aus next game or else they''''re gawn. Im from australia and i noticed the big men (props,lock,back rowers) of england play make and pass which is virtually non-existent in the aus style especially with 2nd phase passing. It just looks so predictable, not once did i see a short ball to a decoy runner, it just went out the back and was so predictable, nz coulda defended all day. Mind you, england scored both tries from unpredictable, improvised style of play (kick, 80m run) so they''''re gonna need to be more creative to beat the aussies
Posted 11:55 24th October 2010
Chris Hall says...
It will be a close first half, but N.Z. will go in at least 6 to the good. Second half won''''t be as close and it will finish N.Z. by at the very least 24. If I get it more right than Stevo can I have his job please?
Posted 09:03 22nd October 2010
Daniel Tabrett says...
They are going 2 get nailed by N.Z. They will do better against the Aussies (only because Aussies have their whole backline out) but even then they will probably lose by 20 odd. I''''m an Aussie fan but i think N.Z have a huge chance in this comp.
Posted 05:53 22nd October 2010
Carl Macken says...
Stevo, This will be tight for 65 minutes - but in the end the English don''''t have any answer the Beast Manu - he loves playing against you lot - the NZ bench really has alot more going for it - should be a great game and can''''t wait for tomorrow evening
Posted 04:36 22nd October 2010
Paul Thwaites says...
I think alot of people have it wrong about Stuart Fielden including youself. There is no way one slap in the chops could impact a player in that way. It was a multitude of factors including family and professional misfortunes which effected Stuarts game. No-one mentions when he pummeled Webke all game long the season before! Now he is back and roaring we should see some real fireworks!
Posted 00:05 22nd October 2010