On the eve of the showpiece, Fifa General Secretary Jerome Valcke and the Local Organising Committee confidently declared that all matches at the 2010 edition of the World Cup would be sold out.
We listened to officials' upbeat predictions and grand promises. When they turned their TV sets on viewers worldwide would see only bums on seats creating an atmosphere second to none and not a single empty seat sticking out like a sore thumb, we were told.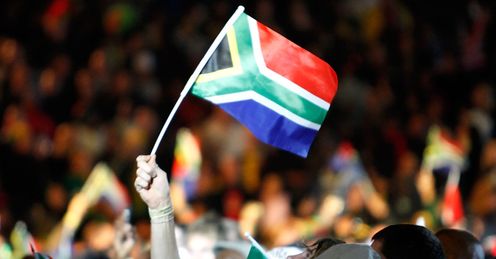 While the tournament has not lacked in vibe and euphoria, especially at the beautiful stadiums, many games have been anything but full. There were sections of Soccer City that were sparsely populated for the opening ceremony, something unheard of at previous tournaments.
The blame should be put squarely on Fifa's ridiculous and unnecessarily complicated ticketing system. And to think how difficult it was to obtain tickets during every ticketing phase! Many people were left disappointed by the random selection draw and then the first-come-first-serve phase as 'there were no tickets available'.
The clash between Japan and Cameroon in Bloemfontein on Monday was not the best advert for this World Cup in terms of attendances. There were gaping holes throughout the ground.
This could easily have been avoided and will leave those who tried desperately in vain and failed to secure tickets to the match in question bitterly disappointed.
Fiasco
Then there is the fiasco surrounding fans who thought they had obtained tickets, but were later told, after paying for them, that they had not.
Confusion between MATCH and First National Bank (FNB) meant that tickets were paid for, but never registered on the MATCH system, meaning money was taken but no tickets issued.
This was something of a poor start to a tournament which, on the whole, has gone off without major glitches. Those who attended matches around the country have testified to the incredible atmosphere at the stadiums - full or not.
Hopefully this will be sorted before more unrest spreads, tainting an otherwise good tournament to a point where it is remembered for all the wrong reasons.
It's not all bad though. The people of Johannesburg have really embraced the tournament. Every second house has flags flying high, while some have gone a little overboard and have completely decked their properties out with all sorts of paraphernalia.
Cars are no different, with window flags, mirror socks and stickers being displayed with pride on every road, at every intersection and on every highway. It really is a joy to behold.
Even shopping centres, landmarks, buildings and office blocks are literally showing their colours.
The World Cup has really struck a chord with the people of Johannesburg and hopefully these will be the tournament's enduring memories.
Comments (1)
Glen Cleland (Leeds United fan) says...
I think the seats aren't sold out because of the price getting to south africa but its the spending of the flights accomodation and the getting to the matches. it comes to nearly £2000 so thats why people won't go
Posted 11:15 16th June 2010