Sign of the Apocalypse: When your American mother-in-law can debate the latest controversy from the World Cup in South Africa.
It's also how you know the tournament finally and unequivocally has a genuinely universal grip. And it's all thanks to an incompetent referee from Mali and the near-blanket coverage we have experienced on this side of the pond.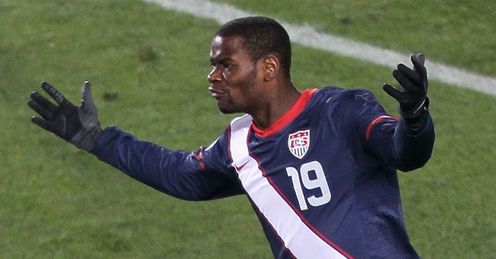 If we thought the build-up to England v USA was big, it's nothing compared to the furore in the wake of 'The Phantom Call,' as it is being labelled over here. The disallowed Maurice Edu goal in the game against Slovenia that would have given the US a remarkable 3-2 comeback win has been highlighted and debated ad infinitum.
It has also had the effect of taking an already mainstream event into the realms of headline news seemingly by the hour. 3pm? Must be time for CNN to give us another look at The Phantom moment. They've done everything but call in Andrew Lloyd Webber so far.
You have to realise just how unusual it is for Uncle Sam (and Auntie Samantha) to be paying this much interest to a tournament that would normally struggle to appear above the fold on the paper in the sports pages, let alone the Serious News section.
Hence the mother-in-law was fully clued up this weekend and able to deliberate over the demerits of dodgy refs and undeserved yellow cards (which is a bit like me taking a sudden interest in knitting or cultivating geraniums).
For that seismic shift to have occurred, though, you have to realise just how unusual it is for Uncle Sam (and Auntie Samantha) to be paying this much interest to a tournament that would normally struggle to appear above the fold on the paper in the sports pages, let alone the Serious News section. The sequence of events necessary to get it there has been as follows:
Firstly, the US had to have a team in which it could believe and identify. Step forward Tim (or Timmy, as some bizarrely insist on calling him) Howard, Clint Dempsey, Landon Donovan, Michael Bradley and Edu.
In that precise order, they represent Guts, Grit, Flair, Drive - and Unluckiness. Yes, America needs to feel hard done by to really get into the spirit of an event, and they have every reason to be in full Star-crossed mode this week.
The Seventh Cavalry
Much was made of Howard's determination to keep England at bay following the fairly hefty collision between his chest and Emile Heskey's boot in Rustenburg. That immediately sounded the rallying cry and, like the Seventh Cavalry, along came Dempsey to play their Get Out Of Jail Free card (courtesy of Robert Green, of course).
Having weathered the storm - and earned the kudos - for holding Fabio Capello's men to a famous 1-1 scoreline that more than hinted at a famous World Cup result from yesteryear (especially with Jozy Altidore almost pulling off the almighty shock), Bob Bradley's troops then needed to do something special against Slovenia to not only maintain everyone's interest but also up the ante.
By going 2-0 down at half-time, they achieved that superbly. And, thanks to Donovan's sizzling shot and Bradley's Rambo-esque charge, they then wrote the second half of a compelling script that now has a nation on tenterhooks.
Edu ensured it was the whole nation by arranging to have his perfectly legitimate 'goal' ruled out by an official who looked as clueless as England did against Algeria (as I explained to an American neighbour in the sports bar, FIFA feel the need to employ unqualified officials from exotic parts simply so they can preen about a truly 'world' game - with world-class ineptness to go with it).
Now, thanks to that combination of Team, Comeback and Sense of Injustice, the USA is genuinely hyped for Act III of this World Cup drama, primed expertly by the likes of ESPN, Fox Sports, CNN and Sports Illustrated, all of whom have devoted unprecedented hours of coverage to this rapidly-growing phenomenon.
Quality coverage
It has been quality coverage, too, with the likes of Martin Tyler, Jurgen Klinsmann, Ruud Gullit, Alexi Lalas and Roberto Martinez all heavily involved.
Tyler's smooth commentaries, the expert insight of Klinsmann and Gullit (the latter not afraid to label the Italians 'cheats' for their penalty against New Zealand), the flag-waving style of Lalas (passionate but informed) and the surprisingly urbane and stylish manner of Wigan boss Martinez have kept the machine extremely well oiled.
The fact the fates of the US and England are still inextricably linked in Group C helps to keep the sporting pot boiling nicely and the simultaneous broadcast of the final two games is a thing of great wonder in a land that likes to wring every last ounce of TV viewing capacity out of each second of each game.
Of course, the other thing all this has done in the Land of the Free and the Home of the Instant Replay is cast a highly incredulous eye over the quality of the officiating. The chorus of "When do we go to the video referee?" during the non-goal against Slovenia had reached deafening proportions long before the final whistle.
Add that to a growing litany of incidents of what Americans like to refer to as "simulations" (so much more satisfying than mere "diving", don't you think?), and there is a distinctly edgy undercurrent to what we are watching here.
In a sporting culture that prides itself in going mano-a-mano, the idea of a player throwing himself over clutching his head when he has just been bumped in the chest is complete anathema (not to mention a thing of total ridicule).
So, for all the progress 'soccer' has made on these here shores, if the USA get another official from Outer Kajikisthan who can't tell a foul from a ploughed furrow, or another decision that could be corrected on video in 10 seconds flat (like Robbie Findley's yellow-card 'hand-ball' when the ball hit him full in the face - that one really took the biscuit, by the way), you can expect the TVs to turn off en masse and we will all go back to our world of helmets and timeouts.
And technology that actually helps to ensure we get the right result.
Comments (8)
G T says...
Brilliant article. Good insight. It is farsical the mishaps these supposed world class referees are making in every 2nd game, it feels like. But as for the Americans and football, its to be admired. Seen not so long ago as a 'diddy team' and now I'd say are respected as a competitor in the game. Good stuf, hope you's get through (at the expense of England!).
Posted 13:31 23rd June 2010
Kevin Reynolds says...
Maybe if America really catches on to football in a big way they will have the much needed clout to force FIFA's hand into using video playback to stop the blatent cheating that goes on regularly in this great sport. i.e France v Ireland, Italy v New Zealand, Slovenia v USA and Rangers v Celtic (just about every time they met last season). FIFA are scared to use this technology in case small unfashionable countries qualify and therefore spoil their showpiece tournament but instead are happy to allow the stink of corruption to follow them around. Wake up FIFA and if you have nothing to hide then don't hide it, use every means at your disposal to ensure fair play.
Posted 10:40 23rd June 2010
Lisa Sharp says...
I became a fan a few years back and am a full fledged addict. It's been fun watching my coutrymen get interested. I've been doing my part trying to convert them - handing out brackets and explaining the scoring system. Americans have a hard time figuring out "settling" for a draw. We're coming around tho!
Posted 04:26 23rd June 2010
Sam Buhagiar says...
Great Article. I live in the States, and this is absolutely the best world cup coverage I can recall . The sad part, is if the USA gaffe tomorrow, then it will be back to normal here, and most people will not give it a second thought. I hope Michael Bradley gets picked up by an EPL team.
Posted 04:12 23rd June 2010
Matthew Roach says...
Wow, excellent article. I'm a yank myself and let me tell you, it's catching on, at work we stop everything and watch the match. I've always been a big red devils and to see soccer really becoming a sport in our country is what i've been waiting for. Get out of our way Algeria......
Posted 01:19 23rd June 2010
David Stirling says...
Im a regular a Glasgow Rangers and it was great to finally see Mo Edu get his game, hes a great defensive midfielder who scores great goals, like his winner against Celtic, was shocked for Edu & USA when that goal didnt stand, but heres to a great campaign. Oh and big big Bougherra was outstanding v England
Posted 00:20 23rd June 2010
Ger D says...
Excellent article, very funny. Its about time the USA caught up in the football "soccer" world! The only bad thing is that if it does catch on (and I suspect it will) they will have an amazing team! Because in a nation of billions they will sure be able to find 20 odd fairly handy football players
Posted 12:45 22nd June 2010
Matt Dang says...
Spot on article. A win or "we will all go back to our world of helmets and timeouts."
Posted 12:44 22nd June 2010