I can see Manchester City winning the derby on Wednesday night, but that won't make them the top dogs in Manchester just yet.
In fact, I don't think City will finish above United this season. They'd lost three in a row - to Arsenal, Wolves, and Lech Posnan - before beating West Brom on Sunday and there are still a lot of questions to be answered.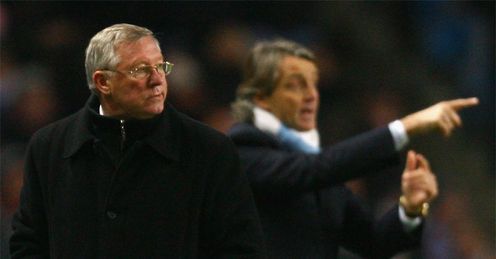 Sunday's win was a huge result for City because, rightly or wrongly, everybody was talking about Roberto Mancini coming under intense pressure, simply because of the money they've spent.
In my mind there's no doubt that City have the strongest squad in the Premier League. When you look at the players and options they have for each position, you can't match them.
Whether you like the methods or not, City have brought a new dimension to the Premier League. Another superpower has come into the equation.
Jamie Redknapp
Quotes of the week
But a strong squad doesn't necessarily make a strong team. They have to gel and perform together. It's all very well having a very expensive jigsaw, but you have to put the pieces together.
Sky Bet odds: Man City and Man Utd to draw 1-1, 11/2. Bet now
In some ways, Mancini almost has too many good players and he's finding it hard to find the balance. Maybe it's the Italian mentality, but at times he plays three in midfield at home when he doesn't really need to. Do you really need Nigel De Jong, Yaya Toure and Gareth Barry in the same team?
I understand his dilemma because who does he leave out? Yaya Toure cost a fortune, De Jong is their main spark at times and Barry is an England international. It's not easy for Mancini to leave out a big name.
But player for player they are usually better than the opposition going forward, so why not just go out and beat them? Why not let the players off the leash a little bit?
That problem is made more difficult by the fact that only one of his big-name forward players has been firing so far - and that's Carlos Tevez. They still seem reliant on the little man and he showed how important he is on his return to the team on Sunday. He seems to inspire the rest and you can bet he'll be up for it against his old team on Wednesday.
We're all intrigued by the exciting Mario Balotelli and it's a huge loss for City - and for all the neutrals watching - that he will miss the derby after his sending off against West Brom. He has that bit of devilment about him and he seems to play on the edge, but we don't know what he can do in the Premier League yet. He will be well worth watching for that reason.
With Emmanuel Adebayor, David Silva, Adam Johnson, Shaun Wright-Phillips and James Milner all in the squad, you can't fit them all in, but I've no doubt that Mancini will stick with the three holding midfielders against United because that's, simply, how he likes to play.
Aiming
It's hard to say what City should be aiming for this season. Given the money they've spent, people will say they have to go for the title, but it takes time to build a team.
I'd say their essential objective for this season is to finish in the top four. They missed out on a Champions League spot by a fraction last year and they cannot afford to miss out again. If that were to happen they'd have to question both the recruitment policy and the management team.
But right now, there's no way you can't rule them out because no team has found a level of consistency in the Premier League and all of the challengers for the top positions have stuttered.
It's very tight and if a team can really grasp hold of the division, get some confidence and go on a six or seven-game winning run then you never know what might happen. You can't write anybody off this year.
City are capable of doing that, but Mancini must find a way of knitting together the squad first.
There have been lots of stories about problems in the dressing room and at a club like that, there are always going to be rumours. There are a lot of egos in that dressing room and players will be unhappy when they're not playing. Mancini is paid a lot of money to handle those players and if they don't pull their weight he needs to sell them in January.
You can't afford to have unhappy players having a negative influence because once that poison spreads, it really can infect the rest of the players. That could cost City dearly, so Mancini needs to address that issue when it arises.
What I would say is I've never been in a happy dressing room when you're losing matches. All these rumours about dressing room unrest came out when they were on a bad run, but I bet you won't hear anything now they've beaten West Brom.
They could all come to the fore again if they lose to United on Wednesday night, but that's football. A couple of good results and nobody cares, but after a couple of bad results the unhappy players get the opportunity to spread their poison.
Explain
As for Manchester United, they have not looked convincing this season and I think it's fairly simple to explain why.
Two seasons ago they had Cristiano Ronaldo, Carlos Tevez and Wayne Rooney going forward. Last season, they lost Ronaldo and Tevez, but Rooney was banging in goals left, right and centre and was the best player in the league.
This season, Rooney has been out injured and when he has been in the team he hasn't performed. Quite simply he hasn't been physically or mentally right.
So to lose out on the services of those three players has been a big loss and explains their unconvincing start.
Other players need to step up and while Dimitar Berbatov has done it at times, he hasn't been as consistent as he maybe needs to be. When he scored a hat-trick to beat Liverpool 3-2 we all thought he'd be full of confidence and would go on a run, but he hasn't scored a goal since then. I don't know if he has relaxed or gone into his shell, but his lack of goals lately has been staggering.
It's hard to see where the spark might come from for United. I looked at the team that was sent out against Wolves and it was almost like Ferguson's Carling Cup team. When Nani, Paul Scholes or Ryan Giggs are out of the side they are lacking something and the squad doesn't have the depth of Chelsea, let alone City.
But what they do have is a winning mentality and a never-say-die attitude. They scored a 90th-minute winner to beat Wolves and they are right in the title race, as they usually are.
People will talk about this game as the moment when City could overtake their great rivals, but people said that last year. We saw United beat them with late goals home and away in the Premier League and also in the Carling Cup, so City still have a long way to go before they're top dogs in that city.
I can see City winning the game on Wednesday, but I wouldn't say for a moment that would be the end of Manchester United. In fact, I would still back United to finish higher than City this season.
Facts
However, you have to face facts. It's only a matter of time before City win something; it's inevitable. They don't have the history that United have, but they have the money and that means they have the future.
If the manager can find the right blend then there'll be no stopping them, especially when they get into the Champions League because they have the money to buy the best players. Who wouldn't want to go to Manchester City and be paid a fortune to play with great players in a great stadia? Players don't care about history, they care about the future.
Whether you like the methods or not, City have brought a new dimension to the Premier League. Another superpower has come into the equation alongside Manchester United, Chelsea, Arsenal and Liverpool and that's one of the reasons I'm really excited about Wednesday night's game. It's another huge showdown for the neutrals to look forward to every season.
I really hope City go for it because if they sit back that will only encourage United. I think if City approach it on the front foot with ambition and character then they can reap the rewards.
I think City could do it on Wednesday night - and that will be the next step towards a very bright future for the blue half of Manchester.
Comments (49)
Dee Jay (Manchester United fan) says...
"Utd fans are also mostly not from Manchester and only support Utd as they were winning trophies when they got into football (normally around their 20's as most people really into football and playing football growing up dont support Utd)". That honestly, HONESTLY has to be the most stupid, but amusing statement I have ever heard! On the other hand, it is certainly very precise!
Posted 14:58 10th November 2010
Fred Osakwe (Manchester United fan) says...
Manchester City look better on paper with all those big names. Those tipping them to win the derby will attest to that. However they should know that Manchester United can triumph anywhere and anytime. The records are there for anyone to check.
Posted 13:38 10th November 2010
Jon Mancini (Manchester City fan) says...
Money can't buy silverware? ronney= 30m, ferdinand= 30m, berbatov=30m, carrick=18m, nani=20m, anderson=20m, hargreaves 20m, veron=24m, valencia= 17m. Evidently it can, or is this another part of 'history' we're supposed to forget.
Posted 13:20 10th November 2010
Dan D (Blackpool fan) says...
The people saying money cant buy success will be the same people saying City have bought that trophy when we they win something. Its all jealousy. I would love my club to have all that money.
Posted 13:06 10th November 2010
Egyin-horbah Francis (Manchester United fan) says...
Football is not an individual game but a team game, you can have the best of players who will play the various position on the field and still lose, am not disputing the fact that an individual player's brilliance can win games, but in the case of man city that is not so, they have players but they dont have a good coah that make them play as team.
Posted 12:27 10th November 2010
Prince Richardson (Manchester United fan) says...
First of lets get thinks straight city will never be bigger than utd. City¿s ambition is the be the biggest team in Manchester rather than the biggest team in the world which is sad. Utd are already the biggest team in the world. City have along way to go before u can get close to us Even if city wins tonight (which u wont) it will make no difference u will still the second team in Manchester. People like to think utd are done because we haven¿t spent millions millions of pounds on big name players. But for all the utd doubters just remember whenever another team Blackburn, arsenal and Chelsea have come out and won the league we have come and taken back what is ours in consecutive years. City live to beat utd, utd live to beat the world. I don¿t understand silly pundit saying we are not good enough when we are second in the league 2points behind and scored 3goals less than Chelsea. top of CL. still in the carling cup. Is that a team that¿s poor. I DON¿T THINK SO!!!!!!!!!!!!!!!!!!! utd will come good at the end.
Posted 10:27 10th November 2010
Rob Scott (Liverpool fan) says...
Marc Hill (Manchester United fan): Money Can't buy silverware? Who won the league last year?
Posted 10:20 10th November 2010
D B (Liverpool fan) says...
'We make big names, we don't buy.'' Oh so Nani(17mil), Anderson(20mil), Hargreaves(20mil), Berbatov(30mil), Carrick(16mil), Valencia(16mil), etc......... all came out of United's youth team? As for Ferguson having a great eye for players, when United had the money to spend they simply bought people so that other teams didn't get them, eg. Forlan(having medical at Boro before Utd stole him), Poborsky, Own, etc.....
Posted 09:41 10th November 2010
Marc Hill (Manchester United fan) says...
The thing is with city is..yes they're the richest club in the world but have they won anything no they''ve got a team full of players and between all of them there is only about 3 of them that have one the premiersip Carlos tevez at utd...toure and viera at arsenal. and the other players arent used to the pressure im backing them to fail seriously before and after christmas then pick it up feb time but i dont even think there gonna make 4th MONEY CANT BUY SILVERWARE
Posted 02:35 10th November 2010
David Wright-phillips (Manchester City fan) says...
manchester city were the first manchester team to win a major trophy - fact manchester united went THIRTY SEVEN years without a trophy - fact all this united talk about history, and these two historical facts never get mentioned ?
Posted 01:07 10th November 2010
Patrick Kenny (Manchester United fan) says...
these city fans are about as delusional as audley harrison. one says united has no history before the 1990s but that couldnt be further from the truth. they think because they fire money all over the place they have the devine right to win everything...but with players such as kompany, de jong, adebayor, balotelli, ya ya toure, viera, barry, bridge, etc they will win nothing and will hold no fear for united unless you all of a sudden buy puyol, iniesta, ronaldo, rooney, messi, eto'o, sneijder, terry etc then you will perhaps put a fight up to be the biggest club in manchester but as our wise neighbours in liverpool stated come back when you have won 18 league titles which you will never dream of reaching
Posted 00:15 10th November 2010
Jerrson Cabral (Chelsea fan) says...
why does every fan of united want to bring up they history ... its exactly that, history all that matters is what happens in the games before us ... city to win 3 - 0
Posted 23:59 9th November 2010
Ish Malik (Manchester City fan) says...
Heath Purvis, well said. People seem to think the history and success are one and the same thing. They aren't. Both Manchester clubs have a long rich history, it's just that recently Manchester United have had an unprecedented streak of success. I dearly hope that Manchester City will be able to replicate that success but this is only a hope and I would be foolish in the extreme to claim that it will be a certainty. As for Wednesday, I think City will win and I for one will be singing my heart out at the ground.
Posted 19:36 9th November 2010
John Reardon (Manchester United fan) says...
Despite having many crucial players out and not playing too well, united have still managed to get results and that's a sign of a champion. When Rooney, nani, giggs etc get back, united will hit their stride, and with valencia to come back as well, united should be ok as long as there's no injuries for a while. I'm not sure if they'll win the title, but Liverpool showed chelsea aren't 'cruising to the league' good, and I still have doubts about Arsenal - in particular their keepers, who seem to make more mistakes than any other keepers, except maybe Rob Green. As far as City are concerned, I think they'll get fourth this season, regardless of Wednesday's result, although I think Liverpool may make a surge but I can't see Spurs doing the same as last year. City have great players, but are heavily reliant on Tevez, though as long as he's playing that not a problem. A couple more seasons with the same group of players (obviously with a few signings) and I think they will be serious title contenders, as long as their owners don't bail. As for tomorrow I'd gladly take a draw, what with our injury/illness crisis.
Posted 19:06 9th November 2010
Harry Willetts (West Bromwich Albion fan) says...
this is the most important manchester derby in years not only for bragging rights but more so for the tide is slowly turning in manchester , this game is too close to call that is why i hope that football is the winner on wednesday night,i think it be all square at 1-1, the physical city against the silky skills of united mouth watering.
Posted 18:58 9th November 2010
Buba Adams (Manchester United fan) says...
Whatever you write, whatever you say, manchester united relies on teamwork with the man. Utd. spirit. We make big names, we don't buy. MAN. UTD. is the pride of english premier league and uk.
Posted 18:48 9th November 2010
Darren Neal (Manchester United fan) says...
Andre Budgenio - with regards to your last comments it seems like you are describing yourself. United have a worldwide fanbase due their 'history' and sucess. I agree some of these may be your glory hunters or sheep as you say. But if City do become this new big thing of this generation (which i seriously doubt) im sure that you may aquire your fair share of glory hunters and sheep. So are you saying that City are going to turn these new fans away and the money that they would bring in.......looking at your balance sheets I THINK NOT. Yes things are looking good for city, but remember, you have not done or won anything yet. History is what you are winning and have won, NOT what you may or may not win in the future. So i think your comments on city creating 'history' are a bit premature. You may want to return to this thread in 10 years time and see if what you have said has come true and your history has surpassed ours. I DOUBT IT!!!
Posted 17:10 9th November 2010
J B (Bolton Wanderers fan) says...
You have both spent money, so you can't say city are the only big spenders, they have just caught up for a few years lol, i mean city have spent shed loads but utd......Ferdinand £29 mil, Berbatov £30 mil, Rooney £27 mil, Anderson £17 mil, Hargreaves £17 mil, Valencia £16 mil, Nani £14 mil, Carrick £14 mil, you are both jealous of each other in different ways. City are jealous of the success, Utd are jealous of City's wealth as they dont have the exciting new signings anymore
Posted 16:29 9th November 2010
Stephen Mathers (Manchester City fan) says...
Maybe not 5-1 Nick Budge, but it's not like United have Ronaldo, Messi, Kaka and Drogba either. And your best players seem to be out for tomorrow night. "mismached, overpriced players. Bridge? Barry? Milner? Viera? Ireland?. Thank God we will only play Barry then. Pipe down rose tint. Overpriced? I could name a bunch of United players, who were overpriced and left. Seems all that cash spent put you under a bit of cash strain at the club as well :D
Posted 16:16 9th November 2010
Simon Curtis (Manchester City fan) says...
Lots of Utd fans on here expressing an opinion - methinks they are trying to talk their team up in time for tomorrow night. If City get the win will they recognize the fact that they have been fairly beaten? No I dont think so - thats the reality we City fans live with the media doesnt like us because our face doesnt fit and we need to get aggresive with all the media and shove it back in their faces by winning things. Oh and by the way, just tlike Utd's plan of the 90's we are buying established internationals to get us into the top flight consistently whilst bring our excellent youth team through to take over the reigns - surely anyone with half a brain can see this?
Posted 16:12 9th November 2010