United are still the team to beat. We saw that in the Community Shield, just in case anyone thought anything would change.
In the end they won by nine, but it was close for most of the way and I think that is why Sir Alex Ferguson went out early and made some big signings. Ok, he needed to get a new keeper in - and I do think David de Gea will be a success - but Ashley Young and Phil Jones are great buys.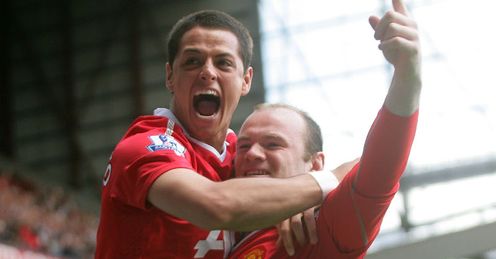 Jones looks like he's been a United player all his life and although he didn't start at Wembley and still has Rio Ferdinand and Nemanja Vidic to get past, I have no doubt he will become a world-class defender. I think he will be an England regular and future captain of Manchester United, he's that good.
Him and Chris Smalling were outstanding for England Under 21s in the summer and along with Young, Nani, Javier Hernandez and de Gea, show that rather than think about retirement, Fergie is building another team!
I think Fergie knows that if United want to go toe-to-toe with Barcelona again, he needs a genuine world-class midfielder in his side.
Jamie Redknapp
Quotes of the week
SKY BET ODDS
Sky Sports football pundit Jamie Redknapp has signed a two-year contract extension with online betting firm Sky Bet. Each week Jamie will provide his '
Red Hot Tips
' and you can also watch his weekly video previews.
Sky Bet odds: Man Utd to win the title - 13/8
They will miss Paul Scholes of course and I am not sure how long Ryan Giggs can keep doing it at this level. In fact, I do think United might be a little short in midfield as it stands.
I know they were also interested in Luka Modric and of course have been linked with Wesley Sneijder and I'm not surprised. It seems harsh to criticise the champions' midfield but if they do lack anything, it is that incisive pass and vision that Scholes brought to the team.
I also wonder whether Sir Alex remembers what happened when they went up against Barcelona in the Champions League final and in all honesty, were given a bit of a runaround.
I think he knows that if they want to go toe-to-toe with them again, he needs a genuine world-class midfielder in his side.
Up front, I am expecting even more from Javier Hernandez and I am not surprised Danny Welbeck looks like he's staying.
Sky Bet odds: Hernandez to be top goalscorer - 15/2
The same might not be said for Dimitar Berbatov but even though he scored all those goals last year, this United squad can cope without him.
The gaffer: Sir Alex Ferguson will love it this season; he'll love locking horns with Kenny Dalglish, with Andre Villas-Boas and he'll love the fact that he has got another young side to work with. The signings he has made in the summer look perfect and given their age, it looks like he's ready to build another team, never mind retire! I do think he sees Chelsea and even Manchester City as genuine threats this year and has made sure he is one step ahead with those new signings. But I am surprised he is still waiting on a replacement for Scholes; but then again, that's Fergie. He will make sure he's getting the right man in and will take his time if he has to; and if he doesn't get him in this transfer window, he'll wait until the next one. I do think he wants that third Champions League title and a chance to get one over on Pep Guardiola and Barca, but he knows more than anyone, that the Premier League is the one trophy Manchester United have to win.
Will flourish because: They have an out-and-out goalscorer in Javier Hernandez. I don't think any of us expected him to do as well as he did last season, but I wouldn't be surprised if he did even better this time. Yes defenders will know all about him, but he makes such good runs and has such a natural eye for goal, that he will find space - and the back of the net.
Will fail if:They don't replace Paul Scholes. They didn't have him for a lot of last season, but I do think that is the one area United might be a little short right now - midfield. Knowing Fergie, he will get his man sooner or later, but I think they are still a little short until they do.
The finish: You have to fancy them to retain their title. Chelsea and Manchester City will push them all the way but United have been there, seen it, done it. Those younger players have another season under their belts and as for the manager, there is no sign he is getting bored of winning trophies.
First time on Sky: West Brom (a), Aug 14th
The flutter: Man Utd to finish higher than Chelsea - 8/13, Hernandez to be United top scorer - 6/4
Comments (4)
Steve Pinchbeck (Manchester United fan) says...
We keep hearing about replacing Paul Scholes, but in fact he hasn't been used that regularly over the last couple of seasons by his own admission, and United still won the PL last time by 9 points. There is talent in midfield that works and even if Sneijder comes to Old Trafford that talent can only will be bolstered further. Barcelona are a class act and the team of the moment, but I think United can really match them this season, as for the PL then don't be surprised if they managed to pull it off again.
Posted 14:16 12th August 2011
Vinay Mali (Manchester United fan) says...
I ve been saying this since CR7 went to madrid....if we have to win trophies nd beat barca then we should ve top playmaker..thankfully scholsey came up in PL....but now he is retired we need wesley or luka....nasri is not so suitable....or sign tarabt from qpr......GGMU
Posted 13:53 12th August 2011
Adam Young (Manchester United fan) says...
Bit disappointed Jamie doesn't see cleverly performance as something to look forward to in the wake of scholes retirement.. as united fan i always wanted a creative midfielder even last season, and i hope cleverly can be that player
Posted 22:59 11th August 2011
Jason Daly (Manchester United fan) says...
im a manutd fan but i still think jamie rednapp is great analyis i think he is right in everything he is sayin but i dont think we need a playmaker as much as everyone is sayin i think we have enough cover i center mid i know there not great players but they all do the job that is asked of them i also think this could a big season for anderson and i think he will match the expectation he first came cause he had a good pre season nd he knows he doesnt have paul scholes to leen on so i think he will come good. cum on utd
Posted 19:06 11th August 2011