The 2011/12 Premier League is approaching its halfway point.
The two Manchester clubs are leading the race for the Premier League title, but it has been a season of struggle so far for other north-west outfits Blackburn, Bolton and Wigan.
Sky Sports' Jamie Redknapp has had his eye on the ball throughout the campaign and has analysed each of the 20 top-flight teams' efforts so far.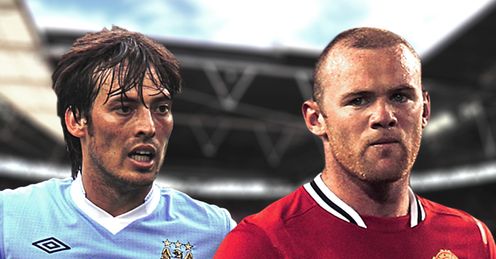 Scroll down to see what he makes of YOUR side...
Manchester City
HALF-TERM REPORT: They've been fantastic. I think the improvement in their game is what has surprised me the most. They were so regimented last year but they're playing such exciting and expansive football now and it's a pleasure to watch. They can score goals in so many different ways and it's not just the strikers; you've got players like Micah Richards popping up with the goods. If they can keep the spine of their team fit, I expect them to win the league. They've got the best players and they're in terrific form.
KEY MAN: David Silva
Man United
HALF-TERM REPORT: They started off like they were going to go the season unbeaten and all the talk was about a possible new dawn with all the young players coming in, but then all of a sudden the wheels seemed to come off. They lost 6-1 to Manchester City and I thought: 'They're going to have a bit of a wobble here', but they didn't. They went on a run of winning games 1-0 and their football has been really good since. I was a bit surprised when Sir Alex Ferguson opted to play Wayne Rooney in midfield and if they want to win the title they have to keep him up front. Losing Nemanja Vidic through injury was a big blow for them and it's in defence where I think they might come unstuck, especially if Rio Ferdinand picks up an injury.
KEY MAN: Wayne Rooney
Tottenham
HALF-TERM REPORT: Spurs have had a great season up to now but my only worry for them is if they pick up a few injuries. Yes, they've got a big squad, but if you look what separates Tottenham and the likes of Arsenal, Manchester United, Manchester City and Chelsea is they're a little bit short up top and that's what will stop them from being title contenders. Emmanuel Adebayor has done fanatically well, but they don't have a Robin van Persie, Wayne Rooney or Sergio Aguero - a goalscorer that can change the game when you need him to. All in all though, it's been really positive and if they can finish in the top four that will be a great season. That's what they should be aiming for.
KEY MAN: Emmanuel Adebayor
Chelsea
HALF-TERM REPORT: It's been a strange first season for Chelsea under Andre Villas-Boas. I've seen signs of improvements in recent weeks and he seems to be enjoying the role more now, because for a while he seemed like he wanted to fight the world. But I think they're heading in the right direction and in Daniel Sturridge they've got one of the best young forwards in the country. His goals will be vital for them. They're going to need Fernando Torres in the New Year, too, with Didier Drogba going off to the African Cup of Nations and that will be a huge four or five weeks for him in terms of his career. Like the teams around them though, finishing in the top four is the most important thing for them.
KEY MAN: Daniel Sturridge
Arsenal
HALF-TERM REPORT: They had an awful start and have done really well to get back into the top-four reckoning, but I'm still not convinced this is a better Arsenal team than last year or even the year before that. The signings Arsene Wenger made in the summer bolstered the squad but I wouldn't say they improved them greatly. Robin van Persie has been sensational for them and he will score even more goals when Jack Wilshere returns.
KEY MAN: Robin van Persie
Liverpool
HALF-TERM REPORT: Liverpool have come a long way under Kenny Dalglish, but If they want to get into the top four they've got to be better in front of goal. Both Bolton and Blackburn have scored more than them and that should tell you everything you need to know. Defensively they've been solid and going forward they've looked good, but they have to be more clinical. The bad news is that it looks like Luis Suarez is going to miss eight games and he's their best player. The good news is that Steven Gerrard is back.
KEY MAN: Luis Suarez
Newcastle
HALF-TERM REPORT: Newcastle have done incredibly well so far this season and have probably overachieved a bit. Big characters like Joey Barton and Kevin Nolan left in the summer and I expected them to be just above the relegation places at this point. But players like Cheik Tiote and Yohan Cabaye have really come into their own and in Demba Ba they've got one of the best strikers in the country right now. He has to be one of the signings of the season. Losing Steven Taylor for the season is a blow, but I think they'll be alright defensively, especially with Tim Krul in goal who has been a revelation. They may have lost some big players but Newcastle look a better team now.
KEY MAN: Demba Ba
Stoke
HALF-TERM REPORT: Tony Pulis spent a lot of money in the summer and Stoke are about where they should be in the table right now. When you can afford to spend £8 million on players like Wilson Palacios and leave them on the bench for most of the season, you should be pushing for the top half and that's what they're doing. They remind me a lot of the Wimbledon teams that I used to come up against and they do ask a lot of questions of teams. Yes, they have good players who can get the ball down and play, but they know they're better off getting the ball in the box and playing the percentages and that's why they've been successful.
KEY MAN: Jonathan Walters
West Brom
HALF-TERM REPORT: Two weeks ago I would have said they were in danger of going down, but they've picked up seven points from three games since then and they're about where they should be in the table. The two away wins at Blackburn and Newcastle were huge for them and then they got a magnificent point at home against Manchester City. West Brom are a team who should first and foremost be looking to stay in the Premier League. And in Shane Long and Peter Odemwingie they have two hard working strikers with goals in them and that should be enough to keep them up.
KEY MAN: Shane Long
Everton
HALF-TERM REPORT: I think they are a big club but a mid-table team. Sides in the Championship and League One have spent more than them this season so David Moyes has done a really incredible job to get them where they are. If they get on a roll, you can see them finishing in the top 10 because they've got some good young players in Ross Barkley and Jack Rodwell, but in an ideal world I think David would like to freshen things up.
KEY MAN: Louis Saha
Norwich
HALF-TERM REPORT: You have to give them an A+ for where they are in the league at this stage of the season - it's been an absolutely brilliant effort. I had a feeling at the start of the season that Norwich would do well because in Paul Lambert they have a manager with great pedigree. He did brilliantly as a player winning the Champions League with Borussia Dortmund and he just has something about him. That said, I wouldn't put money on them not going down this season, despite how well they've done. You just have to look at Blackpool last season and Hull before them to know that a great start doesn't guarantee you your place in the league. They're only seven points off the relegation places and it's at the end of the season that you really have to dig in and get results.
KEY MAN: A real team effort
Aston Villa
HALF-TERM REPORT: It has been hard for Villa losing Ashley Young and Stewart Downing and, like Everton, they look like a mid-table team at this moment in time. Darren Bent has had a poor season by his standards and their defending from set-pieces, which was excellent under Martin O'Neill, has not been very good. Shay Given has been a quality signing, though, and should bring more stability at the back when he is fit again.
KEY MAN: Gabriel Agbonlahor
Fulham
HALF-TERM REPORT: I've been really disappointed by Fulham this season because they've got some good players there with the likes of Bobby Zamora, Clint Dempsey, Andy Johnson and Bryan Ruiz. They are difficult to read because they get good results, like when they beat Liverpool, and then don't follow it up. They don't start games very well and are a bit negative, which is something I've always thought about Martin Jol sides. I worked with him at Tottenham and he always seems to wait for something to happen and then in the last half an hour his teams maybe come into the game. It looks like he's fallen out with Zamora as well, which I don't understand. In the modern game you have to keep your best players on side. They've been real underachievers.
KEY MAN: Clint Dempsey
Sunderland
HALF-TERM REPORT: They did struggle under Steve Bruce and when the manager is under pressure from the fans, the players do notice it. There was no confidence in that team whatsoever and they were making mistakes on the pitch that they would never normally make. Since Martin O'Neill has taken over, the pressure has been taken off and there's a feel-good factor around the club; he really does have the Midas touch. Still, the signings of Wes Brown and John O'Shea haven't worked out yet, while I think they need a new frontman in January. I could see Emile Heskey, who Martin has worked with before, coming in as a short-term measure.
KEY MAN: Sebastian Larsson
Swansea
HALF-TERM REPORT: They've kept a lot of clean sheets and the goalkeeper, Michel Vorm, has been a revelation but they are just a bit short up front. There's a lot of pace but they are struggling for goals. I do like what they are trying to do with their passing game and they often dominate the possession during matches. They need a cutting edge and to get a few more numbers in to boost the depth of the squad, but I think they'll be fine this season.
KEY MAN: Michel Vorm
QPR
HALF-TERM REPORT: QPR fans must have looked at their team at some point and thought: 'We've got something going here' but the victory over Chelsea remains their only home win. They spent a bit in the summer bringing in the likes of Joey Barton, who's done okay, and Shaun Wright-Phillips, who has probably been their best signing, but it's not a squad full of quality and they've still got a lot to do. What they have in their favour is that there's money to bring players in during the transfer window. I think they will survive but it will be a long season. What they need to do is get some more home wins because away wins become less frequent as the season goes on when other teams are fighting for European places or to move away from the danger zone.
KEY MAN: Shaun Wright-Phillips
Wolves
HALF-TERM REPORT: I think they have massively underachieved because they've spent good money and have a good squad. Steven Fletcher and Kevin Doyle will work hard and get you goals, while they have experience in midfield in Jamie O'Hara and Stephen Hunt. However, Roger Johnson hasn't really made his mark and they don't seem to be able to get back-to-back wins or go on a run. It could end up being a tough season. The fans seem to have kept faith with Mick McCarthy, even though he did get a bit of stick earlier in the season, but they will want more from their team in the second half of the campaign.
KEY MAN: Steven Fletcher
Wigan
HALF-TERM REPORT: They've really improved in recent weeks and I'm a big fan of their manager Roberto Martinez. I still wouldn't say I fancy them to get out of trouble but like last season, it could go down to the final game. I don't see them either pulling clear from the other strugglers or being dead and buried. The way they play out from the back means they will get the odd five-goal hammering as we saw against Manchester United, but they will also get a win when you least expect it. They need to pick up some more home victories but I think they'll do what they always do and just about stay up.
KEY MAN: Victor Moses
Bolton
HALF-TERM REPORT: Their lack of form has really surprised me because they have good players and a good manager in Owen Coyle. Things have been especially poor at the back where Gary Cahill - who will definitely go in the transfer window - has not looked the same; it's like he's subconsciously switched off. They just need to make sure they replace him. Bolton have also missed Stuart Holden in midfield, who has only played in a Carling Cup game this season due to injury. He is brave on the ball, creates goals and pops up with them, too. They will need him back if they are to get out of the relegation zone. The fans are behind the manager because he's a Bolton man through and through and that will help the club as they try to survive.
KEY MAN: Stuart Holden
Blackburn
HALF-TERM REPORT: They've had a really difficult start to the season. I don't think it's a case of the players not trying for their manager but it must be extremely hard for them knowing what the crowd will be like at every game. If Steve Kean manages to get through this and keep Blackburn up, he will be able to get through anything. However, I think it's inevitable that they will change the manager... but I do think Blackburn will stay up. They are nowhere near as bad as what they're showing and if they get a few players in to help out Yakubu and Junior Hoilett up front and Scott Dann, Chris Samba and Ryan Nelsen, when fit, at the back, I think they could surprise everybody.
KEY MAN: Chris Samba
Comments (30)
Richard Offord (Tottenham Hotspur fan) says...
It's interesting to see an Arsenal fan criticising Bale for diving, a bit of pot calling kettle black after having had such experts as Ashley Cole, Emmanuel Eboue and Robert Pires in their ranks recently, to name but a few. Bale dived against Swansea and was rightly booked, I too hope he cuts it out of his game because he does not need to do it; he is good enough to destroy teams without having to resort to such Arsenalesque levels. I think Jamie's comments are fair, I tipped Man Utd for the league before the season started but Man City have been the most impressive team, and I think they will end up winning, but United will push them close. Spurs, Chelsea and Arsenal will finish in places 3 - 5, but in what order? If Spurs can win their games in hand, and build up a healthy lead over the chasing pack, then I hope they will be able to withstand any wobbles. COYS!
Posted 15:02 4th January 2012
Joe Rousseau (Arsenal fan) says...
Hi everyone, I just love English football and can't imagine my sporting life without it. I did review Jamie's comments and found him to be pretty accurate in all summations bar a few minor details, but he did not point out who he foresee's will be relegated! If I may I'd like to share my point of view briefly. I think it is difficult to guestimate at this stage being halfway through, but there are some key indicators on several most likely outcomes: - firstly eventhough it saddens me to point it out QPR will be going down. They just look lackluster as a unit the last 4 or so matches and I think the chips are down. I predict that Wigan will join them in the Championship and really about time too. I give them credit for their gutsy efforts at times, but being a top flight football club is not only about 2 or 3 great wins you can talk about, it's more about the consistency in combined team efforts in frequently winning home games with the odd result away from home. They just don't do that enough. Finally it's a toss up for the 3rd team who will go down. Many contenders in Blackburn, Bolton and I believe Wolves can be included. There could be debate around Norwich and WBA, but I think they will do enough to stay up. Mr Kean from Blackburn is going to go real soon I think, whetehr it could do for Blackburn as what it did for Sunderland...well....I think it's too late. Anyway Arsenal won't win eventhough I really want them too, they just don't close out as well as some of the other top teams do consistently. Looking fwd to seeing Henry back!!! Who knows...Have a great 2012 guys!
Posted 08:33 4th January 2012
Jacob Frost (Norwich City fan) says...
Jamie you said Norwich were the most likeliest to go down between the 3 promoted sides at the start of the season, you didnt back us at all. You're right though; our key man is Paul Lambert. Without his man management the players we've got just wouldnt be able to click together, Most norwich fans cant even pick the first 11 before a game because Lamberts using the whole squad collectively and making sure everyone contributes in some way this leads to our team spirit and togertherness.
Posted 17:34 3rd January 2012
Eliazaro Okembo (Manchester United fan) says...
I disagree with most of manutd fans i do think that united's best player currently is tom cleverly, its no secret that since his injury man utd has under performed. This cannot be compared to the team's performance at the start of the premier league campaign when he was fit. Rooney is abit rusty lately .
Posted 11:37 3rd January 2012
Ashley Weir (Liverpool fan) says...
Very good article from Jamie, and like others i agree he got the vast majority of key men right and refected on team performances well. Even though Gerrard is back i think due to fitness reasons Suarez is our key man, Evertons is definately Baines or Osman not Saha. And Sturridge ofr Chelsea is right, but Torres would be if AVB played him. My hat tips off to Spurs this season they have been fantastic and should retain their top 4 status. Being optimistic id say bar Chelsea 4th (replaced by Liverpool) the top 4 will stay the same but i expect mixed results and a tight finidh. Cracking season so far! YNWA
Posted 11:34 3rd January 2012
Chris Mclewee (Tottenham Hotspur fan) says...
James Smith - you mention Bale not performing against big clubs but I seem to recall that in the last couple of seasons when Spurs have played the Gooners, Bale has been on the scoresheet...as for his diving, I hate it too and wish he would stop, its unneccesary. City are class and they have bought class, they WILL win the league and more than likely it will be this season. If its not this season they will add one or two players in key areas (central midfield, replacing barry and de jong) and they will push on. By the way I am not saying Barry and De Jong are bad players but its the one position where they dont have the VERY best in the world.
Posted 11:19 3rd January 2012
Donovan Naidoo (Real Madrid fan) says...
@ Andrew,David,Andrew and Andy...Utd played without Rooney this weekend and lost the game at the back,Hatrick for Berba at Fulham?...is he (Rooney) really the key man,they still scored goals does that mean Nani and Young pose less of a threat going forward?.....Rose colored glasses ,me thinks.When pitted against a more balanced European squad Utd failed dismally with Rooney...... yes I do watch English football.Did anyone see Spurs make any decent plays once Parker left the field? Sandro is great and Modric are great but without the backup it was difficult to defend against Swansea. especially with no-one chasing down the ball and winning it all the time. Van P is great don't get me wrong, but he needs to the ball to score...and right now Arsenal score first then can't bang in more...if he's the key man why isn't he creating more?...
Posted 09:19 3rd January 2012
Mark Legallienne (Liverpool fan) says...
I agree with most of what Jamie says, i think he has become a great pundit and think he knows his stuff. Some of the comments are laughable on here and you wonder if they actually watch football!! Man c key is Aquero/Silva, Man u is obviously Rooney, Arsenal is again obvious RVP (As if he doesnt score then Arsenal struggle) , Liverpool key man i see as always being Gerrard, if he can play for the rest of the season he will drag Liverpool along, which is the one thing that has been missing this season. As for Chelsea i think that is the most difficult team to pick there key man, you would have to say Drogba or Mata, for me..
Posted 17:28 2nd January 2012
Joe Clarke (Everton fan) says...
The key men look roughly about right for all the sides besides everton I think jamie redknapp has got it wrong, Louis Saha is not our key man he has been useless all season he just doesn't look like he wants to score, he doesn't try hard enough for us and has been a real let down. In my opinion our key man this season has to be either Leon osman or Leighton Baines.
Posted 02:32 2nd January 2012
Claudio Sancese (Arsenal fan) says...
Unlike James Smith I still think Arsenal will challenge Man City for the title, with Tierry Henry joining Van Persie upfront and showing Walcott few moves!!! I also disagree & think that Man City has a great manager and that their class showed from the 6-1 demolition of Man U Mancini has bonded a great group of players which play exciting football. The danger for City is the Catenaccio style games they will encounter from some premiership teams!!!!PS Referees Man Utd does not need your help!!!!!!!!!It will be exciting till the very last day.
Posted 17:58 1st January 2012
Richard Hobson (Sunderland fan) says...
I think Sessegnon is more of a key player than Larsson, and maybe Mignolet because Westwood is good but Mignolet is one of the leagues best keepers, along with Tim Krul (Newcastle) and Michel Vorm (Swansea City)
Posted 16:02 1st January 2012
Ben Graney (Sheffield Wednesday fan) says...
Good article but I have one question Jamie...who is going down?! He has everyone staying up!
Posted 11:47 31st December 2011
Kevin Mukhwana (Manchester United fan) says...
man utd r back keep watching us as we devour our opponents but pliz sir alex can u land hulk at old trafford also bef up our mid. we dont need sneijder he`s too old bring in new and young blood
Posted 09:15 31st December 2011
Anthony Clarke (Manchester United fan) says...
I think the abuse Steve Kean is getting from large sections of Blackburn Rovers fans is despicable at best. It is disgusting to watch supporters running up to get as near as possible to him after matches to spew vile abuse at him. Granted everyone wants to see their team doing well. For gods sake at the half way mark they are 2-3 good results away from safety. The crowd of chicken farmers who know nothing about football, hardly go to games, flaunt their wealth so grotesquely who own the team and pull the strings sit back watching this while getting so much notice for their chicken empire, yet all the s*** falls on Steve Kean's head. I've never seen such disgusting behaviour. And to top it all of they are only a small club. Lets put things in perspective here; 1 trophy in 100 years just being in the premier league should be a bonus but no they think they should be challenging for europe. Get over your selves, leave Steve alone the powers that be have him where he is and seem to be insistant on it and the more of a big deal being made about it= more attention for Venkys. Voice your anger at the ones who have your knickers in a twist, get behind your team before its too late
Posted 00:00 31st December 2011
Andy Ahmed (Manchester United fan) says...
I THINK UTD WILL PIP CITY JUST, FERGIE & HIS MIND GAMES WILL MAKE MANCINI NHIS EXPENSIVE TOYS CRUMBLE FERGIE HAS DONE IT AGAINST THE BEST MANGERS, KIDDO MANCINI JUST DOESNT HAVE THAT WINNING MENTALITY YET, FERGIE MAY BE BIT OVER CONIFIDENT WITH HIS SQUAD HOWEVER, HIS KIDS & MAKE SHIFT DEFENCE CAN WIN BUT WHAT ABOUT AGAINST THE TOP 6 TEAMS??? WHY WONT FERGIE GO FOR CAHILL HE'S YOUNG FIT & BRITISH HE'S GOOD ENOUGH FOR COVER WITH EVANS, WE ALSO NEED AQULITY CM/CAM, PERSONALY I WOULD LOVE TO GET VAN derMAN VAART OR ERIKSSEN, SNEIJDER IS ATOP PLAYER BUT HAS LOST HIS EARLIER FORM & IS INJURY PRONE
Posted 22:25 30th December 2011
Terry Shorrock (Blackburn Rovers fan) says...
Jamie, I hope you are right in your prediction for Blackburn. We have had precious little to celebrate so far this season, but they should take heart that they have loyal fans who will stick with them, even on the other side of the World........!!!!
Posted 03:17 30th December 2011
Mike Jevon (Tottenham Hotspur fan) says...
James Smith should get real, spurs are in front of Arsenal and are producing exiting games with good results. As for Bale diving that's fueled with envy. Spurs have a great team which could yet be improved with the addition of another world class striker. As for Harry he has made the team sparkle why else would other managers see him as the next England boss. Its results that count City have shown that no one owns the premiership but carry on hoping James.
Posted 19:31 29th December 2011
Adam Golightly (Manchester United fan) says...
Donovan Naidoo you have no idea what your talking about tottenham wouldnt be in the position that they are if they couldnt play expansive football thats a ridiculous comment. in regards to champions league positions being available in england i dont think is a worry the revenue that our company brings is huge and uefa wouldnt remove any places for us
Posted 13:01 29th December 2011
Andrew Timpson (Arsenal fan) says...
Donovan Naidoo - I have never seen such nonense in one comment. Do you watch football? Or are you just guessing key players for each team mentioned? I am all for people being entitled to their own opinion, but that post was ridiculous. Giggs - hasn't played anywhere near enough minutes to be regarded as a key player. King - great talent, but so injury prone, not a key player. Arteta and no AVP - seriously!? Zamora - can't even get into the Fulham squad, never mind team. That post seriously offended me.
Posted 12:59 29th December 2011
Hugh Purcell (Celtic fan) says...
Rooney is brilliant for Man Utd in midfield, showing how he is determined to keep improving all the time. Looking forward to the second half of the season. Man City are good, but Aguero has been missing a few chances lately. Silva is excellent, but do they have the mentality to go course and distance?
Posted 12:45 29th December 2011