I often get asked is it more important to play Champions League football or to win a trophy? I think it changes throughout your career but, ultimately, it's about winning things.
When you hang up your boots you are judged on what you've won, not whether or not you got to the quarter-finals of the Champions League.
Tottenham had a fantastic run in the Champions League last season, but what did the players have to show for it? The only thing you come away with is memories.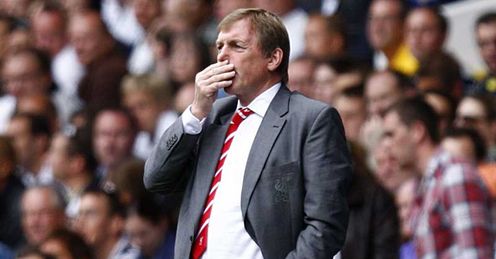 Liverpool's history has been built on winning trophies and that's exactly what they'll be aiming to do on Sunday against Cardiff.
People might say the Carling Cup isn't the most important trophy in the world, but winning is a habit and you only have to look at what happened last year to see that.
Arsenal went into the final against Birmingham absolutely flying. They were still in the hunt for the Premier League, FA Cup and the Champions League at that point, but they lost to Birmingham and it really knocked the stuffing out of them.
Liverpool are obviously massive favourites to win, but Cardiff will start the game with exactly the same chance as Birmingham did last year - and we all know what happened there.
Jamie Redknapp
Quotes of the week
Compare that with Manchester City, who won the FA Cup and are now going for the title, and it becomes pretty obvious what a difference winning just one trophy can make.
City have got bigger resources than Arsenal and have spent a lot more money, but having a winning mentality is priceless. Up to that point City always seemed to have a bit of an inferiority complex, having spent so many years in the shadow of Manchester United.
But they beat United in the semi-final last year, beat Stoke in the final and have gone from strength to strength. Liverpool will be hoping a win on Sunday can do the same for them.
Winner
Kenny Dalglish is a winner, he always has been, and he will be trying to instil that into his players. The club have had a bad few months and, as a former player and captain, I have to admit it's been hard.
Liverpool, Kenny Dalglish and Luis Suarez have all accepted where they went wrong and I think everyone just wants to move on now and this is a great opportunity to do that.
They are obviously massive favourites to win, but Cardiff will start the game with exactly the same chance as Birmingham did last year - and we all know what happened there.
Birmingham were a Premier League side and Cardiff are in the Championship, but Birmingham were sitting in 16th in the table when they headed to Wembley and I don't think there would've been a great deal of difference between that Birmingham side and Malky Mackay's men right now.
Malky's done a fantastic job getting them to the final and they're doing well in the Championship, too. I played against him as a player and I always had a feeling he would go on to be a top manager, which is why his success hasn't surprised me.
But If Cardiff are to win this trophy they will need a little bit of luck, but it's not out of the realms of possibility.
Experience
They'll also need their experienced players to have good games, the likes of Peter Whittingham, Kevin McNaughton, Kenny Miller and Stephen McPhail who, as long as he is fit, I can see starting on Sunday.
He hasn't been a regular this season, but he's a quality player and you need to keep the ball at Wembley, so his experience will be invaluable, as will Miller's.
McNaughton is a lovely footballer, too, and a nice right-back who always shows quality on the ball, but Whittingham is definitely the man who makes that team tick.
He's become their talisman since moving into central midfield. He takes all their free-kicks and corners and someone in the Liverpool midfield will have to get a hold of him, or he will cause them problems.
As for Liverpool, Kenny's got a decision to make up front. Suarez will definitely start, but he'll have to decide if he wants to go with Andy Carroll or Craig Bellamy alongside him. It's a tough one and whoever he leaves out will be really hurt, but it's a nice problem to have.
Carroll has been playing well recently, but Bellamy is a Cardiff boy and this match will mean so much to him, so I'd be amazed if he didn't start.
That said, the Liverpool gaffer might decide, and I'm only speculating here, that the emotional side of the occasion would be too much for Bellamy and he'd be better off bringing him on off the bench if they need a winner.
There's also the chance that he goes with all three. Suarez played a lot of his football at Ajax on the right-hand side of a three-man attack, so it's something he can do.
But the bottom line is Kenny has a lot of options, more so than his opposite number, and that's not a bad place to be going into a final.
Redknapp reckons
Cardiff will go into this as underdogs, but we all saw what happened to the underdogs last year. They'll need their big players to perform, especially Peter Whittingham and I wouldn't be surprised if Kenny Miller got himself on the score sheet, but they're going to need a fair bit of luck, too. Liverpool are rightly favourites and you have to fancy their chances with so many match winners in their side.
Jamie's gem
LUIS SUAREZ (Liverpool):Whether you love him or hate him, Luis Saurez strikes me as the sort of guy who won't let anything that has happened affect him. I'm not saying that's a good thing or a bad thing, but in a way you have to admire someone who is that mentally strong. He'll be buzzing around the pitch the way he always is and if there's one thing I'm certain about, it's that he will be the one making all the headlines on Monday morning.
Comments (15)
Richard Ashmore (Aston Villa fan) says...
Liverpool win, i can't see it going any other way, Suarez is a fantastic footballer and when Carroll and Bellamy are firing they aren't bad either. I can definitely see a win here breeding more success; maybe even a League/FA cup double this season.
Posted 19:59 25th February 2012
Georges Kaawar (Liverpool fan) says...
I began supporting Liverpool as a kid when they lost 2-1 to United in the 1977 FA Cup Final to United. Winning is not only about having the right mentality. It is about having the right culture in the dressing room, and this is something Liverpool can now claim to have after many inconsistent years. This season was always going to be difficult with the many new players who were shining in smaller clubs/squads & then had to adjust/accept to now being smaller fish in a larger pond. Kenny has stood by them all through thick & thin and they all know that they owe him for his unyielding loyalty & belief in them. They will deliver this cup and quite possibly make a viable attempt at finishing in the top 4 & either winning or coming close in the FA cup too. But the team will still need a pacy and premier league proven forward for next season if we are going to be deemed title conteders/outsiders for next season, let alone having a real chance of claiming a fraction of the success that the teams of the 70's & 80's enjoyed. For me, bringing back Fernando Torres & a recovered Lucas Leiva will be the final pieces of a team to fear across Europe & to actually reward all us fans for our unyielding loyalty too. Six years of waiting for a trophy at Liverpool is uncomprehendable, let alone close to unacceptable. This years League Cup is where it all starts, regardless how this season ends.........."you've never walked alone"
Posted 13:53 25th February 2012
Adam Ashra (Liverpool fan) says...
Well said Jamie, i hope we do come out comfortable winners tomorrow, and i tell you one thing if you was to be a manager i reckon you would be one of the best because you know what your talking about, come on you reds!!
Posted 13:12 25th February 2012
Ofwono Willy wycliffe (Liverpool fan) says...
let kk pick da best formation 4 da finals , andy carrol,belamy and suarez could form one of da deadliest attacks ever in the premier, let dat be awa first trophy then 4th sport
Posted 17:43 24th February 2012
Dan Lonergan (Liverpool fan) says...
Brilliant article Jamie lad!! Am heading down to to London for the game tomorrow from the Island and I always find it unnerving being the favourites especially against a championship side as you rightly pointed out you only have to look at last years final, however your spot on about it being a spring board for possible greater things it certainly did the team you captained no harm in 2001 mate!!
Posted 13:35 24th February 2012
Andre Kaloki (Manchester United fan) says...
Liverpool will win they are just too strong for cardiff. Luis Suarez is a Champion and a person worthy of praise despite his run ins hez a gud player and has a good working rate. Lets forget what happened between him and Patrice and move on, Hope he does not do that again. Football promotes peace and not pieces.
Posted 11:36 24th February 2012
Chris Glover (Liverpool fan) says...
Liverpool all the way on Sunday as long as the real Liverpool turn up and not the team which have turned up at anfiled against teams like Norwich and Swansea .Good article by Jamie and i think Liverpool to win 3-1 with Gerrard to score !!
Posted 11:32 24th February 2012
Chris S (Liverpool fan) says...
Spot on again Jamie. Usually I would be very unsure about this game as we, LIverpool, have had a very scrappy history with small teams in recent seasons and this year is no exception. However i think KK will spend more time drilling into the players to make them have the mentality they do against big clubs like Man Utd, City, Chelsea etc so they bring their 'big games' mentality and attack Cardiff instead of expecting to win like they did against Bolton. If they do that then I expect a 3-1 win, but as every cup final since 2000/01 i wouldnt be suprised in the slightest if we have to battle to the last second to finally win the game.
Posted 10:39 24th February 2012
Alan Baxter (Liverpool fan) says...
Alan Baxter (born in Liverpool Live in Oz) I think 3-0 to Liverpool after a shaky start,and I agree,each and every piece of silverware counts.
Posted 10:37 24th February 2012
Ben Porter (Manchester City fan) says...
Surly a better comparison to Arsenal losing the final last year would be Birmingham winning it? Or does that not fit your flimsy argument?
Posted 10:36 24th February 2012
Paul Steeks (Tottenham Hotspur fan) says...
There's no doubt that all trophy wins are in some way important and can act as a catalyst, but I simply don't see this current Liverpool team as having that much genuine potential to kick on. When Man Utd won this cup back in '06, a prelude to huge success, they had a young Rooney and Ronaldo in the team, plus fresh faces like Evra and Vidic - players of huge potential then. I just don't see players like Henderson, Downing and Carroll ever being anything but very limited.
Posted 10:20 24th February 2012
Mick O rourke (Liverpool fan) says...
great comments jamie,everything will go our way on sunday once they dont arive in white suits!
Posted 10:12 24th February 2012
Dave Fannin (Liverpool fan) says...
Great read Jamie,, I think its hard to see past a Liverpool win, if they play to their strengths and create chances similiar to games of late(bar bolton) they will have too much for Cardiff regardless of how tight they try make it, Bellamy must start no questions together with Suarez and Carroll the cardiff defence will be all over the place,, lets hope this is the first of many cups and leagues wins with King Kenny,,,,, but may the best team win YNWA
Posted 09:29 24th February 2012
Anthony Foggo (Liverpool fan) says...
right on Redknapp, the score will be 4-1 for liverpool go pool ynwa
Posted 23:00 23rd February 2012
Bradley Houkura (Fulham fan) says...
Good article Jamie. One of the only "journalist" in the UK who actually write their columns not cut and paste. I always enjoy your insights. It seems you were a bit tempted to say something silly about Suarez...thanks for not doing so and being your own man. Liverpool certainly underestimate Cardiff at their own detriment. I think Kenny will prep 'em properly and we will add another shiny trophy to the cabinet. And you're right every trophy is important!
Posted 19:15 23rd February 2012