A lot of people have blamed Manchester City's dip in form on fatigue, but I'm not sure that's the reason.
A fatigued team wouldn't come back from 3-1 down to draw level with five minutes to go like they did against Sunderland on Saturday; they just wouldn't have the aerobic capacity to do that.
The problem, for me, is in midfield. They've only scored six goals in the league from the middle of the park since Christmas Day and David Silva in particular looks like he's lost a little bit of confidence.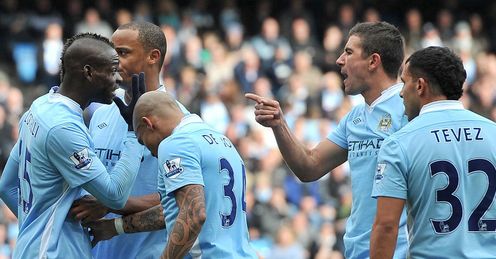 At the beginning of the season he played with no fear and every time the ball came near him you expected something to happen. There was so much flair and imagination about his play, but he is yet to register this year, while you have to go back to January 22 against Tottenham to find his last assist.
In comparison Manchester United's midfield have chipped in with 12 goals in that same period of time and players like Antonio Valencia and Ashley Young have scored some really vital goals.
I don't see them beating Arsenal on Sunday which means the deficit could be as much as eight points by Sunday night, and if I was a City fan my main concern would be are our biggest rivals going to win it in our own back yard on April 30.
Jamie Redknapp
Quotes of the week
LIVE ON SKY SPORTS
Arsenal v Man City
3.30pm, Sun, Sky Sports 1 HD
Also showing on Sky 3D
Watch on the move with
Sky Go
How to
remote record
Historically United are always strongest at this time of the year and it's proved to be the case once again, but collectively City haven't been able to react in a positive way, and I don't think they can win the title now.
I don't see them beating Arsenal on Sunday which means the deficit could be as much as eight points by Sunday night, and if I was a City fan my main concern would be are our biggest rivals going to win it in our own back yard on April 30.
Arsenal had a blip away at QPR last week after a great run of form, but even though they didn't perform to the level Arsene Wenger would've liked, you have to give QPR credit. They battled and worked hard and it was a fantastic performance, which is why I expect Arsenal to bounce back against City, especially considering City's recent away record.
They've only won two of their last six away games in the league and both of those were narrow 1-0 victories over Wigan and Aston Villa.
Pressure
It looks like they're going to end the season without a trophy this season and I think that will be a huge disappointment for the owners, so it's inevitable that Roberto Mancini will come under huge pressure, especially given the amount of money he has spent.
If he was the manager at Chelsea in this exact situation he would definitely get the sack, but Sheikh Mansour might be a bit more lenient, as long as they don't completely disintegrate between now and the end of the season, although I wouldn't put money on that.
I've been in similar positions during my Liverpool days to what the City players find themselves in now and it's honestly like you're running on quicksand. And I don't think it is fatigue, it's a mental issue, not a physical one. You start making bad decisions, you don't pass the ball as fluently as you did at the start of the season and your confidence slowly ebbs away.
It's strange and it shouldn't happen because these are all players who have won major trophies like European Cups, World Cups and various league titles across the world, but it just looks as though their nerves have gone.
I don't think Mario Balotelli has helped their cause, either. Yes, he's a very talented player and he can win you games, but he can also be a poisonous influence in that dressing room.
Rowing
You don't see United players rowing with each other on the pitch like Balotelli does and Saturday against Sunderland wasn't a one-off. I've been in situations where you take free kicks and you have an argument with your mate, but it seems to be every other week with him.
A few weeks ago it was Yaya Toure who was the problem when they had words in the tunnel at Swansea, this week it was Aleksandar Kolarov, and next week it will be someone else.
By all accounts he just does whatever he wants to do in training and that's something that's not going to go down well with the rest of the players. You can't have a Balotelli rule and a rule for everyone else, and unfortunately I think the cons outweigh the pros with him.
As for Arsenal they'll be looking over the shoulders a bit at Chelsea, as will Tottenham. Roberto Di Matteo has done fantastically well in recent weeks, but they're still in the FA Cup and the Champions League and that fixture congestion could hinder them a bit.
Top four
In contrast Arsenal can concentrate purely on finishing in the top four and securing a place in next year's Champions League and you get the feeling if they beat City on Sunday they'll beat Chelsea too in a couple of weeks.
Last weekend's result aside, they're playing with so much confidence and style and having a back four of Bacary Sagna, Thomas Vermaelen, Laurent Koscielny and Kieran Gibbs intact has made a massive difference, while in midfield I've been so impressed with Alex Song.
His passing from deep has been as good as anybody else in the Premier League this season. It's very easy to play safe, but he's always looking for that forward pass and you can see whenever he gets on the ball Robin van Persie is on the move and looking for it because he knows Song can execute an inch-perfect pass which he can get on the end of. I've loved watching him play this season.
He'll have a big part to play on Sunday and I just don't see Arsenal getting beat. The best City can hope for will be a draw and that won't be good enough to win the title.
Comments (11)
Sean Henderson (Celtic fan) says...
You were absolutely spot on Jamie. Great reading as usual.
Posted 18:28 9th April 2012
Derick Siame (Manchester United fan) says...
Well put, but United still have to win 4 out of the 6 games remaining in order to bury it, or win 3 and draw 1, or if things prove difficult, win 2 and draw 4 scoring many unanswered goals. But l've watched United over the years, they won't slip especially at this point of the season, they have the character & that killer punch, trust me.
Posted 12:51 9th April 2012
James Craig (Newcastle United fan) says...
Ayebare Alex - it's easier to win when the ref and linesmen are on your side
Posted 18:10 8th April 2012
Mike Bowler (Manchester City fan) says...
As a City fan they didn't lose the title today, it was lost in January with so many key players out and Silva losing his form. I hope Mancini stays, it's a media-fuelled illusion that City have been poor, at the start of the season few were predicting City's start to the seasoin, or that they would be in with a chance of finishing second. So it's time to consign those clowns Tevez and Balotelli back to the training ground, personally I hope neither gets a game between now and May, and I hope they get sold in the summer, we need players who cae about the fans, not wasters like them. Get rid.
Posted 18:10 8th April 2012
Ruth P (Arsenal fan) says...
Of course QPR will lose if the wrong decisions are made; and with so many appalling decisions being made by both referees and their assistants, is it not about time that such officials should have to deal with the knowledge that if they get it wrong they will be sacked. Simple as. End of. Harsh? Perhaps. But yesterday, neither of Chelsea's "goals" should have been allowed - both clearly offside. And as for today's Man Utd penalty. Well simply it should never have happened. Another referee's assistant who can't see straight. This should NOT be allowed to continue.
Posted 14:54 8th April 2012
James Craig (Newcastle United fan) says...
Man. Utd always should win the premier when they play virtually every match with 14 players. Does Fergie itmidate refs and linesmen, or they all psuedo Man U fans from anywhere except Manchester.
Posted 14:46 8th April 2012
Kevin Charlton (Manchester United fan) says...
If united get a result this afternoon, which i fully expect, i think the added pressure of trailing 8 points will proove the tipping factor of Arsenal taking 3 points at home. Arsenal are in a rich vein of form at the moment despite last weeks upset, and as stated i fully expect them to bounce back. I think this season has been fantastic with city and united jossling for top spot all season and i fully expected the title race to go down to the wire. However, 2 home wins today all but puts the title race to bed in my opinion and if united officailly win it at Eastlands, bitter sweet symphony!!
Posted 10:34 8th April 2012
Thulas Tongas (Manchester United fan) says...
Arsenal wil be doin herself a favour by beating Man City, loosing wil mean opening the third & fourth position among Chelsea, Newcastle & tottehnam. My predictions are Man U 2 QPR 1 & Arsenal 1 Man City 0. Wetha we loose to QPR, we wil stil lift it for the 20th time.
Posted 21:53 7th April 2012
Colin Phillips (Manchester United fan) says...
There is still alot of football to be played so united must treat every game as a final and hopefully not drop points.How sweet it would be to win the league at our noisy neighbours back yard
Posted 18:27 7th April 2012
Ayebare Alex (Manchester United fan) says...
why cant ballotelli behave.
Posted 08:52 7th April 2012
Homzie D (Manchester United fan) says...
Good points there, Jamie...there is no doubt that this is the pivotal weekend in the League... As a United fan, the ideal scenario would be a big Utd win followed by an Arsenal home win against City.... it could be that City would trail Utd by 8 come Sunday evening...it could also so happen that 2 away wins (one for QPR and the other for City) could blow the title race wide open... it would be interesting to see what team Sir Alex puts out as the league is our only hope of silverware this season and nothing would taste sweeter than winning #20 at Eastlands! I hope Sir Alex puts out his strongest XI. I'm hoping for 2 home wins on Sunday and I have a feeling that Utd will get a nervy 3-1 home win while Arsenal will do both teams (Utd and Arsenal) a favour by beating City by 2-1. My predictions - UTD 3 QPR 1 and ARSENAL 2 CITY 1 and UTD to be 8 points clear at the top!
Posted 10:46 6th April 2012