A while back Bobbie revealed in our weekly meeting that he once accumulated over £700 betting on matches during Euro 2004.
Unfortunately he then went and blew it all by backing the Czech Republic to beat winners Greece!
We like to focus on the positives though, so with that in mind we've decided to make him our betting 'guru' for the season.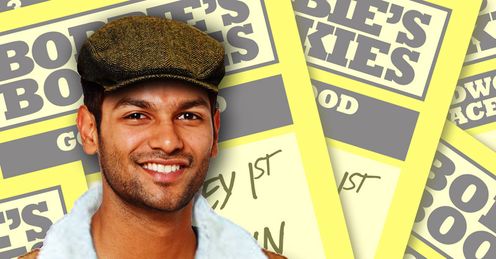 Each week he'll be picking out some of the slightly more unusual bets with a little bit of help from our friends at Sky Bet, and he'll also be putting his money where his mouth is.
We've stuck £50 in his kitty (Monopoly money of course!) and we'll see how he gets on through the course of the season and to make things more interesting he'll be going up against the rest of the office.
A different member of the crew will take him on each week and at the end of the season we'll see who's got the most wonga, or more likely who's lost the least!
So remember to check back each week for his latest bets and odds from Sky Bet and find out who's leading in the Bobbie v The Office duel!
Bobbie says...
Hello folks. How are we today on this dark, gloomy and miserable February day? That bad huh? Well never fear because Bobbie is here with a bucket load of bets which will have the sun shining and all you smiling! Shall we proceed? I think so.
Last week was a romper stomper, a feast of goals, a strike-fest, a buffet of balls hitting the back of the net. Who would have imagined we'd see over 40 goals last weekend? Not me!
Call me a Black Eyed Pea cos I've got a feeling there's gonna be a sack full of goals in the Manchester Derby this weekend. Carlos Tevez is on fire with 18 goals in the league already this season and if he can repeat his hat-trick feat again in the derby we could all be in the money. Sky Bet have put up odds of 50/1! Get your wallet out and go and have a flutter.
If that's a little too fantastical for you then how about this. When you think of late goal scorers, who come to mind? When the ref signals added on time, who's gonna score? That's right, Man Yoo! 5/1 odds are available if they can grab a goal on 90 minutes or after against Citeh! It's been done before and I'm sure it'll happen again. Hopefully this weekend...
It's that time of the year where we have to show our loved ones how much they're...erm...loved! This tends to cost an arm and a leg though so let's use this as an excuse to do some gambling! First up we've got a 'Love Birds' special. Newcastle, Cardiff, Crystal Palace and Norwich (aka the Magpies, Bluebirds, Eagles and Canaries) make up this loving accumulator with beautiful odds of 33/1.
Valentines, love, Hearts, Joe Hart. It all goes together! Check this out. Sky Bet are serving up odds of 10/1 for Joe Hart to keep a clean sheet and Hearts to follow suit when they take on lowly Hamilton! Things are looking rosie already!
One more before I go and it's got Super Stallion odds of 33/1. Soccer AM's very own Horse 'Teaforthree' is racing at Cheltenham 2011 and Ffos Las - if he wins both of those races you'll be able to get your own race horse!
See you next weeks ladies and gents.
Check out the Soccer AM specials page at Sky Bet for more bets.
Bobbie v The Office
As it stands: The office is still in lead on -£320, while Bobbie is needs a couple of big wins if he's going to finish the season in the black -£800!
This week
Bobbie's Bet: This is a good one, to celebrate West Ham's acquisition of the Olympic stadium I'm backing them to beat West Brom and Tottingham to lose against Sunderland. Sky Bet are offering 10/1 odds for this. Get in!
Baby Elvis' Bet: TBC