A while back Bobbie revealed in our weekly meeting that he once accumulated over £700 betting on matches during Euro 2004.
Unfortunately he then went and blew it all by backing the Czech Republic to beat winners Greece!
We like to focus on the positives though, so with that in mind we've decided to make him our betting 'guru' for the season.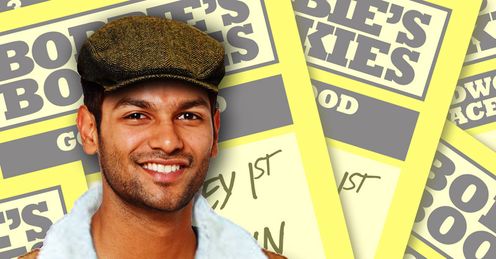 Each week he'll be picking out some of the slightly more unusual bets with a little bit of help from our friends at Sky Bet, and he'll also be putting his money where his mouth is.
We've stuck £50 in his kitty (Monopoly money of course!) and we'll see how he gets on through the course of the season and to make things more interesting he'll be going up against the rest of the office.
A different member of the crew will take him on each week and at the end of the season we'll see who's got the most wonga, or more likely who's lost the least!
So remember to check back each week for his latest bets and odds from Sky Bet and find out who's leading in the Bobbie v The Office duel!
Bobbie says...
I'm starting with my big guns this week and I'm not talking about my biceps! 20/1 odds are up for grabs with our Crew Accumulator. It's made up of Helen Chamberlain's mighty Torquay United, 'Jump Out Man' Chris' Southampton, 'Volcanic' Ash's Derby County and 'Lord of the Dance' Raj's Aston Villa. If they all get wins, you'll be as happy as a Gunner come Sunday arvo!
Speaking of Sunday, I've got 11/4 odds for Seb Larsson or Alex Hleb to score in the Carling Cup Final against their former employers. Arsenal can occasionally leak goals and both Hleb and Larsson have got the odd goal in them. What's better then scoring in a Carling Cup Final? Scoring in a Carling Cup Final against your old club, me thinks! Good luck lads. I'm pretty sure you're heading for a loss but you may as well bulge the net and make us all a few quid!
This next one is gonna have all you boys and girls out there smiling from ear to ear. We've got a 'King Kevs' special. Newcastle v Bolton is on this weekend and if Kevin Nolan and Kevin Davies both manage to score you're gonna be a few pennies better off with super odds of 12/1. These boys love a goal and with odds this good, you'd be a fool to miss out!
It's almost Oscars time and what better way to celebrate than to put some football and film-related bets together. Come this weekend all those Hollywooders won't be the only ones going home a bit happier. Have a gander at this one. Natalie 'Unbelievable Acting Tekkers' Portman to win best actress for Black Swan and Ipswich to beat Portsmouth at Portman Road. Did you see what we did there? Smart, eh? Natalie Portman, Portman Road? You can get evens on that one.
And the fun don't stop there folks. I've got one more movie-themed bet for you, this time involving mine and your favourite British thesp; good old Colin Firth. If the King's Speech picks up best picture and Marlon King and Andy King both score in the Leicester v Coventry fixture, you could be living like a King with odds of 12/1. Wonderful!
That's all for now folks but tune in next week for more Brilliant Bobbie's Bets.
Toodles.
Check out the Soccer AM specials page at Sky Bet for more bets.
Bobbie v The Office
As it stands: The office is still in lead on -£320, while Bobbie is needs a couple of big wins if he's going to finish the season in the black -£850! It's looking less and less likely...
This week
Bobbie's Bet: Easy this one. 10/1 odds for West Ham's Demba Ba to hit the bar against Liverpool are very tempting.
Office Bet: TBC