A while back Bobbie revealed in our weekly meeting that he once accumulated over £700 betting on matches during Euro 2004.
Unfortunately he then went and blew it all by backing the Czech Republic to beat winners Greece!
We like to focus on the positives though, so with that in mind we've decided to make him our betting 'guru' for the season.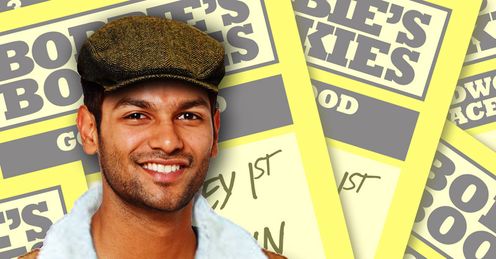 Each week he'll be picking out some of the slightly more unusual bets with a little bit of help from our friends at Sky Bet, and he'll also be putting his money where his mouth is.
We've stuck £50 in his kitty (Monopoly money of course!) and we'll see how he gets on through the course of the season and to make things more interesting he'll be going up against the rest of the office.
A different member of the crew will take him on each week and at the end of the season we'll see who's got the most wonga, or more likely who's lost the least!
So remember to check back each week for his latest bets and odds from Sky Bet and find out who's leading in the Bobbie v The Office duel!
Bobbie says...
We've got a full fixture list this weekend which means bets, bets, bets and more bets! Take a look at a few below, but if they don't tickle your pickle there's loads more at Sky Bet. Happy betting folks.
Crew Accumulator
Liverpool, Bristol City, Southampton, Torquay & Cambridge to win 30/1
I love the Crew Accumulator as much as Razor Ruddock loves food and that's a whole lot of loving! Feast your eyes on this! Boss Man Rob's Liverpool, Disco Dave's Bristol City, Jump Out Man's Southampton, Matt Rushton's Cambridge and birthday girl Helen's Torquay United make up the set this weekend and at 30/1 you'll want to sink your teeth into these odds.
Spurs reach landmark in style
Tottenham to score 8+ goals v Wigan - 2nd April 500/1
If I had a choice between supporting Tottingham or spending the night with Dean Windass after he'd just eaten the world's hottest curry, a bucket of hard boiled eggs and twenty cans of beans I'd choose Windass and his windy bum any day of the week. But this week I'm gonna simmer down and forget i'm an Arsenal fan for few minutes so I can tell you about this 500/1 bet. It's far fetched and outlandish but just look at those odds. They're massive, they're huge... they're life changing! Need I say any more? Go pop a quid on Tottenham to reach 1000 Premier League goals by walloping Wigan for the second time in two seasons. If it comes off and you don't, you'll be left feeling like a Tottingham fan, potless.
Another Hammering
West Ham to beat Man Utd 4-0 150/1
From the far fetched to the even more far fetched! Take yourselves back to the Carling Cup quarter-final this season and you'll recall West Ham hammering Man Utd 4-0. At the time that seemed outright ludicrous, but it happened. I made the mistake of not putting that bet down. Am I going to make the same mistake twice? Not a chance! This one's already down on my slip. With 150/1 odds you'd be madder then Temuri Ketsbaia if you miss this one!
JPT Fans Prediction
Brentford & Carlisle fans to score exactly the same in the car park as their teams the next day 10/1
Taking a seat in the Luther Blissett stand this week will be Brentford and Carlisle fans ahead of the JPT final. Why is this interesting? Well because they could earn you some money of course! If they score as many goals in the car park as their respective teams do on Sunday you'll be doing a Charlie Sheen, "Winning!" The last final at Wembley saw Birmingham beat Arsenal 2-1 - the same scoreline as the fans in the carpark. Let's make it two for two! C'mon the boys
Check out the Soccer AM specials page at Sky Bet for more bets.
Post to your View!
Be the first to post a comment on this story