I have never professed to being an authority on all things football - far from it.
In fact, like many others I spend part of my end-of-season time off attending coaching courses run by the PFA in order to learn more about the game, but if there is one thing that 18 seasons and over 700 games has taught me, it is simply that goals win games.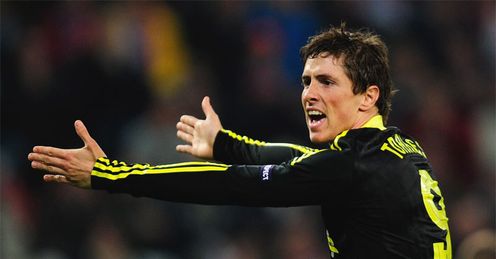 It is the toughest job on the pitch and its no coincidence that the top paid players are generally those relied upon to put the ball in the back of the net.
A striker is only ever as good as the service they get, but when that service is produced with quality and regularity then goals will follow. It's a great feeling as a goalscorer knowing that a feed of decent deliveries are coming your way each game.
Defenders are where they are for a very good reason, like goalkeepers and midfielders most players find their place on the field at an early stage in life and stay pigeon-holed.
Nicky Forster
Quotes of the week
LIVE ON SKY SPORTS
Brighton v Bournemouth12.00pm, Sat, Sky Sports HD2 & 2
Swindon v Bristol Rovers
7.30pm, Mon, Sky Sports HD1 & 1
There is often friendly banter within teams arguing the point like schoolkids that 'my job is much harder than yours', but I love winding up defenders by saying that they are the only players on the pitch that can be congratulated for smashing the ball upfield or over a stand without aiming for anyone. Mind you I've done the same in front of goal too many times to remember!
My ex-Reading team-mate and good friend Steve Brown always used to say that a team of defenders will always beat a team of strikers in a game, and I agree; mainly due to the fact that most strikers cannot defend to save their lives (me included!). But there is more to it than that.
Defenders are where they are for a very good reason, like goalkeepers and midfielders most players find their place on the field at an early stage in life and stay pigeon-holed.
I've often joked with team-mates that goalkeepers are crazy, defenders level headed and boring, midfielder either creative or workhorses and strikers are selfish geniuses. Whilst at Birmingham assistant manager Mick Mills labelled the midfielders as labourers fetching bricks and water for the craftsmen (strikers) to create something. I remember thinking smugly I rather like that!
Strikers are often temperamental characters who can frustrate for long periods, driving both their managers and fans to a point of pulling their hair out before conjuring up a bit of magic capable of winning a game - Brighton's Glenn Murray is a perfect example.
Greed
In truth we all love to see both sides of these guys, the magic and the madness. Eric Cantona celebrating with his trademark arrogance was awe-inspiring - but his kung-fu karate kick on a Palace fan equally entertaining.
Ask a proven goalscorer if they would be happy to lose a game 4-3 whilst scoring a hat-trick and they will flatly deny while actually thinking 'I would settle for that'! Greed is a necessary ingredient for any goalscorer and that is a key element which sets them aside from others on a pitch.
I learned this early on in my professional career at Gillingham. I stood at the front of the queue during a shooting practice and asked for balls to be passed to the front and top scorer David Crown came to the from the back of the line and stood in front of me and said 'if you havnt got a ball then you cant have a go'.
It is fair to say that pressures on a striker are very different to that of say a goalkeeper. For example if a striker misses a chance then it invariably isn't as costly as one made by a keeper. The one thing that makes a difference to all players is confidence and its impact is massive; just look at Fernando Torres and Wayne Rooney at present compared to Dimitar Berbatov and Didier Drogba.
In League One this season you need look no further than Peterborough who, with Aaron McLean and Craig Mackail-Smith being fed by George Boyd and Grant McCann, will almost certainly be favourites for the title come May.
A manager once said to me that goals win games and clean sheets win leagues. to which my response was: "You cant win a game 0-0 Gaffer!"
Point proven I think!
Strikers or defenders? Which side of the fence are you on? Let us know by filling in the feedback form below...
Comments (9)
Tami Fashina says...
Defenders all the way, anyone can score a goal but I''d like to see how many goals a team would score and conceid without their defenders! Haha well you can''t win a game at 0-0 but you certainly wont lose one! Great column though, my comments are probably bias cuz i was a defender myself :-)
Posted 18:26 6th October 2010
Richard Harper says...
Strikers are who we all pay to see but a clean sheet isn''t the only attractive thing about watching a defense play. The most attractive part of defense is when it is done with finesse. Crunching tackles are great but anticipating the ball and controlling the game is what puts those possession stats so high for the really class clubs. The defenses transition to attack can be really marvelous. Today it seems like so much of the wing attack comes from deep in the defense a la Ashley Cole or Dani Alves. When a team plays total soccer like a machine the offense and defense is pretty much the same thing.
Posted 15:56 6th October 2010
Daniel Brown says...
great article, agree completely.... as a striker, if you offered me a hatrick in a 4-3 defeat i''d definitely think that would be pretty good, altho declining it flat to anyone who''d asked me that.... every game i step on the pitch if i dont score a goal i feel really dissappointed regardless of the result. Glenn murray is awesome, just check his goal last out against tranmere. shame he cant do it more often! bad luck against us last week nicky, happy to see you bang in the goals against everyone else but not the mighty seagulls!
Posted 12:31 6th October 2010
Scott Ward says...
i agree with him. Strikers are so important but being an ex professional goalkeeper for Luton Town i understand the pressure on being a full time player , esecially a gk and a striker. One moment i remeber was when i saved a penalty from lloyd owusu against brentford for my debut and first touch!! he was smugly looking at me after just coming on thinking easy peasy!! well not so easy hey lloyd!!
Posted 12:20 6th October 2010
Tommy Fraser says...
I think nicky gets a great point across here and will enjoy reading this blog more often
Posted 00:12 6th October 2010
Tom Moore says...
Nice 1st blog Nicky....I don''t play football I watch it, I do play bass guitar tho'' and the comparison can be made inasmuch as strikers are like lead guitarists or lead vocalist in a band - everyone watches & idolises them, but the defenders/goalkeepers are the bass player/drummer in a band - no-one really pays them attention, but football teams won''t win very much without a defence and a band wouldn''t be very musical without bass & drums - s''all teamwork of one sort or another
Posted 22:31 5th October 2010
Graham Butler says...
I would choose strikers. As a life long brentford fan I would say I can remember more front men than defenders that have come through the club over the years. Good article nicky keep them coming. Up the bees.
Posted 21:11 5th October 2010
Mike Forster says...
I think most people will side with strikers ! As watching goals being created and finished off is far more exciting than watching great defensive play ! But you can never underestimate the importance of keeping a clean sheet ! I have no doubt that if you where to add up all the points, mid table teams have dropped over the years by not keeping a clean sheet and then adding those points to their end of season points tally, many of them would have been promoted or at least reached the playoffs. Its true what you say that you cant win a game 0-0 however, you also cant win a game if you always let goals in, Kevin Keegan''s Newcastle are the perfect example of that, they scored many many goals during the 95/96 season but could not win the prem because of one reason ! They could not keep a clean sheet !
Posted 17:28 5th October 2010
Dean Lewis says...
Great column! really impressed by Nicky''s insights.
Posted 16:48 5th October 2010