Just an idle thought but would it not be wonderful if the English rugby supporters stuck two fingers up to crass consumerism. I am not that fussed what colour England wears but the decision to play their one home match in the striking new black kit seemed, how shall we put it, opportunistic?
New Zealand do not have some moral monopoly on the black shirt; it is not sacrosanct but England, famous enough for the white shirt and red rose, are simply cheapening the concept of national support by bringing the quick buck mentality to their approach; so much for the businessmen what about the more important men, the players?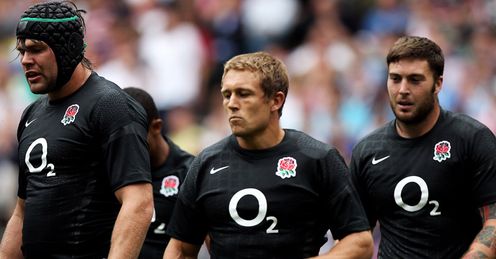 Alas, there was no immediate magic in the donning of black shirts. They bore a faint resemblance in terms of colour and physique but in terms of rugby excellence there was no confusing the genuine All Blacks from the money making all blacks.
To win the World Cup England is either going to have to beat New Zealand in the quarter finals or at Eden Park in the final and New Zealand have forgotten how to lose in Auckland; a comparison of the teams leaves England light years behind.
Alas, there was no immediate magic in the donning of black shirts. They bore a faint resemblance in terms of colour and physique but in terms of rugby excellence there was no confusing the genuine All Blacks from the money making all blacks.
Stuart Barnes
Quotes of the week
However - and there always must be a 'however' because the scheduling of the World Cup for the Northern Hemisphere autumn gives a perpetual advantage to the Southern Hemisphere. As if being the better teams for most of the sport's history isn't enough! Whereas the European challengers have rustiness to conquer, the Tri Nations come into the competition honed off the back of their Super season of regional rugby and diet of internationals between one another. Injuries are an issue but far better to be bubbling near a peak a month from the competition than searching for accuracy.
The calendar is loaded against the Northern Hemisphere. This is not some European excuse. The history of rugby pre World Cups indicates that the Southern Hemisphere, in particular New Zealand and South Africa has ever been the best teams on the planet. Five World Cups out of six bear the old facts out but wouldn't a competition starting at the end of a structured European season and the start of the Southern Hemisphere's campaign be an interesting alternative.
It will never happen. Vested interests and all that but the point has to be made otherwise comparisons between New Zealand versus Australia and England versus Wales are woefully simplistic; The All Blacks will win the World Cup if they reproduce that form but having had a full season of Super Rugby and two internationals it would be a shock if they were nowhere near a peak. In contrast Wales promised a fit but technically rusty effort. They and England delivered on that front.
Ice baths do wonders for the capacity to train longer and get fitter and stronger but couldn't some of that time spent devoted into metamorphosing into super-humans be spent working on rugby drills. Wales has forgotten how to win quick ball and with the best will in the world, minus quick ball from the breakdown fifteen Hercules are not going to stop a half decent set of rugby players, let alone the genuine All Blacks.
Shaking off the rust
England was almost as rusty as Wales. The scrum was a potent weapon, perhaps even a match winning weapon although Wales, shorn of their best front row, were underwhelming in this aspect of the game. The line out was a decent contest without either side dominating while the breakdown was the sort of mess expected from teams who have not played for a while. It was inaccurate where New Zealand was precise; slow and secure while the All Blacks threw men into contact and reaped rewards of quick balls and gain line breaks.
Unless New Zealand is matched in this department they will win the World Cup. On Saturday the four Home Unions were playing at a feeble standard in comparison (I include the dreadful spectacle at Murrayfield). That is the bad news; the good news is that come the knock out stages the improvement should be marked. That is of course, if all the teams survive the pools. Wales have the Southern Pacific threat of Fiji and Samoa on top of South Africa, Ireland are being promised a tough time but Sergio Parisse and his Italy team (the small matter of Australia is their other key game) while Scotland and England has Argentina and each other to negotiate.
Think back to how dreadful England was against USA and then South Africa in the last World Cup before grinding their way to the final. These warm up games are early days still. The relative strengths of England and Wales might be slightly clearer after next Saturday's game in Cardiff.
Lessons learnt
What can we take from individual performances at Twickenham? That the Welsh captain and open side, Sam Warburton, is a fine player with an immense career ahead and his opposite number, Lewis Moody has been a fine player but constant injuries question whether his best days are behind him. He limped off the field in the 65th minute and the initial thought was 'not again!' Nobody doubts his heart and inspirational qualities but the captain has to be trusted to last a game. On form alone he has had scant opportunity to prove himself ahead of Tom Wood, one of England's players of last season. The England manager stubbornly refused to let go of his last captain way too long. His decision about the physical state of Moody could yet prove a major call ahead of the World Cup. If the captain is not fit for Cardiff he will not play before the announcement of the party and if that is the case how can his selection ahead of the Northampton man's be justified?
Elsewhere Jonny Wilkinson threw down the gauntlet to the current incumbent Toby Flood with a sharp and pragmatic performance, kicking drop goals, penalties and conversions and slotting Manu Tuilagi into a gap on the gain line through which he surged for his try.
That alone should have booked his place on the plane despite a few positional defensive issues. England lacks penetration in the midfield and need his option at the very least. Matt Stevens garnered headlines and indeed, scrummed well but he was not up against a great scrum. Still, he probably did enough as did Simon Shaw who proved he has an hour of excellence within him as he heads towards forty.
Wales need quicker ball to allow Mike Phillips the space to open up defences as he displayed in the 55th minute in the build up to Shane Williams' try. George North displayed high class finishing and Jamie Roberts ran a great line in the lead up to the well-constructed first Welsh try. Given quicker solid foundations at the scrum and James Hook to provide something different, Wales are not as far as some may think from being a decent side but improvement granted for both teams, it takes some imagination to see either winning the World Cup in New Zealand. The future still appears black in ways that are either positive or negative dependent upon your allegiance.
Got a question for Stuart? Email him at skysportsclub@bskyb.com or use the feedback form below...
Comments (11)
G E says...
The NH teams have looked awful so far, except the French, who for 20 mins did a passable NZ impression against the Irish, before falling into some sort of collective daze. Why are England even thinking about men like Banahan (who is clearly one dimesional and not very good at that either), Moody (who for up to 4-5 years has been a shadow of what he was and is now constantly crocked), Tindhall (slow and one dimensional), Hape (see Tindhall) and Deacon (never good enough for anything other than Premiership bullying) and Cueto (Mark, taxi to the tryline because you have clearly forgotten where it is, or are just too slow to get there!)? MJ talks bravely but is uber conservative. Now that Care is out, at least Simpson might see some game time. Midfield needs to be Flutey and Tuilagi. Both Wood and Croft must be in the back row, ith Haskell and not Easter. I'm sure we'll grind our way to a 1/4 final, and MJ will survive the chop...unfortunately.
Posted 11:47 18th August 2011
Kevin Mitchell says...
Timing of the World Cup what a load of Bull---t .Why on an early Summer tours do the Home Nations do so badly and lets see if that is the case the Home Nations should do very well in November in theory and they don't.In November after the best part of 8-9 months of rugby the Southern Hemp. teams should be out on their feet and easy pickings.
Posted 21:45 17th August 2011
Stephen Metcalfe says...
The crux of Englands success in the coming world cup, is whether we can find a backrow and a midfield 3 (10/12&13)that can function. As our set piece is capable of competing with anyones and if given space our back 3 have the gas (apart from Banahan who is ponderous and lacks even the most basic of skills to stand a man and pass to a support player) to trouble sides. A settled backrow is now imperative, against Ireland can we go back to basics and have 6-Croft, 7-Haskell, and 8-Easter with Wood on bench. Midfield, we cannot die wondering and start with 10-Wilkinson, 12-Flood & 13-tuilagi. Is Armitage not an option also at 13 and cover for wing. I dont see how James S-Daniel got cut before Banahan who is surely the most over rated English player ever, his fluffing of the nailed on try when he tried to run over S. Williams instead of standing him up was criminal, should have neen subbed there and then, imagine him trying to do that against the kiwis he'd have been deposited to sit in the stands and that s where England should keep him... If Moody is injured then I wouldnt take him, would prefer a fully fit player to one who having had a serious knee op breaksdown after 35 mins in what was effectively a come back game, unless he plays some part in the Ireland game and comes through unscathed...
Posted 08:51 15th August 2011
Emmett Gracie says...
Hi Stuart, I respect your views and often find them insightful and particularly balanced. However, as a kiwi in London I do get sick of the perenial "calender favours the South" arguments. In June we hear that the Northern teams are "tired" and the Southern teams "fresh". In November, the Northern teams are "underdone" and the Southern teams are "hardened". The '95 World Cup was in May, and the final was NZ v SA. In the South at the moment, there are deep seated concerns our players are burnt out and struggling with injuries. Couldn't we just say that every time of year has pros and cons for both, and the teams that prepare best will improve their odds, rather than this overly jingoistic "the decks stacked against us" nonsense?
Posted 16:42 12th August 2011
Colin Jones says...
I had the pleasure of watching the tri-nations prior to the England/Wales game as am sure most rugby fans did. It did give me real concerns how England will fair in the forthcoming world cup. I did not think comments my Johnson helped after the game saying it was like a pre-season game and it showed!....Am afraid it showed more than that. The game simply was boring and lacked ambition but more worrying was actual players excecution. Compare that to the tri-nations game earlier it simply demonstrated to me the huge gap in the hemispheres abilities and moreover confidence and enthusiasm to play. There needs to be a huge improvement from England and time is rapidly running out!
Posted 16:02 12th August 2011
Shane Caulfield says...
Hi Stuart: your comments are of course very astute, both teams (all 4 actually) looked as though they had not touched a ball in anger for 2 months ....fact! BUT quite often in knock out tournments its all about momentum and looking at Englands schedule it isnt difficult to see them going on a 4 / 5 game unbeaten run now and hopefully Ben Youngs and Toby Flood (both missing on Saturday) can produce a dynamic which was missing last week end.... Wilko for all his great attributes is a bit predictable and my guess is that the big 3 will have a plan to combat him in open play; whereas the Leicester duo are more difficult to second guess, especially Youngs at his best; and he will need to be just that! Come on England...............
Posted 19:56 9th August 2011
Colin Evans says...
Hi Stuart To what degree do you think the interpretation and consistency of the refereeing at the breakdown is going to determine the outcome of the RWC? During the Autumn Internationals last year the All Blacks, most noticeably Messrs McCaw and Woodcock seemed to have some sort of IRB/Papal dispensation in comparison to the rest of the players on the park regarding offside positioning. It was novel to see McCaw being pinged by Alain Rolland for this in their recent demolition of the Springboks D team; but I can't see this happening much in the land of the long cloud during the forthcoming RWC!
Posted 17:15 9th August 2011
Jim James says...
Think Wilko has had the armband before and if I recall right he didn't seem the same player with it. I think he has enough on his shoulders when he plays and doesn't need the extra responsibility of captaincy. Just a thought though, if Moody turns out to be injured for the WC and Tindall happens to get injured(as is often the case for him in recent years) who gets the armband? It needs to be a guaranteed starter who can lead the group, I'm not sure we have a good option!
Posted 13:21 9th August 2011
Tom Desborough says...
I wouldn't have Steve Thompson in the team ahead of Dylan Hartley. Hartley played very well last season and when he was put under pressure by Gatland, he delivered. I'd also rather have Easter instead of Haskell as he's a lot more effective off the bench. Dylan Armitige, as much as I dislike him, also has to be on the bench.
Posted 12:01 9th August 2011
David Mckeown says...
Do northern hemisphere union sides spend any time on offense at all ? Yes defences are usually sound but the one thing that hits you is the attacking is average to awful... Plan A to about Y is head down and barge at the line even if there's a massive overlap outside you. Players seem blinkered.Then there's the pass it to whoevers standing next to you( usually stood still) and the long line of passes across the pitch until the winger runs into touch. And the endless fumbles and missed passes and running into each other and breakdowns...Union attack always looks disjointed, off the cuff and basic. And then we see clubs appointing skills and attack coaches- good one that.
Posted 10:50 9th August 2011
Grahame Gadd says...
Hi Stuart, I was at the game saturday and thought that England were well in controll but let the foot off the gas and with injuries and changes at half time, thought we did well in the end. However we still have weakness in the 3/4 and the ballance just was not there for me, and the back 3 did not function properly. The forward power was there at times, but just lacked leadership. I think this world cup has wilcos Captancy written all over it.. My starting 15 would be: 1-Sherridan 2-Thompson 3-Cole 4 - Palmer 5 - Laws 6 - Croft 7 - Wood 8 - Haskell 9 - Young 10 - Wilkinson 11 - Sharples 12 - harpe 13 - Tuilagi 14 - Ashton 15 - Foden My bench would be: 16 - Danny Care 17 - Chris Robshaw 18 - Dylan Hartley 19 -Toby Flood 20 - Matt Stevans 21 - Matt Banaha 22 - Mike Tindal
Posted 16:01 8th August 2011