Being left out of the World Cup squad is devastating for Martyn Williams.
You can understand what Warren Gatland is trying to do but it's a bit of a gamble because if Sam Warburton gets injured then your only specialist seven is out of the tournament. Especially when you're looking at playing against the likes of Samoa, South Africa and Fiji - you need that out and out seven at the contact area.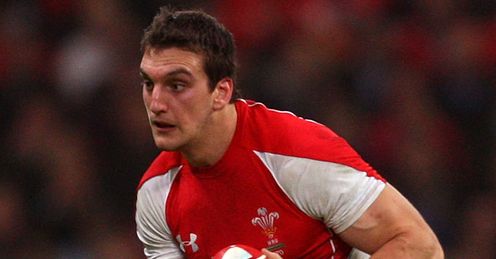 When you look at it, a week ago it was probably Martyn Williams in the slot - but then Andy Powell came and did well against Argentina on the weekend.
They're taking three 8s but Ryan Jones can move up to play second row and cover that position as well. Wales will have to be very fortunate that Warburton plays in every game. I think the back row will be Dan Lydiate, Toby Faletau and Warburton, with the likes of Ryan Jones to come off the bench.
Covered
With regards the injuries at hooker, it's particularly disappointing for Matthew Rees because he's taken over the captaincy with great esteem and since the last Lions tour he's been one of Wales' best players.
You can understand what Warren Gatland is trying to do but it's a bit of a gamble because if Sam Warburton gets injured then your only specialist seven is out of the tournament.
Scott Quinnell
Quotes of the week
Scott joins our team
Scott Quinnell will be writing exclusively for
skyports.com
throughout the World Cup and giving his best bets and teams to follow for
Sky Bet
.
Having said that, I've been very impressed with Huw Bennett in the warm-up games. He's shown a lot of skill in all areas - his lineout work has been very good and this is a huge opportunity for him at the highest level. It's the best rugby I've seen him play.
Wales to reach the World Cup semi-finals - 7/2 with Sky Bet
Gatland is spoilt for choice at 10. At the start of the warm-up campaign I would have thought Stephen Jones was nailed on to start at 10 but unfortunately he picked up a bit of a calf injury.
We're very fortunate that Rhys Priestland has come in and played very well in that position and obviously James Hook has taken his opportunity. It'll be very interesting to see how Warren Gatland goes against South Africa - the experience of Stephen Jones or the flamboyance of Hook. I'd like to see Priestland at full-back at some stage because that's where he was going to play against England.
Decision
I can understand those who say Lee Byrne is slightly lucky to be going because he hasn't been playing to the level he was two or three years ago. He's had a lot of injuries and came back in last weekend, but he's the only out-and-out full-back in the squad and we've got to trust in him to come good at the World Cup.
He puts a lot of pressure on himself and that will be a good thing leading up to the tournament - he knows he's got Hook and Priestland pressuring him for his position.
I don't see Gatland disrupting the centre partnership of Jonathan Davies and Jamie Roberts to accommodate Stephen Jones, Hook or Priestland. I think the Davies-Roberts combination is very physical and that's exactly what will be needed against South Africa. I think Hook will start at 10 and Byrne will start at 15.
Starlet
On the wing, George North has the quality to set the competition on fire. His try-scoring abilities are amazing. The way he's been performing has been fantastic and it's not just his finishing - he has a great rugby brain as well. His angles of running, his ability to pass out of contact and his all-round potential may well make him a star of this World Cup.
Wales to finish top of Pool D - 4/1 with Sky Bet
Lastly, Wales have taken another huge gamble on Gethin Jenkins, who hasn't played a huge amount of rugby but is a world-class player. He must have been performing well in training - we know his qualities.
The same goes for another British & Irish Lion prop, Adam Jones, who hasn't played much. They've both got world-class pedigree - let's hope they're both fit and ready for that second game.
Comments (5)
Steve Hughes says...
i dont know what the issue is with the WARBURTON / WILLIAMS #7 shirt is about, as im sure , Martyn Williams will be watching all the action, as all welsh people will be and if Warburton got injured ( pray to god he doesnt ) i bet Martyn WIlliams allready has a bag packed ready and chances are hed be in NEW ZEALAND within 48 hrs ,so where is the problem ?
Posted 13:32 31st August 2011
Steve Hughes says...
A comment on PAUL BAMBSEYS comment , what planet are you on mate ? have you watched wales last 3 performances ? they be lucky to win a game you say , ! the top 3 have all won and lost over the tri nations tournament , wales are equal top form side with france ,going into this tournament out of the top 6 in the world ! fact !
Posted 13:21 31st August 2011
Paul Bamsey says...
I do agree with scott how can wales expect one openside to take a battering when you are playing the top three agresive sides in the contact area in the world ! And the only way to beat these sides is to win the breakdown area by putting your body on the line ? Martyn plays like a extra scrum half and he would get that ball away quicker which will play into the welsh hands .( less contact area ) and with a back line to dye for thats the way forward . I think wales will be lucky to win a game in their group ,as they will play into the hands of the enemy !!!
Posted 14:06 27th August 2011
Iwan Jones says...
Great article Scott, couldn't agree more that not taking Martyn Williams could be critical, and as much as I think he's a good player, Ryan Jones I feel is slightly lucky. As for Lee Byrne - I undertsand that he is the only specialist full-back, but with the likes of Hook, Priestland and even Halfpenny, who have all shown they can do a job at full-back, do we really need Byrne? Especially when any of the 3 I mentioned could probably do a much better job than Byrne in his current form. Hope that Wales do well this year, and with the squad we have I am hoping for at least a semi-final, and then who knows. Cymru am Byth!
Posted 19:13 23rd August 2011
Kevin Grindell says...
I actually think Wales will use Powell and not Faletau against S.Africa as gatland will opt for experience. Stephen Jones will start with Hook at 15. At the 60 min mark S.Jones will come off with Hook moving to 10 and burn coming on at 15. Gatland prefers the pairing of Roberts and Davies as they suit the game he wants to play which is built on a sound defense and power. Once Wales feel the other team is blowing they then opt for a more attacking threat to expolit the tired legs of the opposition, you saw it against England home/away & Argentina. To date Gatland has concentrated on power & Fitness for the the sole reason to enable Wales to play "Counter Punch Rugby" which would even make Floyd Maywether sit up and take notice ;) it hasnt worked since the Grand Slam but we have already seen glimpses of it against England and Argentina the difference now is the physical prescene and the overal fitness of the team. If we can concentrate more on our overall skill levels and sure up the set piece I think Wales will ease into the quaters with the confidence to take on anyone
Posted 15:38 23rd August 2011