Adrian Lewis lost his opening match of the 2013 Premier League to Simon Whitlock last Thursday and we have not seen the best of him in about a year.
We all know what he is capable of - he is a two-time world champion after all - but he had a terrible time when he teamed with Phil Taylor at the World Cup of Darts a couple of weeks ago, apart from one very good match.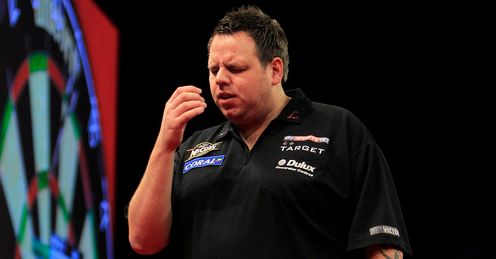 And then Lewis was very hit and miss in his 7-3 defeat to Whitlock in Belfast; he found his rhythm early on when he was putting the first dart bang in the right place, but the in the third leg, when he wanted 60 to check-out and take a 2-1 lead, he made a big mistake and hit treble 20.
From then on, he went downhill and made it very easy for Whitlock and when I saw Aidy afterwards he looked very disappointed and extremely worried - and he really needs to stop the rot.
LIVE ON SKY SPORTS
Premier League Darts
Week Two - Aberdeen
7pm, Thurs, Sky Sports 1 HD
Whether that's changing the people around him or the way he practises, or getting himself a bit fitter, he has to pull something out the bag so he doesn't end up getting relegated.
Things don't get any easier for Aidy as this week in Aberdeen he faces Phil Taylor, who drew 6-6 with Michael van Gerwen in Northern Ireland, and if you went on form, you would back The Power to win at a canter.
Lewis could turn up and play a fantastic game of darts, but Phil, although he should have lost to Van Gerwen, is in pretty good shape and always wants to put people in their place - especially Aidy.
If Lewis doesn't get one or two early legs I fear he will think he is going to get thrashed, panic and get a bit of a whooping. I wish Aidy well but can only see Taylor winning.
Wes Newton v Raymond van Barneveld
Wes started well last week against James Wade but missed too many doubles against a player who knows how to grind a result out and lost 7-4. He, like Robert Thornton, is new to the Premier League and seemed a bit edgy and he will have to get over that anxiety of playing in front of a big crowd. Van Barneveld, meanwhile, is playing the best darts he has played for five years and I cannot see Newton beating him; if Wes gets a few early legs, you never know what might happen but Barney could bully him.
James Wade v Andy Hamilton
Wade was not particularly exciting against Newton but he was solid and I have seen a change in him in the last few months, not only in his play but his attitude, too; he is practicing hard and doing all the right things. He has a hard game against Hamilton, though, who is a street fighter and one of my favourite players and if you play badly against Hamilton, you lose. The Hammer was 5-1 down to Thornton last week but pulled it back to 5-5 before losing 7-5, so did show some form, and I think he will draw with Wade.
Simon Whitlock v Gary Anderson
Whitlock makes few mistakes and takes his chances, and while Anderson's scoring power is incredible, we are not seeing enough of it on the stage. He is flicking in 180s and 140s for fun on the practice board but on TV, his 180s are becoming 140s and his 140s are becoming tons and that's not enough. You have to knock in lots of 140s to win darts matches now, or you have to get lucky - and you don't get lucky in the Premier League. This could be a draw but I have to tip Simon to edge it.
Robert Thornton v Michael van Gerwen
Thornton was the player that impressed me most last week; he was brand new to the Premier League, the crowd would have been completely different to what he was used to and he was playing a seasoned pro in Hamilton, but he took three ton-plus finishes out to get the win and looked like a Premier League natural. If he plays like that again and Van Gerwen misses doubles, like he did against Phil, he could cause a shock - but the young Dutchman loves the game, would play 24/7 if he had his own way and relishes the big-crowd atmosphere. I think he will hit plenty of 180s and get the victory.
Comments (1)
Haps Nirwal says...
My predictions: Taylor 7 - Lewis 3 Newton 5 - Barney 7 Wade 6 - Hamilton 6 Whitlock 7 - Anderson 5 Van Gerwen 7 - Thornton 5
Posted 13:55 14th February 2013