I think England fans should be pretty happy after the first game.
Before the match, nobody was giving us a chance of winning, but we managed to get a draw - and a comfortable draw - out of France. Surely everybody would have settled for that?
We were never going to open the game up, but now I hear a load of people complaining that we need to attack more if we want to win the tournament! That's just typical of attitudes towards the England team, isn't it?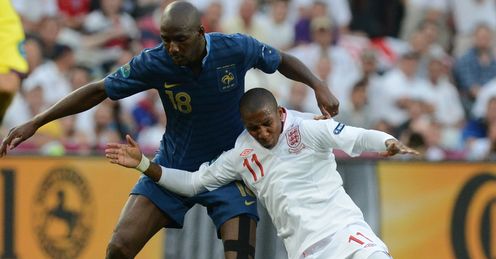 England played the way they needed to play on Monday night. We could not afford to lose that game and we have to play to our strengths until Wayne Rooney returns.
So it was a job well done. France had gone unbeaten in 21 games, including wins over England at Wembley and against both Germany and Brazil, but they never looked like beating us.
Young didn't get into the game, he didn't find himself in pockets and he was easily picked up by Alou Diarra. Every time we broke, Diarra was on him straight away and that can't happen.
Paul Merson
Quotes of the week
I must admit France weren't as good as I thought they'd be. When you consider the amount of ball they had, I thought they would cause England far more problems. Joe Hart didn't have to pull off any saves that you wouldn't expect him to make.
As I've said all along, England are as good as anybody defensively. If you want to shut up shop then our back five - and the midfielders in front of them - are excellent in that department.
If we can get out of the group then we can play like that the whole way through against the bigger sides. It ain't going to be pretty, but we'll be good at counter-attacking and making sure teams don't score against us.
The problem is that in the next two games against Sweden and the Ukraine, we've got to spin it around and go out and score some goals. Sweden will do to us what we did to France and the big worry is if we can take the game to them?
Credit
Against France, I thought the back five were excellent.
Joe Hart missed one cross completely, but I don't think you can blame him for the goal. It was one of those where Samir Nasri showed him the eyes and went to the near post. You can't blame the goalie for that one because it was a good finish.
I thought John Terry and Joleon Lescott were outstanding in central defence and Lescott deserves a lot of credit for scoring the goal.
I've been one of the people that has criticised Glen Johnson over the years. Going forward he's as good as anybody around, but defensively I've never thought he was great. However, he was very good against France and on the other side Ashley Cole showed why he's the best left-back in world football.
In central midfield Steven Gerrard and Scott Parker did what they had to do. We were never going to be flamboyant in this game and sitting there with two banks of four was the perfect approach.
I though Alex Oxlade-Chamberlain did well. He brought a surprise factor to the side - not too many opponents will know him - and he showed that, for a young lad, he has unbelievable talent. I would definitely start him again against Sweden on Friday. If Stewart Downing plays we won't have major pace in the team, so I think we need him.
As for James Milner, he missed a major, major chance to put England 1-0 up, but to be fair to him he didn't hide. He's brave, he keeps getting on the ball and I like that about him, but I don't see what the lad does apart from putting in an unbelievable shift. In my opinion, the only thing he brings to the team is hard work.
In that game he was the right choice because he got back and helped the full-back. I would play him in the knock-out stages, but against Sweden I would rather see the pace of Theo Walcott on the right. That could be the one change Roy Hodgson makes on Friday.
Fault
Milner's chance came from a great bit of play by Ashley Young, but I still don't see him as a number 10. I'd rather see Young on the wings running at players and trying to beat them. It's not his fault, but I don't think he knows the number 10 position.
He didn't get into the game, he didn't find himself in pockets and he was easily picked up by Alou Diarra. Every time we broke, Diarra was on him straight away and that can't happen.
He needs to find ways to create more space for himself. He should have mixed it up and gone straight up front at times or dropped deeper to get the ball and change things.
However, we haven't really got any other options until Wayne Rooney comes back from suspension and then I'm sure Young will be flown straight out onto the wing, where he is very, very good.
Up front, Danny Welbeck didn't look like scoring in a month of Sundays, which is a bit of a worry. But he put in a shift for the team and did an unbelievable job for his team-mates. France always feared his pace.
He's done enough to play in the next game. He worked his socks off against a team that was better than us and now when we play Sweden he deserves the chance to show what he can do in front of goal.
He wasn't helped by a shocking display from the referee either. The French players were blocking and tripping our forwards, but he just wouldn't award a free-kick.
But overall it was a job well done. The only regret is that Rooney wasn't playing because if he'd been in the team I'm sure we would have won it. France didn't look good at the back and he would have had the guile to open them up.
But I saw enough in phases of the game to make me believe we will get out of this group now - and I still haven't seen a team in this tournament that frightens me.
MERSON'S MARK: B+
We went there and did the job. We were playing a team that's now 22 games unbeaten and they didn't look like scoring many goals. If I was Roy Hodgson I would be more than pleased with that result. People will say the performance was negative, but if we're going to win this tournament, that's how we'll win it, so the fans had better get used to it.
Comments (24)
John Buey (Tottenham Hotspur fan) says...
I also agree MOSTLY with Merse, however the Ox playing you must be joking he will be another flop like Walcott. However as we do not have anyone else we should ply the latter instead of the Ox. Walcott since 17 has showed promise but when will he fulfill it, he is still at best PROMISING. He still cannot cross and if you put him in the middle is 1 on 1s is crap and he certainly is nowhere near a prolific scorer BUT yes his pace will cause some problem.
Posted 16:00 13th June 2012
Pete Higgins (Coventry City fan) says...
Having watched Englands Superb Display Against The French I Turned My Attention To The Sweden , Ukraine game And Noticed That Ibrahimovic Was Given The Task Of Watching Shevchenko From Set Pieces. Shevchenko Left Him For Dead On The Second Goal As He Nippesd In Front Of Him And Headed In At The Near Post. Bring On Andy Carrol And I Think We May Get The Same Result. No Doubt England Will Progress To The Knockout Stages , Then Who Knows. Come On England.
Posted 14:47 13th June 2012
Dugi Venhari (Manchester United fan) says...
Resting in laurel proved not to be good for England football squad. What Merse is doing, namely giving credit to those that in no way deserve it (including scared Hodgson), will lead to even worse situation and nonperformance. No doubt, England do need some encouragement but one should be careful and not go beyond that.
Posted 10:22 13th June 2012
Elliot Newbury (Newcastle United fan) says...
Great read and I agree on what Paul says, England need to just to do a Chelsea and grind out results to get the job done because lets face it we havent got the talent to play like Spain but we have our strengths in defense and need to use this to the maximum. I thought Ashley Young and Danny Welbeck did a great job up top, they was never going to have much of the ball but when they did they looked dangerous, so they should definitely start the next game together and Rooney shouldn't believe he can walk straght in the team.
Posted 10:05 13th June 2012
Glen Wilkins (Liverpool fan) says...
I couldn't agree more with Paul Merson. People have to remember that we have to play to our strengths and we don't have the players to play like Barcelona. If we had tried to play football against France we would have most probably lost but playing as we did nearly resulted in a win (if milner had finished his chance).
Posted 09:24 13th June 2012
Chris Sands (Crystal Palace fan) says...
Paul Collins, I don't know how old you are, 2 by the seems of things... but Rooney has been rushed back from a broken foot twice in major tournaments for England and was clearly not fit when called upon... Don't you think this might be something to do with why he hasn't been prolific for us? A fit Rooney is the second best player at this tournament behind C. Ronaldo... If you can't see this, you are blind, you can't judge him on friendlies because the other 9 lads around him in friendly games, if you havn't noticed, give 10 percent a game and he doesn't recieve the ball and just cuts a frustrated figure... Rooney will add that something to our foward line, and if there is no movement in front of him, can always let loose a 30 yard screamer... with Gerrard now too old to be up and down, who else have we got to produce that... no-one! What Merse said is spot on and exactly what I've said in previous posts.
Posted 08:37 13th June 2012
Dugi Venhari (Manchester United fan) says...
It occurred to me, if everything was as Paul Merson says, then what went wrong with England's performance. Why the squad played in a way that does not fit with their reputation. Merse is talking about "two banks of four" but, correct me if I am wrong, all of us have seen one bank of nine or even ten deep in England's pitch (half). If Merse's views serve to raise England's squad moral, then I agree. Let's have another blow in a row and another big disappointment, and this is exactly what we are going to get when turning a blind eye on obviously overrated squad by Merse.
Posted 08:14 13th June 2012
Adrian Page (Charlton Athletic fan) says...
The lack of pace at centre back really showed, they were scared of being done for pace so sat on the edge of the area, that just invited pressure. I agree that Terry and Lescott were fantastic but that's cos we sat deep and made France have to chuck balls into the box which they'll put their heads on all day, this means that our midfield has to sit deep as well and that's where the problems lie, we just invite more an more pressure on. I think Welbeck is a fantastic player but how is he meant to score when we have 8 outfield players within 25 yards of our own goal? I hope Roy's done this as we're missing Wilshire, Cleverley, Rooney and Smalling/Cahill/Ferdinand as one or even a pair of those centre backs have the pace to not be frightened by being turned and chasing back and Cleverley, Wilshire and Rooney are all technically sound and have that little bit of extra energy that the years seem to have caught up with for Parker and Gerrard. Also thought Cole had one of his worst games as he was beaten 2 or 3 times at least by his man. If I knew nothing about the players but watched that game I'd have said only Welbeck and Chamberlain looked like decent players and the rest are pretty average for us. The good thing is that we know that we have our best player back against Ukraine and that the players can play better than they did
Posted 23:21 12th June 2012
Thomas Morrow (Manchester United fan) says...
I agree with most of the comments except regarding johnson, when he is in the defense the only pass he knows is back to the goalie, he very rarely if ever starts an attacking move. I was very disappointed in the way england played, it seems that they do not know how to make two passes in a row without giving it away. Salfordlad
Posted 21:25 12th June 2012
Ben Black (Liverpool fan) says...
would be interesting to see milner partner parker in central midfield and free gerrard to play that number 10 role. with wingers of walcott and chamberlain. Since milner will offer the energy we need in the defensive role. Which will let gerrard in a more free attacking role.
Posted 19:02 12th June 2012
James Hobden (Manchester United fan) says...
ia fantastic read, brutally honest but merse is completely rite; we have the best defence but simply dont have the players to win this flair. its def the rite approach, had scholes gone and been playeing the atm role with stevie g we could play attaking with scotty as dm. even with rooney in the side its stiil the way forward, im well happy weve got roy had harry been given the job wed prob had lost the game, been to exposed. just want to say bravo to merse and long may he continue riting his articles are fantastic!
Posted 18:21 12th June 2012
Matt F (Southampton fan) says...
Absolutely spot on Mers
Posted 17:07 12th June 2012
Kyle Jolley (Manchester United fan) says...
ashley young is a winger not the number 10 role so put gerrard in that role simple!
Posted 17:03 12th June 2012
Andrew Bradi (West Ham United fan) says...
couldnt have put it better myself mers
Posted 16:55 12th June 2012
Adam Cooper (Manchester United fan) says...
Yes your right about Welbeck. He didnt look like scoring because England created 0 oppertunitys apart from the freekick. The only chances he got he made himself by turning the defenders and running into a blue wall, even Messi would of struggled in those situations. Keep with him against Ukraine and Sweden and we will see if Danny looks like scoring...
Posted 16:47 12th June 2012
Paul Collins (Arsenal fan) says...
paul you wann talk about attitude towards england? ok welbeck may not have scored but when has rooney ever been prolific for england? never. its a joke that welbeck can have 2 impressive games like he did yesterday n people like you slag him off and pretty much just say rooney should walk back into the team. thats why england fail. we keep picking failures and regarding them as "messiahs" wake up you idiots. england are still rubbish.
Posted 16:45 12th June 2012
Nick Richards (Manchester United fan) says...
I couldn't agree more Merse and I actually thought we were the better team for the first 30 minutes - comfortable on the ball and looked more dangerous going forward and more likely to open them up. I just wish we hadn't retreated quite so much after going in front as I thought that was the undoing of us and handed too much initiative to the French side. If we can just be a bit braver when we go in front, without being defensively naive, we'll take the pressure off of the defence and midfield a little bit. For all the talk of how many more shots France had than us, the one time that either team carved the other open to make a clear cut chance in open play was the miss by Milner. I was as pessimistic as anyone going into this tournament but I was very happy with England yesterday and my faith in them has already grown. They look disciplined, well organised and seem to know what they're supposed to be doing: a big improvement on the last few tournaments already.
Posted 15:58 12th June 2012
George Myerscough (Manchester United fan) says...
In the main I agree with your assessments which is refreshing as I don't agree with too many pundits who seem to wwatch a different game to us supporters watching at home. Prior to the match I picked more or less the same personnel withthe exception of Jones for Oxlade Chamberlain and I thought a 4-5-1 formation was best to deploy against the French. I thought that their midfield would be too strong and that with just two players in the centre England would struggle and this was shown to be true. With a triangular centre with Gerrad at the tip supporting the lone striker and with Young and Milner wide this would have given England better strength in the centre and a better player to support Welbeck. It would also have given the French defence more problems out wide with Young and Milner bombing down the flanks although Milner was the choice for his defensive capabilities. Even against Sweden or Ukraine, I stll think this is a better formation for England and plays to the strengths of our personnel.
Posted 15:46 12th June 2012
Kieran Baker (Newcastle United fan) says...
Good column as always Merse, people do need to realise that there are many teams with better forwards than us, but we certainly have the best defense, as chelsea have proved in the champions league, it isn't the amount of possession you have, but how you use it, we should we get out of the group I believe we will have a good chance, we will need to dig deep and grind out some results, which can be done, like we did you the spanish before.
Posted 15:38 12th June 2012
Philip Bolton (Newcastle United fan) says...
well done the lads would like to see carrol start up front with welbeck swedens defence looked shaky against ukraine and think carrol will cause them problems
Posted 15:23 12th June 2012