Everybody knew Borussia Dortmund had the ability to perform well at home - but I'm not sure we expected them to beat Real Madrid 4-1 in the first leg of their Champions League semi-final!
The German side were absolutely outstanding; Robert Lewandowski scored all of his team's goals to announce himself as a worldwide superstar, while Ilkay Gundogan was tremendous in the centre of midfield.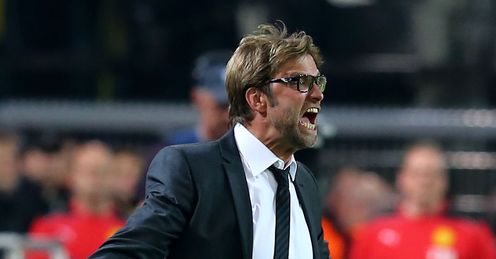 But Dortmund manager Jurgen Klopp deserves credit, too, because he has constructed a side that has wonderful belief and has been able - in 2011 and 2012 - to finish above the might of Bayern Munich and win the Bundesliga title.
Dortmund do not have as much financial clout as Bayern - as proved by last week's news that they will sell Mario Gotze to the Bavarians in a big-money deal in the summer.
The first game I saw Dortmund play in Europe this term was against Man City - and you saw then how much power they had in each position.
Niall Quinn
Quotes of the week
But they have proved that they can mix it with Europe's best teams and now have what I believe to be a 99.9 per cent chance of making the Champions League final.
The first game I saw Dortmund play in Europe this term was against Man City at the Etihad Stadium - a clash that ended 1-1 - and you saw then how much power they had in each position.
City were the reigning Premier League champions and had given Real Madrid a real fright out in Spain, but they were markedly second best against Dortmund and only the heroics of Joe Hart ensured that the English side were not beaten.
Cagey
From that point I thought Dortmund were a team that could go far in the tournament, and they have built on that point since and given Real Madrid an absolute mountain to climb to make the showpiece game at Wembley next month.
The Spaniards are managed by a notoriously cagey manger in Jose Mourinho but I don't think Real have any option but to go for the jugular at the Bernabeu in order to keep their dream alive.
Real are a counter-attacking team in the main but that is unlikely to bear fruit on Tuesday as Dortmund are not going to overcommit in forward areas due to the scoreline being so heavily in their favour.
Madrid will, therefore, have to take the game to their opposition and go gung-ho, something I'm sure they can do with Cristiano Ronaldo - who sat out the 2-1 La Liga win over city rivals Atletico at the weekend with a niggle - and Angel Di Maria.
That will leave them a bit exposed at the back but I don't think Real can afford to be coming in at the break at 0-0; they need to hit Dortmund early as the longer the game goes on the more I expect the Germans to settle down and lose any nerves they may have.
Dortmund have wowed many with their expansive football this season, but I reckon they will put in a polished and professional defensive performance, much like the German international teams of old, and secure their passage to London.