I'm not sure you understand how lucky we are to be English Netball fans over these next few days, as we are get to see three of the top four countries in the world compete in the Zeo International Tri-Series.
So whether you're going along to an actual game or you're planning on sitting at home watching the games broadcast live on Sky Sports, I can promise you one thing: you're in for a real treat.
The games kick off on Friday at Wembley Arena, before moving to the Copper Box but, over the years competing for England, I have played in some real interesting places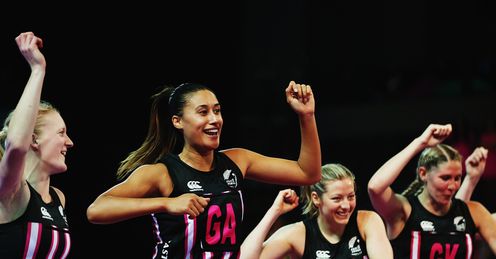 There was Fiji when we were preparing for the 2007 World Champs which was a fairly spacious wooden arena and we thought all was good until we asked for the aircon to be switched on.
Their answer - to go around and open all the wooden shutters, which wouldn't have been too bad except it let all the birds fly in, which again wouldn't have been too bad if they hadn't pooped on our Captain half way through a game, who, to the amusement of the crowd, had to call time and get cleaned up.
With world ranking points closer than ever, these games are never friendlies and all three teams will be looking to get one over each other
Tamsin Greenway
Quotes of the week
There was also the time we tried some smaller English venues and ended up at the Coventry Ice Rink. The venue was fine, the temperature not so. Jamaica played in tights that day under their dresses.
But there's something really special about playing at Wembley Arena; you've made it, you're being taken seriously, you're one of the superstars you see on the walls in the corridors out the back - it's a real buzz which I'm sure you'll witness on Friday night.
They'll be some real excitement around the Copper Box, too, as it's the first time an International Netball Match has been held there. If you haven't been, it's well worth seeing.
I first went along to see the GB Handball Squad in the London Olympics and it was insane. The atmosphere, the cool interior, the closeness to the court, I think this could be the first of many games to be held here.
Rankings
Now on to the actual matches, because what you need to know here is that there is so much more to these encounters than a simple Tri-Series, so here's a little background:
New Zealand: The Silver Ferns are ranked second in the world (behind Australia)
England: The Roses are ranked third in the world
Jamaica: The Sunshine Girls are ranked fourth in the world
It's a huge year for International Netball, it's the third year in a four-year-cycle which ends in 2015 at the Netball World Championships in Australia. Before that netball gets its own version of the Olympic Games, with the Commonwealth Games in Glasgow.
With world ranking points closer than ever, these games are never friendlies and all three teams will be looking to get one over each other.
You also need to know that England sit with Australia in Pool B at the CWG whilst New Zealand and Jamaica sit opposite them.
That means if all goes to plan two of these will face each other in the CWG semi-final and this is the last crack they'll get at each other before the real pressure begins.
What's great for the spectator is not only will you get to see some high quality, physical netball but you'll also see some of the best players in the world and I'm going to talk you through my ones to watch:
Players
Recently The Guardian (New Zealand) newspaper compiled a list of the 'Top 10 Netballers in the World', now there was no surprise to see that four Aussies made the top 10, but the other six feature in the teams we have here. Here's what you need to know:
NEW ZEALAND
Laura Langman: Considered the best centre in the world. Laura is super fit, a fantastic leader, and has a great temperament with an always cool head. Usually you have a defensive C or an attacking C but not with Laura, she plays both attack and defence so well and is happy to take the lead on feeding and is strong at intercepting the ball. If you want to know how to play C you can't learn from anyone better.
Irene Van Dyk: At 41 and 6"3" Irene is not only world class but has a whole heap of experience behind her. What makes her special is that she holds so well and then moves onto ball, it makes it almost impossible to defend. You need to look for her trademark split landing that gets her right under the post, and makes her a shooter that rarely misses, she must average 90%+ a game. Amazing.
Maria Tutaia: Maria plays goal attack for the Kiwis and is lethal because she's prepared to shoot from anywhere. It's not unusual to see her sinking ball after ball from the edge of the circle, which makes The Ferns shooting circle incredibly successful. Though not the quickest player, it's her timing and gracefulness that seems to beat the defender, she's tall and strong and is more than happy to post up and take a hit from you.
JAMAICA
Jhanelle Fowler: The next big shooter to come out of Jamaica, literally, she's 6'5ft. She's your typical holding shooter and she's strong so it makes it so difficult for defenders to roll around her quickly. What makes her near impossible to defend is her arm length, it gives her so much more height. Probably her only weakness is that she doesn't move much, which means the feed has to be spot on, but expect a lot of high ball and third second throw and hopes going into her, as she's one fine target.
ENGLAND
Geva Mentor: The only defender mentioned here, Geva has been involved in the England squad since she was 16 so knows what she's doing. Her strengths come in her height but also her athletiscm and they don't usually go hand-in-hand. Check out her quick feet to move around the shooter, her elevation off one foot is incredible to get those crucial tips and then what sets her apart is how well she reads the game, coming out for flies and anticipating where ball will land and be placed, a real class act.
Style
What's great about all three teams is the different styles of play we are going to witness.
NEW ZEALAND
Attack: They won't be the quickest so they will use their WD and GD to bring the ball through court and from the centre pass to give them momentum. In the circle expect equal loads from both players and shots long and short, as well as the ball being played into space.
Defence: They're all big and they play off the body in almost a zone to set you up for plays, expect to see defenders flying in from nowhere to take ball or a few body hits! They want interceptions.
JAMAICA
Attack: They'll be a lot of high ball and feeds anywhere from in their attacking half. They will look to help their feeding percentage by getting as close to the edge and as central in the court as possible. Their GA will be crucial to cut and sweep to good positons.
Defence: A lot more on the body and watch out for their tips and flicks on the ball, they are very reactive so get beaten on the change but will run with you all day and are not afraid to have a crack at the ball.
ENGLAND
Attack: Look out for a rotating circle, lots of movement and pops. The attack is quick and they'll be playing flat ball and bounces to get to the edge and get the final feed in.
Defence: They'll be a mixture of on the body and zoning, depending who they are playing. Look for the quick switches in the defensive circle and in the end third
Predictions
So looking at all that my predictions for the games are:
New Zealand to beat Jamaica. Then it'll all depend on their start against England; if they get their zone working early and get some easy early shots in I think they'll go on to win by about five. However, if they start shaky I think England will open them up
Jamaica, although strong, only one game plan into Fowler and I think the other teams will work them out, so two losses.
England have the ability to beat both, however, it will depend on which team shows up. They will turn over ball all over court, but against the Kiwis they have to make it count in the attack and it will depend on how well they adapt to the zone. I think an eight-goal win over Jamaica and a close one against the Ferns.
Look out for
Finally, at a glance there are a few things you need to look at.
Injuries: Probably only relevant to Jamaica and New Zealand at the moment, but both are missing crucial players. Casey Kopua for the Ferns, voted one of the Top 10 Best Players in the World and captain of the team, picked up another ankle injury so is out for the series. She is a big loss and it will be interesting to see how they cope without her. Romelda Aiken for Jamaica has a niggle to her a knee, she's another tall GS/GA and if Jamaica can get her working with Jhanelle Fowler they are going to be a big force to stop in the circle
Head-to-heads: There are going to be some key match ups, my picks are Irene Van Dyke vs. Geva Mentor, Jade Clarke vs. Laura Langman and the Silver Ferns defensive unit vs. Fowler
New players: Look out for the surprise inclusion of Laura Malcolm into the England squad and what positions they use her as. Shannon Francois in the Ferns team, can she cement the much needed WA position. And the young Jamaican GA Thristina Harwood and her working partnership with Fowler.
All in all we are set for four crazy days of netball and I can't wait!
Each week Tamsin, a player-coach at Surrey Storm, will bring you all the inside information, tactical analysis and news from the world of Netball and the ZEO Netball Superleague.
Sky Sports will bring 14 rounds from the ZEO Netball Superleague including the semi-finals and finals. To find out which fixtures you can watch live click here