By the end of this weekend's Round 7 games in the Zeo Netball Superleague everyone will have played each other once, which will hopefully set the scene for what we can expect to see more of in the second half.
There's been goal-for-goal games, last-second winners, blow outs, big hits and quality play and what's even better we get to watch it all again!
So this week I thought we could take look at the action so far, and highlight some of the great netball that's been on show.
Surprises
The big surprise so far for me has been Team Northumbria, who have really come out firing. There wasn't a lot said about them in the build up, mainly because you couldn't find any information on their squad.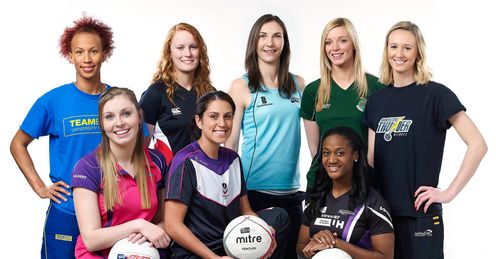 I knew they'd be good when I heard they'd linked in with Northern Ireland and recruited Ex-ANZ Thunderbirds player Georgia Beaton, but the way they have gelled together so quickly has been the most impressive thing.
They're squad is seperated between camps for most of their training and that must be hard, but it doesn't seem to faze them. Personally I think they'll grow again in the second half of the season and will be a real threat to the top teams.
The big surprise so far for me has been Team Northumbria, they have really come out firing.
Tamsin Greenway
Quotes of the week
Looking at the rest of the top four - Storm, Thunder, Bath and Mavericks - it was pretty much how I predicted although I don't think it's been as plain sailing as the league shows.
Mavericks will be gutted with their three losses and although Bath have only lost one, their other big games have been very close for comfort.
There have been two last-gasp goals - one for them against Storm to bring back an impressive 11-goal deficit and one last-second goal against them in a game against Celtic that they mostly led.
Put that together with their last-minute winner against Mavericks when they again fought back impressively, and it's clear that they are going to have to hit teams harder and earlier the second time around.
However, it does prove what I've said all along about Bath, that is you can never afford to write them off. They showed that in our game; they've got way too much quality all over the court and they know how to win when it matters, a quality not all of us have learnt yet.
Dragons
I guess Celtic, being last year's finalists, were expected to be sitting higher than seventh at the half-way point, but as their coach Melissa Hyndman keeps saying, for them it's all about the bigger picture.
For me, I've definitely seen a difference in play. Up until the Bath game, I think they were working the ball a lot closer than they did last season, perhaps due to the fact Lottysha Cato wont be with them at the Commonwealth Games in July.
However, they still showed us how lethal they can be when they drew with Bath last week with Kyra Jones in lethal form throwing the ball in from everywhere.
Lightning
Finally, Loughborough were my dark horses before the competition started and I've been surprised they haven't challenged more.
It shows that imports can be extremely effective, but also how long it can take teams to link together when you bring new players in. Also having a new coach and changing styles of play takes time for players to get used to it and run effectively in pressure situations. It'll be interesting to see, now they've had their first run out, what they will change and what will work in the second half.
Standout Players
Looking across all the teams there have been some notable player performances and these are just a few that have caught my eye so far:
Helen Housby v Team Bath
Housby was one of my One2Watch selections at the start of the season and she hasn't disappointed. This particular display from the Manchester Thunder shooter was notable as well due to the opposition she was playing against. She was cool, calm and controlled throughout the match, not fazed at all by England International Stacey Francis. Housby was constantly free through court, she opened up the circle and wasn't afraid to put the shots away. The perfect GA. For me she is playing way above her years and will continue to grow on court.
Serena Guthrie v Celtic Dragons
Although Bath drew this game Guthrie single-handedly turned over enough ball for them to win it. She was fired up from the word go and captained the team superbly through example. Both her and Pamela Cookey worked tirelessly to give Bath an upperhand in the attack end, but it was Serena's work through court to turn over ball when it mattered. The speed to take it off attackers and anticipation makes her a different class when it comes to intercepting.
Fionnuala Toner v Herts Mavericks
Although Northumbria ended up losing this game they put in a real battle against the Hertfordshire team. Toner was impressive throughout, turning over so much ball high up and in the end third. She works off the player to snatch the ball when you least expect it. She was also always there to back them up in attack and caused so many problems for the visitors.
Nat Haythornthwaite v Herts Mavericks
Another one of my One2Watch's at the start of the season and the Jets' GA/WA is yet to have a bad game, as far as I've seen. Against Mavericks she played both in and out of the circle and was just solid - always available, feeding quality ball when it mattered and controlling the attack end. There's just something about Nat, she's the kind of attacker everyone needs in their team.
Injuries
You can't talk about the first half of the season without discussing injuries because these, of course, have had impact on results.
When one team loses a key player it has a knock-on effect. Probably worst hit would be Celtic and Mavs; Celtic lost Rosie Prestorius in the very first game of the season to an ACL, then lost key GD Stef Williams to the same thing. With Sophie Morgan withdrawing they are looking like a very different side to one we thought we'd see.
Mavericks' big loss was Sasha Corbin who, luckily for them and England, was only out for a few weeks with an Achilles issue. She played half a game last week and will be expected to be on court this weekend. But they've had other problems with Sarah East going down with an ankle issue and not having Camilla Buchanan for one match and Sophie Hankin, after an impressive display against Northumbria, not able to play the following week.
For Team Bath, losing Stacey Francis has had an impact in their defence end, which has meant having Billy Pritchard in there is a great pick up for them.
Next phase
What do I expect to see in the next phase? Well, I believe they'll be more upsets and I think the final four will be closer than expected come the end of the season.
I'm hoping for more of the same please!
Buy tickets to ZEO Netball Superleague matches from as little as £6.50 from Sky Tickets!