Georgia. Alabama. SEC Championship Game. Winner goes to the National Championship Game. Loser goes home in tears.
Alex Ferguson's trip to the 'Big Game in Atlanta' continues with the Friday and Saturday portion of the trip....
FRIDAY
Press conferences are not normally terribly interesting. Both coaches normally say how wonderful the opposition is and how it's going to be a great ballgame. There's a certain amount of lobbying for themselves to College Football politicians, but don't expect them to give away tactics or injury reports. This is a game of chess, after all.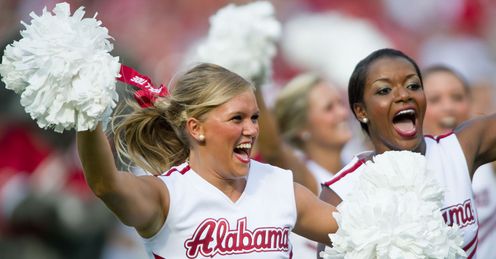 So when Alabama's Nick Saban takes the table, we're not expecting anything particularly interesting. Saban talks about his team and execution, execution. That's what he's about. There's no rest for the wicked or lazy on his teams - that's why so many Bama players go to the pros. You can imagine him as your editor screaming at you if your grammar's just a little off.
A guy in front of me - who's meant to show no bias - bends down in front of me, heartbroken again. Alabama fans celebrate all around us, another trip to the title game ensured.
Alex Ferguson
Quotes of the week
We ask him a question about the titanic win at LSU affecting his team going into their only loss of the season at home to Texas A&M, and he talks about how Alabama played three very good teams, capping it with: "I would say that it had some effect, either the three game stretch had an effect, or the LSU game, being a very emotional game, had an effect, because we started out very poorly in that game.
And A&M has a good team, they made a lot of plays, they have a great young quarterback, so I'm not taking anything way from them or the way they played, but I don't think we played our best, especially early in that game."
In fact, Alabama were terrible in the first quarter. They were 21-0 down in the first quarter, and couldn't control Aggies quarterback Johnny Manziel at all during the game. Oh, and their quarterback AJ McCarron made some stupid errors, too.
Saban ends his press conference by giving credit to the media, which draws some sniggers. Saban has a reputation as a 'media-ogre', but suddenly Uncle Nick is gathering the kids around the tree and telling them that he actually really likes them. Everyone feels uneasy at Saban's, er, niceness.
Next it's Georgia's Mark Richt, who agrees with Saban that his team's season took off after a loss (Georgia's was an away slaughtering at South Carolina), and makes sure he espouses about his playmaker Jarvis Jones, who'll soon be coming to Sundays on a TV near you. "His leadership is unbelieveable....he's a sack artist....he's stripping balls left and right, he's recovering fumbles right and left". In other words: Watch out for this guy.
We ask a question about Georgia being punished if their receivers continue to drop balls, and Richt seems a little fired up. "They are going to punish us? They are going to try to, anyway. Well, there will be some punishing hits on both sides of the ball, I can promise you that." Note to self: Don't talk up someone else's side.
We miss the lethargy of the walk-throughs and decide to bomb across to where the College Gameday guys are chatting to the press. We meet David Pollack, a Georgia legend who's 'on scholarship for ESPN'. He refuses to talk about his picks but says: "I've been thinking about this all week.
But I can't win. If I pick Georgia I'm a homer and if I pick Alabama I'm a traitor". You're quite right, David. I also bow to his knowledge that the SEC Conference is better than the Big Ten, the conference of my beloved Penn State. We don't talk about any of Georgia's issues.
We continue the day by getting a drink or four with some Georgia fans. They've organized the tailgate party, but have no tickets for the game. They are prepared to pay $300 a piece for them, but the 'ticket-resellers' aren't having any of it.
I get admonished for an interview I did with the Atlanta Journal-Constitution about why the SEC was overrated this year, and I'm forced to bat my way out of a corner. "We can read down here," says the Georgia fan. I'm just happy I got out of that Dawg Pound alive.
Courtesy of our friend in Atlanta, we take in the Hawks game from the sanctity of a box, where we're given free food, drink, and the noise of screaming children for two hours. The Hawks lose with 0.4 seconds left on the clock, in front of a sparse crowd. Couldn't The Falcons owners have done a deal with the SEC or Falcons? Better to have somebody there with a $5 ticket than an empty seat, right?
After that, we go off to Virginia Highlands, where we test out people's reaction to the British accent. For the record, Southern girls like it, Southern men get threatened by it and try to talk to you like you're a cockney.
SATURDAY PRE-GAME
"It's great to be a Georgia Bulldog" - Georgia Chant
What a gorgeous day. It's around 70 degrees, and there isn't a cloud in the sky. On the way to an underground we hear a hippie with long beard and sandals tell a friend: "Go Dawgs!" Cars fly by with Georgia and Alabama flags towards the centre of town, and our train is full of red-clad fans amped for the game.
Somewhere, an Alabama fan is told: "You'll Roll Tide to hell if you don't find the Lord Jesus." College Football is a religion, stupid!
We make it to the College Gameday set, where we watch the show being made. We compliment Brian Kelly, coach of unbeaten Notre Dame on a great season ("Thank you, sir"), and we crack jokes with first-year Georgia frat boys, who also don't have game tickets.
They tell me that students need to be taking 100 hours of class per semester. "That's a lot of work", one says, as I look quizzically. He espouses about Athens, its wonderful nightlife, and 'the great frat scene'. Well, until the frat boys get to the age of 21, and don't have to rely on older people for alcohol, anyway...
After finishing up, we make our way over to the parking lots, which are already a wondrous mixture of red and crimson tents. The red outnumbers the crimson, because UGA fans are a local drive away, but in the downtown area, you can believe that it's swamped with Alabama fans. Music blasts from several tailgates, and you get everything from loud, bad country to "Jump Around". Every so often we hear a Georgia or Alabama war-cry yelled out.
Generally Georgia fans are expecting to lose, while Alabama fans are expecting to win. Remember: one fanbase has spent the last 30 years being hurt, while the other fanbase is one of the most successful in recent history. It feels like a Georgia home game, even though it's really not.
We make our way to the stadium. The excitement isn't building outside the stadium, it's off the hook. We feel a little sad that we're not with the crowd making noises and gestures, but remind ourselves that the LSU game in Baton Rouge was pretty fun for that sort of thing, and in the press box, we might avoid wearing someone else's bourbon.
SATURDAY- THE GAME
"Rammer Jammer Yellow Hammer, Give 'Em Hell, Alabama" - Alabama War Cry
If you want to jump around and scream your guts out, hug and kiss your buddies and generally behave badly, then the press box is NOT the place. We're told before the game that there's no cheering in the press box. But the noise from both sets of fans is deafening.
Everyone struggles in the poverty of the first quarter, which ends up scoreless. There is no joy on the fan's faces. In fact, a lip-reader would tell you that the words coming out of the fans directly in front of us aren't publishable on a family website - especially when Georgia fails to take an advantage of an Alabama turnover and misses a field goal.
Then, the crowd explodes in the second quarter, as Georgia takes a 7-0 lead thanks to an Aaron Murray connection with Jay Rome. Belief. They celebrate even more when Bama QB AJ McCarron, with just a few yards to go, throws an interception in the end-zone. Belief is pummeled when Tide running back Eddie Lacy blows through their team for a 41-yard touchdown, and then even quieter when Murray is intercepted, leading to a field goal and a 10-7 Tide lead.
"It was only two plays", bemoans a Georgia fan at half-time, then tells us how he was admonished by a guy behind him for MISSING a high-five with his buddy next to him when Murray threw the TD. "That was a pretty dumb play", he says. I'm wondering if he's talking about Murray's INT or his lack of high-five expertise.
In the first drive straight after the half, Georgia takes the lead on a Georgia 1-yard run, and our friends in front of us look a little happier. The noise has been dulled down quietly, but that's probably the hangovers setting in.
The place explodes a few minutes later when Georgia blocks an Alabama field goal attempt, and Alec Ogletree takes it 55 yards to the house. UGA has a 21-10 lead. Belief is back. With a vengeance.
Belief is then killed by two mind-blowing penalties (personal foul and a non-existent pass interference call) and one non-penalty (personal foul) leading to an Alabama touchdown and two-point conversion. It's 21-18, but Alabama's got the momentum. And no-one wants to give Alabama momentum.
In the fourth quarter, Alabama scores against through that guy Lacy (he'd end up putting up an astonishing 181 yards) to make it 25-21. All we can think is: "It's over. Wake me up when Alabama hit 50". But somehow, Georgia comes back.
Young running back Todd Gurley scores to make it 28-25 Georgia. The belief is back, but the boxers' swings are getting increasingly desperate on both sides of the field. Everyone's desperate to make the plays. To lose will be heartbreak.
With seven minutes left, we escape down to the field. All we can say is that these players are giants, and if you get the opportunity to watch a game from field-level, don't go on the sidelines...it's almost impossible to see. We're in the Georgia end.
Behind us, fans are screaming for Georgia's defense to make a stop. "Come on Georgia, make our dreams come true," you can almost imagine one of the fans saying. But where there's a dream, there's a Nick Saban to crush it. AJ McCarron and a play-action fake ensures Amari Cooper is wide open for the touchdown to give Alabama the 32-28 lead.
The two teams exchange three-and-outs, to give Georgia a chance with just 1:08 on the clock. Just as Murray's leading Georgia down the field, he throws one long that is ruled initially as an INT. The crowd groans. Grown men cry a little. But the refs save Georgia. Georgia has a prayer.
Murray reels off three straight completions and Georgia's in the 10. Georgia then fails to spike the ball, and Murray's last throw gets tipped by Alabama's CJ Moseley, and that's the ball-game.
A guy in front of me - who's meant to show no bias - bends down in front of me, heartbroken again. Alabama fans celebrate all around us, another trip to the title game ensured. "That was one of the five best games I've ever been to," ESPN's Chris Fowler tells me after the game. I have to agree. All I can say is: What a game.
SATURDAY: POST-GAME
Outside, Georgia fans are in tears. Their wives and girlfriends try and prop them up, but their souls have been ripped out, destroyed once again by a devil in red and black that takes them so near and yet so far. "A year without some sort of heartbreak just wouldn't be a Georgia season," says one Georgia fan, who's not in tears. "I guess I'm used to it."
We're picked up by Rupp, who's watched the game on his couch. He hasn't cried yet, but he's considering it. "We should've spiked the ball and given us some time," he murmurs about the end of the game. That's all he can really say.
We rumble off to 'The Local', where some people are talking about the game, but most people are drinking and just don't care. We laugh our way through a set by 'Attractive Eighties Women', who are a comedy-rock band, which helps to get Rupp's mind off the Georgia loss....for few minutes, anyway.