After a lights-out Super Bowl, we can all relax. While New Orleans still have another six days of Mardi Gras celebrations to contend with, the rest of the world can relax from the gridiron and concentrate on milder things, like basketball and baseball. Everyone, that is, apart from college football fans.
For college football fans February 6th will see millions of dedicated college football fans tuning into their TVs, radios, and all manner of social media to National Signing Day (or as a wildlife presenter would put it: "The yearly migration of herds of high school American Footballers to the juicer terrain of the collegiate life...the last step before the promised land of the National Football League").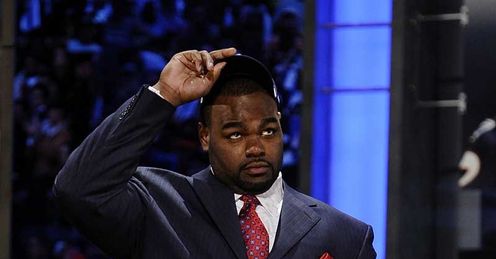 Now what's interesting about the migration of the herds is that it's not simply a kid saying: "I am going to go to Penn State", and then keeping to his decision. Generally, players are courted wildly by tens of schools all wanting players to come and visit their campus, get shown the time of their lives, and 'commit' to playing for the team. Some of the most powerful coaches in college football become fawning, begging, teary types who promise an 18-year-old the world if he comes to play for his school.
What happens is this. Every year college football teams have a certain amount of scholarships that they need to fill to ensure that a team has the full amount of scholarships. Obviously, it's within the head coach's interests that he makes those scholarships as great as possible. After all, if he can get all the in-coming talent to gel, that means a successful college football team. A mediocre coach who is a fabulous recruiter - like South Carolina's Ed Orgeron - can have a successful college football career.
Believe the hype
And when teams start recruiting, the madness starts to take place. If you don't believe us, don't just ask Michael Oher, the Baltimore Ravens offensive linesman who was subject of the book and film 'The Blind Side', which provides an excellent insight into the nuttiness of college football recruiting....or any other of the players who played at the Super Bowl this year. They were made to feel like gods at every school they visited. For some players it was how certain coaches showed a player how he could fit into their overall team strategy, while for some, it was simply a matter of which college football team had the most beautiful team fanbases....the latter something not lost on a recruiter or two.
But the biggest story all recruiting season - and will be for National Signing Day - will be one Robert Nkemdiche, who is a defensive end playing in Grayson High School in Georgia. There's been so much hype about him you would think he was the Second Coming of Football Jesus. In June, he committed to going to Clemson, which would have been a massive coup for Dabo Swinney's team. Then in October, he decided he didn't like that idea and pulled out of his Clemson commitment, and became interested in other schools such as Ole Miss (where his brother plays (he is favourite to go there), Florida and Alabama. On the weekend, he also stole some headlines from the Super Bowl by being entertained by Shaquille O'Neal at the Super Bowl. And we think that if you were allowed to give Super Bowl tickets to recruits in order to guarantee their signature, Nkemdiche would probably be taking his girlfriend to the big game on Sunday...on the 50-yard line.
But the story of Nkemdiche's flip-flopping more than an Olympic swimmer isn't particularly surprising bearing in mind just how much hype there is about the recruiting world. Major websites are devoted to it. Players are ranked, ranked again, and ranked a third time. YouTube clips abound which suddenly vaults small town, America into the centre of the earth. Words of commitment - "soft verbal", "commitment" meaningless is this day and age - suddenly become messages of hope for the fanbases - however meaningless it is until a player puts the pen to paper on National Signing Day. And if a player dares decide to go from one school to another, it can be a match to a fanbase's touch paper.
Sometimes the No.1 player in a recruiting class becomes an all-star in college football. South Carolina's Jadeveon Clowney was the No.1 player in his recruiting class in 2010, and should be the No.1 player taken in the 2014 Draft (we're thinking a little ahead of ourselves here!), so dominant has he been of SEC offenses. But sometimes he hasn't. Andrew Luck was ranked 4th amongst pro-style quarterbacks in 2008, and became a star not only college but now as a rookie in the NFL, while Star Jackson was an utter failure at Alabama. And while we're there in 2008, Darrell Scott was ranked sixth, recruited the world over, and didn't make a splash either at Colorado or professionally. Who is he again? And last but not least, a great recruit can go downhill really quickly, like Auburn's Michael Dyer. 11th-ranked Dyer had two great years at Auburn in 2010 and 2011, helping the Tigers to a National Championship. He was then booted off the team and transferred to Arkansas State, where he was arrested. He is now at Arkansas Baptist College. He's eligible for 2013 NFL Draft, apparently.