Amir Khan's career is out of immediate danger and located in the recovery room.
He needed a win after beating obliterated by Danny Garcia over the summer and he got that late last year, conquering Carlos Molina in 10 rounds and showing more defensive nous than we've been used to seeing from him.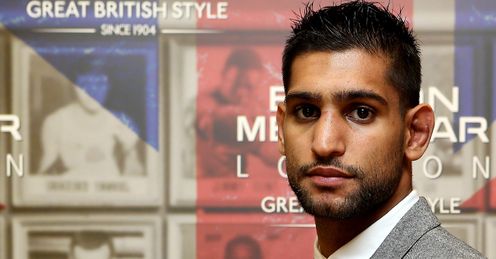 Molina was a pretty safe option as he was lighter than Amir and not much of a puncher, but there would have been plenty of mental scars in Khan's head after the defeats to Garcia and, before that, Lamont Peterson, so he did well to come through.
However, I don't think all the question marks he had against him have been lifted and it will be interesting to see if he can box as tactically as he did in December when he is up against a genuine threat, someone like a Garcia or a Victor Ortiz.
Amir may have had even more success as a fighter if he was less talented, because showing his full repertoire of skills has often been his downfall.
Glenn McCrory
Quotes of the week
Molina never infuriated Khan, allowing the Brit to box the entire fight in the comfort zone, but he may have more problems sticking to the game-plan, which has been drummed into him by new trainer Virgil Hunter, when he gets hit on the chin or caught by a couple of good shots.
Amir could be tempted to showcase his machismo again, so what he needs to do is get a mind-set where he thinks: 'I'll get you back in a bit' rather than: 'I'm going to splat you now'.
It's okay Hunter telling him that but he really has to believe it, because if he doesn't, the bad old habits may come out again.
It sounds funny to say but Amir may have had even more success as a fighter if he was less talented and more orthodox, because showing his full repertoire of skills has often been his downfall in the past.
Take his loss to Garcia for example: Khan was not trying to throw three good punches, he was trying to throw six and therefore lost his solid base and eventually got poleaxed.
Amir, though, can beat anybody on his day and if he remains tactically savvy those odds will increase further - but what I would really like him to do next is avenge one of his defeats to Garica or Peterson.
If he could do that, he would show to everybody that he has learnt from his mistakes, has adapted and is ready to fight for world titles again.
Focus
British fans, especially, would love to see Amir lock horns with countryman Kell Brook (pictured) in the near future - though I think that if they fought tomorrow Khan would be the favourite and that his experience would get him the win.
Khan has had his setbacks but he has been in with far superior fighters than the guys Brook has faced, plus Kell had real trouble dealing with Carson Jones and looked extremely mediocre in the latter stages of their bout, which he won on points.
Brook's best bet would be to try and lure Amir into a slanging match.
Khan doesn't want to get beaten in any contest, whether that's verbal or physical, and gets too worked up and loses the ability to think, whereas Kell is a cooler customer and seems more able to deal with criticism.
The Sheffield fighter won't be looking at Khan at the moment, though, as his eyes will still be fixed on taking the IBF welterweight title from Devon Alexander, despite the pair's clash being postponed for a second time earlier this week.
Brook couldn't make the initial January date due to an ankle knock, while the February meeting has now been scrapped, with the American picking up a bicep injury - and the waters have now been muddied even further by Floyd Mayweather claiming he is in negotiations to face Alexander.
This delay could be a good thing for Kell in that it will show him how easy it is for opportunities to pass you by and that he must never lose his focus - and that if he does, he could quickly find himself at 30-years of age and not where he wants to be, like we saw with Junior Witter.
There have been murmurs that Alexander's injury might be a bit of gamesmanship and that he is afraid of Brook - but I don't buy that for a minute.
The 25-year-old has grown up in a rough neighbourhood so knows what fear REALLY is, and if you have been in the ring with Lucas Matthysse, you will not be scared of Kell.
If Alexander and Brook do get it on, I think the former might just edge the clash; he is ungainly but hits harder and is more effective than he looks and is one of these hard, tough fighters who you don't really want to be in with, plus, he has boxed at a high level, beating Andreas Kotelnik, Marcos Maidana as well as Matthysse.
I am as excited about Kell as anybody and he could be one of our greats - but I think Alexander could expose some chinks in his armour.
Comments (1)
Paul Wakefield says...
I think the loss to Peterson should have been wiped from his record. Khan is talking about a rematch with Garcia and I think he has every chance of winning it if he fights in a more controlled fashion. I'm interested to see how Amir comes on after his second training camp with Virgil Hunter.As far as Kell Brook is concerned I agree with Glenn that Alexander is probably the best opponent that Kell has met in his career so far. However, most people think that Alexander lost to Kotelnyk and Matthyse and should have been disqualified against Maidana for repeatedly holding. So Alexander is beatable. I hope Kell has seen these fights as well as Alexander's fight with Tim Bradley as Kell will conclude that Alexander doesn't have a fighter's heart and looks to get out when the going gets tough. So Kell needs to make things very tough!
Posted 14:35 8th February 2013