This Sunday we will hear the roar of engines as 45 cars battle it out for NASCAR's Super Bowl - the Daytona 500.
Danica Patrick has already made a massive roar at the two-and-a-half mile track, notching the first-ever pole by a woman in Sprint Cup Series history.
But can she win the Great American Race? Or will Sprint Cup winner Brad Keselowski add to his 2012 title and take home the Daytona 500, too?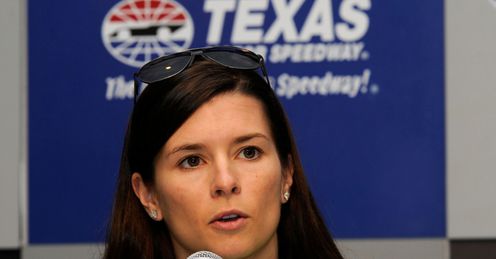 Alex Ferguson asks those questions and more (and tries to answer some of them), before the start of what is sure to be another thrilling NASCAR season...
Can Danica become the first woman in NASCAR history to win the Daytona 500?
Danica Patrick's arrival to NASCAR from IndyCar as a full-time driver in 2012 was much-heralded, but little happened. The closest she got to a top 10 was 17th at Phoenix, but otherwise, she was fairly ordinary. In the 'Championship' series to the Sprint Cup Premier League, she finished a perfectly respectable 10th in points with four top-10s and after an off-season which included a much talked-about new boyfriend (driver Ricky Stenhouse), Danica impressed many with a wonderful qualifying lap at Daytona.
This won't be Patrick's first run at Daytona - that was last year when she finished 62nd. She's had some solid finishes there in 2011, but really, Daytona's more about luck than skill because in the last 20 laps when everyone's battling it out to be the Daytona 500 leader, someone makes a mistake and 'The Big One' breaks out. And if you're in the middle of that, you're going home, thanking God that you're alive. If Patrick wins, it will be a lucky win. But that can be said for all 45 drivers, too.
How is the old car going to change the way people race?
The old car - named the 'Car of Tomorrow' - was despised by NASCAR fans, owners and drivers. Even race winners Kyle Busch, who won the car's inaugural race at Bristol, said afterwards: "I still can't stand to drive these things. They suck". The view didn't change. The new car, though - called the 'Gen 6' - will be an experiment, with a changed look and a changed chassis.
The aim is to level the playing field and make for a more unpredictable outcome, therefore reducing the dominance of the all-powerful Hendrick Motorsports, Joe Gibbs Racing and Roush-Fenway teams. That can't be a bad thing, can it? Drivers - who didn't seem to have a problem driving it at Saturday's Sprint Unlimited race - seem to like the way it handles, but we'll have to wait and see. It's going to be fun watching, though!
Will Dale Earnhardt Jr at last win a title?
Dale Earnhardt Jr had a pretty successful 2012, winning at Michigan and becoming a model for consistency in the pre-Chase races. In fact, one could argue that he could have been a real contender for the title in 2012 but he missed two Chase races after a massive crash at Talladega, effectively ending his run for a title.
A lot of people are saying that the level playing field of the new car could help Earnhardt Jr, but he's still got to remain consistent at the one-and-a-half mile tracks - something that five-time Series winner Jimmie Johnson made his bread and butter. Dale Jr is a great driver, but will he remain the greatest? NASCAR's marketing department - and his army of dedicated fans - will certainly be hoping so.
Can Brad Keselowski repeat his 2012 title?
Brad Keselowski was last year's title winner, pipping Jimmie Johnson to the post. He won five races last year, and is a lot of people's favourite to win again in 2013 - particularly with the new car and the rules that will prevent the 'Big Three' (as mentioned earlier) from world dominance, helping his Penske Racing team. What's interesting is that NASCAR's biggest driver, Jimmie Johnson, is already taking pot shots at him, saying that the driver needs to 'mature' now he's Champion.
Sorry Jimmie, but that's up to Penske Racing, isn't it? I'd argue that doing an interview while sipping beer was one of the best advertisements that sponsor Miller Lite could have asked for. I don't see Miller complaining if he does it again at Homestead. But in short, Keselowski's very young, frighteningly talented, and don't be surprised if he wins the title again in 2013.
Who else will battle it out for the Sprint Cup crown?
Five-time champion Jimmie Johnson is always there or thereabouts at the end of the season, but also look for his team-mate Jeff Gordon (who has four titles) to come through, too. Don't be surprised if Greg Biffle, Kyle Busch Clint Bowyer or Tony Stewart are also battling it out.
But the guy who I think might pull it off is Kevin Harvick, who's leaving his Richard Childress Racing team after the end of the season to go to Stewart-Haas in 2014, has a reputation for always sneaking victories when it's least expected. With little pressure on him, I think Harvick will come home with the goods.