It was the coldest day of my time here in Brazil but, in weather which reminded me of home, it was England who felt the chill.
Unfortunately, Luis Suarez, who has lived in England for a couple of years now, felt even more at ease with the lower temperatures.
It was a story you could not make up. From Premier League public enemy number one to being voted the top player in England on three counts: by players, writers and fans - it's movie material in itself. To then defeat the national team of his adopted country just 24 days after knee surgery stretched incredulity almost to breaking point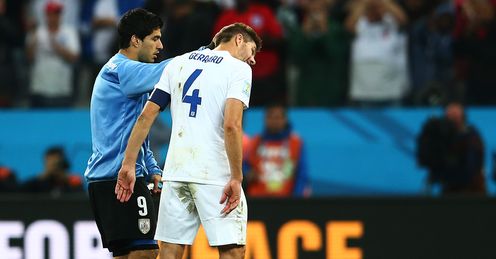 I have never mentioned Liverpool as much in one commentary in a game in which they were not actually taking part. There was Suarez of Liverpool against five England players from Liverpool in the starting eleven, who lined up alongside Phil Jagielka and Leighton Baines of Everton in Liverpool. The previous meeting between the two countries had been at Anfield, the home of Liverpool.
England's goal came from Wayne Rooney, who was born in Liverpool, his 40th for his country equalling Michael Owen, who used to play for Liverpool. On came Everton's Ross Barkley, another Liverpudlian, Adam Lallana who is being chased by Liverpool and Rickie Lambert who has rejoined Liverpool seventeen years after being released by Liverpool. These were substitutions made by Roy Hodgson who used to manage Liverpool.
To cap it all Uruguay took off Suarez and replaced him with defender Sebastien Coates… of Liverpool of course.
One hopes that by the time you read this Gabriel Paletta and Alberto Aquilani, both ex-Liverpool, have helped Italy see off Costa Rica to keep the Merseyside England side in the World Cup.
Speedy
On other matters I blogged too soon in my previous traveller's tale. Just a few hours after praising the domestic airline TAM for its excellent record on punctuality I arrived at Fortaleza airport to hear rumours that my flight to Sao Paulo, for Uruguay v England no less, had been cancelled. It turned out that the demise of the journey had been somewhat exaggerated and the appropriate plane duly arrived. We did take off 75 minutes late but somehow, to TAM's great credit, we arrived in Sao Paulo only 20 minutes behind schedule.
This after all is the nation which produced the great Ayrton Senna, a symbol of speed on the ground. It did make me wonder whether the pilot was a member of the Senna family. The only part of the trip which was slow was my consumption of the TAM sandwich. If you have been following these musings from a nomadic football commentator you will know that it constitutes the only airline sustenance, however long the flight. Eating it has to be as lengthy a process as one's hunger allows.
My travel schedule has been sedate compared to some of my colleagues who have been bouncing from the north to the south of Brazil. It is like going from London to Moscow or Istanbul there and back in the same day, several times a week.
I have the luxury now of three nights in the same place in Rio with a trip to the Maracana in the middle, my first of the tournament. It is Belgium, who are packed with Premier League players, against Russia, who didn't have any last season. Andrei Arshavin didn't make the squad so those famous four goals in one game won't get a mention. You must remember…at Liverpool!