With England's demise confirmed on Friday here there has been much soul-searching over here about the reasons behind the early exit.
You will all have your own views on what is a complex problem. My main contribution to the debate, as someone very fortunate to be at these international occasions, is that England are not able to build a tournament mentality.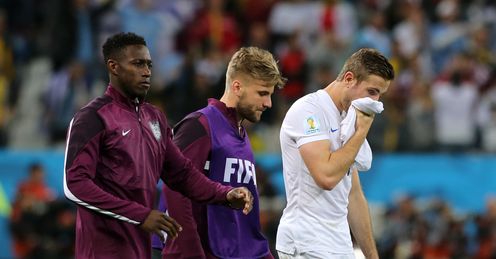 The Under-17 squad under the wisdom of John Peacock have just been crowned European champions for the second time in four years. But after that age group anything other than a senior competition seems to be a nuisance, particularly to the clubs and sometimes even to the players. The worry for both parties is weariness at the end of a long domestic season.
Recent England Under-21 and Under-20 squads have been decimated by withdrawals and the chance to build a winning mentality at a younger age is gone. It is not enough to turn up at World Cup with a group of good players however scientific the preparation.
You have to be tournament tough. You have to know how to live outside your comfort zone. You have to deal with downtime in a foreign country when your football colleagues become your only friends and family for several weeks.
Football has become more assessed individually. The clubs and the players' own agents create superstars because they can cash in on their marketability. The win-or–lose–we're-on-the-booze mentality has rightly long gone but togetherness is such a key to success in the game I wonder if it has gone a bit too far the other way.
If England players were regularly appearing at tournaments while they were developing, going away for the big prize would not seem so daunting. Jordan Henderson is a case in point. He always turned up for the Under-21s even after he had won senior caps. Amidst the disappointments here he has handled himself very well on and off the pitch thanks to those earlier experiences.
The FA cannot force the players to go to the lesser tournaments, but letting the refuseniks know that in withdrawing they are seriously damaging their senior chances is well within their power.
Sturdier
Since my last report I have had the joy of commentating on Germany against Ghana and the challenge of making the most of Belgium versus Russia, a tough broadcasting debut in the Maracana.
After the many Liverpool connections in the England-Uruguay game, it has been more about Chelsea this time. Christian Atsu excelled for Ghana. He was signed by Chelsea from Porto but immediately loaned out to Vitesse Arnhem. He is a Raheem Sterling type with a slightly sturdier build.
Also still awaiting his Chelsea debut after a longer time under contract at Stamford Bridge is Belgium's very special goalkeeper Thibaut Courtois. You will remember he helped La Liga winners Atletico Madrid knock the Blues out of the Champions League semi-final. He kept another clean sheet for his country as they qualified for the last 16 with a game to spare, though Fabio Capello's Russia did not extend him too often.
Eden Hazard still does not quite look the player he is in the Premier League but he did very well to set up the late winner for Divock Origi. The 19-year-old had replaced another Chelsea employee Romelu Lukaku who looked less than enchanted at the change.
Origi had been called up into the senior squad on the recommendation of Belgium's youth coaches when the injury to Christian Benteke led to a vacancy for a striker. His dad played for Kenya but Davock was born in Ostend. He could soon be taking the ferry to the Premier League.
On the London theme Marc Wilmots might have created a trivia question with his three changes from Belgium's opening game. He dropped three players from the same club, the Tottenham trio of Jan Vertonghen, Moussa Dembele and Nacer Chadli.
Next stop for me is Belo Horizonte, always associated by my generation with one of England's worst World Cup defeats, a 1-0 loss to a USA team much weaker than today in the first Brazil World Cup of 1950.
It was a massive shock. The story goes that one newspaper thought the scoreline was a misprint and gave it as 10-1 to England, a more expected result.
I guess it is an appropriate setting for England to bow out 64 years later.