Thirteen stitches for Charlie Hogson, a blow to the head for Toby Flood and Dan Hipkiss limping off in the final was a worry ahead of the New Zealand tour but maybe not quite as big a concern as the replacement selection of Hipkiss for Danny Cipriani originally was.
It passed almost unnoticed when Cipriani was injured but this was a blunder, no doubt about it. The events of the Barbarians match illustrated the potential damage.
England are effectively heading towards a Test series in New Zealand with three near identikit outside-centres and one specialist fly-half.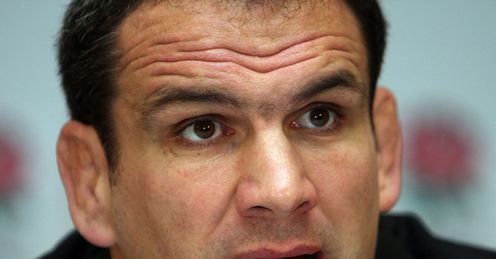 If Charlie Hodgson takes an early knock on Saturday, England's hopes are likely to be dashed within minutes of the whistle being blown on the new regime of Martin Johnson. Whether Hodgson survives unscathed or not, this selection is not so much a fresh change of direction as a naive one.
Johnson has long argued that he alone, in his former role as the great leader and his present rookie capacity as manager, is not the answer. The muddled thinking behind last week's selection gives substance to his protestations.
Ask Johnson if England should tour with just the one specialist hooker and a couple of props who can hook in an emergency, and you would be dismissed as an idiot, yet here is Johnson taking an identical gamble behind the scrum.
Stuart Barnes
Quotes of the week
His rationale for the call-up of the Leicester centre was that England had good cover at fly-half with Charlie Hodgson, Olly Barkley and Toby Flood, so he opted for the muscular, side-stepping skills of Hipkiss.
But the reality is that England, after this decision, have no Test-match-standard cover for the critical fly-half position, and one wasted player who will get nowhere near either Test match.
Ill-conceived
In all ways it is an ill-conceived plan, predicated on the theory that the Bath and Newcastle inside-centres have experience enough to manage the position. At a certain level this is just about the case but New Zealand are some way beyond that.
It is incredulous to think that because Barkley has enjoyed a superb season for Bath, he will succeed wherever England play him. Either Johnson has not watched Barkley and Flood sufficiently, or he does not grasp the details of the midfield.
There is a world of difference between the fly-half and inside-centre positions. The skills required are similar but the vision of the game has to be far broader from ten. The inside-centre position is the auxiliary decision-maker and hugely important but unless a team has a rock solid structure to its game (as Johnson's England did in his latter days as captain) the risk of the side's shape being undermined by a fly-half with a narrow vision is too great to risk contemplating as this selection does.
England effectively travel with three scrum-halves, three hookers and one fly-half. Ask Johnson if England should tour with just the one specialist hooker and a couple of props who can hook in an emergency and you would be dismissed as an idiot, yet here is Johnson taking an identical gamble behind the scrum.
Barkley is the likely choice ahead of Flood, whose form floundered with Newcastle as his domestic season meandered towards a sluggish end. Yet the Bath man has proved time and again that his position is categorically twelve.
Bath with Butch James at fly-half and Barkley at inside-centre were an infinitely superior side to the one which made do with the Englishman at ten when James was injured. There was still the seasonal trademark Barkley break but not the steady control of the South African World Cup-winning pivot.
Imbalanced
Not only is the failure to select a specialist replacement a risk for the team, it is also hard on both Barkley and Flood.
In training neither will be able to focus purely on his specific demands, frequently switching to ten in the eventuality of a Hodgson injury. When both should be developing their specific positional games, England are going to be distracting them with the 'what if?' thoughts of being utility men.
In Riki Flutey's acceptance speech as Players' Player of the Season at the PRA awards last Wednesday, he said, "In my younger days I was stuck in a utility position". Specialism has allowed him to develop from eye-catching cover for Wellington to England's player of the season; Johnson's decision to opt for Hipkiss may force Barkley, Flood or both back into that utility role which has sunk so many careers.
It would have been better if Johnson had plumped for his former Tigers teammate, Andy Goode, whose knowledge of the position would have helped England to at least maintain their structure in the event of an injury to Hodgson. Either that, or take a punt with the undoubted talent of Ryan Lamb (who admittedly looked ready for anything but a bone-jarring trip to New Zealand in the devastating wake of Gloucester's defeat last weekend.)
The England manager pointed to the current form of Hipkiss as a reason for the imbalanced selection but if he seriously does not believe a specialist fly-half is important, there remains the issue of choosing another centre whose assets are primarily of a muscular nature. Just being a side-stepper as opposed to a straight runner does not add much to England's variety at thirteen.
The more cerebral nature of Fraser Waters' game would have been a varied option and, on form, the Wasps man heads any current list of English centres.
Martin Johnson mastered the art of captaincy but he starts afresh as a selector. There are no guarantees.
A new road for Johnson beckons as the old one came to an end for Lawrence Dallaglio. Every bit as significant as Johnson, the last line of this week's column is congratulations to Wasps for their splendid achievement this season, and to the great eight for his mighty career.
Email Stuart here
UNDER THE POSTS
STUART BARNES ANSWERS YOUR EMAIL...
Stuart. So with Saturday's GP final we have had another major game with uncontested scrums. Why not change the law so that the team who is unable to contest scrums always concedes the put in? Best Wishes, Bob Poynter. Collingham, Notts
STUART REPLIES: Bob. Why not have an eighth dedicated scrum replacement who is only allowed on the pitch in the event of an 'unfortunate' scenario as occured Saturday. This seems a straightforward way of dealing with the dissatisfaction of uncontested scrums.
Hi Stuart. Do you think there is an inferiority complex associated with England going to NZ? England have appeared in the last two World Cup finals and NZ haven't gotten close.... and yet Rob Andrew talking on Sky Sports News, talks about possibly winning only one test! (Rob backs this up by saying "...England have only won twice in NZ in 100 years..." you know!) Shouldn't the attitude be that England are going to try and win both tests? Surely NZ are there for the taking...? Half of the World Cup team have gone and a bunch of rookies are waiting for a rampaging England. I am sure when NZ come north to play England and other Home Nations they are not thinking "lets pinch a test or two" they want to win every one of them! Why can't England think like that when playing two tests in NZ? Best regards, Nick Owens, Leeds.
STUART REPLIES: Nick, I don't see how England can have an inferiority complex anymore re. The All Blacks. That was the case when I toured this great rugby country in 1985 (and could have won a test had our kicker got his boots out of the Christchurch mud, ahem. Having beaten them in Wellington in 2003 and with a fine home record this England team has a chance if its pack rises to the challenge - despite some big absentees behind the scrum - if it truly believes it can win. It ain't like the team that toured South Africa last summer so let's see no excuses from Rob Andrew and the management.
Stuart, With the additions of Ben Foden, Neil Best, and a host of other new signings, it would appear that Northampton have improved their squad ahead of next year's Premiership return. The question is.. have they done enough to be competitive? I do have faith that Jim Mallinder will lead the Saints out of the woods relatively quickly if he remains at the helm and is not tempted away by the RFU. Regards, Dean, Atlanta, GA.
STUART REPLIES: Dean, I have a gentleman's side bet with Dewi that the Saints will finish in the top half of the table next season. I am looking forward to returning to the Gardens after a year's absence. It is one of the best grounds in the country with a team that will be exciting. I am keen to watch Chris Ashton whose absence from the Saxons tour makes me wonder whether England are manned with selectors possessed with an imagination. This bloke is the reason why A teams exist...
Have a good week, I am getting over a slice of jet lag as I write but nothing a good pinot noir will not cure. Off to watch the All Blacks begin their next four-year build up towards another World Cup...oh dear
See you,
Stuart
Comments (5)
Roger Maidment says...
Do you think that Shaun Edwards will ever be part of the England coaching?
Posted 08:36 6th June 2008
Nathan Rogers says...
Okay so i am half South African and half english and 18-played rugby all my life Therefore i love making comparisons in skill and attitude between the english and the south africans and i have come to the conclusion that the English teams attitude is totally wrong watch the super 14 and the tri nations the teams are bursting with confidense and many a time will put a kick into the corner rather than take those 3 points because they are confident of scoring or because they have the killer mentality ... but england have this play safe mentality ... where they go for goal rather than going for the points and when they get ahead they dont go in for the kill and thats why the public are getting annoyed ... This play attractive rugby nonsense doesnt come from chosing a player and sticking him into a team ...it comes from confident players that are confident of what theyre doing and with whom theyre doing it with Does anybody agree?? Yours Sincerely Nate
Posted 16:18 5th June 2008
Steve Parry says...
Stuart, Are you in agreement with the 23 new experimental Laws which take effect this coming season. The game has already improved immensely over the last 2 seasons and as retained its structure. With these new laws I see it becoming more like Rugby League.You have not said which side of the fence you sit on For or against. I read your comments regarding the Npton Saints. You must have had a few too many bottles. When the Saints were a forcefull side they had players like Pagel, Mendez, Hines, Rodber, Hunter, Cohen, Dawson etc I dont see those quality players being signed at the moment. If the front 5 are capable of winning there own ball and pinching a few from the opposition then they can compete in all areas of the pitch. They do not have a front five that can compete with the likes of Sale, Wasps, London Irish etc. The boat for a front 5 has left the harbour ? Still it would be good to see you in the local when you come to town .... i will buy you a pint or 3 Steve Npton
Posted 10:18 4th June 2008
Shaun Gardener says...
The decision to select Hipkiss at the time of selection seemed a fair one! it seems harsh on Johnson that only since the injuries suffered to Hodgson, Flood and Hipkiss has brought up such debate. Lamb should be brought into the squad, it will be of valuable experience to him - it's a shame Geraghty doesnt seem to be in the picture in terms of selection, closest thing we have to a Giteau type player. On a positive note it will be good to see Varndell out in NZ, and Waldouck played really well at the weekend- picking good running lines and always pulling in 2 defenders in the tackle. It bodes well that some of the younger players will be getting an oppurtunity against some of the best in the world.
Posted 20:57 3rd June 2008
Ross Chipperton says...
While I agree with some of your points, your logic does not hold up in some of your points. When you say that Bath did not play as well when James was injured, is it not more likely that they did not play as well due to the fact that did not have the duo working in combination rather than the fact that Barkley was playing at fly half. Also you say that Barkley and Flood are both inside centres and do not have enough experience as 10's but both started therir careers in this position, and probably Floods best game for England was in the 10 shirt against France in the 2007 6N to deny France the Grand Slam... hardly a no pressure game. Realistically there is no point taking Ryan Lamb for 2 reasons, firstly as you mentioned after Gloucesters defeat he did not look ready for a tour to NZ, and second he still lacks the controlling presence of other GP fly halfs despite his clear attacking brilliance at times. As for Goode, he would only be taken on this tour for this tours sake, afterwards he will not be in the squad and is clearly not one for the future so not really worth taking him just for the sake of taking another fly half. Well thats my opinion anyway!!!
Posted 20:06 3rd June 2008