Englishmen are queuing up to breathe a sigh of relief after defeat in Cardiff.
I'll sit this particular queue out, thank you very much. England picked a team with nothing in mind but stopping Wales and winning the match. They slowed Wales down but lost the match.
If you select a team with one eye on development then we can be positive on the areas of improvement. If the choices made are based on pragmatism, winning is the only measurement of the team.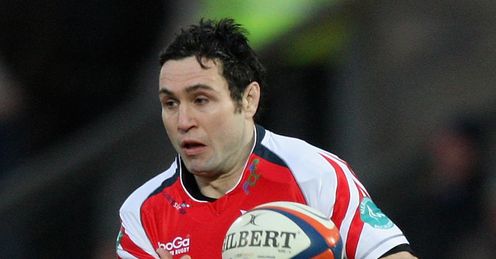 Andy Goode and Mike Tindall along with Mark Cueto (who I thought had a decent game) were recalled along with Harry Ellis behind the scrum with Joe Worsley (magnificent in defeat but defeat none the less); it is a win only selection and England lost.
Six games played under the new manager, five of them at Twickenham, four of them losses, two of them routs and the victories against a team that had never won a match until they beat Italy and Italy themselves - at Twickenham for safe keeping. In the process Danny Cipriani, Shane Geraghty, Ben Foden and Steffon Armitage have been introduced and dropped. So what has been achieved?
If you select a team with one eye on development then we can be positive on the areas of improvement. If the choices made are based on pragmatism, winning is the only measurement of the team.
Stuart Barnes
Quotes of the week
To universally acknowledge a man-of-the-match performance from the heroic Wasp tells much about the state of the English rugby mind.
Good as he was he produced nothing positive with the ball in hand; in contrast Stephen Jones played a technically beautiful game, flat on the gain line, taking the hits but never before unloading accurate passes. He made breaks, he kicked beautifully and yet the team that lost by eight points have the man-of-the-match for his defensive efforts?
Then there is Jonathon Kaplan. He hates the English you know, I have heard it said before and doubtless we might hear it again. I have no idea what he thinks of England but if he does hate them does that mean every single referee who has been handing yellow cards and penalties to this ill-disciplined England team hates them too? Is Johnson's team losing because of an officiating conspiracy?
Go to Dublin and win with the same experienced side and then we can hail some progress; pick a few youngsters, play some daring and pacey attacking stuff and then we can hail progress but stick with the most experienced players available with defence in mind and lose again, then I can say is played seven lost five.
Wales surely should take more out of this match; they were below-par and won, England played their best rugby of the season and lost. More balance and variety is definitely required. Andy Powell sprinted bravely and unthinkingly into a trap. He needs to be (as do the team's tactics) more subtle while Gavin Henson's return would boost the team especially if Jamie Roberts is shifted out one position allowing Wales to punch with more variety than they managed in Cardiff.
France is next up but the Blues are hugely inconsistent in terms of selection and form. If Wales were average last Saturday France were awful. Wales have nothing to fear. Ireland made a meal of Rome but got the job done comfortably after a scrappy half.
Jamie Heaslip is mounting a series of performances which are making his selection for the Lions seem a formality and his inclusion in the test team a matter for strong debate; he and Jones were the two men who made most marks in my Lions notebook.
Mike Blair was having a telling second half in Paris, causing mayhem in the French middle when Frank Hadden called his likeliest match winner and star performer off with eight minutes remaining. Sometimes you wonder. Now to this week's mail.
Stuart answers your emails...
Got a question for Stuart? Email him at skysportsclub@bskyb.com or use the feedback form below...
JOBS FOR THE BOYS
One quick and I believe pertinent question....How have John Ford and Mike Wells kept their jobs in the England coaching set up? Our forwards are aimless, cannot clear out opposing players at the ruck and stroll into contact. They should be running full tilt at defender's shoulders to create holes and space, get an offloading game going and get past the gain line! As for England's defence, it lacks aggression, line speed is pedestrian at best, counter-rucking non-existent against higher quality teams. Huge aspects of England's defensive and forward game lack any kind of cohesion. Ford and Wells are the defence and forwards coach respectively, they have responsibility for this area, and it has been a shambles for too long now. They need to be let go.
Andy Thompson.
STUART REPLIES: Andy, Sounds like the question is one of a distinctly rhetorical nature. Martin Johnson thinks they have done a great job since he took the reins of command, where does that leave you in your opinion of the manager as well as these coaches?
A CASE IN POINT
Stuart, I was just wondering if you could explain to me why the Six Nations Tournament hasn't adopted the more common system of four points for a win with bonus points available for scoring four or more tries or losing by seven or less as it would undoubtedly make some games, and surely the entire competition, more exciting.
Daniel
STUART REPLIES: Daniel, We love our traditions, give the powers that be time, maybe ten years from now we will recognise that the bonus point system makes for a more exciting competition, especially when so few games are played because it makes the importance of that fourth try so important in the pursuit of the title. Having said that points difference works as well. There was a spectacular finish to a Six Nations tournament a few years ago with a last-gasp try winning the competition for France, I think. You can correct me if the memory fails but the point is that anything that forces teams to play positive rugby for eighty minutes is good news. I think the bonus point system, as you suggest, would add extra spark to the competition. Good point.
THE FREE MARKET
Stuart. As a Gloucester fan you might be surprised when I say I have an element of sympathy with Wasps. I read in the Sunday papers that James Haskell is all but signed with a French team. It would be easy to laugh at Wasps' position but I can't help worrying that when the likes of Sinbad and others come out of contract, I might not be laughing so audibly. I'd be interested to hear your thoughts on this affair because I'm some what ambivalent on the subject of the salary cap. I understand that there is a credit crunch and that teams like Bristol are struggling to get by as it is and how the salary cap gives them a token opportunity to compete on a level playing field. I fear though that should we continue along these lines, Haskell could soon be followed by a whole host of senior internationals. Who could blame them? Surely its time to let the English clubs free to invest and continue to go forward. I'd love to hear your thoughts.
Kev Bundy
STUART REPLIES: Kev, There are two ways of looking at this one, short and long term; the short term one fears the immediate potential pitfalls you describe the long term one fears bankruptcy and a broken club game. It is something of a reflection of the economy as a whole. I have never been a Free Market zealot in the Thatcher/Regan/Brown/Bush camp so I would rather see clubs keep their heads down and ride the storms and survive to thrive when we come through these times.
End of Barnes's economic viewpoint, end of questions for the week, keep 'em coming.
Stuart
Comments (21)
Michael O'dwyer says...
I agree with Tony Moss. Should have wons, could have wons, bad refs etc don't count, only winning. Ireland have a good settled team but need to win a championship to cement their place in the history books. England are in transition and I would expect that Ireland win in Dublin this weekend. I also hope that it is a good game of rugby and a good weekend for all concerned. As for Mr Chichester, the less said the better. Trying to pursue an argument by saying that the Irish are genetically small and then forgetting to mention that the biggest players in the squad are O'Kelly, O'Connell and O'Callaghan is, to say the least, not very clever. Luckily most people with his warped opinions and view of the world have disappeared long ago.
Posted 16:04 26th February 2009
James A says...
Just a small point on the bonus points that Daniel pointed out! Personally I don't think that makes more exciting rugby! Points difference makes more exciting rugby. Think of all the times Italy will close up shot getting last minute penalties just to gain extra bonus points slowing the ball down, then Italy losing every game but still not winning the wooden spoon because Scotland only won one game by with 3 tries and not 4! Surely points difference will make a team try to win by more! Im all for more points for 4 tries, but not for losing bonus points. J
Posted 13:11 26th February 2009
Keith R says...
I believe the problems England are having at the moment are more deep rooted into the English game than just simply blaming the International coaches. Professionalism has brought the element of playing for money to the fore and dampened playing for the love of the game. I see England players strolling around the pitch like men waiting for the end of their shift. In the amutuer days it took a level of commitment that few men had, training and playing in conditions that you would not expect your dog to put up with and this was done simply because players loved doing it. The spine of England's World Cup winning team came from those amutuer days. Since then the Premiership has quickly grown into one of the best professional leagues in the world but with it has come the politics of money and the development system has become polluted by this. Talented young gentlemen who play just for the love of the game at grass roots level are slowly being shoved out of the game by shady characters who have become involved in the system only to meet their own needs and this is affecting the level of players involved at the top end of the game. For England to be successful in the future the powers that be must take grass roots level more seriously.
Posted 14:02 23rd February 2009
John Weakliam says...
John W says; Frederick Chichester's last comments represent quite a few valid points discoloured by a classic anglo-saxon condecension and gratuitous nastiness such as might have explained away the Irish famine or even Irish indepdendence. He is indeed right that often English players are physically superior and faster than their Irish counterparts, what he fails to discern is that rugby, like war, is also largely determined by passion and will, which is why Ireland with our tiny rugby population can so often defeat England, and why England in colonial times turned so often to the Irish and Scots to do their fighting. Wallace and Heaslip are absolutely 100% Irish (superb Celtic speciments both). Surnames like Flood, Geraghty, Kennedy etc. on the other hand indicate how often England has relied on naturalised issue of her former colonies to bolster the brave but stolid saxons on the field of battle. The ELVs have exposed the dearth of flair at the heart of English rugby while allowing the nimbler Irish to thrive. Thanks Frederick for making next week's match the more appetising.
Posted 13:29 22nd February 2009
Nathan Broadhurst says...
I am fed up of hearing 'its time for rebuilding'. Have we or have we not been hearing this since 2004. It is time for results. Since becoming world champions in 2003 we have been an embarassment to ourselves. its no good sniping at other countries, we have the biggest pool of players to pick from in world rugby yet they consistently fall short. of course the saying is 'once you reach the top there is only one way you can go'. but i never imagined how shockingingly quick and for the longevity of time our fall from grace, from the top table of world rugby would be. the simple fact is we have no confidence and to compound that we are not picking our best players. i cannot understand how borthwick is captain, what is he giving to the team that i and many others (guscott etc) cannot see. simon shaw is a much better player. croft should be starting these games. our back line is as bad as it is, mainly due to the 10, 12, 13 positions. Our centres are the main cause for concern we simply don't have one world class centre to pick from. at fly-half there is nobody that can fill the gap left by jonny. its not just his kicking skills we are lacking, the team always has quicker ball with him there and he is outstanding in defence. it is no coincidence our upturn in form in the 2007 world cup coincided with his return to the team and during that campaign hisactual goalkicking was only around 65 percent. How an earth did we get to that final?? Playing bland rugby...... I cant remember any England fan moaning then, I certainly wasn't. This game like every game is about winning. All the best to every country- apart from when they play England ofcourse haha. Lets all have a cracking remainder to the competition and look forward to the lions tour and drilling them springboks
Posted 01:51 22nd February 2009
Gareth Roberts says...
After reading Frederick Chichesters latest post i can only assume that my celtic cousins, the Irish, could do a lot worse than post his comments on the changing room door before running out at Croke to face England! Motivation indeed!! Whilst an English win would be good for my beloved Wales¿s defence of the slam, i can see no other outcome than an Irish victory. The men in green are looking good and i pray for a grand slam decider between the top 2 teams on the final day. As for a winner, my heart says Wales but my head simply cannot write the Irish off!
Posted 22:45 20th February 2009
Martin Brown says...
Mrs Chichester, you are certainly worth the read.....!!!.. I can only think that you are writing with no more objectivilty than to irritate people on both sides of the water, Dave B admits freely that England are struggling, Personally i think the championship is better for having 6 fairly even sides playing. Italy are limited but the championsip needs them, they will improve, no doubt Scotlands time will come again and Wales are having some glory years.France admit to be rebuilding and ENGLAND ARE STRUGGLING, everyone can see it.... No one cares about who beat the All Blacks 20 years ago, No one cares about the LAST WORLD cup, when Ireland underperformed ..we admit it, awful, but Eddie O'Sullivan paid the price and Ireland have moved on, Kidney has freshened the side and they look good.....what on Earth is relevant about NZ 05?? If memory serves me right, Clive Woodward didnt exactly set the world alite with the last Lions expedition......isnt he "of Saxon Stock", but again its in the past.....lets look to the future You say Flannery or O'Callaghan wouldnt make the English team??...you are deluded in the extreme..and finally "overachieving" is a trait to celebrate and not degrade, id say England "overachieved" at the last world cup...but im guessing your duel standards are content with that... Have you played much Rugby or are you a cucumber sandwich person?...I think you like your cucumbers Mrs Chichester
Posted 19:40 20th February 2009
Dave B says...
To Ciaran Curtin & his fellow Irish fans - yes I think Mr Chichester is the only person who holds that view. I am a staunch England fan but I freely admit that Ireland are the superior side. I don't think that there is much difference in the quality or depth of talent between the two but you are more settled as a team, more organised , more experienced & the decision making is far better. As for the game at Croke Park, its a tougher challenge for England than the game at the Millenium as it will be harder for England to stop your A game than it was to stop Wales's. But I do hope its not a 40 point thrashing. For me its more England's performance than the result (although a win would be great) as development is key. As for the potential decider at the Millenium, if Ireland can do what England did to Wales they will win.
Posted 15:17 20th February 2009
Ciaran Curtin says...
Mr Chichester i really think you are the only english fan who holds this view, give credit to Ireland and dont snipe. We have a better sqaud than england and better coaching staff. The depth of the squad is better also. we have the likes of stringer, earls, leamy, quinlan, m o'driscoll, geordan murphy, o'kelly, dempsey, d'arcy, best, horgan all of whom are not in the current starting 15. all quality players. says it all really about our current crop. i am no english basher but it would give me great satisfaction to see ireland put 40 past england next weekend. I am sure you will be stewing in your own bitter juices.
Posted 12:36 20th February 2009
Martin Brown says...
I look forward to reading Frederick Chichesters comments in 2 weeks time, when the more athletic and supreme England team score less points than Ireland but no doubt will Win in his eyes, ive never read such Hogwash!!!! The front 5 underpowered??..are you seriously saying that Borhwick is a better player than O'Connell??, Wallace a joke at 12..for jokes please see the latest variety of players /hasbeens England have chopped and changed through the last few games...ODriscoll past his best?...have you been in Siberia the last 2 weekends?? Mediocre Half Backs...RE ANDY GOODE???...PLEASE....!!!!!!...And back 3 Cueto, Sackey and Arnitage vs Fitzgerald, Bowe and Kearney.....Hmmmm.....Yep, we have you again!!!! Looking forward to reading your next blabber after youve taken the appropriate medicicne
Posted 21:08 19th February 2009
Tony Moss says...
Guys, I'll tell you something, whether a team 'should' have won is entirley irrelevant. It's whether they did win. Too many of these comments take morale victories on the 'should have won' theory. It's rubbish. If you don't score more points than the opposition, you don't deserve to win. And my next gripe, stop going on about the ref, it's pathetic. I stopped watching football years ago because at the end of every game managers and players were spitting and snarling about the ref losing them the match when the simple facts were that the other team scored more goals. Rugby never had that. But more and more in recent seasons I'm hearing people moaning and groaning about outside influences and it's ridiculous. Rugby always had a morale high ground of sportsmanship and acceptance and too many people are dragging it down the bad loser football route.
Posted 12:39 19th February 2009
David James says...
David Shaw, Nigel Owens in discussion on the problems of refereeing suggested that if both teams are intent on playing positive rugby then refereeing is easy. Early on Wales were positive, England were not, result referee looks more kindly towards the positive side. I think it was 10 - 4 to Wales in visits to the red zone, doesn't quite add up to a JUST better.
Posted 11:55 19th February 2009
Jeffrey Higham says...
I agree with most of Davis Shaw's comments. Kaplan was right to penalise England, but wrong not to penalise Wales for the same and other blatant offences. Most likely Kaplan was influenced by Gatland's pre match comments; he seems to go into most matches that he referees (not just England ones) with a fixed mind. Not really of international standard. Of course England is still a mediocre/dreadful team, with a mediocre captain, coaching staff and director Rob A. Johnson's lack of coaching experience is showing up. That said, it should be remembered that Clive Woodward's teams lost a good few in his early days as manager. I can't remember if he had assistants as poor as Wells and Ford, though. All in all, England is in dire strait and showing no signs of coming out of it by the next World Cup.
Posted 11:02 18th February 2009
David James says...
Fact, prior to RWC2003, Hansen chose Welsh performance over results and went 11 games without winning. By the time of the actual tournament the players had the necessary experience and produced probably its best 2 games. Not forgetting what many Welsh supporters considered a sub-standard biased towards England performance by Alain Rolland in the QF. Most of the younger players that were promoted then are still involved and have won 2 Grand Slams, so it is possible to allow performance to take precedence and prosper. Stuart, you will be pleased to know that the greatest Gareth Edwards also finds the choice of MOM a little bizarre, as he says, this is the very first time to his knowledge that a player chosen specifically to defend, and in a losing team, has been chosen. The S4C analysts made the point that not having Worsley in the line-out helped Wales enormously with their 100% return there, especially as this has, traditionally, been their weakest area.
Posted 02:52 18th February 2009
Martin Brown says...
Couple of points, firstly Im Irish so sorry if i appear to speak out of turn, but for a strictly unbiased point of view here goes.... England..time to rebuild, take the beatings and the stick and look to the future ..stick with Johnson as coach, and dont succum to Socceritis..every great team has to rebuild ...look at the Aussie Cricket team for example/and Man Utd have done it 3 times over recently MY..England Team..15.Armitage 14.Bannaher.13.Tait.12.Flood11.Simpson Daniel.10.Geraghty.9.Ellis/Care..1.Sheridam.2.Hartley.3.Vickery.4.Palmer.5.Kennedy.6.Haskell.7.Croft/Armitage.8.Crane..Ok, needs tinkering and Wilkinson would come in if he could stay fit, with impact players Foden and Ciprianni on bench.and why doesnt Ryan Lamb get a mention????...But stick with it...only 2 weeks ago Steffon Armitage was the greatest thing in the premiership..give the guy a chance Ohh....bonus point issue??....Only give bonus points for winning teams scoring more than 4 tries...that should negate the issue of losing a game but winning the championship ahead of a grand slam team
Posted 00:56 18th February 2009
Jonathan Ray says...
And i'm fed up with Welsh ppl acting like they're God's gift. Sin binnings? Try the TWO forward passes, one before Goode's sin bin and one in the subsequent try. Why is it that if Scotland moan about a forward "pop" pass over a yard its headline news and everyones horrified, but when England are reffed off the pitch AND there's a glaring forward pass in the move that if you watch the tape goes forward by an ENTIRE CUT OF THE GRASS then bringing up the issue makes you a bitter englishman? When did it become unnaceptable to stand up for England? For some reason it is acceptable for the Celtic nations' pundits to speak their mind, but all the english ones have to keep their mouth's shut. Either that of course or they all genuinely dont feel aggrieved by recent events. After Roland's disgusting "I love richie" performance in the autumn and two consecutive dismal displays by Kaplan I refuse to believe the latter. To that end I hope Stuarts comments on referreeing conspiracies are an ironic PC attempt at making that exact point. I dont wake up in the morning and think "oh i'm going to blame everything on the ref today" and i'm not deluded enough to believe England are still world beaters being cheated out of it, but on Saturday I genuinely found myself utterly depressed and questioning whether its worth us turning up when (yes i'll say it) no referee seems willing to give us a chance. Off the topic, this James Haskell issue has lowered him in my estimation immeasurably, what a disaster. Regarding how to deal with it, it seems simple enough. Adopt a NZ policy (without a DC clause) and up the England player salaries (I reckon those old boys down at the RFU will still have a bit of cash). If that doesnt keep ppl around then quite frankly they're not the type of man I want playing for England anyway.
Posted 18:06 17th February 2009
Dave B says...
England's objective on Saturday was to win the game. Do you think Martin Johnson thought we could outplay Wales to do this? Not a chance. I freely admit that Wales are a better side at the moment and the only way for England to beat them was to stop them playing, which to a degree they did & Joe Worsley deserves the plaudits for his role in that. But the objective wasn't achieved so MJ has now got to look at what needs to happen to win those games ie he has to develop the side. England's key faults are 1) discipline, 2) pack not winning the ball quick enough, 3) pace in key back line position, kicking aimlessly/badly. There has to be an improvement in the thought process/decision making plus a change in personnel at 2nd row (& capt), No 8, fly half & outside centre to tackle these problems. I suggest Shaw in/Borthwick out, Haskell to 8 & Croft at 6, Flood at 10 (Cipriani on the bench until roles can be reversed) & Tait at 13. I would like to think that would bolster & speed up the pack and add pace & skill in the back line. Get Geraghty & Foden back on the bench for impact. As for Wales, a good side that deserved to win the game, but whatever you think of England, they made life difficult for you and showed that there are flaws in your team when you can't play your free flowing rugby. And what you need to appreciate, is that the higher up the pecking order you are, the more the opposition sides will try to stop you playing your own game.
Posted 17:26 17th February 2009
Gwion Dafydd says...
As a Welshman, the only thing I'll say about this whole Kaplan business: being warned several times and still trying to cheat will get you sin-binned, Wales did not persistently offend, so how can you yellow card a player out of the blue - except Lee Byrne, who was lucky to stay on! Anyway, regarding the comment on bonus points, you can't really bring it in, since a few simple mathematical steps will tell you that getting a grand slam but no bonus points will get you 20 points, but losing to the grand slam team and gaining a bonus point, and then hammering everyone else will get you 21 points and the championship!! Now that would be ridiculous!!
Posted 17:13 17th February 2009
Rhys Williams says...
Hi Stuart, Good article, once more. I think you've made several fair points here and its nice to see that at least one person has had a reality check on the other side of the bridge. Throughout our lean years, the Welsh supporter always made numerous excuses including the familiar 'the ref hates us' remark, England fans need to embrace your ideas and realise the sense your talking. The Welsh team now has been around for several years, and for the vast amount of that period, they have underperformed, no team will turn it around in a couple of weeks, for us Henry/Hansen started it, Ruddock tapped into it, Jenkins almost ruined it before Gatland brought it back. What I'm trying to say is that England wont become world beaters again before they learn a few harsh lessons, if you lose, make an honest assessment, learn from it and move on. England have a broader player base, and a hugely talented one at that, if they build for the future than they can turn their fortunes around quicker than any other NH team. The NH needs a strong England team so that all teams north of the equator can compete with those down south, a couple of opportunist tries, a sound defence and a narrow loss is not good enough for England, well, it wouldnt be for Wales, not anymore now would it. Turning back to Wales, we'll win this years championship on points, we'll be beaten against either France or Ireland, but I ask myself will back-to-back championships be enough for supporters who've adopted the new mindset that Gatland has encouraged? Good luck in Ireland, I for one hope England turn them over.
Posted 16:44 17th February 2009
Billy Smith says...
Stuart, as much as I enjoy reading your column, I have to disagree with some of your points. I am all for England developing a side for the future, but how can you develop a successful side in a losing team. Surely the main objective of any team is to start winning games first, then introduce the less experienced players after this point. Yes, Wales played poorly, and could of won by more points if they were more tactically astute, but to say England are showing not much progress in laughable. Johnno and the team recognised Wales threats and picked the side accordingly. I saw massive improvements over the Italy game, I just hope it continues, and if that means playing the likes of Tindall, Worsley, Cueto, where I think there exprience in vital, then so be it.
Posted 13:32 17th February 2009