My head is spinning; I don't know whether to look back to some of the weekend's vital results or forwards to one of my favourite weekends, the Heineken Cup quarter-finals! Let's do both and let us start with the champions of Europe, Munster.
I did not get a chance to watch this one live what with a pretty busy working day in the Guinness Premiership, but early Sunday evening - having avoided the results page in the newspaper - I settled down with a smooth Burgundy and my Sky Plus to watch Munster take on Leinster... or should that read dismantle Leinster?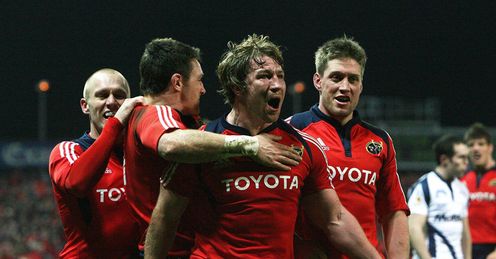 Can there be a more horrible experience than having to eke out a result when Munster is in the mood. There is no more miserly team in the world than this lot. They give nothing, absolutely nothing, away. Arguably the best defensive provincial side in the world, they have also developed an extra element in attack. There may still be a few Super 14 teams with more pyrotechnic attacks but few with a better all-round game - and none with a greater spirit.
Dean Richards' team has a game capable of frustrating the opposition and much more. We didn't need to see the much more on Saturday but with Nick Evans a probable starter, the magic is ready and waiting. Do not be surprised if we are talking about a Munster versus Harlequins semi-final this time next week.
Stuart Barnes
Quotes of the week
HEINEKEN CUP LIVE
Cardiff v Toulouse
3pm, Sat, Sky Sports 2 &HD2
Leicester v Bath
3pm, Sat, Sky Sports 1 &HD1
Munster v Ospreys
12.45pm, Sun, Sky Sports 2 &HD2
Harlequins v Leinster
3.30pm, Sun, Sky Sports 2 &HD2
Quite simply they look the most complete team in Europe. This does not mean they will retain the Heineken Cup because sport has that habit, like life itself, of throwing up the unimaginable. The Ospreys winning in Limerick is not unimaginable but I am damned if I can see it happening. Munster looked worthy favourites for this year's competition on the evidence of my Sky Plus evening of rugby.
Organised
But where does it leave Leinster? Where they have been for much of this season... stronger on paper than they look on the pitch. Again, Felipe Contepomi found the dark arts of Munster impossible to counteract which is a serious concern for the Dubliners because earlier in the afternoon, across the Irish Sea, Harlequins had produced a rather clever impersonation of Munster to leave Bath with a comfortable win.
Harlequins, steered by England's manager of the year, Dean Richards, were too organised for Bath, too strong at the scrum and too clever at the breakdown. Bath had most of the territory and possession but once they blew their early try scoring chances, the London side looked the likelier winners.
Richards' team has a game capable of frustrating the opposition and much more. We didn't need to see the much more on Saturday but with Nick Evans a probable starter, the magic is ready and waiting. Do not be surprised if we are talking about a Munster versus Harlequins semi-final this time next week.
Leicester appear strong favourites to beat Bath at the Walkers Stadium but this fixture has a dynamic all of its own. The Tigers are undoubtedly in much the better form but Richard Cockerill has to navigate his team to the best 15, which is not easy when neither of the national side's half-backs should be in that 15.
It is easier for me to write than the manager to select, but this will be a test of his strength of character. If the Tigers get this wrong it will hurt the club and his hopes of becoming head coach.
Thrilling
The Tigers will miss the raw aggression of Julian White and Bath will be revitalised up front by the return of David Flatman. The evidence of the eyes from Saturday may not count for much next Saturday. Elsewhere Bath are desperate for the rugby brain and quick passing game of Michael Claasens. The side's slump has coincided with his injury. He is arguably the most important man in their side.
The two sides have enjoyed two outstanding Premiership matches to date this season and while the immediate past makes a Leicester win the most likely outcome, do not write off a thrilling finish.
That leaves us with the first of the four quarter-finals and maybe the most enticing of them all. Cardiff Blues have been superb in this competition to date and have capital advantage against Toulouse who beat them in France at this stage last season.
It would be major shock if Cardiff Blues were to succumb as easily as a year ago but other than that, what can you predict? The Blues will be physical, organised, quick and strong; David Young will have them ready; but what about Toulouse? They rampaged at the weekend have one of the best packs in Europe and a celestial back three.
Nicky Robinson will have to kick quite beautifully and Gethin Jenkins will need one of his finest games in Blue but both men are capable of doing just that. Toulouse are not as likely to combust as they once were; they have a fall-back game that is limited and effective if the muse determines not to travel.
I make them narrow favourites but this is another game where anything can happen. How many days to go?
Now to this week's mail...
Stuart answers your emails
CRIME AND PUNISHMENT
Hi Stuart, just interested on your thoughts about Julian White's sending off for Leicester at the weekend. I may be a Leicester fan but I like to think of myself as impartial! Can you explain to me why Andrew Sheridan recieved no punishment for throwing a punch and White was sent off for landing a retaliation blow? I personally thought a yellow apiece would be fair. If White threw a punch from nowhere then fair enough he gets a red! If you also compare this to earlier in the season where White pulled a man off the back of a maul and punched him in the face unprovoked (think it was the Ospreys game but may be wrong about that) and he only received a yellow for it. Basically I am saying the red was harsh this weekend where it was previously deserved, what are your thoughts on a) this weekend's incident, and b) referee consistency with sending offs, particularly involving punching? Obviously we dont want it being a major part of our game! Cheers, Ed
STUART SAYS: I will say this about officiating, Ed. If a player is struck first the instigator should nearly always receive the same punishment. There is nothing more frustrating than to see someone react to violence, intimidation, cheating etc. and be the one to cop all the punishment. There is a world of difference between an unprovoked and non-provoked act and for people to prissily say 'there is no excuse for this or that' I would say there are times when a finger is in a man's eyes or a hand around his private parts, the ONLY sane thing to do is to react with extreme aggression. To punish the provoked and not the provoker is a victory for cynicism and a defeat for the good name of referees - and I genuinely think England has a pretty good standard of officials.
CENTRE OF ATTENTION
Dear Stuart, I have often wondered where our centres are! As England have the largest number of rugby players, why do we not have a Striling Mortlock, Jauzion or Basteraud? (ie physically imposing centres) My thought is that, players of that stature in youth rugby always head for the back row, meaning we have a lot of talent there, as is currently the case in my opinion. I would be interested in your thoughts! Lester Culley
STUART SAYS: Lester, Andy Farrell is a big centre, there is Ayoola Erinle, James Downey is a powerful Irish perfomer for Northampton - one day Ireland might consider his solid game - and there is.... I may be missing someone or a few but your point is a fair one. But surely centres with ability don't want to be forwards, should it not be the other way around? Perish the thought that the glamour of the game is wrapped up in those giants up front! Maybe that is it, a forward culture in Britain and Ireland... any help?
Got a question for Stuart? Use the feedback form below or mail it in HERE...
Comments (5)
Jonathan Ray says...
Yes Sue i guess you're right, acting lessons must surely be required to fall over when a 19st man punches you in the face. I cannot believe what i'm hearing from you ppl that seem to think Sheridan deserved red. Have you ever played rugby before Sue? At every level of the game retaliation is the cardinal sin, because you WILL get yourself sent off. How many games do we see handbags comparable to Sherdan's "punch"? I'm not defending Sheridan, he should have been yellowed, but how ANYONE can claim it should have been red when he barely touched White is beyond me. It was a little run of the mill scuffle which could have ended yellows each way, but most likely nothing, until White wound up and punched a man straight to the face with enough force to knock him down. And Sue, if you think he was acting, why - pray tell - did he jump straight back to his feet in a gesture of "I'm still standing"? Surely he should lie on the ground crying is he was, as you say, acting? In rugby you wind people up, props do it ALL THE TIME, and the key is to not allow yourself to RETALIATE when people do. In his hay day Johnson spent 80 minutes of every match trying to seriously annoy the opposition. I'm sure we can all remember Johnson vs Dominici 2003 when Johnno had his hand all over Dominici's face and then reared up in disbelief pointing to his eyes when the Frenchman retaliated. Thats rugby. Get used to it. Scuffles occur, but lines have always been drawn at full on punches to the face, and thats all there is to it. If you don't like it, play (or make uninformed, inane comments on) a different game. Oh and finally Sue, Will Greenwood used to play for Leicester, and they still hold a place in his heart. So if the punch line of your argument is that Greenwood's comments are evidence of hatred of Leicester then it is ultimately fatally flawed.
Posted 13:59 8th April 2009
Sue Hitchcock says...
Jonathan. I think you are missing the point. No one has said White should not have gone on on Saturday but that Sheridan should have gone also, he threw the first punch. Mind you at least white remaind on his feet, Sheridan fell over, whus. Perhaps he has been taking acting lessons on how to get a fellow professional sent off!! Colin. Why would you expect anything else from officials that referee a Leicester game, or even the citing ref who seems to turn a blind eye when a Leicester player is being punched in the head or back? I have long since given up hope of any fair treatment by officials or even Sky commentators, just listen to Will Greenwoods comments on Saturday on the punch issue!!!!!!!!!!!
Posted 13:02 7th April 2009
Keith R says...
I have several ideas on the subject of why England seem to lack more physically imposing centres. Many coaches at youth level are obsessed with raw pace in the back line. Coaches know that the pace of the game at the highest level is important and many try to model their youth teams on what they see in the Premiership rather then concentrating on youth development and as a consequence we end up with a conveyor belt of quick lightweight centres who are extremely tricky to nail as individuals but offer little in support to the team around them. It is not uncommon at youth level to see a back line full of players that resemble Premiership wingers. It is automatically assumed by many coaches that the bigger, slower young lads who show lots of promise with the ball in hand will never be quick enough so they get shoved into the pack where that promise is never seen again. Personally I would rather see a centre with bucketloads of brains and a bit of brawn than watch a lightweight whippet zig-zag around everyone confusing the opposition, himself and his own team. Having lots of pace is one thing but fitting that pace into a team and then throw in an egg shaped object to play with is another thing altogether.
Posted 20:44 6th April 2009
Jonathan Ray says...
Lets be honest, ANY claims that White shouldn't have been sent off are absolute rubbish. You punch a man in the face, you get sent off, simple as that. In fact, imagine if it hadnt been Sheridan! I'm sure none of you would be claiming it was harsh if some 13st back was lied out cold on the floor. Sheridan's "punch" was little more than a push to the face. There was no wind up, no follow through, no power. It was intended purely to wind White up, and it would seem to have worked! If we're honest, it is probably fair to say that Sheridan deserved yellow, but it seemed at the time that simply no one saw it, and it clearly wasnt worthy of a citing commission inquiry. So i guess that will be the end of it. White's however, was a blatant red and it is a credit to Wayne Barnes in this modern world where a yellow is all too often used for foul play when refs simply haven't the testicular fortitude to stand up and give red. The yellow card was brought in for repeated infringements and cynical play in try scoring situations. Referees have lost sight of that. THAT is why you see this inconsistency between refs. Not because Wayne Barnes is a harsh fool, but because he is seemingly the only one left who actually remembers what a red card is for. Oh and on Lester's point, you are correct, there has been a real lack of centres in England for some time; not helped by the fact that almost every midfield pairing in the premiership is overseas in nature. However, there are some coming through. Give it a couple of years and Waldouck,(who has been superb for Wasps this season) Jordan Turner-Hall, and even Eaves and Trinder from the U20s will all hopefully be developing nicely. Or even Matt Smith at Leicester looks good when he plays centre too. That being said, i guess T-Hall is still the only one that fits the robust profile you describe, although Eaves is only 19, actually Turner-Hall is only 20 too!
Posted 15:54 6th April 2009
Colin Grant says...
Stuart I just hope that you highlight the Buno incident on Murphy in the 7th minute as well as the White punch. There is something wrong with the officiating in Rugby if White gets banned for returning a punch and Sheridan gets nothing for throwing the first one and Bruno gets away with a punch to the back of the head of a player on the ground.
Posted 14:20 6th April 2009