You can leave the Lions for another day. This weekend has a heft all of its own as two of Europe's finest sport stadiums will be packed for the Heineken Cup semi finals. With Toulouse squeezed out at the quarter final stage the sheer British and Irish intensity more than makes up for that certain je ne sais quoi that Toulouse - in particular - always bring with them.
Three years ago Munster and Leinster went at it in a Lansdowne Road semi final with the Dubliners fancied to win after sublime wins on the road at Bath and then Toulouse in the quarter final. Munster tore the script up, tore into Felipe Contepomi and marched onwards to Cardiff and their first Heineken Cup triumph.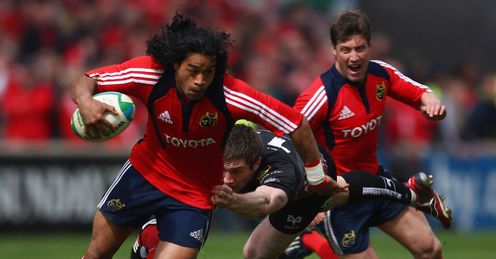 How times have changed. The Munster team are two matches from equalling the Toulouse record of three trophies - but achieved in the space of just four years after all those narrow failures. They had eight men selected for the Lions before the desperate blow to Tomas O' Leary, they are walking away with the Magners League and heading towards the title of the greatest team of the professional era, or certainly challenging the Leicester of the Dean Richards era for that title (their sheer Heineken consistency takes them past Wasps in my opinion).
Stopping the Red army
Leinster have watched this unfold as their game has toughened up but lost much of the creative spark. The match reports always tell a tale of the game being much closer than the final score suggests when they play but the final score is becoming pretty one sided, pretty regularly.
There is absolutely no way the Lions captain will think about anything but next Saturday, to these men the red of Munster comes first; that as much as all the talent and intelligence of the team, is why they are so bloody hard to beat.
Stuart Barnes
Quotes of the week
It is an Irish derby and the fact that 82,500 will attend the game in Croke Park adds some degree of unpredictability but the truth is a win for Leinster would be a major shock. The Capital City side will lift their game but surely not high enough?
If they are going to stun the Red Army here are a few positional confrontations that have to go the way of the underdogs. Brian O' Driscoll has to remind Keith Earls who is the master and who the apprentice in terms of Irish midfield play. Symbolically O' Driscoll needs a massive game as a source of inspiration for his team mates and the vociferous Dublin supporters.
Leo Cullen has to cut into the Munster line out as he did the Harlequins in the quarter final. Munster has to beaten at source and by shading Donncha O' Callaghan and cutting the supply line to the middle and tail of the line out they can give themselves a foothold.
Perhaps most important of all, the old/new Lion Alan Quinlan will have to be dismantled by Rocky Elsom. Quinlan epitomises the brain and brawn of Munster at the breakdown where they are King but if any individual has it in him to turn the red tide at the contact it is the Australian whose play borders on the colossal.
If all these personal duels go the way of Leinster and O' Gara has an off day matched by a Contepomi on day, if D'Arcy subdues the best inside centre in the competition in Mafi, if Heaslip is more influential than David Wallace and Paul O' Connell's mind is on South 0Africa the who knows....by the way there is absolutely no way the Lions captain will think about anything but next Saturday, to these men the red of Munster comes first; that as much as all the talent and intelligence of the team, is why they are so bloody hard to beat.
Tigers always burning bright
Eleven Lions take the field in Dublin; in comparison the total of seven looks measly in comparison in Cardiff but this could be the better game for all the heft of the affair in Dublin. The second semi final appears a closer contest (cue a Leinster win!) although people who watched the EDF demolition of Gloucester might argue with that assertion. But Leicester is not Gloucester, the club never folds, refuses to capitulate and is on a winning run that sends them to Cardiff in buoyant mood. The venue is against them and probably helps install the Blues as favourites but this club loves being underdog.
The Blues seem fairly comfortable with the mantle of favourites. They are playing some of the best rugby seen from any Welsh team in the professional era. Yes, Gloucester were pathetic at Twickenham but what teams would have stopped the first Leigh Halfpenny try; it was a thing of utter beauty, the Try of the season. How the Tigers would love to have Tuilagi storming at and into the smaller man but even if the appeal succeeds it is hard to see his ban reduced to less than a fortnight (I think he is paying the price for officials realising that the obsession with the spear tackle over all else needs readdressing. Fine, ban him for a month but what about Chris Hala'ufia, Butch James et al?)
Anyway, I digress - back to the game and a few central characters. Let us stop talking Lions and start debating the merits of two players performing at the peak of their powers. Had the Lions taken a third fly half on form it should have been either Nicky Robinson or Sam Vesty. Both men are playing quite beautifully but will both men play?
Vesty only started ten against Bath because of a late injury to Toby Flood the England fly half. Will Richard Cockerill, secure in the post of Tigers Director of Rugby (and well earned) have the courage to leave out his old skipper, Martin Johnson's favoured option) for the new hero of Leicester and will Harry Ellis get the nod over Julian Dupuy. On form the Lion is lucky to part of the match day 22 because Ben Youngs is the best impact scrum half of the three. Whoever plays, the Tigers have to dominate at the base of the scrum and - most critically - the breakdown to cut the umbilical between the Blues galloping backs and those old heads like Martyn Williams, Xavier Rush and Paul Tito up front.
All this and the best player in the Five Nations - Gethin Jenkins - ready for action; if this weekend is as thrilling and atmospheric as I expect, the Lions series has something to live up to. Now to this week's mail.
Stuart answers your emails...
Got a question for Stuart? Email him at skysportsclub@bskyb.com or use the feedback form below...
Earls of wisdom
Hi Stuart, Just thinking about what you have said on the Rugby Club the last few times about that the Lions will have to play smart rugby and the selection of Keith Earls to the Lions Squad in reference to that. First I am a Big Munster Fan so obviously I am a big fan of this kid Earls. My Question is with O'Gara and Jones at times dodgy in the Tackle would the coaching staff put some one like Earls at Out Half to see how he would get on. He is a natural game breaker like your Cipriani and has played at fullback, wing and centre for Munster would out half be that big a stretch for some one as gifted as this young man is I would be interested to hear your views.
Chris Greaney
STUART REPLIES: Chris,I like a gamble but Keith Earls at fly half is way too long a shot for me. I know Mon Mome was 100-1 for the National and Niche Market 33-1 for the Irish National but a young man without experience and a proven kicking game is a stretch well beyond my limited imagination. It will be fascinating enough to see Earls play (or maybe find) his best position on this tour.
Wasps factor
Stuart, I have been supporting the Lions for over 25 years and for the first time I cannot help but think an element of favouritism has been exercised by McGeechan et al in selecting four (out of the eight England players) from London Wasps. It is not as if Wasps had a good season - so hardly a case of the form team or form players!
Stan Frith.
STUART REPLIES: Stan, If favouritism means picking your own men in a tight call over others then this tour party has a degree of favouritism in its selection but Ian McGeechan has done this before, noticeably in 1997 when - as the Saints boss - he picked players like Matt Dawson to the surprise of some and Nick Beale to the surprise of many. Dawson became a Lions in Cape Town and Nick Beale was superb throughout the tour for the midweek team. The bias is a natural one and nothing wrong with picking the blokes you trust - as long as they deliver - if they fail McGeechan will have to face a fair bit of flak.
Missing Hayes?
Hi Stuart, I saw your report on Munster being the backbone of the Lions but without John 'Bull' Hayes then that backbone isn't as strong. Hayes can lift O'Connell on his own higher than others as he uses a different method. So with this the lineout which needs to be won will be weakened and catching the ball from restarts, both key areas that you pin-pointed. Hayes is also scrummaging very well at the moment - maybe not as good as Murray but Hayes should have gone ahead of Jones and Vickery. What are your opinions on this?
Liam Murphy
STUART REPLIES: Liam, I was watching the analysis of the Munster versus Scarlets game Friday night and Neil Francis was making the point. It made me think then and I am thinking again right now. What you say about Hayes in the restart and line out department of the game is true and with the Lions putting such value on team work, it might prove an error. Hayes did find the 2005 tour hard work (then again who did not), perhaps this weighed on the manager's mind. Perhaps the sheer volume of Irish and Munster selection counted against him. It is a very good question raised here.
Who replaces Tomas?
Morning Stuart, terrible news about O'Leary and he must be devastated. Do you think the Lions management will go for someone like Danny Care or Mike Blair or opt for another Munster man and pick Stringer?
STUART REPLIES: Awful for Tomas, the news can barely have sunk in before he was off the tour. I don't think Peter Stringer will be taken (I think there is a degree of politics and number counting involved, even if sub consciously). Mike Blair would be my choice but I suspect McGeechan has a preference for Care - or even Chris Cusiter, who he preferred to Blair four years ago.
Comments (10)
Keith R says...
I am quite taken aback by the animosity towards each other from the Munster and Leinster fans. Two great sides who have already earned their stripes going head to head and may the best team on the day win, that's the way it should be. I know from experience that sometimes when you become too familiar with the opposition the rivalry can escalate to an unhealthy level and I would hate to see these two excellent teams forget to play their rugby because of this. I have a sneaky feeling the cool heads who get their tactics right will win the game for their team. As a Leicester fan I am looking forward to seeing my team face a strong Cardiff side and seeing just how good they all are and I will applaud the winners and the losers, whichever way round the colours are.
Posted 10:54 30th April 2009
Ian Francis says...
As Rob M rightly points out, I dont have any issue whatsoever with the Munster players, an incredible group of guys whom I was delighted to support recently in Cardiff when they were playing for Ireland. I begrudge them not their success. I have a major problem with their fans - I rejoiced when Munster won the H Cup for the first time against Biarritz - I was there!!! However, I was also in Limerick city centre a few weeks ago in a pub watching a Leinster Magners League game and the majority (YES MAJORITY!!!, not a small majority) of people in the bar were Munster fans cheering for the opposition - and this was more than because they were competing for the same competition at the time. Some of the stuff was vindictive and the derogatary remarks about BO'D in particular and the Lions captaincy were scandalous - and this only a week or so after Cardiff. Talk on these forums is cheap about Munster fans supporting Leinster in the final if (in the unlikely event) Leinster win on Sat, the reality, as I've experienced fisrt hand, is very very different.I'm thrilled to be in a semi, I think we have exceeded expectations this year and it would be no disgrace to lose to such a fine team as Munster - its just a shame that they dont have a DECENT / HUMBLE set of fans to go with them.
Posted 14:24 29th April 2009
Ciaran C says...
Ian Francis - first we had ABU in soccer, now we have ABM in rugby anybody but munster, it is the price of success i suppose. We are not arrogant, obnoxious, we are very wary and respectful of leinsters threat. ye are a great side no doubt about that. its the media that hyping this game and making munster the favourites.
Posted 09:19 29th April 2009
John Carmody says...
Ian, Nice to see your not a twisted bitter little man at all then. I can imagine you took no joy in Ireland winning the Grand Slam seeing as it entailed the Munster lads and Leinster lads working together as a cohesive unit. If your sad enough to actually cheer for a Welsh (probable) or English team over an Irish one then I really feel sorry for you. I for one will be cheering on Munster this weekend but if Leinster do manage to pull off the win then I will still be shouting for them in the final. They will definately have deserved it if they get there and no doubt they would do the country proud. John C
Posted 09:18 29th April 2009
John Ludgate says...
Ian F ...your anti-Munster diatribe (which we've all heard before...pre the final last year when you were supporting the opposition because they weren't Munster, for example ) strike me as qualifying you for the "loud mouthed, obnoxious" Leinster fan category. Kettle calling pot black and all that. Some of us diehard Munster fans will cheer Leinster all the way in the final if you win on Sat. So there!
Posted 04:21 29th April 2009
Rob M says...
Did you support the Munster players playing for Ireland during the 6 nations Ian Francis? I know you'll say it's not the players you have a problem with it's the supporters but I think it's disgraceful that as an Irishman would rather see a Welsh or English team beat Munster in the final. While I have no problem admitting that there would be jealousy if Leinster won the Heineken cup this year, I would still rather it stay in Ireland than go across the sea. I have a friend from Clontarf who is supporting Munster on Saturday and it is easy to see why he is with attitudes like yours.
Posted 22:14 28th April 2009
Tom Azinga says...
haha, Ian Francis sounds like a bitter leinster fan who can't take being second best to European Champions Munster so takes on insulting their passionate fans. The Munster fans are the envy of every other rugby club in Europe which no doubt upsets Ian even more!!! Tough luck loser. Look forward to watching the Munster Lions captian leading his team to glory once again this season.
Posted 18:37 28th April 2009
Ian Francis says...
I'd nearly!! give my right arm for Leinster to beat Munster on Sat....that might shut their obnoxious, loud mouth, arrogant fans up for a few weeks. Even if we dont win, we can row in behind Leicester or Cardiff who would hopefully then beat them in the final - that would be some consolation at least.
Posted 13:31 28th April 2009
Don Carroll says...
The Munster-Leinster game should be a cracker, Leinster will put up a stronger show than the recent Magners League game, O'Driscoll will be playing this time and the Leinster Lions will be aiming to make an impression. I expect it will be alot closer than the critics suggest even though Munster are still going to win by a narrow margin, however Leinster will put up a much better show than Ospreys. I think the Lions coaches are waiting to see how Stringer does over the next two Heineken matches, this is likely why they haven't named a replacement for O'Leary. If they weren't considering Stringer I think they would have named the replacement already. Stringer did well in the 6 Nations match in which he started.
Posted 00:41 28th April 2009
Rob M says...
Can't wait for the European action to get underway this weekend. I think the Munster Leinster game will be closer than people think. An awful lot will depend on how Contepomi plays. Munster give away a lot of penalties and if Contepomi takes them anything could happen. Also, Munster have adapted to this try a pass or an offload even if it's 50/50 game. It works in 90% of the time for them. Who knows on Saturday, if that doesn't work and they force it too much, Leinster could pinch the match. I think it's funny how times have changed, i'm a Munster fan and i'm hoping for a dry sunny day to help get our backs going. 3 or 4 years ago I probably would have been hoping for rain and wind playing against Leinster.
Posted 16:30 27th April 2009