As Brian O'Driscoll plucked the ball from the outstretched hands of Paul O'Connell and pumped his legs 70 metres or so to the unguarded Munster try line, two thoughts emerged instantaneously - that this scintillating Heineken Cup semi-final was well and truly over, and that Ian McGeechan had made a massive error, selecting the wrong man to lead the Lions to South Africa.
The symbolism of the split second between Ronan O'Gara's pass and O'Driscoll's interception admittedly magnified the thought but throughout the following week no cold logic dissuades me from believing the wrong man is leading the Lions.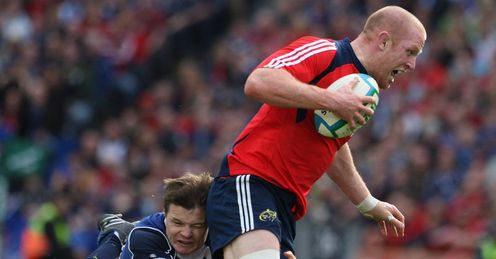 The case for O'Driscoll was a powerful one before the match. It looks an unanswerable one in the wake of Munster's desolation. It was O'Driscoll, not O'Connell who led Ireland to Grand Slam glory. O'Driscoll has long been the leader of Ireland and it is him, not O'Connell who has nothing to prove to the Southern Hemisphere where Heineken Cup heroics mean little.
The reasons for O'Driscoll being passed over by his national vice-captain were twofold. Firstly there was predilection of the manager for a physically-imposing captain in the McBride/Johnson mould and then there was the Munster factor. Right now both theories look shot before the Lions gun is loaded.
Stuart Barnes
Quotes of the week
LIONS IN SOUTH AFRICA
Follow the British and Irish Lions tour of South Africa on Sky Sports throughout Grand Slam Summer. The first game against Highveld is live on Sky Sports on 30th May.
For more on the Grand Slam Summer click
here
The centre is the finest British and Irish player of modern times, bar none. Had he been born English our government would have knighted him by now. He may have endured a miserable time on the previous Lions tour when a spear tackle ended his series prematurely but four years previously he had produced some of the finest back play ever to come from these shores as the Lions ripped Australia to pieces in Brisbane.
His CV - with a Grand Slam to his name as a captain - is head and shoulders above any others and while the formerly unstoppable bursts of acceleration can now be stopped as time and the rigours of his epic defensive game take their toll, he remains the man for whom things happen, be it a try a metre out against England or a seventy five metre interception against Munster. Things happen around O'Driscoll and if you believe in the cyclical nature of fate they are due to be good things this summer.
Munster factor
The reasons for being passed over by his national vice-captain were twofold; firstly there was predilection of the manager for a physically-imposing captain in the McBride/Johnson mould and then there was the Munster factor. Right now both theories look shot before the Lions gun is loaded.
History is something of which the Lions are fond and love nothing better than to relate old tales and lessons learned around the after dinner speaker's table. One of the reasons Clive Woodward invoked the wrath of so many distinguished Lions was because he didn't give a fig for history (and yes, maybe he was guilty of being too dismissive of it in the New Labour way that was inevitable when he appointed Alastair Campbell as Propaganda Lion). Yet being in tow to it could prove an equally grievous error made on McGeechan's part.
O'Connell has much to prove on the world stage before he can concentrate on pure matters of leadership. While O'Driscoll has reached the heights as a Lion O'Connell has the memory of a disappointing tour to New Zealand. Whereas O'Driscoll is probably one of the few Lions whose ability to dominate his opposite number is considered likely, the captain has arguably the toughest individual task of them all.
Big ask for O'Connell
Adi Jacobs awaits O'Driscoll; Bakkies Botha and Victor Matfield are looming large on the Munster man's horizon. This is the leading second row combination in world rugby, it has been for years. It will take O'Connell to produce the rugby of his life to gain parity against the heartbeat of the Springbok team.
If he does rise with the altitude to heights he has yet to reach, he will be counted among the greats of British and Irish history. But this is quite some 'if'. If he comes up short and is found wanting against them (as nearly every second row has at some time in the last decade or so) then the Lions have a leader who they will have to help rather than follow.
The not very subtle psychology of the 'big man' theory - which the South Africans have already dismissed out of hand as so much nonsense - is defenestrated along with the aura of winning with which the manager hoped to pack the squad. The Blues defeat on the heels of Munster's could be the first hammer blow struck against the Lions even before the tour party leaves this hemisphere.
O'Connell under fire failed to quell the panic in the ranks. He is used to winning as captain of Munster and used to dominating. Did McGeechan think the Lions would ever dominate the current world champions? There was an air of panic in the Munster ranks. The skipper's first lieutenant, Ronan O'Gara, went missing for Munster as he had for Ireland against England and without him the big man looked just a little bit lost.
Experience
In contrast, O'Driscoll has the miles of high octane captaincy on the clock. He has the experiences of the tight wins and narrow losses to help him navigate through the squalls and showers, not to mention storms that will blow into the faces of the Lions. He also has the respect of world opposition in a way that O'Connell does not.
Respect is earned through achievements not sheer size. Fingers crossed that the outstanding Munster man takes the step from one of Europe's finest to one of the world's, but he is yet to do so whereas O'Driscoll - however many inches shorter than his flame-haired friend - is a player nobody can look down upon.
It seems that this whole 'imposing figure standing outside the opposition changing room door' is something symbolic and metaphorical that has seeped into the legend of the Lions, and become somehow an accepted but flawed reality. It is not size but standing that matters. Shaun Fitzpatrick, Nick Farr Jones and now John Smit; none of these are goliaths, but all were or are leaders based upon their achievements on the field and their qualities as a captain. On those terms the Lions had only one choice as captain for South Africa and it was not Paul O'Connell.
Ian McGeechan has taken a huge gamble in overlooking the Grand Slam captain as the one and only obvious leader of the Lions. If O'Connell cannot rise to the heights where the Springbok locks perform the decision to base judgement around Lions mythology will look one of the erroneous decisions of Ian McGeechan's illustrious career.
Comments (14)
Don Carroll says...
Rory, Brian is an excellent player and is previous Lions captain which went very badly, He isn't a forward, simple as that. Ian decided it was going to be a forward. I think it was a mistake making Brian captain of Ireland again this season, that was done so that Declan Kidney wouldn't form a split in the camp between Munster and Leinster, making a Munster man captain might have opened him to criticism from those saying it was favouritism considering where he came from. It has also been suggested that the IRFU have a strong preference to have a Leinsterman as captain of the national side. Brian is a pro and would have performed just as well in the 6N if he wasn't captain. Irelands next best player was Paul and is the more natural choice as captain. Both Cheika and Geech chose a forward to captain their teams for good reason (but what would they know about selecting rugby teams, what have they ever won???). Just cos Brian is a good player doesn't mean he should be captain. Also the 6N is just 5 games and doesn't make up the entire season, Paul was probably the next best player of the tournament, he had a good season with Munster and captained his club to HC success, something Brian is yet to do. If Brian felt he wasn't good enough to remain Leinster captain then why should his ego allow him to expect he should be chosen as Lions captain again. He stepped down as Leinster captain cos it was affecting his game for his club and he thought it would benefit the team....well surely the same principle must stand for any other top level team he plays with, if his refusal to be captain of Leinster improved their chances for success, then the same must apply for the Lions chances in SA!!! The correct choice was made, most pundits and ex-players said a forward is preferable as captain. If Brian doesn't captain his club then he shouldn't captain the Lions (or his country).
Posted 22:38 25th May 2009
Rory Dempsey says...
Just in response to Don Carroll, as a Leinster supporter I'm fully aware who our captain is, something I pointed out in my original comment. I also know that before Cullen returned home, O'Driscoll was captain of Leinster for several seasons, in which he was criticised for drops in form and many people claimed he was on the way out. Now he's no longer captain with the provincial team, he's returned to the form of his life. Coincidence? To answer your other point, if the Lions captaincy was based on an entire season, wasn't O'Driscoll captain of the Grand Slam champions? Isn't he a senior member of the Leinster side? And would there have been such deliberation in the media, in pubs, and even with McGeechan himself, if it was so clear cut that a forward was going to be captain regardless?
Posted 04:16 21st May 2009
Don Carroll says...
I think Jeff Jones is mistaken when he says O Driscoll wouldn't make the starting 15 of a tri-nations team, I think he would be the staring no.13 for all three of them, in fact he names Oz as the weakest of them but they have the strongest number 13 in the SH and would push Brian closest for the starting spot. It is likely Jeff hasn't seen alot of O'Driscolls rugby but most critics agree he has been the best NH player for some time, which is why this is his 3rd Lions Tour, why he was captain previously, scored a superb try in his first Lions Tour, has won 4 Triple Crowns for his country and was player of the 6 Nations when he won that this year and looks set to win a HC. Brian has been an outstanding player and is still showing great form. Most critics have him in their worlds best 15, marginally ahead of australias number 13, in fact over the last number of years I haven't seen any of the critics either north or south exclude O Dricsoll from their worlds best starting 15
Posted 21:49 12th May 2009
Dan Rees says...
As a rugby player there is no greater sight than your skipper leading by example. Forwards are the guys who can truly do this and POC has an ere of presence which i saw so often in Martin Johnson. In the back line a captain is a talker not a 'doer', which to be honest isnt particularly inspiring regardless how good he is. Stuart, at the end of the day we have two great leaders in our team one in the backs and one in the forwards, this can only be an extra string to our bow when we encounter the huge task that awaits us.
Posted 13:17 12th May 2009
Tom Kennedy says...
O'Connell is the man to lead the Lions, O'Driscoll wasn't considered good enough to lead Leinster this season although he was fantastic as Captain of Ireland when leading them to the Grand Slam. Martin Johnson, if memory serves, wasn't even England Captain at the time he became Lions Captain back in 1997 so what is to say the Limerick Lions Captain will not be as successful. He is probably a better all-round player than Johnson anyway and he will give the Matfield and Co a run for their money in the Line Out no matter who he partners in the engine room.
Posted 12:29 11th May 2009
Lorcan Oreilly says...
Im well agreed here aldough im a massive fan of OConnell (not when hes in the red jersey) he is facing the most difficult opposite on the feild and O Driscoll will easyily dominate any opposing centre. It was a bad move to pick OConnell but well have to live with it and the thing is even dough BOD wont have the captaincy still massive leadership to have. CMON LEINSTER
Posted 00:06 10th May 2009
Fionan Burke says...
Stuart, Hindsight being 20/20 vision and all that how come you never mentioned the choice of captain as being a bad decision when the team was announced? If memory serves me correctly you were more concerned with the lack of players with verve and the absence of a third Outside Half. The Choice of a Munster Captain and his cohorts was seen as a good thing a few weeks back but one game causes an about face? I think it is a great thing for Rugby that we had such a game in Croke Park last weekend and the result belies what I and all the other pundits thought (including your good self) that Munster were a lock for another Heineken Cup. This is what makes it such a great competition and instead of it being a vehicle to forecast doom for the Lions I would think it might be a good thing in that the majority of Lions players will be rested and able to join up with the team earlier than expected. Had the two losing teams been victorious we would have had far more Lions players involved in Edinburgh. I think Brian O' Driscoll can consider himself hard done by Ian McGeechan's decision however he is too classy to say anything and instead he is letting his on field play do his talking. That being said Paul O'Connell was give the job and I do not see him being found wanting in the Highveldt or anywhere else he plays. This is an easy topic to get reaction and plenty of passion so if that is what you were hoping for you got it. I for one am looking forward to the Heineken Cup final and the Lions tour in the next few weeks and I expect both the Captain and vice Captain to acquit themselves admirably!
Posted 14:57 9th May 2009
Don Carroll says...
would like to point out to Rory Dempsey that O'Driscoll isn't the Leinster captain, Leo Cullen is, a forward. Leinster have reached their first HC final with a forward as captain. Before Ian made his choice almost all of the critics were saying it is preferable to have a forward as captain. I think Ian made the correct decision and last weekends semi-final played in Leinster shouldn't change anything, the captaincy and player selections were based on a rugby season, not 1 match played at home in Leinster.
Posted 20:02 8th May 2009
Dave B says...
Ideally the captain should be in the pack, especially against a side like the Springboks. The sad thing is that this left Geech with only one option - POC as captain - as no other member of the forwards could have taken on the role. But, as good a player as O'Connell is, he is no Martin Johnson & as Chris Thorne said, Botha & Matfield will not be having sleepless nights. The Boks will also have been smiling whilst watching Leinster repel the mighty Munster and my fears for a drubbing are not subsiding. 3-0 to South Africa, irrespective of who the captain is!!
Posted 19:50 8th May 2009
Ian Francis says...
Stuart.Spot On.Heavy investment in the Munster pack for the Lions now looks like folly especially when you consider the "supposed ladyboy" pack that Leinster have and which tore Munster apart. Cullen and O'Kelly bossed POC and DOC and Wallace and Quinlan (we all saw what happened when he got frustrated) were made look decidedly ordinary by Heaslip, Elsom and Jennings / O'Brien. The Munster myth is no more.
Posted 15:33 8th May 2009
Colman Cooke says...
I can't agree more with you Stuart. I am a huge Munster and Paul O'Connell fan but there is not a man on the planet fit to lace the boots of Brian O'Driscoll. He is a true great of the game and will show again this summer why every club in the world would like to have him in their team every week.
Posted 14:14 8th May 2009
Mike Green says...
Couldn't agree with Barnes more. Geech has had his ears poisoned with ridiculous suggestions and pressure regarding selection of the Lions party. A while back i had a rant about the number of Welsh involved in this Lions squad and last weekends Heineken Cup semis unveiled a bitter reality for Geech. Although there was obviously going to be a strong contingent of Irish players after their grand slam success, O'Connell was not the right choice as capt, and BOD's 70m interception last weekend was fantastic reminder to Geech how wrong he has been thus far. BOD is world class and as Stuart points out, feared and respected world wide. All O'Connell and the like of O'Gara have had was the name of Munster, which now isn't such a mighty one.
Posted 12:53 8th May 2009
David Fleming says...
As a Munster native living abroad I think Stuart is being a bit harsh on O'Connell. I do agree that BOD should have retained the Lions Captaincy purely on his 'lead by example' perfromanaces during the six nations where he was outstanding and even better than his past glory years... but so was O'Connell. Ireland are lucky to have two such giants on the team and as the 'Forwards captain' O'C was immense in his control and direction of the Irish pack. O'C has captained Munster to Heineken cup and magner's league successes. Is there anymore he can do? Munster had a bad day against Leinster last week but would the result have been different if the continual first half Leinster defensive offsides had been spotted by Mr. Owen? If Mr. Elsoms wonderful tackle on Dowling had been shown for what it was...a penalty try due to a 6 metre offside offence!! Anyway I think Mr. Barnes should not be too quick to write off the Lions Captain because of one poor team performance. O'C will thrive on this kind of negative press (which is rarely experienced by this man) and will become better for it. Watch out SA..OC is coming to town and will give you hell...
Posted 12:25 8th May 2009
Rory Dempsey says...
Despite all of O'Driscoll's achievements as captain of Leinster and Ireland, I feel he plays better rugby when he's not weighed down with the responsibility of overall leadership. Clearly, as provincial captain and vice-captain of Ireland, Paul O'Connell has a huge influence over those around him, especially the Munster players in the side. From watching the 6 Nations, it appears he has undertaken a bigger role in the Ireland set-up, possibly to relieve O'Driscoll somewhat to allow him to concentrate on his own game, which has really picked up this season, against a visible decline since the heady days of hat-tricks in Paris and torching the Wallabies for the Lions. Add in Leo Cullen's captaincy of Leinster, similar in virtue to O'Connell's at Munster. Of course moments of brilliance still permeate his play, and being a marked man doesn't help(see also dodgy haircuts and model girlfriends), but it seems he's back as, without question, the best centre in the game. O'Connell thrives as captain of Munster, constantly motivating his men and leading by example. Many forget O'Driscoll is still vice-captain, he will still be a senior tourist with two previous tours under his belt, and controls the outfield both defensively and offensively peerlessly. He will be someone the younger players will look at and hopefully aspire to. Maybe McGeechan feels it's better to allow a born leader to lead, someone you would follow without question, and whose game will not be hampered by the added pressure, than to subdue the still vibrant attacking capabilities of the finest footballer that's played the sport in my 24 years.
Posted 12:11 8th May 2009