The Lions have now lost seven straight matches against the Tri Nations. It is as bad a run of losses as the combined might of Britain and Ireland has ever suffered yet in defeat the side savaged any talk of a dying concept (excuse me if I do not use that soulless 21st century corporate speak 'soul') with a performance to live alongside many of the renowned victories of yesteryear.
Yes, South Africa won the game with a magnificent strike from Morne Steyn, but the visitors emerged as the heroes of the hour. The Lions had the superior fifteen but the Springboks an infinitely more impacting bench. In the centre of one of the most epic tests for years it was the strength of squad that pulled the Springboks through.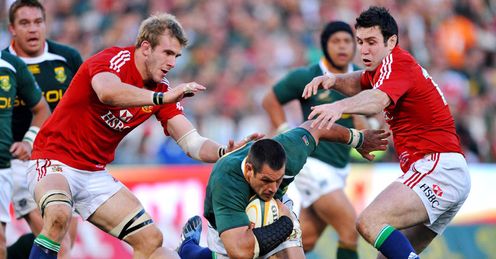 Heinrich Brussow, (destined for a lengthy run in the side after the Schalk Burger gouging incident), Jaque Fourie and Steyn all produced telling performances to lift the home side while the Lions - with the feisty exception of Andrew Sheridan lost vast amounts of power as the starting line up were reduced to rubble, one after the other.
Cementing their place in history
The loss of the Welsh props was immense. Adam Jones was taken out by an increasingly desperate Bakkies Botha who saw the balance of power swing the Lions way after Jones took the easy target for the Beast away and turned him into a far from tame but certainly controllable character.
Mistakes happen and the repercussions run through the entire camp. In the end it was not so much a single individual that cost the Lions but an opposition with more power in depth and an iron will to win.
Stuart Barnes
Quotes of the week
LIONS IN SOUTH AFRICA
Follow the British and Irish Lions tour of South Africa on Sky Sports throughout Grand Slam Summer.
For more on the Grand Slam Summer click here
The loss of scrum advantage was huge the loss of the centres greater still. The sight of Brian O'Driscoll targeting the Springboks big men bordered on the illegal at times but it was never less than inspiring. In defeat he has sealed the mantle of greatness. Here was a reminder that the power of a warrior need not be measured in height.
If his reputation is sealed his partner in the midfield, Jamie Roberts, cemented his as one of the most exciting young talents in the world. Wales has a diamond that will cut many defences to pieces in the years to come.
Defending the scapegoats
But what about the reputation of those Lions who did not excel on the day? Ronan O'Gara has come in for a huge amount of vitriol and must wonder if all he has achieved counts for anything after a missed tackle for the Fourie try and the penalty conceded in the last seconds of the game. The Munster man will be devastated enough without any one else needing to remind him of the repercussions but probably is man enough not to seek excuses.
There is one and a bloody big one and that is the fact that he was knocked halfway to Mozambique attempting to tackle the runaway bull, Pierre Spies. He was being treated on the floor in the build up to the try and pulled himself groggily to his feet when his body was screaming to stay down. Now he will wish he hadn't made the effort. No he does not deserve the abuse anymore than Phil Vickery did the week before. These are both fine players whose reputations should not be damaged any more than Ian McGeechan's by the events of the past fortnight, for it was the legendary Lions coach who got the front row selection wrong for the first test (I am not going to criticise h ere because that would be nothing but smart arsed hindsight) and it he who opted for O'Gara over Hook.
Mistakes happen and the repercussions run through the entire camp. In the end it was not so much a single individual that cost the Lions but an opposition with more power in depth and an iron will to win. The Springboks have earned their series win but the Lions legend was enhanced, not diminished in defeat. It was a privilege to be in Pretoria, albeit a sad one from the Lions perspective, on Saturday.
Stuart answers your emails...
Got a question for Stuart? Email him at skysportsclub@bskyb.com or use the feedback form below...
Seeing Red
Stuart, I would welcome your views on whether you believe officials are too concerned about ruining a match to make a tough decision in the first few minutes which could affect the outcome of a match. Specifically, take at the Burger key gouging decision in the game this weekend. If the touch judge had recommended a red card the outcome of the match would probably have been different. Perhaps the outcome of the series would have been different too. A similar situation occurred in the first NZ v Lions test matches with the well documented "spear tackle". On that occasion it could have been 13 v 15 players for almost 80 mins which could have changed the outcome of that game. Officials are able to take the touch decisions to send off players during a match but appear too weak to do so=2 0at the start. I appreciate the public want to see a proper contest, but not to the detriment of encouraging foul play due to weak officiating.
Charlie Mayer
STUART REPLIES: Charlie, I agree with your sentiment and if the touch judge did have a clear view and was absolutely certain that he saw a gouge then you are 100% on the money. However you and I have the benefit of television replays which the officials do not. It makes you wonder whether a special referee with televisual access should be in place - as with the TMO - to clarify the level of misdemeanour.
Dummy tackles
Stuart, In commentary you accepted the 'crossing' penalties against the Lions without question. To me in neither case, this and last week. were the Springbok defenders obstructed by the dummy runner, the defenders actually deliberately tackled the dummy runner, as if it was a policy, in order to milk the penalty. For this week's Springbok try, the dummy runner did as much obstructing, its just that the Lions defender did not tackle him. Watch them all again and comment please, I believe it was policy to tackle the dummy runner.
Eifion Jones, Kettering
STUART REPLIES: I will watch again Eifion and I will tell you that Brian O'Driscoll talked about the chances that went in the first Test and the 'dummy runner try' and stated it certainly was a penalty. It is not just me you disagree with but O'Driscoll but I'll have a look, maybe Brian was wrong too.
Penalising the scrum
Hi Stuart, You've suggest before that uncontested scrums need sorting. Is it not time to just penalise the side which cannot contest scrums points? I actually do not see what else can be done. I think somewhere between 7 and 10 points personally.
Jonathan da Silva
STUART REPLIES: Jonathon, A bit draconian if the side has lost their props to injury. An eighth man, a specialist prop for the emergency is an option as is the case of both props being injured means a team must play with fourteen men and not have a useful flanker to add to the side with the weakened scrums powers around the field. That would make a team think again; something similar is happening in France and the case of uncontested scrums has plummeted.
Close to the edge
Stuart, I was rather alarmed to hear your views on Brian O'Driscoll's dangerous tackle on Danie Roussow. While certainly nothing as bad as what Burger did, it was still dangerous and illegal and in my opinion that sort of play should never be applauded. Can you just clear up what you were trying to say for me please?
Simon Murray, Leicester
STUART REPLIES: Simon, It was illegal and should not be applauded but rugby will always be played on the border line and in certain cases whilst not endorsing the act, the commitment cannot help but be admired and that is pretty much what I was doing Saturday, expressing my awestruck admiration for the centres will to win, mostly legal if occasionally otherwise. Had you been in Pretoria and been enthralled by the atmosphere you would know what I mean.
Best wishes to you all, it has been a long old season and this is my last column until the season starts in September. Thank you as ever for your interest and love of the game whether we agree or not it's grand that we care enough to debate the issues of the day,
One more test and I am off on my hols with a few books and bottles of wine,
Regards,
Stuart
Comments (24)
James Cox says...
L K - yes we don't have a great record in the 3 N - but look who we are playing ..... That's exactly why the SH will always shade the NH because it is real strength vs strength and not some half baked runaways somewhere in Italy.If we play in this year's 3N like we played in the Lions series - we will lose - purely because those sides have the ability to expose you and won't surrender a lead like the Lions did.The All Blacks have more talent in their one side than the Lions have in their whole squad.I must agree though that the uncontested scrums did benefit the Lions in the 2nd test - But that's what happens if you try and make tackles like Jenkins did. What Burger did was despicable and could never be condoned( PDV you idiot) but Bakkies just played normal hard rugby and was punished by nervous officials - shocking.
Posted 13:06 2nd July 2009
Carrie Louise says...
Whether Burger meant to gouge Fitzgerald or not he still did it in a desperate attempt of professionalism that can't be excused. It is almost as though rugby is going down the same road as soccer and if you can't take the ball then make sure you take the man, that's ok but the challenge still has to be legal. I'm sure after such a high profile match that this kind of behaviour will find its way into the junior ranks. As for Botha and O'Driscoll late challenges, the big difference is that Botha's challenge dislocated Jones shoulder. If you run the risk and it all goes wrong making excuses like "rugby is physical" and "I was giving 100%" does not make it alright. What is just as infuriating is that an International coach should condone poor play. How can we answer the rugby haters when they say things like "rugby is just legalized thuggery" if we don't clean up our act.
Posted 19:21 1st July 2009
Keith Reeves says...
As a father of a young loose head prop I have to say that recent events and comments on the standards of play that are acceptable in rugby union do give me cause for concern as do the general tit for tat arguments over who committed the worst deeds. Is it justifiable to say that the opportunity to inflict pain on a fellow human being is fair game just because you can? Are these really the kind of sporting heroes we want our kids to look up to and the kind of people we want kids to become? Players should be made more responsible for the repercussions of their actions, we are supposed to be human beings, not animals. Accidents do happen in any sport, but where there is a clear difference between accidental and intent the rule book should be thrown at the offender. If you attempted to poke someones eye out in the street be in no doubt, you should expect to be looking through bars for a while. What If you walk down the street and a person walks towards you and you barge into each other and you dislocate the persons shoulder? Would it be acceptable to stand your ground or because you caused injury to the person would you have to take the consequences of your actions? For me the bottom line is that young people look to adults for what is right and wrong and we as adults are not sending them the correct message in rugby union at the moment. The image of the sport is very much the key to the future of the sport.
Posted 10:45 1st July 2009
Tony Moss says...
Too much talk about Burger, Botha, O'Driscoll etc and it's all nonsense. The Lions lost, albeit just about but they did, so get over your conspiracy theories all of you. I'd like to talk about the tour in general. I've seen every game, some have been excellent, some a little dull but the two test matches have been as exciting games as I can remember. Someone said you shouldn't congraulate failure and that is right, but 5 weeks prep V's 5 years, the Lions have come mighty close. I do wonder what might have happened if they'd had a little bit more prep time and as such, I am desperate for the next tour to be a proper tour, with a minimum of 14 matches. I know this interfere's with domestic and European tournaments but the Lions concept is so intriging and unique, it has to be given the very best chance. They have got just shy of four years and I really hope some sensible decisions are made to give them the very best chance possible.
Posted 10:26 1st July 2009
James Cox says...
Let it go boys... let it go...... The whole BOD / Umaga affair was pulled way out of proportion in NZ and the same is happening now about the Bok's dirty play. Don't let us lose all the deserved respect for you guys through further constant crying and sobbing and complaining.....It seems like a dream .... it has happened before .... and the constant factor is that the Lions lost.........Let it go.
Posted 10:00 1st July 2009
James Cox says...
I'm starting to get the feeling that the Lions fans are starting to fish for compliments so that they can lay claim to be a great side! Look - they lost to an out of form Bok team and now ( as in NZ 4 years ago ) they are looking for some recognition. Well done boys you did a good job and was very competetive and you should be proud!! To the fans - brilliant I think your presence leveled the playing field and your behaviour was impressive.But you still lost so start concentrating on the 3rd game - and leave all the other issues aside ( apart from Burger) that's how Test rugby should be. The Boks have a 3rd game and then the other 2 big boys! Let it go.....
Posted 08:58 1st July 2009
Tony Breeze says...
Stuart, the Burger incident aside, the Springboks won because the uncontested scrums allowed them the freedom to bring in their set moves and use a player of Habana's skill and incredible pace. I believe if the scrums had remained contested then the Lion's pack would have continued to make life difficult for the SA scrum thus nullyfying the advantage from the uncontested scrums. What can be done to avoid uncontested scrums, they take away one of rugby's great contests?
Posted 17:04 30th June 2009
Brian Tompkins says...
I can not understand why everybody is still going on about this and why can't the Lions fans just accept that they have lost?, yes they only lost by a few points in both game but in the 1st test the only reason that they came close was becuase of the stupid subs made by a coach who wouldn't even be able to choach little kids. Yes Burger should be banned, even though haveing seen quite a few replays I can not see him once gouge the eyes (im not saying he didn't, I just couldn't see it). Bakkies should never have been citied and banned, how can you ban a player for going in too hard? ITS RUGBY!! not football... The reff did make alot of mistakes in both games but when do they ever get every dicission right? how can they have citied Bakkies but not Shaw for atleast 4 high tackles, BOD for the extremly bad "tackle" on Roussow or ROG for that peice of stupidity against Du Preez. Lets just hope that the next and last test is a good game and the players and reff do not ruin it. (and a Boks win!)
Posted 14:33 30th June 2009
Gareth Roberts says...
As a rugby player of SA and Welsh origins, i have read some rather pathetic comments from both sets of fans. The second test was a classic hard fought encounter that will live long in the memory, regardless of that criminal Burger and his happy fingers! I honestly believe all transgressions after that point were out of frustration born from the clueless officiating, they were in a word, awful!! When a ref doesn¿t stamp authority on a game, the players will attempt to do so themselves, that includes the hard late hits we saw from both sides. Whilst this is unhealthy for the game surely the real answer is to improve and regulate refereeing around the globe to a much higher standard. On another note, If only that socially impotent SA coach had started with the superior Brussow instead of Burger, and McG picked a better bench(which he could have!) , Imagine what a test we would have had then? and with no need to endlessly discuss one idiots sorry actions! I say congrats to the lions for putting up one hell of a challenge, and also congrats to the Bokke for their 97 revenge, you deserve it, just!! Looking forward to a 3rd violence free test, rather optimistically!!
Posted 14:32 30th June 2009
Donal Coman says...
to bok befob ( the plonker)! to have a go at the lions for losing a game from 18-9 up is a bit rich considering the posession and lead south africa threw away the week before. the lions were beaten in south africa lest we not forget,at altitude, with most of the players after finishing long seasons for club and country. a squad of players with 5 weeks training take on the world champions in their back yard and lose 2 games by less than ten points, while the boks squad had being wrapped in cotton wool waiting smacks of ignorance on your part. im not going to get into the dirty play saga (we all know as does burger that he's coward for what he did) but the 2 matches have being very exciting to watch. the lions have come to south africa and although beaten should hold there heads high. maybe you should have a think about that before you hurt your big head when eventually the weight makes you hit the ground! to all south african supporter's with a bit of humility i say congratulations!
Posted 10:50 30th June 2009
Dave B says...
To all the Boks fans out there, I have seen numerous blogs on this website giving credit for the SA victories & I would imagine there will be plenty more after the series is finished. Also, fans of the Lions, who have lost 2 close, hard fought tests, will always look for reasons for those losses & debate accordingly. I would defy you all to honestly say that when the Boks lose a match you don't criticise the officials & make many 'what if' statements - that is the nature of winning & losing in sport. So here's hoping that come the weekend, after hopefully another epic battle on the rugby pitch, it is the Boks fans who are whingeing.
Posted 09:12 30th June 2009
George Webb says...
To all the Lions supporters blogging here : This is not an arrogant Springbok support but a RUGBY supporter. Give credit where it is due guys! Apart from Schalk Burger`s unforgivable incident, the game was played as a ferocious pace. Sure I support my countries team, The Boks, but there were infringements on both sides throughout BOTH games. We proved to be the side that could handle the pressure & WIN the games. No good going on about this and that incident. Be a sportsman & give credit where it is due!! The 2009 British & Irish Lions have lost the series! We gave you guys the credit in 1997 - now give the 2009 Springboks their credit!! This is not an insult - but you Poms are living up to your reputation : Whinging as usual!! Give it up start planning for your next B & I Lions tour to South Africa in 12 years time! We look forward to it & WILL BE WAITING!!
Posted 03:06 30th June 2009
John Ludgate says...
Well said Stuart re O'Gara and Vickery. I wish all the critics, many of whom have never played top class rugby would remember that players who feel they let themselves or their teams down (even if it is a15 man game) need all this abuse from know- it -all, but ultimately ignorant, so-called fans like the proverbial hole in the head.
Posted 02:56 30th June 2009
Richard Humphrey says...
People have picked up on the fact that the Lions weren't blameless in this and they're right. The Lions DID indulge in a bit of skullduggery. Unfortunately, they have only watched one aspect and have picked on that aspect. If I might offer a word of explanation?. I played Rugby for about 15 years including stints for pretty good teams. we occasionally had matches when our players were taken out. At that stage we'd look to the officials to do what was required. If those officials FAILED to do what we deemed was required then at that point normally the pack leader would grab people and say "Its up to us boys". At that point to coin a phrase "The post office was open and stamps would be given!!". All manner of on the ball, on the floor and off the ball incidents would take place. Whose fault was it? ...Ours, for being thugs? the opposition for being committed? or the officials for being weak..... Once you decide that your team has been hard done by and is not being protected and treated fairly, you'll take matters into your own hands. Regrettable but true. The Burger incident IF strongly dealt with at the time would have informed BOTH teams that foul play would not be tolerated. It wasn't and thats where the tit for tat actions started and escalated from...From both teams. Soo, in closing, the best team did win. A shame but there you go. There WAS dodgy play from BOTH sides but I have to say with the Boks having a series loss to expunge from their memory, a weak official in charge, and a committed team playing they did shade the Lions in the 'dodgy play' category. By the by whether there was intent or not in Botha taking out Jones, the fact remains that Jones is a 'professional' rugby player. He cannot play for some time now and financially I suspect will be hit hard by the incident. My thoughts are with him. WP all.
Posted 00:23 30th June 2009
John Bouchier-hayes says...
When are the IRB going to cite the SA coach de Villiers for bringing the game into disrepute for saying the eye gouging incident did not deserve a yellow card. When is there going to be some consistency Quinlan 12 weeks, Burger similar but much worse incident 8 weeks.
Posted 20:40 29th June 2009
Keith R says...
I think it is pretty clear than despite two test losses the Lions have installed much hope in rugby dreamers across the world. The Lions are about romanticism and the current regime has done a fantastic job in taking that ethos onto the pitch. To put a team together from four nations in such a short space of time and then push the World Champions to the limit in their own back yard with an exciting style of play is great credit to everyone involved. Imagine what they could achieve with a few extra weeks preparation and a larger squad. Maybe in the professional era these changes are required but then again maybe it would take something away from the huge challenge, which is what a Lions tour is supposed to be.
Posted 20:35 29th June 2009
Carl Robberts says...
When all you Lion supporters stop moaning you will see the only real bad point was Mr Burger and as a South African it was great physical game of rugby and both teams were excellent and as a South African we hate losing and i was here when England destroyed us 53 to 3 and every other game until latly since we have started wing with our latest bunch of guys but i never made any excuses and if 4 major rugby nations cant beat 1 well stop moaning but the lions must live on and never fade away.
Posted 20:00 29th June 2009
Brian Mc says...
Why do we always try to be defiant in defeat?? We should be magnanamous and move on. Yes, there were impressive and indeed valiant performances, especially from O'Driscoll, Kearney and Shaw but they ended in failure and these players will take no pride from that. Unfortunately at the top level, moments of weakness, foolishness or recklessness can cost games. On Saturday, it was O'Gara's weakness (I've seen it many times for Ireland) that lost the day rather than Burger's shameful recklessness. Yes, Burger should have been sent off but to say that we would have won if he had, is a feeble and hollow argument. We should have won anyway - but didn't!! Let's get some pride back this week.
Posted 19:26 29th June 2009
Ed Le-brun says...
Why so much vitriol in these posts? Yes Burger should've gone and it would be interesting to hear Peter De Villiers feelings if Bryan Habana gets gouged by Ali Williams or Nathan Sharpe but not all the Lions were blameless. Sheridan decided to fight fire with fire, O'Driscoll was bordering on the lunatic with the way he was standing up to the Boks and laying them out. And it is these ingredients that made it such a fantastic match. As for Bok Befob just one question the Boks were only just hanging on in the first test after leading 26-7. But for better finishing the Lions would've nicked that game and before the argument of the substitutions is thrown out did the Lions not have to make 4 changes in the 2 areas that they were dominant - front row and centre- that helped swing the balance back to the Boks. It was an awesome game, the Boks proved their champion class by winning a game most other teams would've lost. Could we just have some more humility from some of the SA supporters. You won 2 games by a combined total of 8 points. Not exactly the NZ 05 wipeout many were predicting. Congrats to all players (bar Burger he was way out of line) for showing why this sport is the greatest.
Posted 18:34 29th June 2009
Gareth D says...
Erm, yep, David P: I think it's "Peter" (as in, the coach) not "Jean" (as in, the centre), you should be referring to in condoning Burger's actions (which I agree, was inexcusable). Still, you're clearly a knowledgeable rugby man on all things SA (as a lot of British and Irish fans suddenly are), so I won't dare argue ...
Posted 17:06 29th June 2009