This week is the most significant yet in the stuttering managerial career of Martin Johnson. With the arrival of 2010 we are no longer heading away from the last World Cup, we are turning the corner, onwards towards the next one.
This week Johnson names the Elite Performance Squad and we discover whether the manager has developed a longer term philosophy or whether he remains as distrustful of fancy thinking and keeps his head down, selecting simply for Six Nations success.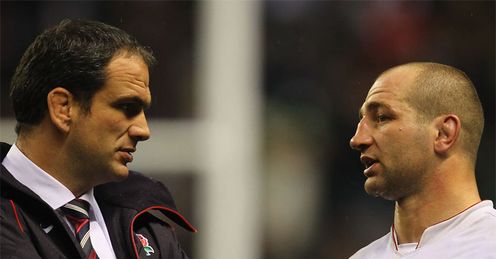 Under his tenure the team has yet to find any real rhythm. So profoundly afraid has he been of defeat that short-term negativity has held sway and breadth of vision has seen the blinkers applied. That has to change immediately if England are serious about being competitive in New Zealand.
Picking an experienced team to compete in the Six Nations and creating a squad with enough experience to live with the best requires some flexibility in thinking. Johnson's only idée fixe should be an absence of fixed ideas; thus far England have been held down by them.
UnderMartin Johnson's tenure the team has yet to find any real rhythm. So profoundly afraid has he been of defeat that short-term negativity has held sway and breadth of vision has seen the blinkers applied. That has to change immediately if England are serious about being competitive in New Zealand.
Stuart Barnes
Quotes of the week
The EPS should be selected on two levels; the best available men to create a winning culture as soon as possible, but there must also be a quality check. Will the men for today be good enough against South Africa or New Zealand next year? Unless the answer is affirmative only those with compelling reasons should be involved - even if their current case for inclusion is a strong one.
I find it hard to see Steve Borthwick captaining England to the next World Cup but maybe Johnson thinks his leadership is required to hold this formative side together.
Immersion
However the flipside of that is that men like Courtney Lawes need, but are deprived of Test-match time (to adjust more to the mental demands than the rise in skill for the Six Nations is great only in terms of tradition). He and others such as Chris Ashton have to get the errors out of their system to ensure they know how to handle them when the heat comes on in 2011.
Clive Woodward's early immersion of Jonny Wilkinson was not a reflection of the young man's pre-eminence amongst his fly-half peers back in the time of the Tour from Hell, but an acknowledgement that one eye has to be on the future even as the other is on the immediate.
When Berrick Barnes was injured en route to Australia's recent tour, Robbie Deans did not opt for the next best professional performer in that position. In his mind no-one fitted the long-term bill so he called up a 20-year-old rookie instead. This is the sort of flexible thinking required from England.
Thus far it has not been an obvious strength but Johnson started with no experience at all. That itself is an indictment of the process by which the populist choice was made but what's done is done; it will be fascinating to see whether the management shows more signs of broad intelligence as selectors.
The final weekend of action before the announcement was limited to one match as only Leicester escaped the clutches of deep winter. The fact the game went on typified the Tigers; an immense collective effort from everyone at the club with a huge amount of grit involved. That is Leicester in a nutshell - although the quality of the performance against Wasps was more than gritty.
The forwards were magnificent as the backs came out of their winter hibernation to produce precision enough to mark Leicester as the team the rest of the Premiership has to beat.
Galvanising
On an individual level two men stood out. Dan Cole cemented his burgeoning reputation and with the state of front row injuries appears a certainty for selection to the Elite Squad. The other eye-catching performance came from Danny Cipriani. He made one daft decision to run a penalty when his team were leading 8-3 in the first half but other than that he delivered a classy cameo.
The quality of his passing, the threat from his pace and the length on his punting were somewhere near the levels achieved before injury. True, he has a mediocre level of form behind him but in the long-term gameplan he is the man who should be galvanising the England back line - if he rediscovers his fleeting early form that saw him mesmerise Ireland and point England in a fresh direction.
To recall him to the Test team after a cameo would be brave but to omit such a talent from the Elite Squad with the World Cup forthcoming would suggest an inability to recognise the talent that shines through the difficulties experienced between Cipriani and the national coaches.
Now is not the time for digging in heels, England have sore need of winged ones on the pitch, not stubborn men off it.
Failures
This will be a telling week in terms of England but it will (weather permitting) be rounded off with the Heineken Cup action where Clermont versus Ospreys stands tall over all other fixtures. If the Welsh region gets anything from this match you can start forgetting the failures of recent Heineken campaigns.
Clermont know a five points to nil win, as they managed at home to Leicester, leaves them in complete control of this gripping pool. The Ospreys have a mountain to climb in the Auvergne.
Elsewhere Sale Sharks can keep their pool alive by beating a Cardiff Blues side that have disintegrated from last season. Another defeat against Edinburgh could put them under pressure to perform and make this into a thriller that will probably be played out in front of another small crowd. Where have the fanatical Welsh supporters gone? There is much more to rugby than international rugby boys, honestly!
Stuart answers your emails...
Got a question for Stuart? Email him at skysportsclub@bskyb.com or use the feedback form below...
THE PERFECT 10?
Stuart, continuing the theme of international fly-halfs, who should Scotland go with? In the two Edinburgh v Glasgow games, Dan Parks ran the show, whilst Phil Godman underperformed. And do Scotland have any hope of improving on one win out of five in the Six Nations? Fraser Ross
STUART SAYS:Hope springs eternal Fraser, even in this winter wasteland. but it's hard to see Scotland making a major forward move until they sort out the barren situation at fly-half. Dan Parks has more control and a better kicking game, Phil Godman more invention but a lack of presence on the Test-match stage. If I had to select one it would be Parks but that hardly enables Scotland to develop an attacking game... neither is my answer to the first question, my question to Scottish rugby is what's happened to the raw potential of Ruaridh Jackson?
THE BIGGAR PICTURE
Hi Stuart - following your observations on the Irish fly-half situation I'd love to hear your observations on the Welsh number 10/12 spots. Would you 'blood' Dan Biggar in the 6N rather than Stephen Jones (in order to prepare him for the World Cup if Jones gets injured... or even to replace him if Biggar continues to improve)? Also what of James Hook? I feel we need him in our team as our backline was very uninspiring in the Autumn (and indeed at times in the last 6N) and does lack creativity with Gavin Henson missing and Jones at 10. Unfortunately barring a move to the Blues, Hook is unlikely to be utilised in at 10 in the near future (a shame); with this the case would you play Hook at 12, even if this means sacrificing Jamie Roberts? Matt Armstrong

STUART SAYS: Matt, Stephen Jones remains central to Welsh rugby but I would certainly not consign Biggar to the bench simply because of where Jones is NOW. Selection has to be on two fronts - IF the management are interested in a successful World Cup. If they are not I would stick with Jones and I would definitely play Hook at 12, where his frustrating absence of game management hurts a team less. Again I would mix the player involvement, using Jonathon Davies and Jamie Roberts rather than settling on a starting combination, full-stop.
CLOSE FOR COMFORT
Stuart, forgetting the current arguments over whether there is too much kicking - people usually qualify this by adding the adjective 'aimless' forgetting that there is also quite a lot of aimless passing and running as well - the current Guinness Premiership does have one huge asset... competitiveness. Last weekend's games had a grand total of 25 points difference between the sides over six games: a single three-pointer would have won the match for a different side in two games and a converted try in two others. In the this and two previous weeks there have only been three double-figure margins! This means that 14 of 17 games have been decided by seven points or fewer. I believe that you cannot underestimate the attraction these close games give to the supporters, as opposed to the enjoyment not felt by neutral experts looking for 'beauty' - and other ephemeral attractions! Dick Pearson, Newark
STUART SAYS: Dick, do you not think the closeness of these games is also a reflection of the mediocrity and the failure for sides to utilise attack?Look what happened when a Premiership team REALLY clicked. The Tigers smashed Wasps because there was some real quality of rugby on display. Beautiful rugby? I thought the scrum was a thing of beauty as well as the way Leicester finished 14-man Wasps off the first try. Close rugby is great and I adore the passion of fans but there's no reason why we can't have a better quality game on a more regular basis; shoot for the stars my friend!
Comments (11)
Doug Crowther says...
I would like to reply to Tony's comment about non-english players at Bath. We have an All English front 5, representing England and the Saxons. 2 non English back rowers, and at SH and FH. Now including Olly Barkley, the rest of the backs all qualify for England, supplying 2 to England and 1 to Saxons. So 4 out of the starting 15 non English qualified. Hardly killing the national team here then.
Posted 13:57 20th January 2010
Daymon Brocklebank says...
Stuart, you asked where has the Welsh support gone. I would ask you to remember that the WRU in their wisdom took proffesional rugby from the clubs and invented 5 (now 4) regions. But they were poorly conceived and we have three super clubs (not that super, though) and one trying and failing. Support only comes to the region grounds with a winning side (see Blues v Glous last season at Millennium Stadium). If the side starts to lose then the support drifts away. Dedicated support comes with a passion for the club, passion for the club comes with a sense of community. The welsh regions do not seem to express the community spirit and so the diehard support is not there. Regional rugby will fail unless the regions embrace the community.
Posted 15:33 17th January 2010
Andy Stubbington says...
Stuart,how long must we put up with steve borthwick as captain!What does Nick Kennedy have to do to convince Martin Jhonson hes good enough,he has so much more to offer than lewis deacon.I really think Johson has to show more guts and imagination in his selection of both players and coaching staff [ it seens to me there's still to much of a leicster influence in the england set up.And as as for mr andrew,what is his job?Please say hello to simmo my old scrum half at Petersfield when he worked for bbc south.
Posted 09:44 16th January 2010
Josh Leppard says...
Unfortunately, Johnson is not the man for the job. A conservative no mistakes second row is not going to pick Youngs and Simpson as scrum halves, Foden and Goode, Cole, Armitage, Tait, Geraghty. And too loyal to get rid of a few starting with the captain. A lot of talent going to waste.
Posted 21:54 14th January 2010
Michael Osborn says...
Stuart, whats your opinion on the england squad selection for the six nations, it seems that for once johnson has actually gambling for once with the unknown entities such as ashton and hape, also it can only be a good thing that delon armitige at full back after monye's disastorous cameo spell there, especially against argentina it was incredibly frustrating for all of us witnessing it. finally do you feel england have a chance of winning the six nations and what will they have to do in order to win??
Posted 21:19 14th January 2010
Jeff Doyle says...
Stuart, I would like to know who your favourites for the six nations are and if you could pick a new English manager who would it be and why? Personally I think how England didnt nab Jake White when they had the chance is just mental!
Posted 12:41 12th January 2010
Tony Moss says...
Dave, in answer to your question, personally, I don't think the poor performances we seen from the national team are anything to do with the overseas players in the premiership. There are of course several teams who have an over reliance on foreign players, Saracens and Bath being two examples of this, but look at the English talent both those clubs have at their disposal:- Goode, Cato, Barrett, Abendanon, Hape, banahan. And these are just the backs! The talent is out there Dave, the real problem is that the England management are either too inexperienced or too scared to divise a game plan to utilise these players. Thus far all they have divised is a slow stodgy forward orientated game plan and even picked the wrong players to execute that efficiently.
Posted 11:21 12th January 2010
Dave Head says...
do you think that the problem is not the manager but the amount of non eng players in our premier league,not giving the youth a chance.in the pro era money talks but do you think there should be a cap on how many non eng players should be in the first team
Posted 00:32 12th January 2010
David Dickens says...
This will be short and sweet. Can't agree more, we need to plan ahead and do it now. The only problem is they won't....stubborn and intransigient sums up the selectors and coaches. We will continue to try and bludgeon the opposition in to submission with an underperforming pack, and as a result, we will provide no space or pace on the ball for the backs. I wonder if I can find a French relative... can't bear to watch them again.
Posted 22:30 11th January 2010
Charlie Mayer says...
Simon I understand there is currently a review being undertaken on the sentences given to players for deliberate eye gouging. The current sentences are correctly seen as insufficient as the problem persists. In my view the player should be banned from playing all forms of rugby for life and should receive equal treatment from the judicial system for GBH off the rugby pitch (ideally a custodial sentence). The current ban of a couple of weeks is far too soft. What is your opinion? Thanks Charlie
Posted 18:52 11th January 2010
Harry Guy says...
Stuart, having recently seen the Wasps scrum be demolished by two great front rows in Newcastle Falcons and Leicester Tigers i have started to feel rather excited about the prospect of Jon Golding and Dan Cole being picked in the EPS squad. Both are young, technically very savvy and strong as oxes and show much more form and destructiveness at scrum time than Tim Payne, David Wilson and Duncan Bell. Do you think Johnson will throw caution to the wind and look to include these two on the 6th Febuary against Wales?
Posted 16:47 11th January 2010