That was a wonderful Saturday afternoon of rugby. I watched events unfolding from the awful press box position (far too low to the ground, if you want to know) in Cardiff. I have hardly ever seen such a finish.
It was an incredible game and one where the heart had to go out to a Scotland team undone as much by the savage injury toll as the inspired individualism of Shane Williams and a few of his talented friends. (On that note best wishes to Thom Evans from all of us within the rugby community.)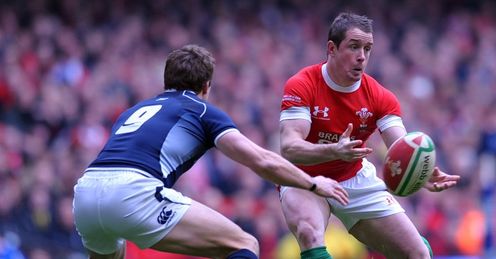 It was a game where a life in the media threatens to muddy one to the essence of the game. It is easy when the sport is your nine-to-five working life to become cold and analytical, but surrounded by the ever-growing insanity of the match and the changing faces of agony and ecstasy on the home and visiting supporters, this was a reminder that technical expertise is not the be and end all. This was heart and soul - mixed in with some Welsh magic.
Unlucky Scotland
In the end it prevailed but Andy Robinson's team played with more shape and structure than Warren Gatland's. The individuals won Wales this game; this was one not won on the training grounds of wherever Scotland prepared so well.
In the end it prevailed but Andy Robinson's team played with more shape and structure than Warren Gatland's. The individuals won Wales this game; this was one not won on the training grounds of wherever Scotland prepared so well.
Stuart Barnes
Quotes of the week
It was cruel on the better team but in an age where we have seen genius dismissed and berated, it was wonderful as a neutral to see the impish marvel, Shane Williams, winning the match with un-coached, woven spells. It was a glorious game as was the performance to follow from France.
Had they taken all the chances they made this would have been a great performance but on the back of a solid start in Edinburgh this French team has the look of one moving in the right direction. Or should that be directions? They are full-steam ahead towards a Grand Slam but also, as it has ever been with the stupidly maligned Marc Lievremont, the World Cup. France has pushed the boundaries on what works and does not for them.
How many times did I hear the fact he has used 71 players in his brief reign this last weekend? Okay, maybe that is a touch excessive but better to be too far wrong that way than the other where experience is the major criterion for selection but, of course, until he has several caps, a player will always suffer from the tag of being inexperienced.
France, for all its critics has a coherent selection policy and those who believe in the brain as part of the game will rejoice that things seem to be going France's way. Wales away appears to be France's for the taking on current Welsh form but the return of Mike Phillips would boost Wales enormously.
Neither Ryan Jones or Gareth Cooper offered a threat from the base and while Richie Rees speeded things up, Stephen Jones requires more happening inside him to give that extra split-second in which to slide his clever passes to the potentially match winning combination of Jamie Roberts and James Hook... and there is always Shane waiting to pop out of his box like Pandora with an array of frightening tricks for opponents.
Sing when you are winning...
But France will look forward to the next game having made major progress in their game. The English supporters who criticise my criticisms of England will, I assume, be delighted with England after recording two straight wins; after all, winning is all that matters, so I am told. If Ireland bounces back and beats England I hope this section of loyal support will quietly accept the defeat.
Those who would prefer England to plan for the future as well as the present (and the two are not mutually incompatible) have a right to be dejected after Sunday, when England's win against Wales (which was no better than their performance in defeat against New Zealand, just an inferior class of opposition) was backed up with a few steps backwards in Rome.
Give Italy credit but they have no penetration behind and are past their best with this particular front five. Yes, they were passionate but that should not be enough... and not would it have been had England managed to maintain the early flat alignment with Jonny Wilkinson passing into gaps and chances being made but squandered.
Martin Johnson knows that had England taken a few of these chances in the first hour the result would have been far more comfortable but isn't Johnson the manager who ignores the best finisher in England in the shape of Chris Ashton. Neither he nor James Simpson Daniel is perfect but while they were scoring five Premiership tries between them England were incapable of exploiting the Italian weaknesses wide where anyone with rugby knowledge knew Italy were vulnerable.
He had the option to be brave and take a look towards the future in a game England should have won well but where his French equivalent is brave Johnson is tentative. Having been pushed this close in Rome the chances of a bold selection have diminished greatly and it appears that fast tracking has become a back-burner business while players with known limits to their game continue to hold back progress.
Come Sunday night the benevolent mood that had enveloped this old rugby bugger all Saturday would have entirely dissipated if not for a decent effort from a Bath team re-ignited by Butch James. The fly half could be the answer to Bath's dire problems in the first half of the season.
What with Gloucester overrunning Harlequins there are signs that the west is awaking. Now to this week's mail...
Stuart answers your emails...
Got a question for Stuart? Email him at skysportsclub@bskyb.com or use the feedback form below...
Bending the rules
Stuart, I was going to start this email with "Cheating, cheating Irish!" as I have been dismayed by what they have been able to get away with over the years. However perhaps I am being a bit unfair on them and this sort of carrying on is indicative of the modern game. Referee Wayne Barnes could and should have given the Irish a couple more yellows and even a red in that game. Please don't say that the French are not exactly blame free because hat is not the point I am making. Teams are getting away with too much and this consistent cheating is spoiling our game.
Lewis Tilly
STUART REPLIES: Lewis, Hard on an Irish team that has only done what all good times have managed since rugby began and played the referee as well as the man. It may have upped itself a notch or two in recent times but it has been part of rugby as long as competitiveness has been part of human nature. Maybe the extra TV coverage simply exaggerates this unappealing fact of sporting life.
Credit crunch
Stuart, so England battled to a win against Italy. Are Italy that bad that any side can expect to go there and beat them convincingly? If they had a few backs they would give most sides a run for their money and perhaps we should give them a little credit for running England close rather than having a go at England and booing them? Just a thought.
Michael Elms
STUART REPLIES: Michael, You give England credit and I'll continue to berate them for not playing or picking teams that aspire to being world class. It's a good tournament in its own right, the Six Nations, and if you are happy with being competitive in that then good for you. But no moaning when the autumn comes because you'll have no leg to stand on.
Clock watching
Stuart, In your opinion should the game have been restarted after Wales had drawn the scores level? The restart happened a good 10 seconds after the full 80 mins. Surely after the penalty was taken and scored, the ball is deemed to be dead. Why then, were Scotland allowed to restart the game ?
Regards, Tim Dakin
STUART REPLIES: Tim, sitting in the worst positioned press box in world rugby I had no idea of whether the seconds were gone but if the conversion was kicked AFTER 80 were up, clearly the game should have ended. I presume George Clancy had more idea of time-keeping than me.
Super stars?
Stuart, I tend to think that you spend all your weekend watching as much rugby as you can occasionally stopping to replenish your glass of red so please forgive me asking you about the Super 14. Have you managed to watch any of the first round games and who impressed you the most from the first round? With the world Cup looming I always like to try and spot some young talent to tell my mates to look out for - any suggestions?
Tony Hodgson
STUART REPLIES: Tony, I saw The Bulls win at Cheetahs and the Waratahs pinch the win against an improved Reds team but trying to watch three internationals, broadcast from London Irish and be a perfect Valentine means some of the other games will have to wait until Tuesday and Wednesday. A fuller answer therefore in the post but again, Will Genia showed his ability didn't he? And to think, England wouldn't have selected him yet...
A vote of confidence
Hi Stuart, how badly would that loss have affected London Irish? They seem to have lost their confidence and I was wondering what you would do to stop the slide?
STUART REPLIES: Confidence seemed low before the match and that is no surprise given not just the number of absentees but the importance of many of them. The immediate future appears bleak without any obvious remedies but I think Irish must settle on a fly half and try and boost his diminished confidence. Ryan Lamb is talented but flawed; he needs to be cosseted and trusted to run a game. Let him take charge of a few sessions (training that is) and give him command at Newcastle in what is looming as a tough away game next Saturday night.
Comments (23)
Brian Ritchie says...
Anyone But England It's so easy to despise England when their supporters are so embarrassingly ignorant, lacking any vestige of respect for the game. The jeering, the booing, the singing of Swing-Lo (an American folk song) and the general surly, petulant, taciturn behaviour of English supporters during the Haka beggars belief. Such displays serve only to reinforce the notion that English rugby supporters are generally just a bunch of oafish louts. The Haka is one of the great spectacles that enriches rugby. You don't have to be an All Blacks supporter to marvel at its tradition and the values it represents. There is no shame supporting your country and willing your team to victory. There is every shame when your supporters feel so threatened by an ancient war dance that they don't have the confidence and class to appreciate that they demean the game with their pathetic counter-cries. England supporters, the inferiority complex you seem happy to embrace makes you the laughing stock of world rugby. Get a grip. You are surely capable of being bigger than a puerile display of stroppy, spoilt-brat niggardliness would otherwise suggest.
Posted 15:31 6th November 2010
Dave B says...
Frustration is the word to describe my thoughts towards England. At times, when they decided to keep ball in hand, they played some exciting rugby. But those times were too few & far between. The negativity of the kicking game, with the lack of chasing, drives me mad. There is a time to kick & there is a time to run; England are to naive or scared to know when is right for each option so they resort to what they think is safe & then execute it poorly. And to continue playing like that will be Johnson's downfall as they will lose the next 3 with these tactics. I remain ever hopeful that it will turn round but..........
Posted 23:08 17th February 2010
Julian Smith says...
If England play anything like they did against Italy, the Irish Scots and French are going to have a great time against us. England kick too much without putting pressure on the opposition back 3. When they ruck the ball is too slow, or they allow the opponents, like the Italians did, to slow the ball down. We do not play to the referee well enough either, for some reason, refs blow the whistle more often than not against the English, this I believe is because the opposition can adapt to what the referee is seeing, better than our boys. The captain has to take a lot of the blame for this. Last Sunday we were all looking forward to a better attacking display or at least a more improved display than we have seen recently, but instead we witnessed a poor kicking display from the hand, and never were the Italians put under pressure from those kicks. Kick to Ireland, Scotland and France they will love it.
Posted 13:06 17th February 2010
R T says...
Oh dear Adam Whiteley, you seem to display the kind of attitude that will keep us in the second tier of international rugby for years to come. As England we have no right to expect to be the best team in the world, just as we have no right to expext to beat Italy by a hatful.... However we have the largest player base in the world, by some margin and we can expect to see quality players coming through. We can also expect our coaches to pick the few quality players we have available and we can expect to see the national team aspire to the top by playing the kind of rugby that will win games against the top nations. 10 man rugby was once enough to make it to the top of the tree, the IRB fiddled with the laws rightly or wrongly to try to ensure that teams playing running rugby carried the day. Sad to say that currently we do not have the pack or the half back to play 10 man rugby if we wanted to. The cussed, backs to the wall attitude will only get you so far and only win you so many games. Sad to say all the traits that made Johnson such a great player and captain are exactly those that will prevent him from making a good coach - stubborness, misplaced loyalty, shortsightedness. With his attitude and fans with yours we will find ourselves becalmed in mediocrity for years. Yes England are woeful and no winning is not everything. I don't expect to see winning flowing rugby every game just the AMBITION!!
Posted 10:27 17th February 2010
Alan Churchill says...
I think that all English supporters should make the most of the two wins they have achieved to date in this years 6 nations, WHY? because on thier current boring tactical form they are not going to win another game in this years competition. Ireland have the players and experience to bounce back and will take them at Twickers, if Scotland can play for 80 minutes in the same manner but with better discipline than what they showed against Wales then the men from the North who by the way have a coach who know England inside out will be victorious. And France! I hear people mentioning Grand Slam decider, lets get real, England will be looking to avoid being the worst of British, on current form France will stick 50 on the white's and the sweet chariots will certainly be swinging at thier lowest.
Posted 06:25 17th February 2010
Paul Mccarthy says...
As a long time Football fan and not being brought up to play and be excited by the true foundations of rugby; that is, a fast free flowing game with swagger, steel and daring nonchalence for hurt. But a desire to throw long passes to hand and create an enthralling running game. Can I start by beginning a campaigne to make Shane Williams sports personality of the year 2010!! On the occasions I have sat and watched "the egg chasers" of England Rugby play I have always been left dispondent and flat and felt that the bit of DIY I should of completed long ago now does not actually look that bad an idea to finish on a bitterly cold Saturday afternoon! However, there is one sportsman; a wee little one in fact for that team in red who has continually made the hairs on the back of my neck weave and stand up in awe, like the anthem of his beloved country. That man is Shane Williams. What a player !! What a player!! He takes me back to the days of a damp 70's afternoon, where brown balls and sideburns in the shape of South Africa were the way. Everytime I see him play it is a sheer delight and a truly inspiring experience. H e is also a shining example to our children in how to handle yourself. And in a time where the big man is better than the small man may I finally add that the wee man still holds all the surprises. Well done Shane for at least putting me off that DIY for another week and making me play 'air' rugby in the living room time and time again!
Posted 04:03 17th February 2010
Philip Boulton says...
Wales were lucky they should never have been allowed to win when the penalty kick went over to draw level time was up the final whistle should have blown, brilliant display by Scotland let down at the last minute by poor officials. Best wishes to Thom Evans for a speedy and full recovery. I managed to stay in for the game on Sunday (it was our 20th wedding anniversary) god l wish l hadn,t what a pathetic dismal amateurish perfomance that lacked everything no direction no cohesion no talent no drive no kicking no running all this made Italy look brilliant did England have clones out and is this what we can expect for the remaining games, what a complete and utter disappointment after such a good start.
Posted 00:38 17th February 2010
Welsh Man says...
I think wales should stop playing a kicking game and keep ball in hand!!! they done that in the last 10 mins of the scottish game and scored loads of points! wake up and stop kicking wales!!!!!!!!!!!!!!!!!!!!!!!!
Posted 21:18 16th February 2010
Brian Parker says...
We are judged on results in the six nations. Martin Johnson will either be shown to be a genius who played a game where they always knew they had enough to beat the Italians, and therefore has lulled the Irish into a false sense of certainty that they will once again beat us, or he will walk at the end of this Six Nations tournament having brought a potentially top-class team to the lowest depths. Where is your money ? Some things are clear whether or not this was a front. We will have to massively improve our line-out as you can be sure the Irish won't simply lick stolen ball away. Jonny Wilkinson is NOT the man we need at out-half against Ireland, but definitely IS against France. Delon Armitage place must be in grave doubt as his performances have not been a shadow of what he achieved last year - for whatever reason he has gone backwards rapidly, and seemed clueless as to what to do with the ball in thelast two games. IF we can sort out the line-out, exert the dominance we (and most teams) clearly have in the scrums over the weak Irish, RUN the ball continually against a hastily rearranged back-line where the replacement full-back should be targeted, and DON'T continually give stupid penalties away, we can and will beat a shellshocked Ireland. We need to do something we are not renowned for - burst out of the traps and never let Ireland even smell our. Come on Johnson - this could be your finest hour if you can pull this off. Expect to see O'Gara absent in favour of the much more mobile Sexton.
Posted 10:03 16th February 2010
David James says...
The Scottish yellow cards were inevitable, part of their game plan seemed to be to stop Welsh fluency by commiting blatant penalty offences. Warning after warning from the ref until he had no choice. I suspect the ref played some extra time because of the blatant time wasting by Scotland at the kick off following Halfpenny's try. Stuart, buy a ticket like the rest of us and don't rely on the press box, you obviously get it too well for free at other grounds.
Posted 04:16 16th February 2010
Heath Purvis says...
At last we some action on flannerys dispicable act of violence and, kid ye not that was exactly what it was. Any one caught doing such a thing on a saturday night would be charged with assault and i fail to see how he wasnt red carded straight away. This has nothing to do with him being irish i feel the same about wade doolys fore arm smash on doddy wear many years ago and many acts of unnecessary violence that mar our sport. What really frustrated me was the lack of a damming response by the match commentators and pundits afterwards. How could this be labelled as a trip or a missed time kick at the ball. I dont want to hear any apologists talking about the pace of the game or other cobblers either. I would drop him for stupidity if nothing else.
Posted 21:04 15th February 2010
Andy Robinson says...
Dear Stuart,Having played against you many years ago and knowing your flair and penchant for running rugby does it not break you heart as it does mine to see the aimless pin gpong kickingParticularly by England .Why do the forwards say that winning the srummage battle wins matches andthen watch as either scrumhalf or fly half or centre or wing or full back kick the precious possession away.Is this all the professional rugby player can think to do after trainining all day.
Posted 20:35 15th February 2010
Michael Jackson says...
hi Stuart having watched yet another pathetic and very negative performance against Italy were they given orders to kick away as badly as possible every time they got the ball ? After a bright 3 min start to the game their unimaginative play just seemed to suit the Italians game. I felt very sorry for the thousands of England supporters who spent a lot of money and time to see a Rugby match. I think that Johnson should repay everyone of them and then be made to sit down and watch the Exiles / Bath game.This was how the game should be played. We all want to see exciting, positve and aggressive play with good ball handling and lots of flair and ambition. cheers Mick ALLEZ BATH
Posted 19:42 15th February 2010
Adam Whiteley says...
woeful? rubbish? lacking passion? i dont care what any one of you says about how bad england were, lets look at it this way, its the last game of the 6 nations, england are playing italy in the final game away and win 17-12, i wonder how many people wil be coming on hear mouthing off at how bad england were then, having just been crowned 6 nations champions, sir martin johnson did i just hear? grow up you lot, and realise a win is a win, and that is that.
Posted 19:38 15th February 2010
Ben Todd says...
I have to say that I am fed up with watching England playing a negative and boring brand of rugby. On saturday England showed glimpses of quality attacking rugby with ball in hand, you would have thought that seeing Flutey making a clean break through the mid field would show Jonno that his players are able to beat their opposite man! Seeing England just kicking away so much ball is pathetic! If you are picking a back line to just chase aimless kicks, then just go to the team GB sprinting squad. How can a back line put their stamp on a game when the ball is just being kicked from one end of the pitch to the other. I would love to have seen Armitage, Cueto and Monye running the ball back, try and get their forwards going forward. Congratulations to France for having a manager with aspirations of being the best team in the world, not just winning next weeks match by any margin! Yes Lièvremont has tried 70 odd players, but the cream is rising to the top and we are seeing a northern hemisphere team looking to beat the tri-nations teams. Please Jonno, take a chance on the young lads doing good things in our premiership, build a team for the future, not just next week! P.S. Welcome back to the Rec for Butch James!
Posted 19:09 15th February 2010
Allan Rutherford says...
Having watched England (YET AGAIN) produce the most boring sterile attempt at playing International rugby I ask the question: Should the complete structure of the RFU be disbanded and start all over again. This is not something new. Rarely in the last 40 years of following England (I am English despite living and working in Ireland), have they produced a coherant, exciting brand of rugby. I am afraid that if a customer paid the kind of money for watching England in any other entertainment sphere they would demand their money back and certainly not return. Having spent over 20 years involved in schools rugby in the UK I KNOW THERE IS TALENT OUT THERE , equal to the talent on show here in Ireland ! Unfortunately as a country the RFU remain blinkered by the success of winning a World Cup and the way in which it was won ! If the game is to have any future then we need to introduce personnel with vision and not maintain the mechanised rubbish that Martin Johnson, Rob Andrew and their predecessors churn out. I hope you have the courage to put this on the site as I along with thousands of others must feel deeply disappointed by English rugby !
Posted 18:03 15th February 2010
Stepney Glos says...
Barnsey, Do yourself a favour and watch the highlights of the Glos/Quins game. It was the best advert for a game we used to call rugby. Took me back 20 years or so. Terrific entertainment. No ping pong, no line of 12 stretched across the middle of the park - just running, passing, tackling and good rugby brains. Quins played their part, never stopped trying to run the ball and never gave up - all credit to them; the Glos scrum was awesome and some of their handling a complete delight. The score may have flattered but the game, the attitude of the players and the spectacle was everything that is right with the the sport. What a contrast then with the sludge that England came up with. A completely different game. Can you honestly tell me that kids would be inspired to play the game watching that farce? What a complete waste of talent and time.
Posted 17:23 15th February 2010
James Huws says...
Tim Dakin - when Jones kicked the penalty, the clock had not gone to 80mins yet. Yes, it had ticked over 80 by the time the restart had occured, however after the kick had gone over, the ref said there was still time for one more play - and there was and thats fair enough. Scotland could have kicked it out, they could have tapped it 1 yard, then picked it up. Both would only be a scrum not penalty and game over.
Posted 16:54 15th February 2010
Jeremiah Quirke says...
I am aghast at the comment made about "cheating, cheating Irish". All teams bend the rules in order to gain an advantage because winning is everything at this level. Why is Richie McCaw recognised as the best player in the world? Not only is he a talented rugby player but also an intelligent player who plays the referee as well as the opposition. To target one country over this issue is incredibly obtuse and prejudiced. Shame on you Lewis Tilly!
Posted 14:33 15th February 2010
Liz Monk says...
I thought the rugby this weekend was poor. Wales were lucky to win and only did so because of the second sending off for Scotland which I could not see the reason why. England were poor and were lucky to win. They kicked too much and looked a much better side when they were running the ball. Ireland never turned up and were lucky not to have more players sin binned. There only looks to be one six nations winner to me and that is France.
Posted 14:00 15th February 2010