"Both players, 13 Leicester and 14, Northampton threw punches at each other and both connected."
So it was that the assistant referee Robin Goodliffe let down his referee Wayne Barnes, who had not seen the incident; Chris Ashton, who was subjected to an ugly assault from Manu Tuilagi; and the game, with a wanton display of hot-headed thuggishness excused with a yellow card.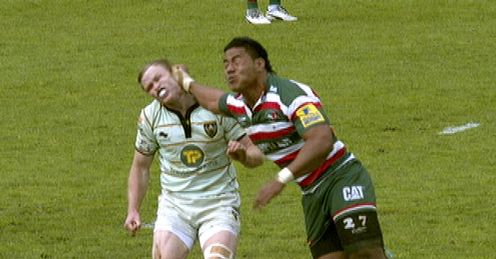 Goodliffe stated that he saw the incident quoted above. That simply cannot be true because it never occurred.
What did occur was a one-way battery. It started with a high swinging arm off the ball to check Ashton's support run. The Saint, smashed on his blind side, retaliated - if that is the right word - with a gentle shove to the Samoan's neck. The Leicester centre then bounced to his feet and laid into Ashton with two lefts and a right that probably would have broken Ashton's jaw had it been a few inches lower.
Tuilagi must face a punishment and so must Goodliffe, only his should be more severe. There will be violence, that will never be completely eradicated, but the sport has to ensure it is capable of punishing the guilty party accurately. The assistant referee did not.
Stuart Barnes
Quotes of the week
Ashton's 'punches' consisted of no more than two open-palmed attempts to fend off his assailant.
I was sitting 50 metres further away and saw the punch immediately. True, the assistant referee is at touch level so there could feasibly be an element of obstructed view, but the assistant categorically said he witnessed the assault.
Leicester were excellent in the second-half. 15 against 15, they were the better team but apart from Richard Cockerill who was the only person in the stadium who didn't see the gruesome slow-motion lingering replay on the Big Screen, everybody knew a massive injustice had occurred.
The Leicester Director of Rugby's post-match aggression and his perpetual abuse of the referee assessor, Brian Campsell, reflects badly on the club whose team for all bar a few insane seconds played with controlled fury.
Leicester will probably take action against Tuilagi in the way most teams now do, to try to circumvent the citing commissioner but whatever happens he will miss the final unless Twickenham decides to bring the sport into disrepute by backing the assistant referee and his false claim.
Banned
In the immediate wake of the game the talk was of how long Tuilagi is banned. That is NOT the point.
There is no defence for what he did, not the tender years, nothing, other than the fact that he is a human being like the rest of us and we all do things we regret afterwards.
Small betrayals and outright lunacy, most of us have our moments. It would be a disgrace if the ban does not impact upon his hopes of representing England at the World Cup.
The match ban should be of sufficient length to make the punishment fitting. If he receives a mere three weeks and is available for the latter stages of the Churchill Cup it will seem as if the RFU is looking after vested interests.
But give the man his punishment and let him be. It is not a six-months offence and when his time has been served away from the game he should be welcomed back as someone who has paid his penance.
Plenty of players have been adjudged guilty of worse and returned redeemed characters. Dylan Hartley's gouge sentence has been and gone and even the manager of England served a few suspensions and few thought the worse of him for it.
What Tuilagi did was awful but these things, much as we wish they didn't, do and will continue to happen on a rugby field unless we make players wear coloured straps and stop when they are touched.
Problem
The problem is not the player but the official. The Union has to act publicly. It will not suffice to state that assistants have a hard enough task and public criticism will steer people from the game.
Frankly if one of the leading officials can falter under the pressure exerted at Welford Road then who cares who assists the referee?
Tuilagi must face a punishment and so must Goodliffe, only his should be more severe. There will be violence, that will never be completely eradicated, but the sport has to ensure it is capable of punishing the guilty party accurately. The assistant referee did not.
Out of this mess there could yet be something good. Rugby has improved technology courtesy of the television match official. They are not allowed to interfere with the man in the middle's running of the game but in France, believe me they override the official rules and act as another set of eyes with the benefit of television replays at their disposal.
One of the world's leading referees, Dave Pearson, was the Television Match Official Saturday. Had he spoken to Barnes instead of listening helplessly to the fallacy of Goodliffe's words the injustice of what transpired could have been avoided.
"Did you see anything, Dave?" That is all Barnes had to ask the man in the TV truck.
"I can't answer, Wayne, you know that is against the rules but Robin is talking out of his backside; Ashton is innocent and Tuilagi MUST be sent off. Look at the bloody screen, man."
Instead we followed the rules and justice did not prevail as a direct result. Referees need as much help as possible, especially with such awful non-assistance from the touch line.
Let us use this fiasco to utilise the extra pair of eyes in the truck in a manner that suits the law-abiding British. The French referees don't care for the law as much as they do for accuracy and justice.
I am with the French. On that note it is over to Romain Poites and next weekend's Heineken Cup Final.
Stuart answers your emails...
Got a question for Stuart? Email him at skysportsclub@bskyb.com or use the feedback form below...
Ref justice
Stuart. It's easy to criticise officials, but remember the assistant referee sees things live and at ground level and Chris Ashton didn't help by not collapsing in a heap as most of us would have!! To be fair this is the first time I've seen Manu lose it! Robert J Purnell
STUART SAYS: Robert, the assistant referee said he saw the incident. Had he said 'I think' or 'not sure' your comments would have some small semblance of justification but Goodliffe stated he saw something that did not happen... I saw it live, not at ground level but 50 metres further away and KNEW Tuilagi had to go. I'd rather defend Tuilagi than Goodliffe over this and the centre's action is indefensible.
Is it ever acceptable?
Stuart. Even as a Leicester fan, the Manu incident is an indefensible red. No question it would have changed the game, despite the Tigers being the better side in the second half. My question is, where do you think the acceptability line lies between what is 'professionalism' and what is an obvious red card assault? At the forefront in my mind is our quarter final with Leinster. Throughout the game, the Irish consistently 'professionally' infringed in the lineout and about the park, and at the time you (rightly, in my opinion) mentioned that Leicester were not doing enough to alert the officials to the situation, perhaps by a quiet word, perhaps (reading in between the lines) by making the point physically. Obviously, Manu was a way over the line yesterday, but it was clear Northampton had arrived with a gameplan to ruffle Leicester, shoving, latish hits, 'letting us know they were there'. Was Manu's response partly frustration at the niggle as well as that single incident? Is there any point in the modern game where a punch (OK, not that one) is acceptable? Phil / Leicester.
STUART SAYS: Phil, the best referees have always understood that the game functions best when there is an element of self policing. In these PC days no official will ever come out and agree but believe me, some of the most-respected referees of recent times all concur. That was my point re the Leinster line out; risk a penalty and throw a handbag to get the attention of the referee. The good ones should understand the difference between that and thuggery. Toby Flood, in my opinion, was right to throw a nothing punch in the direction of Dylan Hartley after another late challenge and notice how Barnes did not reverse the penalty.
But the scale of the Tuilagi punch is off the scale; it was a wild moment without any control or reference to the events going on around. Leicester management and fans who justify it do themselves and their club no credit.....He should be dealt with, banned and then allowed back into the game as happens with all other offenders. My greater concern is with the laxity of officialdom, please read my thoughts above if you have a minute.
Comments (96)
Kevin Mitchell says...
This is all a bloody joke.Manu he's only 19 and whoever taught him to tackle needs a new job.Then Ashton caused the reaction if Manu had tackled him even legally the fight would not have happened or the yellows and following ban.So its rubbish the reaction caused a reaction bull.Should have stuck to playing rugby because 19 or not put him in a real test match if he's that good and watch him get eaten up in September as that will teach him a thing or two.
Posted 22:05 2nd June 2011
Simon Ainsworth says...
6 months for few punches?! You guys must be nuts! You would think he's the first person to ever lose his cool in a game of rugby. He has been suspended and will miss the clubs biggest game of the year as well as the Churchill Cup, sounds like a fair punishment.
Posted 19:47 22nd May 2011
John Markey says...
Tuilagi, is a thug and should have received more the meagre excuse for a suspension that he received, 12 months would be better. I have a 9 year old that now thinks this is acceptable. But everybody seems to have neglected Ashtons attempted knee in the back when Tuilagi was on the ground. Ashton has proven time and again that he has poor discipline and should have been yellow carded for kneeing his opponent in the back.
Posted 08:45 22nd May 2011
Rob Roberts says...
"Mick Collyer says"...thought I lived on a different continent! Look, no-one is trying to defend Manu's actions. And no provocation from Ashton justifies such a reaction. But please also don't over-egg the pudding here. Rugby is a physical game and often involves actions in the heat of the moment that go unreported. Generally if something similar happens amongst forwards then its 'handbags at a dozen paces'. Lets also not characterise the most successful English club in history as being cheats or thugs, or that they are less entertaining than others. And don't start on the spectators - I think Welford Road is one of the few remaining grounds where the home ground respect the opposition and applaud great play as well as being quiet during place kicks. Referees and their Assistants also make mistakes - every one does at some time. Whether this series of mistakes would have drastically changes the course of the game who can say? It is also a mistake to castigate Manu as a thug. He is a young gifted lad who deserves the chance to serve his time and light the world for the quality of his play.
Posted 07:12 20th May 2011
Sam Walker says...
Can people stop saying he didn't knee Manu. If you read the trial report from Manu's hearing it clearly states that Ashton caused the reaction by leading with his knee, Ashton himself has confirmed this. Also according to the report if Ashton had not recieved a yellow card he would have faced a level one citing due to use of the knee.
Posted 22:27 19th May 2011
Jonny Smith says...
To Patrick O'Connor - Ashtons' knee made no contact with Tuilagi and get your damn eyes tested mate cause Ashton didn't throw punches he tried to protect his head from the vicious onslaught from Tuilagi. You heap ridicule on yourself by claiming this and clearly don't watch much rugby.
Posted 21:31 19th May 2011
Jim Smith says...
The sentence is a complete and utter cop out. This guy should have been banned for 6 months and if as a result he were to miss the world cup, then so be it. This smacks of the RFU protecting their own position and sends out completely the wrong message. As for Richard Cockerill-his comments came as no surprise. he has done himself no favours.
Posted 16:32 19th May 2011
Daf Gibbons says...
I'm starting to worry about what people have seen and what actually happened... Ashton didn't sink his knee in the back of the guy, he knelt down to push the guy. It's hard to knee someone in the back and push them at the same time. I can't believe people are saying Ashton always winds people up so deserved it, regardless what sport you play you chip at the oppostion. Rugby is a game where you wind people up so they make those sort of mistakes and get punished for it, and if you over step the mark your carded for it yourself but you do it to give your team an advantage..lets not forget this is rugby! on the pitch you can't show weakness or allow other players to feel they have one up on you else they carry on targeting you. if you really want to play a game where if you get hit, you fall down we have football for that. Northampton went to ruffle Leicester i don't see where the harm is, if they had of over stepped the mark they would have been carded simple. The one time they really did ruffle a leicester player he didn't get the punishment he deserved. Some will look at the was a 10 week ban that's been cut to 5 as the next talking point but it's done now the lads missing the final, and some pointless Saxon's games ironically he'll probably pass the ball for Ashton to score the winning try at the World Cup in October knowing the funny way life works out.
Posted 20:34 18th May 2011
Simon Henderson says...
I totally agree with Stuart Barnes comments, I have watched the incident over and over again, Tuilagi first of all took Ashton out high and late and he knew exactly what he was doing, Ashton retaliated with a shove in the back and if any of the people writing in are rugby players they would of done exactly the same, if anything Tuilagi should of apologised after the late hit, but he carried on the assault, not just once but three times he punched Ashton with the third one being the worst one, I agree with what someone said above about, what if he would of broken his jaw or even worse the punch could of caused permanent damage or even could of killed Ashton a fatal blow to the head with that much power can maim or kill, if that had happened in a street or outside a pub he would have been arrested and spent a night behind bars and probably a GBH charge against him, also what does it say to all the children watching and yes he is only 19 but now is the time to learn that this should not happen and never happen again, he should be banned for 6 months and the linesman should be banned for 3 months, this will then send out a true warning to players who try to take matters into there own hands
Posted 17:46 18th May 2011
Arthur Richardson says...
hi could i say that john atkins is 500%spot on with his comments-may i say that the game was a hard ,close to the edge game of rugby-yes rugby at its hardest between 2 top teams,i too saw- heard alot that went on off the ball - and it smacked of do what you have to do but do it whatever to stop certain play makers from expanding the game of rugby-it was quite obvious that some players were told to rough it up abit from northampton -stuart barnes would not have had a chance with modern day proffessional rugby and we all know why -too slow and not gifted hey stu-you commentate like you played no good -nosense -and an amature- has for the so called other teams teams and those so called supporters- look at the history books - its plain to see isnt it -we are proffessioal at leicester so catch us if you can - on manu yes it was wrong to retaliate -which is what he done ?look at it like me ,i go to watch and pay to be entertaied by 2 teams -i got that last saturday - rugby at its hardest- good luck saints for the heinekin cup -go win a 3rd championship on the trot tigers- 8 finals on the trot is it-to you others stop bleating get wise and get proffessional - heres to the final and i hope another successfull season next year-
Posted 17:36 18th May 2011
Chris Lloyd says...
Hi Stuart, I am a lifelong Rugby fan, but never in all my years have seen such unprovoked and unnecessary violence. Rugby is a tough game, and not badminton as they said in the studio on Saturday, but there is no place for this sort of assault. If this had happened off the rugby field field he would have been charged with ABH. A quite serious offence! Maybe a "red mist" of whatever and we are all human etc, but the punishment should fit the crime. He should be banned for a substantial period so he gets the message and so do other would be perpetrators who get a red mist descend. As for the linesman; throw him out of the game. He's a liar fullstop.
Posted 15:14 18th May 2011
Greg Richardson says...
First things first, red card - yes, bad officiating from the touchy - yes. The comment I want to make is in relation to Ashton having this coming to him. Every time I've seen him interviewed he is clearly confident but he is also a funny, self depreciating character. He is also not the first to dive to celebrate scoring his try and given the fuss people have made over it, I'm a little surprised that these self same people are not finding their way to comment on the spate of celebrations in the Super 15, including break dancing to celebrate. I find this more inappropriate, yet still far from offensive. In fact, I don't think I could name a nation who doesn't have players who have some form of celebration. I don't remember people tearing Will Greenwood to pieces when he celebrated his tries. Chris Ashton is a good young player. He should be allowed to play with the exuberance of youth and we should allow him to have fun playing the game. At the same time, Tuilagi threw punches on the pitch. This is not new, it deserves punishment but lets drop it. The kid has learnt a vital lesson, one a certain Martin Johnson took a while to learn himself, and once his ban is over he should be back in the frame for England honours. As for Cockerill, maybe he needs to throw his Wenger Guide To Management away.
Posted 10:03 18th May 2011
Steve Brooks says...
In reply to the wise words of John Atkins. Just a few points I'd like to bring up. Firstly, you say you had a better view than the "Armchair" fans, but how can that be when these people were privileged with approx 15 or more replays from many different angles and at many different speed and in HD, whereas you were some 35 metres away with only 3 or 4 replays from a screen 50 -60 metres away. Fair enough you may have watched it on TV or the Internet the next day, but your opinion had already been formed. Secondly, if you honestly believe Stuart Barnes always talks rubbish, why read his Blog? Why actively seek peoples opinions you know you will disagree with? Thirdly, you say to people to form their own opinions yet you feel it necessary to reiterate your point of view to those who disagree. I do agree with you that Ashton wasn't completely blameless. Had the only offence been his push in the head then it would have been a penalty against him, and nothing more. Certainly not worthy of the repost he received from Manu. Or the yellow card issued to him by the officials. Manu deserved a red card and now deserves a ban of around 4-6 weeks. Stuart Barnes is correct, the Officials who made these appalling decisions are the ones to blame and should be punished accordingly. I know I would be if I blatantly lied to my employers!
Posted 09:43 18th May 2011
Andrew K says...
Stuart, you say if Tuilagi had connected a couple of inches lower he owuld probably have broken Ashton's jaw - which seems pretty unarguable. It was a ferocious asault. You then say it was not however a six month ban. If this was done on the street - that someone attacked another and broke his jaw with such an onslaught, one would imagine a minimum of six months incaceration to be justified. So how is such an attack not worthy of a six month rugby playing ban. Not to my memory have I seen anything quite in the same league in terms of punches thrown and intent on a ports field.
Posted 09:22 18th May 2011
Matthew Todd says...
Wish people would stop calling Ashton's push a 'strike' to the back of the head..it was far from it, plus if that was an attempted knee to the back it was pretty feeble, it almost looks like he bottles it at the last second...i get the impression theres alot of Ashton haters out there just becuase he enjoys what he does and does it with a smile on his face..some call it arrogance but to reach the top you need a certain degree of arrogance...Ashton did nothing wrong..people just dont like the fact he behaved as a model professional after the event because it leaves them with nothing to criticise him for
Posted 09:08 18th May 2011
Gary Ellingham says...
Alby Smith - why ban Tuilagi? Do you want the game dragged back 20 years to when attacks like that were acceptable? Patrick O'Connor - Ashton's feebleswipes' were the action of a man not expecting to be assaulted by a fellow 'professional'. Tuilagi showed that he doesn't have the mental strength to match his physical strength, and therefore needs to be taught a lesson. Lesser actions have attracted 6 month bans so he deeserves everything he gets in my mind. As for use of the knee - open your other eye (if you have one)!!
Posted 08:46 18th May 2011
Alby Smith says...
What is the point in banning tuilagi now? He should have walked and both he and his team would have suffered! A massive cop-out from the officials due to the venue. Officials need to be strong during these fired up encounters. One punch is a sending off offence. cockerill is a disgrace to the game too for his blind eye comments. Leceister have always been a good side and deserve to be champions for their efforts during the season and teams should not have to endure the charade of play offs after a hard long physical season.
Posted 18:43 17th May 2011
David Heron says...
I must confess to being a little suprised that this incident has prompted so much interest and debate. For my part (a Tigers fan), I am more upset at Cockerill goading the officials, than I am that one of our players (a 19 year old) lost his temper and threw a punch. Making no excuse and not condoning the punch, let's move on. Manu will get banned and miss the biggest game of his life and perhaps a chance to play in a World Cup. I have never played in a Guiness Premiership semi final, nor have I ever been a professional rugby player (I suspect most of the people making comments haven't either), but I can't help but love everything about the passion and intensity of the Tigers v Saints game. Northampton were brilliant - On the edge, pushing and shoving, the odd late tackle and niggle; Leicester were the same and that is what made it and what makes rugby union a great game. When the stakes are high, people are on the edge - We need that to be successful. What our national team lacks is edge (watch the Ireland game in Dublin this year and see how much edge they had). Wherever possible, we all hope that this is kept within the confines and spirit of the game. Every now and again it won't be. Let's not berate the guy for having an egde, let's help him harness it and channel his energy. He is 19 years old for God's sake! We will never know what impact it would have had had Manu been sent off (which he should have been), but all of this "long ban stuff" is rubbish. Let's move on. I wish the Saints all the best on Saturday - If they play on the edge they have a chance :o)
Posted 14:29 17th May 2011
Jon Smith says...
"Saints & Gloucester are 2 proper clubs who play entertaining rugby & have knowledgeable supporters, unlike the Tigers & Sarries fans who boo every decision against them." says Mick Collyer. Well Mr Collyer, I can only assume you have never witnessed the Shed at Kingsholm in full voice when a decision is given against Gloucester. As for entertaining rugby, in this regular season Leicester scored 66 points more than Gloucester and 61 more than Northampton. Leicester scored 67 tries, the highest by any team and 11 more than either Gloucester or Northampton. Leicester also picked up 8 try bonus points which was 2 more than Northampton and 3 more than Gloucester. Of the 67 tries scored by Leicester, 47 were scored by backs. How much more entertainment do you want?
Posted 13:37 17th May 2011
Looking Looking says...
I think the bascis of what happened are pretty obvious: Late Tackle, Ashton having a frustrated shove, 3 big punches and the touch judges wrong decision. Yes those punches were epic, yes Ashton did well to stay on his feet - and some have said Ashton had it coming for being gobby (and lets face it, he is, but he is also a quality passionate player - and a winger - and as most know Wingers are natural born gobshites)! What everyone else has failed to mention is that at the end of the game the pair of them shook hands, had a hug, patted each other on the head with wry grin. It wasn't for the cameras, this is rugby - this is what happens. Despite some poor decisions and a spot of uncalled for violence (made that more horrific in slow motion ) this was full on warzone of a game that was physical and exciting. Manu is young, he will learn, Ashton has made no comment (as far as I am aware of it) about the situation and it is left at that. Whatever is deemed the right punishment for both him and the touch judge will be served and we move on. If a brawl broke out at the end of the game over the incident then we would know we would have a problem on our hands - but here was two teams going at it hammer and tongs - in some cirucmstances unjusticely - but at the end of the day this is rubgy. I think its time to stop so much speculation - we have a great final coming up (though I am gutted for the Saints) and a bunch of players who are well and truly fired up for the World Cup!
Posted 13:32 17th May 2011