A final word on the World Cup.
Last Thursday I intended to explain my reservations regarding the competition but a combination of a virus that lowered my usual levels of determination to have my say (!) and Will Greenwood's seeming determination for any opinion different to the party line of the IRB not to be heard, rather stifled the debate at source. I have to hand it to Will; it is not often I am filibustered.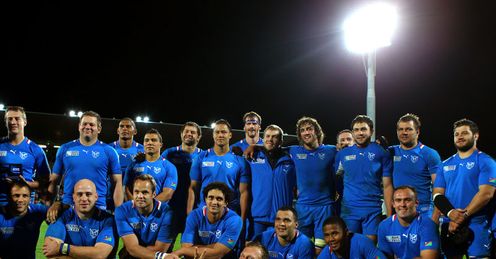 But here is a chance to nail my thesis - Luther like - to the electronic doors of the internet and introduce a measured discussion. Firstly, the tournament suffered because of insufficient games of quality at the pool stage. The shocks and high-intensity games were overrun by the formalities. That cannot be good for the game.
Yes, there were occasional scare stories like Scotland's near nightmare with Romania but the flip side was Romania then fielding a second team against England in order to prepare for their match with Georgia, which was regarded as the more important match.
There would be more participants and more competitive rugby, although the IRB would have to come clean and stop pretending there is any purpose to Namibia competing as if it could win the Webb Ellis trophy.
Stuart Barnes
Quotes of the week
The same occurred with both USA and Russia who - despite official claims that the smaller rugby nations deserve their four-yearly shot at the giants - chose to rest their best players in games they dismissed as unwinnable.
Where does that leave the claim that the tournament brings the best together? In reality, it does not. Making the elite play every four days every now and then is not the answer. They possess squads designed for just this eventuality. It merely appears more just.
Margins between the best and the rest closed but the polar caps will melt before the majority of competitors tackle the traditional nations with any hope of victory. I wish it was not so but it is.
No amount of wishful thinking will change this. The gap's closure has to be focussed upon between World Cups, not during them, although the sport's politicians see the tournament as a great stage for empty platitudes.
The gaps between the first and second weekend was interminable as game after processional game took place with the smaller teams sacrificing their opportunity to throw their best men at the best teams. They were more interested in securing a high-enough pool place to qualify for the next tournament. Hence Romania ensured their match with England would be no contest as they prepared for the Georgia game that had something tangible at stake.
They became so obsessed with qualification for 2015 they forgot what the point of qualification was...or did they? Maybe John Kirwan was right to leave Japan's best players out against New Zealand because they could not win but they needed to be fresh for other games. The reality is that for some teams the World Cup is a matter of strategic selection and one or two games maximum. This cannot be right.
Nor is it good for the game that France can lose to Tonga having already been beaten and know they have a winnable quarter-final in front of them. This is the other side of a tournament with the competition spread too thin. How much better would it be for the big and small nations if every match counted?
Divided
Which brings me to my thesis: a divided competition (recognising the fact that few teams play to win the World Cup) with an elite dozen teams and a second tier dozen based upon a combination of world rankings and qualification games 12 months before the tournament.
Structurally, the tedium of the one-sided midweek games gives way to the potential of a whole series of Canada versus Japan type games played during the midweek while the weekend is reserved for the elite fixtures. There would be more participants and more competitive rugby, although the IRB would have to come clean and stop pretending there is any purpose to Namibia competing as if it could win the Webb Ellis trophy.
Each division would see all sides playing five games with the top two from each tier advancing to semi-finals. One round of sudden death is lost, but games at the group stage become sudden-death much earlier.
Imagine, based upon a seeding system of 1,4,5,8,9 and 12 in one pool and 2,3,6,7,10 and 11 in the other (this is an example for debate. not a rigid suggestion).
The Elite competition would have New Zealand as top seed in one pool, joined by South Africa, England, Wales, Tonga and Italy. The other pool would comprise Australia, France, Ireland, Argentina, Scotland and Samoa. The winners of one pool meet the runners-up in the other. Winning this tournament would be truly daunting.
There would be no easy games against the lesser teams and few impossible challenges for these sides, which makes the event so much more worthwhile in my eyes. Strip away this silly veneer of 'rights' to meet the best (which many of these sides rejected) and suddenly teams like Canada, Georgia and Japan are fighting with the Romanians and Americans to win a trophy which they will NEVER otherwise achieve.
The second tier pools line up Canada, Fiji, USA, Portugal, Russia and Spain and, in the other half, Georgia, Japan, Romania, Namibia, Uruguay and Chile. There would be so many more well-matched contests and so many more teams in with a shot of a trophy. But this is apparently regressive. It is if you believe the game is growing at a startling pace. If you approach the matter with eyes wide open, however, you might just have a better six weeks of rugby in every sense.
P.S. There would be potential for teams to move between the tiers and that would make the interim period one of less stability and more excitement. Is that not what the IRB wants? One year before the competition the 11th and 12th ranked teams would have - say - a tournament with the 13th and 14th ranked, allowing teams (two is my suggestion) the chance to rise and fall. It does mean the IRB ranking system needs a bit of a rethink but that's not impossible.
This is only a broad alternative suggestion and is up here for considered debate. I'd be intrigued to hear your views on this subject.
Until next week,
Stuart
Stuart answers your emails...
Got a question for Stuart? Email him at skysportsclub@bskyb.com or use the feedback form below...
Hi Stuart, given Shane Williams's decision to retire from international rugby at the end of this year, I just wondered where he stands in your estimation when it comes to the best wingers of the last two decades?
Shaun, Brecon
STUART REPLIES: Shane is one of the Welsh greats....the fact that he snubbed the preconceived wisdom of the age and stayed (relatively) small and kept scoring tries of wonderful originality for Wales, the Lions and the Ospreys makes him a hero for those who think there is more to rugby than a gym and a spreadsheet of statistics.
Stuart, still smarting after defeat to Saracens. Simple one for you, my friend. Did the video referee call Brad Barritt's try correctly? I've got my doubts...
Taylor, London
STUART REPLIES: Taylor, I too have my doubts but had there been no TMO my first response was try so I'll go with Geoff Warren who is one of the best TMO's in the world..
Comments (11)
T S says...
Mr Barnes, I reckon this suggestion is brilliant! When I read the two pool ideas I was excited by it. There would be many more tough (and interesting games). Second tier games midweek would be better too- personally I never enjoyed any game that involved the top nations against the 'minnows' (in fact I never made it to 80 minutes before turning the channel over). However Canada vs Japan/Tonga proved good to watch. I would like to see RWC15 take up this, or a very similiar format - otherwise I fear it made be hard to find a pool game worth going to! It won't happen though- as per usual, the decision makers at the top are a bit rubbish!
Posted 10:16 3rd November 2011
Harry Craig says...
Bad idea, teams only get better by playing better teams and this does not happen between world cups often enough. Canada played it's best team every game. Your idea keeps the samller unions down forever. As far as automatic qualifying for the top 3 in each pool that too is ridiculous. Go back to the system in 1995, the top three in the tournament plus the host qualify. This give the smaller unions games against top sides between cups and also meaningful games. A lot of Canadian fans were upset about France losing to Tonga because it meant we have to qualify for the next cup. To me this is a positive because it gives us meaningful games between cups, which are few and far between for us now. If we can't beat USA to qualify we don't deserve to be there anyways. They are really bad and if we can't beat them we might as quit. Can't cut back to 16 or 12, it would hurt rugby in tier 2 and tier 3 countries, not help us but because of the governace of the IRB teams like Scotland will protect themselves before doing what is good for World Rugby. If some countries are going to move up then some have to move down and the foundation members aren't going to let it be them.
Posted 00:36 3rd November 2011
Barry Stocken says...
Am I right? are these statistics telling us anything? Wales played 7 won 4 lost 3* England played 5 won 4 lost 1* Ireland Played 5 won 4 lost 1 *both lost to the team that very nrearly won the tournament1 Did I miss something or is it just the media's usual delight at a failng England team.
Posted 11:16 1st November 2011
John Morgan says...
I Think a more simple solution is there to be had, the top2 teams of each group go through to play for the Webb Ellis(same as it stands now), and 3rd/4th placed teams drop down into another phase of knock-out rugby, Winners of the Losers so to speak.
Posted 20:51 31st October 2011
Worrell Alan says...
A decent idea. Here's an alternative suggestion that could easily be incorporated - have a "plate" competition between the teams that come third in the group. This would give all teams in the group something to aim at. And get rid of the third/fourth play-off; just award two "bronze" medals like they do in boxing.
Posted 18:42 31st October 2011
Shaun Drinan says...
interesting format stuart but for it to be a real possibility i would think they would have to increase the squad size if going by your format! the group games alone are daunting in themselves & will surely stretch most squads to the limit & who knows what will be left in the tank come knockout time!! nevertheless i think it could work & definitely worth pondering about.....heres hoping!!
Posted 18:38 31st October 2011
Mitch Jones says...
I have to say I disagree Stuart. I think a lot of the reason why the so-called smaller nations enjoy going to World Cups is to play against the best. Seeing the emotion of the Georgian players when they played England or when Portugal played NZ is as much what the World Cup is about than the final. If you turned around and said 'you can't play with us elite players' the smaller nations would feel, quite rightly, severely patronised and rugby in those nations would take a huge hit, as there is no realistic possibility of playing an 'elite' nation every four years. I'm afraid your idea for a World Cup, Stuart, would limit the game whilst it has done such a good job in expanding over the past seven or eight years.
Posted 13:48 31st October 2011
Steve Brookings says...
A fairly good idea. But why couldn't we add another game at the start of the tournament and have seeded teams play non seeded teams. (Team ranked 1st play team ranked 24th, 2nd v 23rd.....etc) Winners to the top tier. Losers to the bottom tier. That way at the start of the tournament, every single team entering has a shot at the grand prize! And there may even be a surprise where a France or an England may end up in the bottom tier!
Posted 13:43 31st October 2011
Tony S says...
One reason that tier 2 nations rested players agains the big teams was because they had 2 games in 3/4 days. They had to prioritize. Reduce each group to 4 teams (losing the likes of russia/namibia who were not at all competitive). This would result in all teams in each group playing on the same days - no advantage to the big boys and less examples of the minnows fielding their reserves and getting completely stuffed. This would also continue to give teams such as Japan/georia/canada etc. the chance to play against the big nations, which is good for the game - and frankly what they deserve after some cracking performances in the last 2 world cups. Then introduce a 'plate competition' for a further 8 teams - This should be in 2 groups of 4. The top 2 from each group going into the plate quarter finals with the 3rd teams from each of the main groups. This would give the tiny teams that chance to play a relatively big side, and would also give Scotland the chance of actually winning something - everyones a winner!
Posted 13:02 31st October 2011
Eifion Jones says...
Five games in five weeks against that standard opponents, then followed by semi-finals and finals is a bit tough for any squad. For example, New Zealand lost 3 outside halves but if the RWC had been in the NH then time zone issues would have meant that it wouldn't have been quite so easy for them to get ready to play replacements.
Posted 11:30 31st October 2011
Tony S says...
Surely the reason that the tier 2 nations were playing their second teams against the top nations was because they were given games every 3 days? Why not just reduce the groups to 4 teams - then every team from each group will play on the same day. This would also result in some of the weakest teams (such as namibia and russia) dropping out of the main tournament. The likes of Georgia and Japan would still be given the chance to compete with the best - which is surely good for world rugby and something that these nations deserve judging by past performances. Add a second tier competition of 8 teams (2 groups of 4) - the winners and runners up go on to play the teams that finish 3rd in each group from the main competition in a 'plate' quarter final (Then Scotland might be able to win something)
Posted 09:43 31st October 2011