We didn't realise there might just have been a World Cup hangover until we were satiated with the Heineken Cup.
Just as I expected, the formidably competitive structure of the club/provincial European tournament eclipses the showpiece of the world game. Apart from Scotland or Argentina, we all knew the likely knockout contenders at the World Cup, but after just one week of the Heineken Cup it would take a very brave gambler to make too many predictions about who is likely to emerge in the last eight.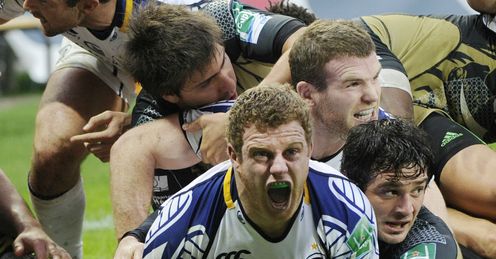 My crystal ball was pretty murky when I took a peek before the first round and the only name that came out was Leinster. Yet 20 minutes from the end of their match in Montpellier, they were being battered backwards over the gain line by last season's French finalists, who were making their Heineken bow.
It was a classic first-round encounter with the underdogs producing an inspired performance and almost defying the convention that it takes Heineken Cup experience to win big games. It took Leinster all their experience to claw back a draw.
Quite how Nigel Owens allowed Munster to get away with so much sealing-off of the ball in the 40-phase build-up is another matter. I don't want to take away from Munster's nerve and control and the greatness of O'Gara's kick, but referees have to be better at the breakdown.
Stuart Barnes
Quotes of the week
In the process, I was privileged to see an unforgettable game. Montpellier's front row were simply super-charged with Agustín Creevy looking every inch the natural replacement for a great retiring Argentinean hooker, Mario Ledesma. In the back row, one of the World Cup sensations, Mamuka Gorgodze, was too strong for Sean O'Brien; Leinster lost the gain line and with it almost the match.
The champions need to readjust their back row and must start with Shane Jennings on the open side, shifting O'Brien to his best position at six and allowing him to carry wider out than Saturday, where the claustrophobia and power of the defence stifled him and Jamie Heaslip for most of the game.
In the end - and I mean the very end - it required a sublime piece of professionalism from Jonathan Sexton to silence over 20,000 baying fans and slot the match-drawing penalty from wide on the right. After the game, Sexton denied it was him against the crowd: "It was just me against myself". We were treated to a brief insight into the long and lonely practice hours of a goalkicker.
This was rugby near its physical and mental best. A word should also be said for François Trinh-Duc, who produced poetry at fly-half. Quite how Marc Lièvremont left him out of the French starting XV for the key World Cup games stands out as an even greater mystery after this epic 80 minutes.
Stolen
Myself and Mark Robson were patting ourselves on the back for commentating on the game of the weekend, but by the time we had checked in to our Toulouse hotel, Munster - in their inimitable fashion - had stolen the headlines against Northampton.
Anything Sexton can do, Ronan O'Gara seems able to do just as well. His 40-metre-plus drop goal after 40 phases or more of ball control summed up everything Munster have been throughout the history of this tournament. This does not look a tournament-winning Munster squad, but these guys know how to win their way past the fine margins.
Quite how Nigel Owens allowed Munster to get away with so much sealing-off of the ball in the 40-phase build-up is another matter. I don't want to take away from Munster's nerve and control and the greatness of O'Gara's kick, but referees have to be better at the breakdown.
From a player perspective the Heineken Cup was more satisfying than the World Cup counterpart (remembering we have only played one round), but the officiating remains a worry. Attacking teams are not so much having the advantage at the breakdown, as having the freedom to do anything they want to stop defenders competing.
The net result is an inability to for those teams without the ball to compete at the breakdown and this results in two sides spread from one side of the pitch to the other. It's rugby league without the sixth tackle and when it is done without accuracy and invention it is awful to behold.
Unforgettable
The nature of Glasgow's last-second victory against Bath was unforgettable. Unfortunately the other 79mins, 50secs deserve to be erased as quickly as possible.
Bath, in particular, do not hit the breakdown in sufficient numbers and do not force opposing defences to commit men and create space wider. They get to the ball, but not beyond it. That extra metre of momentum is the difference between a good team and an extremely average one.
One of the great statistical misinterpretations of the game is that the team with the greatest possession percentage should invariably win. But it is not about percentage, it is about quality. Bath may have won 70 per cent in Glasgow, but hardly any of it was quick ball. It was a 50-50 case of Glasgow deserving to win and Bath deserving to lose.
It was a wholly more edifying affair straight after the game in Scotland when the Robson-Barnes commentary team struck lucky for a second time. Toulouse and Gloucester fought for every inch of the breakdown and the rugby was of a different quality and tempo.
Gloucester were disappointed at full-time, having taken a lead with less than 10 minutes to go, but it took a sublime piece of play from Clement Poitrenaud to win Toulouse the game. Gloucester did well to get a bonus point, they will not fear the French outfit at Kingsholm and if they can beat them by eight points, will have won the personal battle with one of the three pool competitors.
Harlequins will have been disappointed not to have got a bonus point against an impressive Connacht team, so this pool remains set up as a fascinating three-way battle. Gloucester at home to Harlequins will be one to savour next weekend, whilst Connacht will prepare what they hope will be a very messy party for Toulouse... you never know what might happen in Galway.
Shape
Elsewhere, Cardiff Blues and Edinburgh changed the shape of their pool with excellent away wins over London Irish and Racing Metro respectively. I fancied Cardiff before this pool started and my conviction in their ability to compete grows on the back of a rugged performance with the defensive line quick and eager throughout.
There's was the outstanding performance of the three Welsh teams, all of whom won. Northampton will have to be very wary about a Scarlets team with the capacity to score a lot of points in no time at all. Having lost in Munster, they can afford no slip-ups on Friday night.
The other team to merit a mention must be Ulster who made it nine straight Heineken wins at Ravenhill, as they beat French heavyweights, Clermont Auvergne. The nature of Clermont's non-tackling for Ian Humphreys' try sums up just how infuriating this team remain. They are still an enigma, just as French club rugby remains a mystery to all, on both sides of the Channel.
Only Toulouse of the French contingent won, but do not write off their challenge. They could still dominate this tournament or also crash out at an early stage. It's a little bit like the tournament as a whole; nobody quite knows what is coming next. That is the beauty of the Heineken Cup.
Stuart answers your emails...
Got a question for Stuart? Email him at skysportsclub@bskyb.com or use the feedback form below...
STRUCTURAL CONCERNS

What do you see as the best coaching team for England based on available personnel? In my view, England should only ditch Johnson if someone with a successful track record at international level (semi-final of the RWC or beyond) is available. Shaun Edwards was never available and was clearly trying to improve his negotiating position with Wales by soliciting offers (the RFU should not be blamed for 'losing' him!). I do not think Graham Henry will accept a full time offer from England at 65. Nick Mallett, Eddie Jones, John Kirwan and Jake White have not led a major country for years and would be a gamble and Geech will not accept the role. I would therefore stick with Johnson on the basis that he now has nearly four years of experience and a RWC under his belt. He also deserves some loyalty as he was approached to be head coach rather than solicited the role. I'd add Dave Ellis as defence coach, Jim Mallinder as attack coach and Dean Ryan as forwards coach. Rowntree should retain his role as scrum coach. Regards, Ken Joseph, Muscat Oman
STUART REPLIES: I cannot see how anyone who led England through such a confused three-and-a-half year journey as Martin Johnson, culminating with the worst World Cup for 24 years - both and off the pitch - can possibly be retained. I've said it before and I'll say it again, if his name was Brian Ashton or Andy Robinson you would not be proposing to keep him and nor would very few people in England. It is part of the whole 'Johnno' issue. The first thing England should do is ban all reference to 2003; it is a millstone around our rugby necks.
We don't have many advantages over New Zealand, but we do have a financial one and we should do everything fiscally possible to lure Graham Henry out of impending retirement. Henry would not have to live 12 months a year in England, we live in a technological age where meetings can be held and matches watched from the other side of the world. He would have to commit to block periods in the country, but if he agreed to that I wouldn't look anywhere else on this planet. As for the rest of the coaching team, there is no point anyone commenting on the proposed nature if Henry was to accept this job because he would select his own team. Not only would a coach of gravitas, experience and vision take the helm and help the team, but someone would be in place to work on the flawed coaching within the national set-up. This would enable England to have a continuation policy in place after 2015. I know long-term planning is radical in England, but can't we even try?
PS. As for Mike Tindall's treatment, I don't wish to moralise one way or the other and I don't think the behaviour of a senior player in terms of drinking was exemplary, but had he been a front-row forward would he have been fined £25,000? The draconian fee has done the job for the RFU. The press are now talking about Tindall, money and England off the field and nobody seems to have remembered how utterly useless they were on it. As Pete Townshend once sang: 'We won't get fooled again'. Fran Cotton's review should still take place; there are still men within the RFU who are protecting untenable positions.
TOUGH ON TINDALL?
Stuart what are your views on Mike Tindall's fine? Do you think he is the scapegoat? Tre Graham
STUART REPLIES: As I mentioned above, "scapegoat" is exactly the right word. I'm not impressed by Tindall's behaviour in terms of his excessive socialising and drinking, but other issues are more important and we in the media are being led down the wrong path and seem happy to do so because of Tindall's celebrity status. It is a sad state of affairs from the perspective of the RFU and, dare I say it, we in the media.
Comments (6)
John Ludgate says...
I have to agree with Tom O'Dowd...very myopic views by both Barnes and Mallinder regarding Owens' performance. He missed a blatant forwrd pass for Northampton's second try and several illegal sde entries and defense from offside. positions. This isn't to criticize him as much as to say he reffed it as he saw it and anyone can see errors both ways. It's high time commentators like Barnes stopped encouraging this tedious and ridiculous ref-bashing we have developed. recently. In my view anyone who hasn't been a ref should be a little cautious about expressing their arrogant opinionsa. .
Posted 01:10 17th November 2011
Tom O'dowd says...
Once again you must stick the knife into an Irish team. When will you actually stop the ridiculous accusations towards the Irish and focus on your own country? In the Munster Northampton match you will clearly see Northampton coming in the side of every ruck, I've watched the match over again and it is clear to see. Mallinder needs to be very careful with his comments towards Owens as, in fact, Owens was quite lenient towards a lot of the Northampton foul play. Side entry to rucks, non binding by number 1 in the scrum and boring (something only a front row forward would understand Barnes), and constant tackling in the area at line outs. Until Sky replace this terrible, clueless pundit, they will be very average broadcasters.
Posted 09:32 15th November 2011
Stuart Turner says...
I'd love to know the statistics on how many of Munsters HC games Nigel Owens has refereed in the past few seasons. It came to light that in the 2008 season when Munster won the tournament their last two pool games, QF, SF & Final were all refereed by Owens. It shouldn't detract that Munster have been one of the best European sides over the past 12 years. Not sugguesting that there is any bias or anything untoward going on, and is perhaps just a case of not enough top flight refereees? But when a team knows a referee to the point of 75% of their HC games are refereed by him the level of knowing his foibles surely is an advantage?
Posted 09:24 15th November 2011
Mick Collyer says...
You rightly commented on Nigel Owens however his performance overall was poor, was heavily biased towards Munster & he allowed himself to be swayed by the crowd. His decisions at the scrum were poor, he missed a knock on and blocking for 1 of the tries & every 50/50 went Munster's way. As per the world cup final the best team lost due to inept referrering.
Posted 21:23 14th November 2011
Fraser Ross says...
Stuart, Do the wins by Glasgow and Edinburgh over English teams signal the start of better times for the national side? Or is this yet another false dawn?
Posted 19:01 14th November 2011
Malcolm Cupis says...
Barrel, how do you see the situation at Bath? Games this season have seemed very much rugby by numbers. It's reminiscent of the Knuckles approach of 2003...except we don't have the forward power we had then. Players seem to have had initiative coached out of them, or be unwilling or unable to come up with the flash of inspiration required to unlock defences. Do you see this as a transitional phase or do you think there is a more worrying, underlying issue that needs to be addressed?
Posted 13:49 14th November 2011