The news that, in the absence of the injured Tom Wood, Chris Robshaw will captain England, was an encouraging start to the rugby week.
'Capped' in a weakened England team that lost in Argentina, Stuart Lancaster has opted for the inexperienced skipper. He could have looked to someone like Dylan Hartley but stuck with the man that has shown the best leadership qualities rather than won the most caps.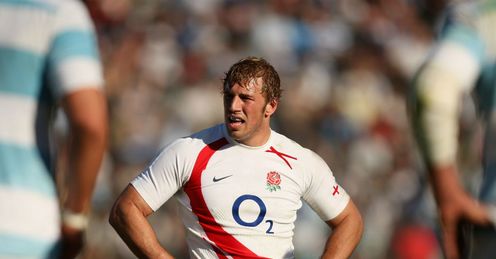 The Harlequin has set a high standard of leadership this season. His personal form is rock solid, his interjections with referees are good and his integrity levels are high. On the minus side he takes the England mantle just as his club team has lost the winning habit. And there have been a few contentious calls during the last few weeks.
Against both Gloucester and Connaught he opted for scrums close to the line when penalties were awarded. These were high risk decisions; against Gloucester he got away with it, against Connaught he did not. In Edinburgh - under the glare of the spotlights - it will be fascinating to see what happens should England win a penalty in similar circumstances.
This capacity to find the worst and something to worry about is something at which England excels. No sooner was I making a case for Matt Hopper as a talented player who should be looked at by Lancaster than people were rushing to tell me what a useless defender he is; actually he is not; but that is not the point
Stuart Barnes
Quotes of the week
Three points is the common call of the captain and in both Heineken Cup matches I think that should have been his call. These were errors of judgements but captains have to be given time to mature as do players. So much improvement has he made technically as a player I would bet on him to learn these lessons quickly enough.
I wonder whether the art of captaincy is something growing harder by the year. Every year sees more coaches wearing more electronic gadgets to issue flurries of commands to the players. The best players think for themselves and the best coaches encourage their charges, not tell them what to do. These are not times of great coaching in England; no wonder captains find it hard to lead when a voice in their ear is blabbing constantly from the touchline. Of this vintage the Harlequin is the best current choice as a leader now he has to prove he is good enough as a player.
Knives come out for England
The nearer the match comes the more people tell me, in print, in Sky, in the wider rugby world, that he is 'a journeyman', not quite good enough at test level. His incredible improvement levels - in all three back row positions - in the last few years are neglected as we find the negatives. Maybe the Robshaw detractors will be proved right. I hope and think not for his and England's sake.
This capacity to find the worst and something to worry about is something at which England excels. No sooner was I making a case for Matt Hopper as a talented player who should be looked at by Lancaster than people were rushing to tell me what a useless defender he is; actually he is not; but that is not the point.
Rather we should be looking at the strengths and if they fill a hole should positively attempt to deal with the weaknesses. In this instance it was classic England. No matter how clever a worker of space in attack, the perception of defensive weakness meant he could not be considered, never mind whether defensive shortcomings are easier to eradicate than a lack of vision and quick thinking in attack.
Graham Henry has been quoted as saying England has fine backs but 'fear' holds them back. He is right as he is about English obsession with 'securing' ball rather than going flat out for riskier but more profitable quick ball. The absence of the out and out English seven is tied into these comments.
Still, Lancaster stuck with Robshaw and he gave Hopper a game with the Saxons. He is in credit with me. How England performs against Scotland and not the result will dictate if he stays on the positive side of the ledger.
This is going to be an inexperienced England side, whatever fifteen he selects and not one that has THAT exciting a look on paper. The pressure should be on Scotland to win. Andy Robinson knows this and has intimated as much. England has not won in Edinburgh since 2004 and this appears a great opportunity for Scotland to keep their non-losing run going. If not now, when must be the question hanging in the air of Edinburgh.
Results above performance
Result is all for Scotland; they have developed an awful habit of losing tight matches they should win. Performance levels would be a bonus. For England the pressure is heaped unfairly upon them. Just being English doesn't automatically make you favourites to beat Scotland. The variety and intelligence of the performance (not to mention the courage to try and play a game that might one day cause New Zealand problems) is the criteria by which I will judge Lancaster's team. The win would be a bonus for England - albeit one that is well within their bounds if they play to a decent level.
For Ireland and Wales, winning is all; both sides have more test experience than England even if Wales are a youngish team. Ireland will be motivated by their World Cup quarter final loss to the same opponents while Wales need to prove they can win as well as play good rugby. Ireland apart, Wales has been conspicuously short of big match wins to match the growing reputation. A win in Dublin would alter the perception.
France has revenge on their minds and Philippe Saint-André a title to chase. Italy beat France in Rome and anything but a heavy hammering will not suffice for a French team that looks, on paper and given the fixture list, the team to beat. Italy can lose this game and come out of it with credit; so too, England in Scotland (although if they play well they can win). Scotland, Wales, Ireland and France simply have to win. Welcome to the Six Nations.
Stuart answers your emails...
Got a question for Stuart? Email him at skysportsclub@bskyb.com or use the feedback form below...
Regional rugby for England?
Stuart, I hope the RFU are ashamed for pushing for England v France on the last weekend of each 6N as a 'Grand Slam decider' in the light of the Celtic revival. The regional systems put into place in Ireland, Scotland and Wales have benefited the national game dramatically and the RFU must look at a similar structure in England. Those Leicester and Northampton fans who claim it would never work should talk to the Welsh fans whose club game was probably more deep rooted in the community than in England. The fans who look at the Premiership and say the players are there, just not being picked, are deluded. The players are NOT there. We have a domestic tournament which is a grind and very dull to watch, We have no international class 7, no centres with genuine class (Tuilagi apart). We consistently overrate our players - Croft, Lawes, Hartley, Sheridan, Cole, Haskell, Banahan - all of whom have abilities but are far from being as good as we think. New players are identified as world beaters - Sharples, Marler, etc - who then prove to be wanting. The Irish in particular seem to have a rich crop of players at their disposal. Would Sharples really get anywhere near their squad?
R T
STUART REPLIES: RT, No sane man could expect an England v France finale to every Six Nations, but thereafter your comments divide me. I agree with much of what you say. The players are not currently coming through, England does have a problem at seven and its players are frequently overrated (but that is a media issue and not one for which the clubs or RFU is responsible.
I also agree that the provincial/regional system is producing the goods and that the Premiership is not being played at a high enough standard BUT all that does not mean it is necessarily the fault of the system. It could be that we are going through a fallow period of non-thinking or muddled thinking within the game and the lead from the RFU has not been forthcoming in this area; another concern I have is your conviction that international rugby is the be all and end. France and England has moved in a different direction to the countries with centralised playing contracts and there are problems in terms of international development AT THE MOMENT. Yet crowds are decent and capable of growing further when the cycle turns and smarter rugby is played.
I do not think regional rugby is the answer for England if a balance of good professional rugby and internationals is the objective. Your system rates the national interest above all others and I have plenty of sympathy with well-run clubs like Northampton and Leicester. Have you seen the size of crowds in Wales? If the international team struggles Wales has little safety net in the way of an alternative high level rugby scene.
Diluted talent
Last night's Rugby Club exposed some of the English malaise during the discussion regarding the development of a true 7, when Pat Sanderson pointed out that the current Munster and Ulster 7's were allowed to learn their trades because of "central" contracts. By this he meant that the Irish Union were deciding who would play in which position at provincial level. The English malaise is the inability of exceptional U20 players at international level to continue their upward trajectory towards full and successful international honours - primarily because they become diluted across too many clubs. Clubs whose primary goal is not the success of the national team. Compare and contrast this with the Celtic nations whose U20's teams fail to shine at international level but within each year group have three or four potential gems. Witness the emergence of Rhys Priestland, Sam Warburton, Stephen Ferris, etc. Their development is controlled centrally, their provinces automatically qualify for the Heineken Cup so they can plan their development and use the Heineken Cup as the final proving ground before full international honours. It would be interesting to look at all newly capped players from the home nations over the last 5- 10 years and see how many games they have played in the knock out stages of the Heineken Cup. So how do England Improve? Move to a central contract model where all England players play for no more than six clubs geographically based.
Pete Andjelkovic
STUART REPLIES: Pete, If you want nothing but England success you may be right but I go back to the previous comments of RT. Is international rugby the only thing that matters in the professional game? Long term the sport needs the club scene to thrive otherwise rugby is in danger of becoming as test oriented as cricket - a sport I once loved at test level but now find utterly boring because of the constant nature of the test model.
Challenge system
Hi Stuart After seeing two American Football blocks result in tries in the last week, would it be possible to adopt a challenge system similar to American Football, Tennis etc. where the coach can "challenge" a try if they believe there has been an infraction in the build-up? Refs do not seem to be picking up on these and other blatant acts of cheating.
Michael, Glasgow
STUART REPLIES: Michael, I like the idea; two challenges a game. No more; no damage to the flow of a match, extra excitement and fewer key errors playing their part in deciding a game. This is such a good idea that it will never get considered by the sport's authorities. I'd trial it tomorrow if I had my say, but I'm on the outside with you, getting frustrated by failure to adapt but delighted to receive three such thoughtful mails, thanks all,
Stuart
Comments (6)
Stuart Ewens says...
As I'm sat out here on a boat in the middle of nowhere i have been catching up on the news from the last week and find the world has gone mad. I was first of all surprised and slightly bewildered at the optimism surrounding Scotland and that even yourself had them as favourites at the beginning of the week. Though I have noticed that your opinion has diluted over the last few days. I found myself carried along with the torrent until i saw that Parks and Cusiter were picked for the opening game and then i realised it was the same old same old from Scotland. Do you not think England and Scotland should be in similar positions. That whilst we have an established pack and perhaps not quite as clean a slate as England, both sets of supporters need to see something that shows we have moved forward? Something that says there is a plan? Whilst Scotland doesn't have the luxury of omitting every player that clearly will have nothing to do with the 2015 world cup, i do feel that We should be making some effort and with flyhalf being our main problem area then that's where it should begin. I Know everyone keeps saying that the result matters more to Scotland, maybe more so to put things semi right after the world cup, but i find myself betraying that thought. I am at the point where i would prefer to lose 34-35 and see some rugby rather than win 12-11 with uninspiring rugby. It didn't work at the last world cup so its time to move on.
Posted 00:23 3rd February 2012
J M says...
Phil de Glanville, Steve Borthwick... two players picked for their captaincy, who didn't always justify their place. Both ended up being big problems for the coach. We all hope Robshaw will be a great England player, but we don't know yet. Not only that, he's fighting for his place with Tom Wood, England's player of the season last year, not to mention specialist opensides like Andy Saull. At 6, there's British Lion Tom Croft to get past, and Robshaw's pretty unproven at 8. Why not give Hartley the captaincy and let Robshaw duke it out with the rest for a place in the team. It's a bit much to ask a guy to play his first (real) international away at Murrayfield, and captain a bunch of new caps at the same time...
Posted 16:06 2nd February 2012
Nathan Brooks says...
Peter Cook - Dont forget David Seymour at Sale in that bracket, he is a class apart at 7 and even in a struggling Sale side is a stand out player
Posted 15:14 2nd February 2012
Jim Dalling says...
Hi Stuart, I have to say my selection of the England team two weeks ago was more or less as selected with the exception of Tom Wood through injury. Still think Tom Palmer would make an ideal captain.
Posted 11:27 2nd February 2012
Peter Cook says...
England have had an out and out 7 available to them over the past several year, but they and John Wells in particular, chose to ignore him after a couple of games. A master of the down and dirty stuff, he has never been afraid the put his body on the line for club or country. He has been crucial to Gloucester's form since joining the club and the quick ball that he provides is the ammunition for the young speedsters in the backs to score the tries. Englands loss has been Gloucesters gain. Stand up Andy Hazell.
Posted 10:26 1st February 2012
David James says...
If nothing else, Robshaw invariably wins the contest for the dirtiest jersey at the end of a game.
Posted 03:54 1st February 2012