Had England performed in the manner they did against Scotland under Martin Johnson, I would have bemoaned the quality of the performance and, Cassandra like, predicted gloom further down the international road.
An away win is not to be sniffed at but Scotland lost this game as much as England won it. The line breaks belonged to Scotland along with the missed opportunities. That was one consolation for English supporters fed up with post-match excuses in recent years, 'we failed to take our chances' couldn't be cited here; England made no chances.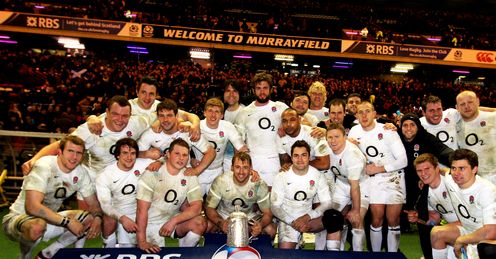 This win comes with a health warning for those who would herald the dawning of a new era. They beat an awful team that should really have beaten England. Individually, Scotland were more impressive but again, their collective failures continue to astound.
During the World Cup I could not understand why so many of my media colleagues gave them such a sympathetic hearing when they became the first Scottish team never to make the quarter-finals. Argentina were pushing on towards being pensionable, England were rubbish and Robinson's team failed to score a single try against the might of Georgia.
This win comes with a health warning for those who would herald the dawning of a new era. They beat an awful team that should really have beaten England. Individually, Scotland were more impressive but again, their collective failures continue to astound.
Stuart Barnes
Quotes of the week
The try famine continued for 80 minutes Saturday; 320 minutes and counting. Going into the game they had selected three different number eights, three different number nines and three different captains in their last three games. This is indecision on the grandest scale. No, England winning in Edinburgh was a good result for Stuart Lancaster but little more.
The team failed to live up to his words. Outside a quietly impressive Charlie Hodgson the passing game we were promised was non-existent; the speed of ball from the breakdown was too slow and threats only sporadic. Italy will be no formality if they repeat this level of performance.
Yet the team did not receive the brickbats they surely would under the previous regime, most definitely from me. Why? Lancaster has been a good communicator off the field and has the press on his side for the moment. Also the team improved their discipline and cut out the stupid errors. Whether this is linked to his determination to create a tighter and more humble environment I don't know but it has to be a possibility.
This was not a gnarled outfit with a few has-been players hanging around but a youthful side. It was not that radical as once the obvious decision to dump the debris was made, options were few unless a different approach was taken. Lancaster is a career coach and not a radical so the road we all would have travelled had we been selectors was taken.
Five Saracens players started and despite promises that England would not play like Saracens, they did in many ways. The negative side of this is the no-passing, low risk game of squeezed margins. It is a style that will not conquer the world but it can get a team past mediocrity away from home.
The positive is the will, energy and determination Saracens always bring to their play. They are not pretty but impossible not to admire. The strengths of this team go deeper than the skin and it was replicated on Saturday. Mouritz Botha was splendid around the breakdown and Brad Barritt tackled like a tank while Hodgson guided England unhurriedly into the right places. It was, I think, as much a win for the Saracens club ethos as Lancaster. England, like Saracens, have the challenge of going further but being such a young team they have the scope to improve into the future.
Variety
Italy, despite being heavily beaten on the scoreboard in Paris, might show more variety. Jacques Brunel delivered an improved performance on anything Nick Mallett could get from them in New Zealand. The pack is strong in the set piece and the half-backs are sharper. They were undone by the individual firepower that England do not possess at the moment. It will be interesting.
France had gears in hand and will be confident of handling a massively-disappointing Ireland team who were second best against Wales in Dublin. France have a fabulous record against Ireland and could create the same sort of discontent in the rugby corridors of Dublin as exist in Scotland - the land of the non-try scorers. They are just 80 minutes away from 400 minutes of Test match rugby without a try. Is that a record for a British and Irish team? If it is, let me know.
This brings us to the best, which has been saved for last. Wales, deprived of Gethin Jenkins and Luke Charteris from the start, missing Sam Warburton from half-time, managed to beat Ireland yet again. This was a better effort than the World Cup win when the odds were even from the start. This time they loaded on Ireland but Wales played their way to a positive victory that lifted the spirits of those who love the game and not their team to the exclusion of quality.
Warren Gatland masterminded the performance of the first round. Wales and France battled for the supremacy of Europe in the World Cup semi-final; this battle might be replayed come the last round of the Six Nations when the same teams meet in Cardiff. Logic, after round one, suggests these are the teams to fight out the title. I'll be logical and stay with France but logic and the Six Nations? Well, they have never been bedfellows have they and that, I guess, is the intrinsic beauty of a tournament that give us games as ugly as Scotland versus England.
Stuart answers your emails...
Got a question for Stuart? Email him at skysportsclub@bskyb.com or use the feedback form below...
Murrayfield monotony
Stuart I have just finished watching the lowest skill match that I can recall in the Six Nations in recent years. Well, actually, I didn't "finish" watching - I was so bored I gave up after 70 minutes of the most tedious, unimaginative rugby that I can remember. Even Italy produced more than these two hopeless sides! In this day and age is there any excuse for such poor handling skills Mike Northall
STUART REPLIES: Mike, I don't think there is an excuse but what's interesting is how different your thoughts were to many Englishmen I encountered post match in Edinburgh. They were euphoric. Some people love rugby for the game, others for the result. I share your thoughts - although I give a very young team a little more leeway - but others seem not to care about the standards in the slightest. In a politic mood I say, each to their own. But, broadly speaking, Mike, I share your interest in the quality of the game and not just which side wins.
Italy get Les Bleus
Hi Stuart, how impressed were you with France? They did not seem to get out of second gear and I thought François Trinh-Duc really controlled the game like a fly-half should. Great to see Italy run the ball too. Owen, London
STUART REPLIES: Owen, I am an admirer of FTD and think France, under his control and with a better looking team than any side they fielded at the World Cup, are the team to beat. Italy looked porous in defence but I suspect that was because of the quality of France's firepower as much as Italian deficiencies. Early days but I thought they were a good bet for the Grand Slam at 4-1 and still think they are on course for a crack at the GS in Cardiff. As for Italy, it was indeed an encouragement to see them attempt to play with some variety in Paris. The result was poor, the performance was not and England will have to play better than they did in Edinburgh to be certain of victory.
A star is born
Stuart, the least said about Scotland the better - they were dire. However, David Denton stood head and shoulders above anyone else on Saturday. Can he keep the momentum going for the rest of the tournament? Mark Harvey
STUART REPLIES: Mark, I have no idea. If David Denton can maintain these standards a star is born. As you say, a shame about the collective mess around him. Man for man I reckon Scotland shaded the game but collectively they lacked shape and an ability to turn individual breaks into scores. It was a good day for Stuart Lancaster and another rotten one for Andy Robinson whose record is currently pretty dreadful.
Disappointing Dowson
Stuart, out of England's new boys I thought that Phil Dowson was the most disappointing - is it fair to dismiss him after one game or should he be given another chance, perhaps at his usual position and not out of position?
Ian Jenkinson
STUART REPLIES: Ian, I have been a big fan of Phil Dowson's over the years but he has been picked in a year when his club form has dipped a long way below his form of recent seasons. He is not a youngster but he appeared tentative. If England want to progress as well as win I think it would be a fair call to look at Ben Morgan from the start in Rome.
Comments (25)
Steve Ramshaw says...
I think the team have moved on from crucial selection. I also think that this match v Wales we will see a health group on the bench and that the game will open up in Englands favour. Lancaster has done a great job to date and confidence must be good. England have not played anywhere like as badly as Stuart Barnes makes out and i expect Wales line out to falter and with a new scrum half we will see better and quicker ball.
Posted 08:36 21st February 2012
Mick Collyer says...
Stuart, what is the point of having Strettle & Ashton in the team if the ball doesn't go past Farrell? Farrell is a good kicker but he contributes nothing offensively, he should be replaced by Barkley who plays with his head up, can open up defences and can kick as well
Posted 10:41 12th February 2012
Adam Malone says...
Following the furore over the Davies/Ferris spear tackles I found it interesting that I didn't read anything in the media from the referee or his assistant, or indeed from the IRB commenting on their performance. In the professional age do you think it right that such pivotal people are not held accountable for their actions? Or do you think it fair that the IRB would protect themselves and their refs?
Posted 08:20 11th February 2012
Pete Andjelkovic says...
Why are we surprised? The reason we don't play open attractive, line breaking rugby is that we don't develop decision making rugby players with great technique. Why not? Because overall the professional clubs do not see their role as being the universities of potential international rugby players. I saw Ben Youngs play his first game for England U16's - since then not one of his individual skills has improved. He still cannot pass the ball off the ground without a backlift, his deception skills and footwork is very limited. Add to this his maturity and decison making has not improved. Finally is you re-watch the England Scotland game there were opportunities to move fast ball from the breakdown, but Youngs doesn't understand the rhythm of the game and defers to a slow ruck, pick and drive game when in doubt. Youngs is just one of many great U16s through to U20s who do not progress and realise their full potential. For this the clubs must be held accountable along with the RFU as between them they totally mismanage the huge resource of young talent in England.
Posted 15:19 10th February 2012
Barry Bunn says...
Really looking forward to the game tonight. I think with; Sheridan and Fourie in the same pack Sale could be brutal going forward. What is your view on Miller? He has been on my horizon for a number of years. I played with and against his Father when his father was finishing and I was starting. I liked him as a 10 for England U20¿s and this season at wing or 15 he has been brilliant. He is in the top 3 in the league for; tries metres (843) defenders beaten and clean breaks. And yet he does not make either of the England squads. Why is this do you think?
Posted 15:14 10th February 2012
Leon Patnett says...
I find it fascinating that a positive drawn from Englands performance on the Rugby Club was their scramble defence which is effectively their reaction to either a line break or a missed tackle. That is like applauding their scrummaging after knocking on the ball! Clutching at straws I think is the phrase here.
Posted 12:30 10th February 2012
Richi Barrett says...
I see in today's Irish Times, that the Citing Commission felt Barnes was wrong to award a penalty to Wales, for the tackle by Stephen Ferris. Should this sub standard of refereeing go unpunished. Ireland probably didn't deserve to win, but would have if the call was fair.
Posted 14:54 9th February 2012
Iain Cowieson says...
This counts as more talk about promise and potential but... What about the Scotland A demolition of the England Saxons! Almost half of that team could start against Wales on Sunday. Rory Lawson, Stuart Hogg, Matt Scott, Ed Kalman, Rob Harley and Duncan Weir should all be in with a shout. And how is it that Scotland seem to have more strength in depth (if not the stand out talents) than England?
Posted 14:28 8th February 2012
Matt Davies says...
@ Gary Selway , the fixtures are decided in advance of the tournament, not during. How can the last game be given to title deciders when it's not know who will be in with a shout?
Posted 14:25 8th February 2012
Nigel Lawrence says...
I am an England supporter and am relieved we won on Saturday but I will admit that my description of the weekend was that, on saturday I watched the paint dry and on sunday I watched an international rugby match. But lets face it, Gatland magic can be seen in both teams, the rejuvenation of the welsh team, and dogged determination of the irish who he started on the road to some of their best rugby for years. His successors for the irish coaching role did'nt have much to do with the side. The most irritating thing is, England could have had the magic of Gatland and Edwards but for the ignorance of those in power at the RFU.
Posted 13:38 8th February 2012
Barry Bunn says...
Many years ago the comedian David Badiel did a brilliant comic piece about football/sports managers/coaches. In this piece he was using Graham Taylor as an example. He was explaining that if the aforesaid ¿manager¿ had never come to terms with his own limitations and failings he was ¿bound¿ to select someone in his own image. As proof for this with regard to Taylor he pointed to his selection of Geoff Thomas. And never has a more limited player represented England. It as if the ¿coach¿ wants to prove that ¿he could have made it at this level¿ Could you just hold that thought and think of the England coaching/selection team? Now I know A Farrell was quite good at Rugby League (but not as good as some people pretend) but he was fairly hopeless at Union. In fact his centre play in the 36 V 0 loss to SA in 2007 was the worst I can ever remember. I was also believe that Lancaster was an average club 6 but never a 1st class player. Now Farrell was a 12 at Union and Lancaster was a 6? V Scotland we had two 12¿s start the game (Farrell jnr and Barritt) and had another 12 on the bench. In fact for the last 20 minuets we had a12 at 10, a 12 at 12 and a 12 at 13! In the backrow we had a 6 at 6, a 6 at 7 and a 6 at 8! HHHMMM? Maybe David Badiel was onto something?
Posted 11:40 8th February 2012
Barry Bunn says...
What Guy says about Farrell is so true. When he was 10 for England U 20's last season we were poor. Only when Ford was at 10 did England create. And that was in the main due to; Daly and Joseph and Wade. When are you guys on Sky going to grow some? and actually point out that Farrell is a 'one trick pony' and that trick is to kick the ball all the time!
Posted 10:59 8th February 2012
Barry Bunn says...
Ass Russ say, 'if england keep playing the sarries way? Do you think I am being loyal if i cheer for wales? See I love rugby a lot more than I 'love English rugby' Is the sport not more crucial than blind flag waving support of ones team? I mean if England and Sarries do well, where will we be? What point will there be in watching rugby? They kicked 27 times V Scotland with just 36% of the ball, should we be glad they did not get 50% of the ball ? because then they would have kicked it 40 times.
Posted 10:55 8th February 2012
Ned Tiger says...
Why does Thomas Waldrom keep getting overlooked when it comes to picking the England teamsheet? The guy is consistently immense with ball in hand for Leicester, has a proven track record of excellence playing for NZ's Crusaders team, and yet No.8 is one position that England have failed to fill adequately since the days of Dallaglio. Surely he deserves a chance at some point in this 6N?
Posted 17:24 7th February 2012
Nicholas Harman says...
Stuart, do you think as I do that the decision by Ireland to attempt a 55 metre penalty attempt when they were 15v14 men was a really poor decision and that kicking to the corner and attempting to try and score another try or win an easier penalty in the 5 minutes of advantage they had left was a better option? I think that the miss lifted Wales and even with 14 men they looked capable of forcing an error from Ireland and having already forced the Welsh back through their forward play for the previous try the risk would have justified the extra pressure.
Posted 17:17 7th February 2012
Barry Bunn says...
and we saw Dowson at 8 on Saturday. Not I know it was not all his fault. But our starting backrow carried for a total of 23m. I can not find a time when our backrow carried for less! Last season, our backrow, containing the much maligned N Easter carried on average for 71m a game. And they, according to the naysayers were not, young enough or fit enough. If the backrow only make 23m a game and as I said in another post, the centers only make 9m a game, how can we play any rugby?
Posted 12:58 7th February 2012
Barry Bunn says...
We were dreadful, and Farrell must be the most over hyped player ever. Farrell went to 10 on the 62 minute. He was involved 6 times after this. 5 times he got a pass and 5 times he kicked it. Once he tried to gather a ball and he knocked it on. Two of his kicks do deserve a mentions at min 69:17 he got a pass, kicked it 35m up and it went 9 forward. This was A) a bad kick a B) a total waste of a penalty advantage! On min 71:42 we got a turn over ball. I don't need to tell you how valuable this ball is. If Farrell had looked up he would have seen that the entire Scottish backline was made up of forwards. True we had some forwards in our line but we also had Croft on the wing. Farrell kicked this ball away! Stuart your friend Will Greenwood said in 2009 said post the game V Argentina that he had never seen such a poor attacking display by England Well, we were a lot worse on Saturday. And I wrote as often as I could before the game that this would happen. We had an average 10 at 10, we had a totally inflated and hyped 12 at 12 (Farrell) and we had a good 12 at 13. Not only did I think it would not work, having seen Saracens I KNEW IT WOULD NOT WORK. On Saturday our centers and I will include JTH made a total of 9m running with the ball in hand. Barritt received 1 pass. We never got the ball to the wing and did not get near creating a try scoring opportunity. All these facts and statistics a far worse that the Argentina 2009 game. Why was it OK to criticize MJ etc post the Argentina display and not mention just how shocking this display was? Could I also take your time to discuss the backrow. I am, like you a big fan of Nick Easter¿s I think he has been excellent for the last 5 seasons. He was almost our only forward V France in the ¿ final, carrying for 47m out of a total of 65m by all our forwards. However, others got their way on Saturday and we saw Dowson at 8 on Saturday. Not I k
Posted 12:57 7th February 2012
Stuart Ewens says...
Stuart I find it hard to read some of the comments from pundits recently. So many had Scotland as favourites for a clash that bookies had read the whole time. I have recently been reading Ian Macgeechans book Lion Man and found his comments regarding the 2000 Calcutta cup Win for Scotland interesting. We had been playing awful and had lost every game. As i'm sure you recall. Instead of beasting the players he gave them the day off. Sent the message that they knew what to do and there was no need to go over it again. I think maybe a similar call is needed here. Perhaps its time to stop messing around on the training ground. I really think we look over trained. There is nothing loose about us aside from our handling. whats your views on this? I know much is said about the scotland players skill levels but I don't think it can be THAT bad. We show moments of absolute skill at times. Dave Ellis recently said we were the best team in the six nations if not the world at ball retention. This is quite a feat. Don't get me wrong i am, like every scotsman, growing weary of the talk of promise. But I still think we need to look forward. We have nothing to look back at favourably thats for sure!
Posted 12:54 7th February 2012
Neil R says...
Yes many of us were euphoric, simply because our poor team somehow managed to win. No one is deluded by the result and we have a long long road to climb to become even a half decent team. The scope for improvement is massive and we must take that as a great positive. Be humble England players, don't get egos, keep your heads down, work hard, and do your talking on the pitch.
Posted 09:12 7th February 2012
Guy Jenkins says...
Hi Stuart... Emperors clothes or what.!..Owen Farrell incapable of line breaks..one paced...lacking power..passing game predictable, no subtlety, not sharp enough at this level...defence brittle when really tested....his selection smacks of the pre pro era when players were often picked because of school, fashionable club, or blatant nepotism..he's a decent championship player..International centre ..no way
Posted 09:07 7th February 2012