Andy Farrell's sudden rejection of Saracens heightens the likelihood of father and son being reunited. It does not take Einstein to deduce the most probable port of call for Pere Farrell. Mike Catt - despite some opinions to the contrary - would probably welcome Farrell back into the fold as a defence and motivational coach.
The former Saracen is now odds on to return to national colours but it's the question of Catt that is most interesting as England prepares for the first Test in Durban. The former England midfielder was an ambitious performer with a marked love of quick, wide ball which played into the hands of his long passing game.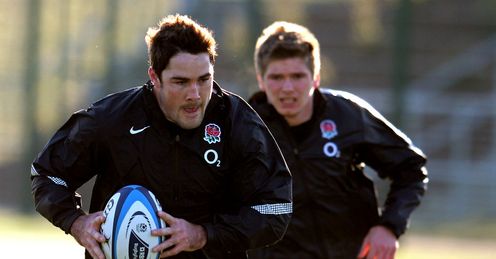 Against the Barbarians, England attempted to shift from the narrow corridors in which they had muscled their way to an impressive sequence of Six Nations results. It was an understandable effort to push the barriers that, to date, have not been extended during Stuart Lancaster's tenure.
And it failed miserably. It wasn't helped by one of those rare days when Charlie Hodgson passed poorly. It was however magnified by the distressing unease of the regular Saracen centres, Brad Barritt and Owen Farrell. This column has long argued that the two will never fit into the same attack with any success and Sunday, alas, heightened that theory.
If they can stop the driving line out and harass the limited Morne Steyn, England will head for Johannesburg 1-0 up.
Stuart Barnes
Quotes of the week
LIVE ON SKY SPORTS
South Africa v England, 1st Test
3.30pm, Sat, June 9, Sky Sports 2 HD
Watch on the move with
Sky Go
How to
remote record
Farrell is a decent distributor in technical terms although his timing is awry at the moment. He has plenty of time to improve but right now he is not the answer to Lancaster's effort to find a passing 12.
Barritt is a defensive rock but offensively he is a hazard. There are shades of the last seven or eight years of Mike Tindall's career, where the defence was as good as the offensive play was bad. England has to be more ambitious than that, surely.
They do but perhaps not if they aspire to win this series. Sorry, we will rewrite that sentence. 'They do but not if they aspire to win this series.' There is no perhaps about it. It goes against every grain in my little typing fingers and body to write it but England has no option but to keep it relatively tight against the Springboks.
Ambitions
England's midfield attack is in poor shape. Ask the question; is it likely to tear the Springboks apart? The answer is a definite negative. Catt has to work on a few strike moves, preferably from first phase, where timing and not accuracy is the buzz word and hope to cut the opposition open on a few telling occasions.
Thereafter, it becomes a matter of kicking goals and outstanding defence. It worked in the Six Nations but neutrals would like to think the summer is going to throw up more ambitious and higher quality international rugby. If the Springboks manage the improved standards, England will struggle to win a Test match, let alone a series but it appears that England's best bet is incremental improvement and a Springbok team playing into their determined hands. More of that later.
It is disappointing but England's best midfield bet is probably the one that finished the Six Nations with Farrell playing extremely limited stuff from 10, Manu Tuilagi looking for the occasional denting run and Barritt organising the defence. The other passing option is to start Toby Flood at 12 but that creates as many, if not more defensive problems as it cures attacking deficiencies. It did not work in the World Cup quarter final and I doubt it would work against a top class attacking game.
To play Flood is to pay lip service to a system that is neither trusted nor ready to run. The long term implications are not positive but if England are heading to South Africa to try and win, the short term need for a structured defence against the long shot gamble of a radically improved attacking game is the only possible decision to make.
Reshuffle
Wider out, do not be surprised if Mike Brown moves into full back with Ben Foden switching to the wing. Brown picks better angles (although this might not be of material importance if England's passing game is at the level we saw against the Barbarians) and more importantly has a superior kicking game with a left foot to balance the right of Farrell. And England will require a structure to their kicking against a South African side that will definitely utilise their traditional kicking game with Morne Steyn guaranteed to play the corners.
Foden can bring his fielding skills into action from the wing where he and Chris Ashton would add an edge to the broken field running game. Considering the blunt finishing powers of David Strettle, a change of winger makes sense and England would lose nothing with Brown's boot and angles at 15.
Up front, Joe Marler is a gamble I would like to see made. He has made massive strides in the last month and with Alex Corbisiero recovering from an injury and a period without playing, it is probably the obvious selection. Dylan Hartley is in top notch. Cole will be fine, Mo Botha is in the form of his life and will be inspired by South Africa. In the back row, England has a growing colossus of a captain, vast potential in Ben Morgan and a tricky choice at blind side. Phil Dowson will get the vote but whether his season's Test form merits the choice over the potential and speed of Tom Johnson is another area of debate for the first Test.
England has plenty going for them; it is just a conundrum in the midfield that leaves a vacuum where creativity should be. The void is unlikely to be filled in the next month, although England can and should be competitive.
Postscript
England WILL be competitive. They have a fantastic opportunity to win the first Test in Durban. It is Sunday morning as I write this postscript and I have had time to study the Springbok squad and the Bulls v Stormers match at Loftus Versfeld.
Despite a rare win for the Stormers at the home of their rivals, the South African team is utterly dominated by the Blue Bulls. Heyneke Meyer, the Boks head coach, is a former Bulls coach and the make-up of the squad suggests South Africa will try and play Bulls rugby. They failed to prevail Saturday night because the opposition defended brilliantly - this is something within England's scope against a team that does not play at too great a pace.
The Springboks look set to play catch and drive from line outs. It was a formidable weapon for the Bulls and led to several penalties but England has the best part of a week to try and negate this potent weapon. After this it looks a matter of 'what else do you have?' Well, there is Bryan Habana in sharp form but with power likely to utterly dominate the need for pace, the winger and the dangerous running game of Francois Hougaard can be negated. Indeed it would be a little bit of a shock if he won the starting berth from Ruan Pienaar. The Ulster nine's tactical kicking will suit Meyer. It might also suit England.
Wynand Olivier (Bulls) over Juan de Jongh (Stormers), Zane Kirchner (Bulls) over Gio Aplon (Stormers) and the tough flanker Jacques Poitgeiter over the player of the weekend, Siya Kolisi is testament to the coach's mindset.
There will be plenty of power, a lot of kicking and not much subtlety. The strategy will suit England down to the ground. If they can stop the driving line out and harass the limited Morne Steyn, England will head for Johannesburg 1-0 up.
Comments (13)
Michael Windass says...
the only problem the boks have, is there is just so much talent to choose from . my bloed is groen
Posted 20:29 7th June 2012
Billy Duffin says...
Hi Stuart, there is only one player who will cure our midfield frailties Billy Twelvetrees I've been going on about this for months, he possesses every skill an international inside centre needs from picking lines, kicking,tackling and most importantly distribution. He is the only inside centre other than Olly Barkley in England who can pass well and can bring a backline into a game. Honestly is Stuart Lancaster mad putting Brad Barritt, Jordan Turner-Hall two 12's who only possess physical attributes and no footballing skills. Stuart whats your opinion on Billy Twelvetrees?
Posted 16:17 6th June 2012
Gary Brens says...
Armitage is involved in the Top 14 final - that is why he was not even looked at! Toulon would not release him and why should they?
Posted 14:59 6th June 2012
Tracey Agnew says...
Hi Stuart Enjoyed the article and agree with your forecast. I agree that we lack a creative, passing 12 which I think is a consequence of the Aviva Premiership forwards-dominated style of play in general. In short, the backs don't see enough of the ball to develop crisp fast and creative passing during game-time. I'd love to see Hodgson at 12 with Jonathan Joseph outside although the defence may suffer a little. Steffan Armitage is our only genuine 7 and must feel gutted at his omission.
Posted 13:19 6th June 2012
Stuart Ewens says...
Hi Stuart Good to see the correct spelling of our name! I would like to know your views of the Scotland win in Australia. But first consider everyones views before the match. No one gave us a chance. Not a hint of a chance of getting a result. And rightly so after a 7 match winning streak that showed that we wouldn't be able to find a win if it came in a brown paper bag marked "Win". I have taken into account the weather and a supposed weakened Australian team as everyone seems to want to remind us, but even after all that is it not still a fantastic win. Surely 3 new caps to a team ranked 12th and on the end of a 7 match losing streak has more impact than 5 on a team ranked 2nd in the world and came 3rd in the world cup. I'm not jumping the gun and saying this is a new dawn. I'm not even looking to potentially harder games in the pacific islands but I think its only right we enjoy this. I have heard more than my fill of welsh glory. So gloat I will. Do you not think we also deserve credit for actually touring the pacific Islands? I realise these are teams ranked around us so it only makes sense but I have always flt that the islands deserves more visits from the northern hemisphere. Cheers Stuart
Posted 11:49 6th June 2012
Fraser Ross says...
Stuart, do you think it is neccessary for the same fixtures to take place three weeks in a row? Although this will be great for England, Ireland and Wales, teams like Scotland and Italy will rightly feel like they've been left out in the cold. Surely this is to the detriment of the growth of the game. Fraser.
Posted 17:03 5th June 2012
Jim Sloman says...
England will head to Johannesburg 1 up? You make it sound so simple. Every time England tour SA they are talked up, and yet they haven't won there for 12 years. And they haven't beaten the Boks in their last 7 meets. But one has to admire the optimism...
Posted 13:40 5th June 2012
Paul Cartledge says...
The two glaring ommisions from this squad are Steffon Armitage and Billy Twelvetrees. I can see a case for leaving Twelvetrees out as he has been second choice at Leicester, Hopefully he will be first choice at 12 for Gloucester next season. Working under Nigel Davies can only assist him. Leaving out Armitage though is baffling. I really hope Lancaster is not towing the RFU line on playing in France. He has improved his game at Toulan and his ball winning ability, strength and pace would have been perfect for this tour. How about a back row of him at 7, the outstanding Robshaw at 6 and Ben Morgan at 8? Sounds very well balanced to me. Other than that, I agree with Stuart. There is no reason why we shouldn't be confident of winning at least one test.
Posted 12:55 5th June 2012
Chris Greaney says...
Hi Stuart, Two Questions for you First one do you think Armitage that plays for Toulon would solve England problem at 7 i thought he was Fantastic for Toulon againt Clemont in the Fence 14 semi. Second Ireland u-20 have just beaten South Africa how good do yiou think this team is love the coloum Regards Chris Greaney
Posted 22:53 4th June 2012
Dave Archer says...
We still waiting for the BOK team but I would suspect Frans Steyn and De Villiers will be the centres, Lambie at fullback and with Coetzee, Alberts and Spies the loose forwards. Hougaard is an absolute hero here and I'm sure he will start, unfortunately not on the wing where he has been great in the past. Pienaar will be on the bench. At least from the SA side we know this squad can be greatly improved with more time and injuries permissible.
Posted 19:37 4th June 2012
Jack Tracey says...
Its a damn shame England are going into the series with injuries- would have like to have seen what a full strength side is capable of. That having been said, my idea of full strength and England's apparently differ slightly. I do not understand the hyper around Barritt- yes he is committed but so was Tindall (if not more so) and it seems we did nothing but complain about him for 7 years or so. With that in mind, this would be my team for the first test: 1.Marler 2.Hartley 3.Cole 4.Parling 5.Botha 6.Haskell 7.Robshaw(c) 8.Morgan 9.Care 10.Farrell 11.Foden 12.Twelvetrees 13.Tuilagi 14.Ashton 15.Brown Subs: Gray, Corbisiero, Hudson, Johnson, Youngs, Flood, Joseph This is a balanced side, with (I believe) options to play various game plans- a kicking/ passing centre in Twelvetrees (who isnt a bad defender either) would be the perfect foil for the likes of Tuilago, Ashton and Co. #givemeacalllancaster
Posted 17:33 4th June 2012
Ian Richards says...
Dear Mr Barnes. As you rightly point out the new SA coach has shown his hand but perhaps it is not as limited as you think. If the Bulls are the "junior" boks then attacking ability, if measured by number of tries scored, ranks the Bulls 2nd in the Super 15 this year. That is without Frans Steyn, their mercurial centre, recently back from France and Jean De Villiers who plays for the Stormers. Perhaps it is the forwards that give us a hint of weakness at lineout time without Victor Matfield. To me this squad is 32 players cobbled together one week before a test series, loaded with Bulls because they best understand the coach and can deliver his game plan. I expect a different look when The Championship comes around.
Posted 16:44 4th June 2012
Paul Heneke says...
Hi Stuart, great article - The midfield matchups have been a pub talk staple for weeks and it's nice to here a more expert view! As a true Bok fan, I feel I have to come to Morne Steyn's defence - his limited game of late comes from playing with the wrong 9s. He was unstoppable in 2009 - running and kicking, because of Fourie du Preez's decision making. Pienaar would make more sense than Hougaard, but that selection needs the right back row to secure ball as Pienaar is slower than Hougaard - Daniel and Coetzee would need to start along with Spies, who won't be dropped, but Albert's ball carrying is vital without Schalk Burger or Juan Smith to share that load... In my view Meyer has painted himself into a corner by selecting Steyn, a kicking 10, while relying on Jantjies and Lambie as cover, who both have a more running game (Lambie can kick, but hasn't of late with Michalak's brilliant form). Should Meyer have taken Peter Grant over Jantjies - a different option to fit in a similar game plan (and a metronomic boot)?
Posted 15:13 4th June 2012