There was no solace for the Six Nations. Those who believe this Northern Hemisphere slugfest is a tournament of substance on as well as off the field had some quick reappraisals to make in the light of a 4-0 beating at the hands of the 'Championship teams' (Argentina being added to the Tri Nations and immediately assuming the role of supremacy against the Italian challenge).
Only Scotland offered any consolation but that was not a full strength Australian team and conditions levelled the skill factor downwards. Still, it broke a long losing run and when a team has forgotten how to win, anyway, anyhow will do. Greg Laidlaw maintained his composure and Andy Robinson headed for the Pacific Nations with a cherished trophy. That is the good news.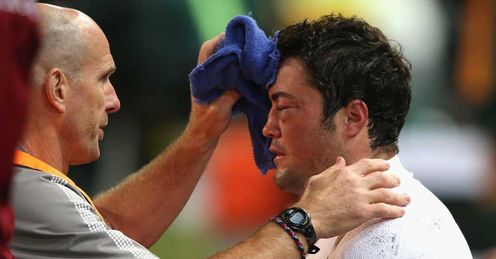 The bad is awful - at least from the European perspective. The Grand Slam winners, Wales, were well beaten by the Wallabies. A purple patch aside, the Australians dominated this match. Wales were disappointingly slow to reassess their approach to the breakdown. They lacked numbers defensively as they spread wide to halt the threat of a Wallaby back line (severely limited by injuries). The Australians picked and drove over for Scott Higginbotham's try and Europe suddenly looked a metre slower to those who really think north and south bear comparison at Test level.
The second half was a one sided affair as England were rolled backwards. They needed more to beat the Springboks and they couldn't find that extra spark in attack.
Stuart Barnes
Quotes of the week
Wales are tough and learn quickly. I would not write them off quite yet but they will have to play with more pace and positivity than they managed throughout a Six Nations, where the facts of their growing conservatism were largely ignored by people more interested in headlines than the gathering reality.
Both sides have injuries but the hosts were sharper in thought and deed and for all their power, Wales were just off the pace. Will Genia was outstanding; metres ahead of any other player for the entirety of the match. On days like Saturday, he appears as good a player as there is on this planet. But this was a front foot effort. In contrast he failed to establish control in the slime of the Scotland match. Until he can master back foot rugby and squally conditions he will remain a genius with a chink. In Brisbane, the chinks were nowhere to be seen and Wales have it all to do. It was a hammer blow for them to lose.
George North, for thirty minutes, showed Australia what a threat will be coming off one of the Lions' wings next season. The Lions, with the choice of four nations, will fancy their chances of forcing the Australian star scrum half onto the back foot. It was something England could not dream of doing to a Springbok side that eventually overpowered them and sent a warning message to the chorus of supporters who think good wins but mediocre performances in the winter months constitute proof of recovery under Stuart Lancaster.
England steamrolled by Boks
The second half was a one sided affair as England were rolled backwards. It is not that they played any worse than in the Six Nations; they were no better or worse than they were in the last three games when their performances were so touted. They needed more to beat the Springboks and they couldn't find that extra spark in attack.
I cannot criticise Lancaster for the selection. In fact, I would go as far as to say that his brave call to switch Ben Foden to the wing and bring in Mike Brown was inspired. Brown was solid, kicked with length and played with guts. Foden was good beneath the high ball and when he had a sniff of the try line he finished superbly.
Neither Dave Strettle nor Ugo Monye would have scored it. Now the management has to have the courage to change the midfield. Again Owen Farrell failed to dominate proceedings and with his clever chipping game deserting him, he looked forlorn as anything but a hard tackling goal kicker. England cannot defend their way back into the series and should start with Toby Flood whose delayed pop pass to Jonathan Joseph (who was introduced too late into the fray) created an opening which Farrell, by now at 12, turned into a chance for Foden.
This was a glimpse of the Owen Farrell who has disappeared but it happened with him at 12 not 10. Flood must be the fly half and Lancaster has to decide between two from Farrell, Manu Tuilagi and Joseph in the midfield. It is not an easy decision to reach but Lancaster, midfield apart, has shown a reasonably sure touch as a selector. He needs to get this one right and Tuilagi has to be launched into the game as more than a strategy to smash Morne Steyn.
It will take plenty to get back into the series, especially as the next game is at altitude in Johannesburg but like Wales, England are not right offs. Like Wales, they have to find a level of performance beyond the muddled mediocrity of the Six Nations.
All Blacks still set the standard
Ireland, I am afraid, must be written off. They played some decent quick rate stuff in the first half an hour in New Zealand but the world champions were a different class to any other team. It was a joy to behold the accuracy of New Zealand at the breakdown and the stunning support lines in attack. Ireland will see it as no consolation but they were on the end of something deeply impressive.
I missed the Argentina win so cannot comment other than to say that this was a day when the Six Nations cheerleaders were well and truly put in their place. To win next week, our nations have to go to places the Six Nations doesn't yet realise exist.
Comments (12)
Jacq S says...
I agree with most of this but boy weren't the Boks tedious? If kicking the ball repeatedly very high in the air is an artform then these men are truely artists of the highest calibre. Not like England to be the team that felt they weren't allowed to play rugby in a test match.
Posted 16:45 15th June 2012
Phil Orr says...
4-1 beatiing surely - A Test is a Test and a wins a win for a' that. Thanks for the recognition Barnsey - we may be struggling at the moment but we are still one of the two nations to take part in the FIRST EVER test match. Respect where it's due - we are not a second tier nation - YET!
Posted 14:44 15th June 2012
Etienne Groenewald says...
My prediction for this weekend is that the Springboks win by at least 15 points. Ellis Park or Coca Cola Park as it's called now is the Springbok Fortress. We very seldom play poorly at Ellis Park. Most Springbok fans don't feel as though we played particularly well and the media has made no secret of the fact that we should be beating a team like England comfortably. I think you should expect a hell of a step up in intensity from the Springboks this weekend. If the English aren't expecting a 25% increase in intensity, they might get totally blown off the park. The Bok supporters expect more and I think we going to get it this weekend.
Posted 11:15 14th June 2012
Steve Norman says...
I think Stuart Lancaster is definitely proving a good choice. England could have lost this game by at least another 14 points but England's never say die attitude saved the day. This unity has been forged under Lancaster. having Joseph on the bench was probably not expected by most. By having him there, he's now already in the hunt for a starting position over the next 6 months. Johnson for Dowson was hoped for but not expected. Marler was expected. It is unlikely that England will now win a test but tours are about finding out as well as winning and Lancaster is giving himself the chance to do this. Flood back in is a must. I hope he goes Joseph at 13 and Tui at 12. Haskell to the bench. With an averaged sized pack (brave mind!) England do need to find a broader game and I think this is something that Mr Lancaster and his team will do.
Posted 18:23 13th June 2012
Steven Brooks says...
Surely the point is that england have not picked attacking combinations in midfield. England have always favoured strong defence over cutting attack. We are to worried about what the opposition can do to us and not what we should be doing to them. Brad Barritt is a defensive rock, but will never cut a line or deliver a miss pass. Billy Twelvetrees is the answer at inside centre. England seem determind to waste his talent A Allen is a good player butis a little to small for international rugby he wont gwt the go forward and Im not sure his distribution or kicking game is good enough to compensate. I agree with the last persons comments Brown is a good club player but does not have the pace for international rugby. My main point is that historically England have preferred strong defence over attack and until this turgid mentality stops talented, game breakers will never be given a go Simpson Daniel Olly Smith to name but two players who have suffered
Posted 17:46 12th June 2012
Rhys Williams says...
I think Wales were frustrating rather than poor. We got in to good situations and then made a very basic error which during the 6 nations we were not making. We don't have that clinical edge we had a couple of seasons ago. But the team is a lot more streetwise from then. Waht we need to do is get the balance right between being clinical and having teh know how. It will come, maybe even on this tour but if not we shouldn't panic we have time with a young squad!
Posted 14:28 12th June 2012
Jeff Badland says...
England will not be a force under Lancaster, nor will they be under anybody else until Dean Richards is given the job.
Posted 14:17 12th June 2012
Ronald Abel says...
if we could not beat a springbook team which only meet for five days , anyone who thinks we can beat them in the next test are deluded. They will only get better and better
Posted 00:29 12th June 2012
Jim Kerr says...
4 - 0 beating ! surely 4 - 1, thank god for the poor relations, Scotland did beat Australia no matter the conditions(same for both teams), they also beat them the last time they played, also just won a series in Argentina, eat you heart out Stu Barnes
Posted 15:08 11th June 2012
Dave Archer says...
Can't believe the Irish did not attack the Kiwi lineout, the ONLY AB weakness. Teams without depth have no chance against the AB. They really needed Bowe, Ferris and O'Connell just to try to even the contest. Most in SA believe the backs could be improved with more pace but will give HM more time. We would imagine the squad to change a bit for the Kiwi/Aus clashes later this year. GO THE BOKKE !!
Posted 14:09 11th June 2012
Phil Gray says...
Regarding your point on the Welsh conservatism I agree to an extent. Much criticism was levelled at Wales for not knowing how to win tight games (e.g. v S Africa and France in the RWC). I think the 6 Nations this year was an attempt by them to address those concerns and win by any means. It was not quite of the class of England in the 2003 RWC when they proved their class in that arena but it was a good lesson for them. On the subject of the Aussies having a lot of injuries, Wales were too missing a few weapons from their arsenal and further Warburton's recent game time was zilch in a battle that pretty much decided the game and put Genia on that front foot. As a Welshman I am hoping we can see Warburton return to game form and that the 9/10 axis play with composure. A win is possible but not on the performance of saturday or the 6 nations (save for the Irish v Wales match) ... It is bhackl to their performance v S Africa in the opening match of the RWC where we need to head.
Posted 14:03 11th June 2012
Alan Fox says...
Other pundits are critical of Ben Morgan and praise Mike Brown however I differ I believe Morgan played pretty well and cannot be responsible for stopping th Boks forward drives without support. With regards Mike Brown his defence was abysmal and his not even half hearted attempt to stop de Villiers was shocking & had he not been injured should have been dropped as a result of this. Foden is our best 15. JJ was brought on too late what was Lancaster thinking. It reminded of years gone by when Engand played 10 man rugby only to fall 2 scores behind then realising they had some backs that could actually play rugby but it was always too little too late
Posted 12:50 11th June 2012